It's the closing set at BRIC's Celebrate Brooklyn during a summer evening in Prospect Park. Jamaica's very own Protoje pauses to give Sevana and Lila Iké, two members of his new collective, In.Digg.Nation, their moment to shine on stage.
Iké, born Alecia Grey, shows herself to be a force and light as she dons an all-white suit with her curly afro roaming freely. Not introducing herself until she concludes, there's a clear energy shift in the park as her vibrato nods to the reggae of the past.
Just a few days later, she visits the OkayAfrica offices and her chill demeanor and casual threads beg the question of how she could make sense of who she blooms into when it's time to perform. "I don't even know myself on stage, to be honest," she says. "I don't even think it's 100 percent me."
Sharing how she came to settle into her stage name, she notes that Lila was coined from pet names folks called her from her first name, Alecia. Iké, on the other hand, is usually short for the Nigerian name Ikechukwu in the Igbo language. She also came across an Ikechukwu when she moved to Kingston who's mind, she says, was one to remember. Meaning "God is powerful" or "power of God," it struck her that names such as that can be since she's been surrounded by Johns, Pauls or Marks.
Photo by Nickii Kane.
"I wanted to use Ikechukwu as my stage name," she explains. "I remember I did my very first performance, introduced myself as such and people were calling me all sorts of things and I knew it wasn't going to work. My friend later suggested Lila Ike and I could see it on an album cover. I recently found out that Lila means lilac in Italian and it also means 'the everblooming flower' or 'to bloom.' Words are powerful—I really believe music is the power of God and I wanted to attribute that to my music and my whole being."

Iké's newest music video "Where I'm Coming From" recently dropped and both the song and visual is an ode to her journey from her neighborhood of Christiana in Manchester, Jamaica, to Kingston. With the legacy of Ijahman Levi and Garnett Silk, two hometown heroes, behind her—she's well on her way to be the new face of not only her people, but reggae music, to the world. For Iké, "Where I'm Coming From" is also her way of encouraging people to stay working on themselves and their goals—and to be real.
---
"This was the first place I moved to when I went to Kingston, just a little house in the ghetto," she says, explaining the opening scene. "I wanted to put that there first, then show a journey from Kingston to me going back home to share the vibes."
In our conversation below, get to know why Lila Iké is one to watch as we touch more on the new music video for "Where I'm Coming From," the pressure to represent well and her journey to come into her own as an artist.
Lila Iké - Where I'm Coming From (Official Video)youtu.be
This interview has been edited and condensed for length and clarity.

Antoinette Isama for OkayAfrica: I noticed that you're credited as the co-director for this video. Did your vision come to light and are you happy with the finished product?
Lila Iké: I'm really close with my creative director Nickii Kane. We always talk about how I want my visuals to look and the whole vibe of this video in particular because I just wanted to incorporate my people. Where I'm from, they're excited about stuff like this. They rarely see stuff like this happen, you know?
Do you feel any pressure at all to represent for your people and represent well?
With the type of person that I am, and where I'm from and just observing what happens with young people there—they're in school, but some don't even finish high school. Those who finish high school sometimes don't have the opportunity to attend university. They fall off by the wayside, especially the young ladies. So, I take up the responsibility and set an example—in doing that, naturally I put a lot of pressure on myself because I want to really make it and I want to just inspire a lot of people. I also grew up in a household of just females—I have three sisters and I have a niece that was born 2 years ago and my mom. I just want to set an example for my immediate family and for other young girls. I see it happening already—when I come across young people in my town, they say they want to be like me when they grow up.
Photo by Nickii Kane.
To bring it back a bit, what got you into music? What it always a thing for you?

Music was always a part of me. Growing up my mother was a music fanatic—she'd have music blasting in the house everyday from early morning until night. Now that I'm older, I realize it was her medium for comfort—I didn't grow up with my dad, neither did my 2 younger sisters who have different fathers. I realize music was what she used as a therapeutic thing. The types of music she would play are reggae, dancehall—but like early reggae and dancehall. Sometimes she would listen to ska, a lot of soul music—most Caribbean moms love Celine Dion and Whitney Houston. She just had a lot of old tapes and vinyls—I remember before I knew what they were, we'd use them to play frisbee outside.
I also grew up in a household where we didn't use the television much. My mother believed it used a lot of electricity—I don't know how much different it was from a soundsystem, but in the meantime I would listen and imagine the story of what they're singing about in my imagination. It was like watching a movie. I grew more and more fond of listening to different singers and sounds until I started singing along—my mother would ask me to sing some of her favorite songs with her.
When I got older, I started writing my own songs—I wrote a graduation song when I was graduating from high school and I didnt know the entire class would like the song so it became the graduation song. From then I thought, "Okay, seems like I really have a vibe for this thing." So that's how it all started.
I learned that you were also in university before taking on music full-time—what were you studying?
I was studying teacher education with a focus on business and literacy. I went to a university close to home at the time in Manchester and then about 2 years in, I moved to Kingston because I realized that my mother couldn't meet certain financial obligations so I decided to get a job and finish my studies in Kingston. My mother wasn't very pleased—she wanted me to stay close to home.
After I moved I got exposed to the scene and performing live—I was free to get more and more into my element.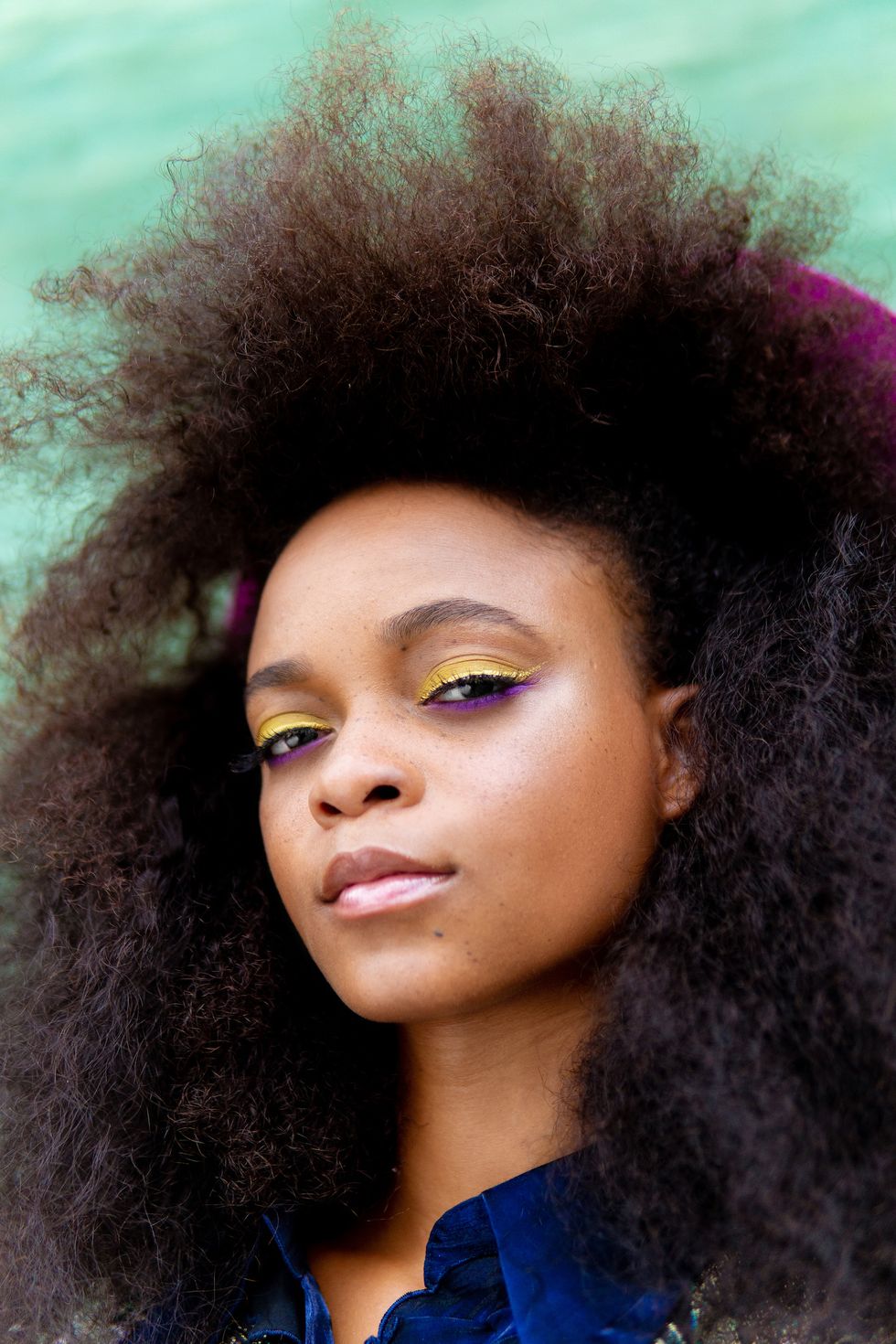 Photo by Nickii Kane.
How were you able to get connected with Protoje?

I first discovered his music through a friend of mine who was an intern for him at the time because most of my friends had went on to university in Kingston. I remember ever since we were in high school she was completely obsessed with him. But I was not necessarily into the new age of reggae at the time—I was pretty much really into Sizzla and GarnettSilk; Burning Spear and all of them.
When she moved to Kingston she was telling me about how she met him and she's now his intern; and she's been telling him about my music. To me I'm like, "Alright he's a big superstar—if he'll even take the time to listen, that would be an honor," you know? When I moved to Kingston I went his pre-album listening for Ancient Future and she introduced me to him. He overheard one of my songs in the studio because my phone rang and I had one of it as my ringtone. He started to inquire whether or not I was an artist and I told him I do and he'll soon hear some stuff because I didn't want to be pushy. About a month or two later he DM-ed me on Twitter saying that my friend played him a song and that he could hear a lot of potential and he would love for us to link up and hold some vibes.
The very first time we linked up, he played some riddims for me and I started singing and holding a vibe because I felt like I had to really go in—at the time I didn't really have many songs. And from that point he thinks I have a very special talent and a very special voice—he loves my vibe. That whole link up gave birth to my very first two singles—"Biggest Fan" and "Gotti Gotti"—from then we've just been working together which has been a pleasure for me.
How would you describe your sound?
I'd say it's and "ancient future" sound—I'm influenced heavily by soulful, old music and old singers. As a millenial I merged the that vibe and get something that's both current but still has a nostalgic vibe to it. It's fresh and old at the same time—frold.
Since music has been a tool used to connect the global black family, especially now, are there any artists from the continent that you've been listening to lately or would like to collaborate with?
I really like Burna Boy—I've been listening to him way before he got mainstream. I was obsessed with "Soke" and he wasn't even singing in English in that tune. Wizkid too, and quite a few. I don't have anyone that I'm dying to work with, but I really rate Burna Boy. I like his vibe.
*
Lila Iké is set to tour Europe later in July. Check out the dates below:

July 25 - Sfinks Festival - Antwerp, Belgium
July 26 - Hill Vibes Reggae Festival - Telfs, Austria
July 27 - Reggae in Wulf - Friedberg, Germany
August 1 - Rote Fabrik - Zurich, Switzerland
August 2 - Free & Easy Festival - Munich, Germany
August 4 - Reggae Jam Festival - Bersenbruck, Germany
August 16 - Rototom Sunsplash - Benicassim, Spain