News
Oct. 28, 2014 11:20AM EST
"Give Me Black And African Poets," An Interview With Cameroonian Slam Champ & Author Pages Matam
Cameroonian poetry slam champion and author Pages Matam talks African writers, identity, Cameroon and much more with Hannah Giorgis.
---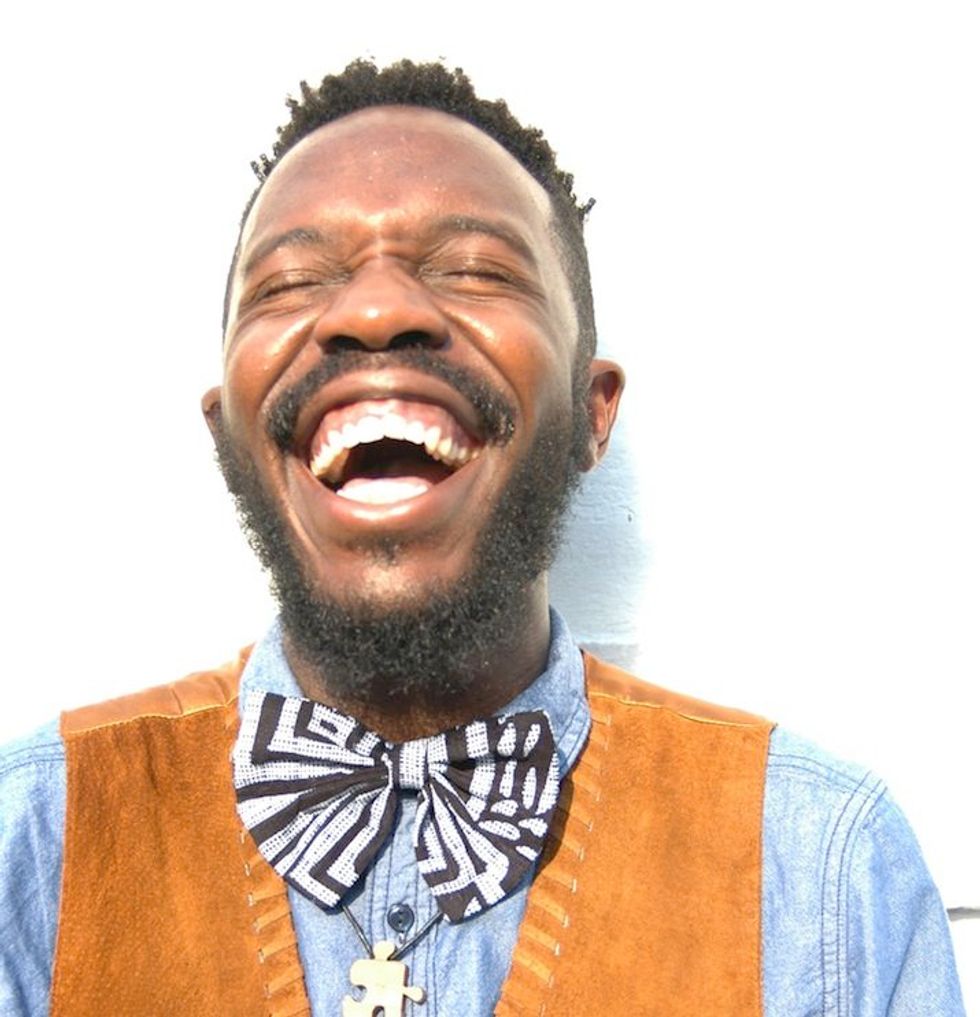 OKA: Who do you look to as a role model, or "possibility model," as an African writer?
PM: Chimamanda [Ngozi Adichie] definitely; I knew her work even before she got all Beyoncé famous. Also Yusef Komenyaaka, Warsan Shire, and honestly a lot of my dope ass friends I know that are African and writers like Safia Elhillo; she is super dope. Ainsley Burrows is Jamaican; I fuck with his work a lot. Alephonsion Deng is also dope. I feel like I should say Chinua [Achebe]. He was the first African writer I was formally exposed to, though I would say the first African writers I was really exposed to were all musicians like Richard Bona. His music and the way he writes it is absolutely incredible. And Les Nubians--they are my favorites, French Cameroonian just like me, too. I'm really digging Nayirah Waheed's work too; I just got into it, but Salt and Nejma are powerful. Binyavanga Wainaina, and Iyeoka Ivie Okoawo, too. Honestly, my mother and my sister Joelle-Ines--they are incredible, hard-working women of faith; they inspire me every day. Marc Bamuthi Joseph is also someone whose work and person I greatly admire and hope to one day produce things as powerful as he does. Oh, and Kanye West--definitely Yeezy, his fearlessness as an artist and a person, dope.
OKA: What's the most dificult poem you've ever written? What made it so hard? What range of emotions did it take you through?
PM: "Piñatas" and the Nina Simone poem I wrote. "Piñatas" took me through fear, sadness, sacrifice, confusion, a challenge to finally begin facing my own trauma. The Nina Simone took me through a lot of fear sadness, confusion, and feeling like ready to give up...the last bit of rage I had in my body readying itself to potentially evolve into hope. And I still haven't even gone in with "Piñatas" like I wanted to--still afraid of judgment and being looked at a certain way, people not thinking it is real or it doesn't happen to a man. The Nina Simone piece I started 3 years ago and could never finish it...until Mike Brown happened. The poem called out to me and wrote itself.
OKA: How have you tried to make sense of different understandings of Black/African masculinity in your work?
PM: By understanding and accepting that is layered and complex...because I am human. I do not have to subscribe to traditional and societal standards whether African or U.S., just be me. A lot of that has come out through my latest work.
OKA: Tell me about your book, The Heart of a Comet. What was the process of writing and editing it like? How does it feel to be sharing it with the world?
PM: The Heart of A Comet is a collection of poems and short stories. It reads like a novel and tells the story of Comet, the main character who fell from the sky and is on a journey of purpose. In essence the book is one big allegory, or an extended metaphor for my life. Writing felt rigid...a little tough, editing was a nightmare most of the time, and I sat on the book for like a year. But the theme and concept never wavered, I like a lot of stuff on astrology and celestial things.
A comet is actually a cluster of rocks frozen over and ice and such, not a ball of fire. Everyone thinks it's a ball of fire because it appears so but actually the thing that surrounds it and causes a tail to appear is called a coma, which is created when a comet falls close to the sun or when close to a planet's atmosphere. All my life I've always felt like a comet. Everyone only sees me for what they think is the fire and the warmth that surrounds me when in fact I've always felt so cold and hard on the inside. So the heart of a comet is a journey of purpose at figuring out what truly lies there: what am I to be when I crash-land, what impact do I make, what beauty do I resonate, how am I making a difference. It was my first attempt and follow-through at self care and truly loving myself in the most holiest and holistic of ways--all of me: the good and bad, the light and blazing coma, and the cold and hard place inside. All of it.
OKA: Where is your tour going to take you? What else is coming up?
PM: I've moved on from The Heart Of A Comet already because it did its purpose. My tour takes me around to connect with people. I want to continue teaching and do this traveling, teaching artist thing. I enjoy workshops even more than performing now. I'm so excited to grow as a writer, a person, an educator, someone who believes and has faith in himself and what he creates.
Hannah Giorgis is the daughter of Ethiopian and Eritrean immigrants and a product of bittersweet diaspora. She is a black feminist writer and organizer based in New York City, and a regular contributor to The Guardian US's opinion section. You can follow her on twitter @ethiopiennesays or on her blog, Ethiopienne.