Simi is restless. It has nothing to do with the year she has had, in fact, she reaffirmed her status as one of Nigeria's most successful musicians with a single music drop, "Duduke," which enjoyed widespread appeal as the nation went into lockdown earlier in the year.

The 32-year-old singer's restlessness is a reflection of the organised chaos that has defined her recording process this year as she combined the rigours of being an expectant mother with an examination of her place in the wider world. It, more accurately, reflects her re-negotiation of the parameters of her stardom.
"I've never really been a big fan of the spotlight," she whispers silently early in our Zoom conversation. "I know that it comes with the territory, but when I got my big break and more people started to recognise me, I realised that I had to edit myself, my life, and most of the things that I'd do or say because I wanted to be careful to keep a part of me for myself."
---
Since coming into mainstream consciousness with "Jamb Question," her breakout single, Simi has maintained a hold on the attention of a growing audience with her infectious mix of ballad-style sentimentality and relatable lingo, meshed into undeniable pop hits. Songs like "Tiff," "Joromi," and "Love Don't Care," made her 2017 album, Simisola, a classic while Omo Charlie Champagne broadened the edges of her artistry, housing songs like "Charlie," "Jericho," and "Love on Me."
Her latest project, Restless II, a boundless follow-up to Restless I, sees Simi channel her sonic wanderlust into six R&B-influenced singles that blur the edges of make-believe and artistic license. "I don't know if I tweeted this but the project was inspired by my husband, Adekunle Gold," she told me, adding that the project represented a risk she was excited to take. Since Restless II's release on October 2, it has received praise for its songwriting and excitable subject matter.
Speaking from Houston, Simi talks about the success of this year, Restless II, and evolving as an artist.
This conversation has been edited and condensed for context and clarity.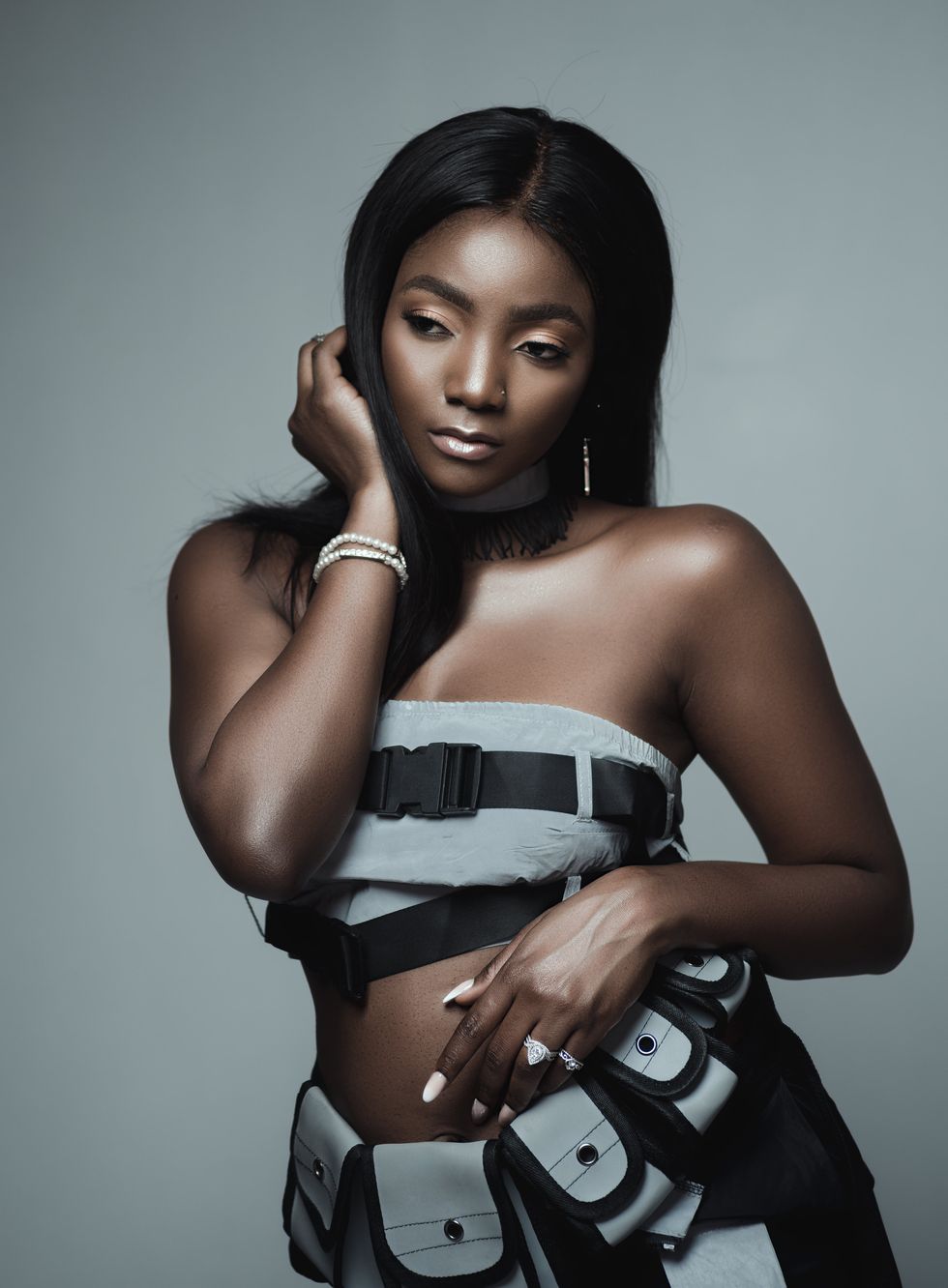 Photo: Lex Ash (@thelexash). Courtesy of Simi.
How did you go from putting out a gospel album to pop music, were there changes or themes that you underwent? Why did you leave X3M Music?

It was a natural transition because X3M Music was good to me. I had a lot of creative freedom which is not something a lot of artists in Lagos can boast of. Nobody (at X3M Music) was trying to control me in what I sang or said, everybody just stayed at their own strengths. For my contract, it was up and I believe in progression. I believe in growing. Because it was sort of a comfort zone for me I didn't just want to stay there; because, again, it's easy to be relaxed and time continues to pass. I wanted to stand on my own and see what I could do by myself. I also wanted a bit more freedom because when you are responsible for yourself you can take more risks. So, I wanted to take those risks and accomplish more. There was no bad blood or bad energy.
Is your recently-announced deal with Platoon a furthering of that risk-taking?
It was definitely moving out of my comfort zone. I signed a partnership with Platoon one or two months ago. I'd left X3M, which was like a full proper label, in February 2019 and I dropped two singles after that, "Selense" and "Duduke," and when we wanted to drop my new project Restless II, I told my team at Studio Brat that I didn't want us to drop this project like we dropped previous stuff because it was different and we obviously needed to have a different strategy. Like Einstein said, "Insanity is doing things the same way and expecting a different result," and if I was going to do something I've never done before I was going to have to approach it from a different perspective in addition to my current strengths.
Why are you returning to the Restless series now? What does it symbolise for you?
I don't know if I tweeted this but the project was inspired by my husband, Adekunle Gold. I remember him saying that with the direction of this sound, he thinks I should do a R&B EP and I was like "Nigerians don't listen to R&B like that" and he asked how I knew that when you have not done it. That really inspired me because at the time I was pregnant and I wasn't really recording much. I was trying to get into a space where I could get out of my head. I'd been doing a lot of Highlife/Pop in the past and this is me doing R&B, it needed to be different. Most of the people that know me have not heard me doing this type of music; it's a risk and I'm so excited because I had so much fun with it.
SIMI - No Longer Beneficial (Official Music Video)youtu.be
I remember people not getting what you were trying to do in the immediate post-Omo Charlie Champagne moment, and now you're putting out Restless II, what do you want people to take away from the project and this specific time you're putting it out?

I think that first I should say that as an artist, I believe the art belongs to the artist first. So, if I start to do art that others want but I don't want then I've failed myself. So, that (people's expectation of my work) would never hold me back. It's either people like it or they don't. That's the way of any product. This project is a risk as well, it's even more of a risk because it's R&B and Nigeria is not necessarily the biggest R&B market, but given the genre I started with with X3M, it wasn't necessarily it either but somehow it worked out. So, I feel like you have to keep trying things. You have to keep shooting and sometimes you hit, other times you miss, but...God has been on my side, and it's worked out for me.
You used your platform to amplify the #EndSARS protests, why was that important for you?
I understand that I have a platform that millions of people have access to, and as a Nigerian, it's important for me to do my best to fight for my people and my country as much and as loudly as I can. We're now, luckily, in an era where social media has made it possible for us to have a voice that echoes beyond borders. I'm hoping to be part of a movement that creates a better future, not just for me, but more importantly, for my daughter and the rest of her generation and future generations.
It was such an inspiring thing to see young people come together regardless of circumstances or social status, did that make you feel proud?
Very proud. I admire and really respect all the young people of all tribes and walks of life that went out on the streets and demanded to be heard and protected by the government.
A lot of people are feeling distraught with how things have panned out for the movement and just the carnage that has been wrecked on lives, are you feeling hopeful or distraught?
To be honest, I go back and forth between those feelings. So many innocent lives needlessly taken away from them. No accountability. The impunity is tragic. I even hear some of these SARS officials are still on the streets, despite claims that they've been disbanded. It's hard to stay optimistic when the leaders act like tyrants. But the truth is we can't afford to be hopeless. It's the easier thing, but the consequences of giving up are too costly.
Photo: Lex Ash (@thelexash). Courtesy of Simi.
At a certain point earlier in the year, you had two chart-topping songs with "Duduke" and your feature on "Know You" with Ladipoe, how did you stay grounded with the world going crazy and all that happening?

I have to say that God was a big factor because I'm the kind of person that needs to process things and it was an ideal situation to get my mind together. I don't know how but this year has been such a blessing for me. I know it's been crazy for a lot of people but it's been such a blessing for me. The funny thing is I didn't know "Know You" was going to come out until 10 days before its release. Ladipoe and I recorded the song two years ago, and he didn't drop it. In fact, the first time he sent it to his team, they were not so sure, and I was like, "Yo, if you don't want the song, give me now." He had come to my studio to record it and we had a great, amazing studio session, and I was like, "Give it to me," but he was like, "No, I cannot, don't worry we are going to put it out." Then he told me like ten days before that he wanted to drop the song and I was like "Oh my God, that's cool, I also want to drop a song a week after that and the kind of song it is—because I knew I was pregnant—it was going to have a lot of talking power." So, he had time to put it out before, the song ("Know You") came out and it was everywhere, the song went bonkers. I was wowed. I knew people were going to like it but I didn't know how much they were going to like it. And I feel like because a lot of people were indoors, under quarantine, they had time to go listen. When "Duduke" came out, we'd decided to hold the video until my birthday, when it came out that also went crazy. I just felt like it was blessing on top of blessing. I was still pregnant when the video came out and it was very emotional because I was in a good place mentally. It was easy to manage that, I wasn't stressed out and Kunle was very helpful as well. All I had to do was relax and just enjoy the process.
You've talked about having to compartmentalize aspects of your life, and with celebrity being a whole different machine, how do you succeed at keeping certain details of your life out of the world's gaze?
My belief is that once you put something out there it's no longer just your own. It's no longer yours to protect or hide. So, my thing is that if there's something I don't want people to know, I don't say. I don't share. And I have a very small circle of friends, it's not like I have a lot of people I tell my things to asides my old and new friends. I just try, as much as I can, to keep my life for myself because if not for social media a lot of people have private lives. Things I don't want people to know I just pretend there's no social media and keep it to myself, my family, and my friends. Me, personally, having a small circle of friends I know I can trust them with information, that's why unless I want the public to know something it doesn't get out.
That said, you're still a very much-loved artist and there's a certain level of social media interaction that's expedient to your career, how do you approach using social media?

I think over time the standard of how I use social media has evolved. I'm a very outspoken person, very passionate about things. I like to talk about things that matter to me. I'm not scared to speak my mind. But, also, social media is not just dependent on me because I'm not the only one on social media, so, the fact that I say something or act a certain way does not guarantee people reacting in a certain way (to me). I feel like that's a lot of access, so, over time, especially after I got pregnant, I've tried to practice editing. How much I'm saying or putting out there. Not because I don't want to say it but because I know that the way people would react to things is different from how it is in my head. Again, a lot of people react in real-time but sometimes context is missing on both sides. Sometimes, intent is missing as well. Also, I'm a human being and, because of how outspoken or passionate I am, it's possible for me to say something passionately that isn't right and I don't have the time to explain myself. So, presently, I'm just trying to use social media as a tool because that's what it is at the end of the day. Still, I do go online, see stuff, and spend a bit of time but usage of it for myself, I try to minimise that.
Months ago, you made comments that wrongly characterised people from the LBGTQ community and there was an impassioned reaction to that. Weeks later you returned with an apology, what was the thought process surrounding that situation?
Honestly, I think it's very important for me to use my platform responsibly and take responsibility because I'm not perfect and I own that; and also, as much as possible, I want to spread positivity and bring people together as much as I can.
Your marriage is over one-year-old, and despite how the Nigerian music & entertainment industry is, you've been able to retain your identity as Simi the individual and Simi the artist. How has that been for you?
That's a very important question. It's something I'm very deliberate about. But it's not easy, especially as a woman when you get married. It's like somehow society tries to erase part of your identity but I was very particular about that. I think it also helps that from before we got married, from the beginning of our relationship, we were not branding as a couple. To a large extent, my personality was already established so it was easy for people to separate that from my relationship. To see me as a person, because that's important to me. I just feel like if there's deliberateness about it, it often works out. And I mean, nothing is perfect, some things still slip through the cracks but it would work out the way you want it to.
Inversely, there's the part of you being married to someone you can bounce melodies off and relate to on that level, how big a part of your relationship is that aspect?
I think it is one of the most special things about our relationship, that we can bounce music off each other. And it's funny that as much as we are both musicians, we don't interfere in each other's music patterns either. I mean, sometimes if he's recording, I say try this and that and sometimes he does and other times he doesn't, and vice-versa. That's a great thing to have and it's definitely complimentary to our relationship because I can't imagine how the relationship of people who aren't married to musicians are. I'm sure they have something they bond over but music is definitely complementary to ours.