The COVID-19 pandemic has completed upended the world and the way in which we do things. Normality as we once knew it has gone and admittedly may not return in the immediate future. We've had to adapt to a new way of doing things in order to not only protect ourselves but others around us, especially those who are more vulnerable to the coronavirus.
That said, South Africa continues to have increasing numbers of COVID-19 cases with the most recent figures showing that the country had clocked at least 10 000 cases in a single day —the highest yet in what is clearly a second wave. While President Cyril Ramaphosa has emphasised, in another national address , the need to continue wearing masks, avoid large gatherings and super-spreader events as well as maintaining social distancing, very little seems to be changing. This is where South African artists Lauren Mitchell a.ka. Curious Lauren and Baba Tjeko step in. The duo, in partnership with Belgian alcohol beverage Stella Artois, recently came up with a social experiment titled Wet Paint to encourage social distancing among South Africans. The results have not only been aesthetically exquisite, but effective too.
---
READ: Spotlight: Sinenhlanhla '99perspective' Chauke Creates Scenic Illustrations of Black People In Safe Spaces
The idea behind Wet Paint is having a unique art installation in public that encourages social distancing but not anti-social behaviour—that's the key here. Eight locally-made Pedersen & Lennard benches, which have since been donated to the Johannesburg Botanical Gardens, were placed in and around Johannesburg in open public spaces. Artworks were painted onto the benches by the two artists. The catch, however, was in the "wet paint" sign that was placed above each bench to indicate to anyone wanting to take a seat to be cautious and thus distance themselves from anyone else potentially joining them. In reality, the artworks had completely dried down already.
Curious Lauren and Baba Tjeko, each with distinct artistic styles, came together through King James, the agency responsible for the campaign for Stella Artois, according to Baba Tjeko. The artist is known for portraying African ideas and perspectives through his Litema artwork, a form of Basotho mural art composed of decorative geometric patterns. Curious Lauren, on the other hand, contrasts serious messages with a bright, bold and inviting execution style that remains accessible in spite of the juxtaposition. She comments on her collaboration with Baba Tjeko saying, "We both pride ourselves on doing creative work for good; it was an otherwise unlikely pairing that lead to some extraordinary work together." She goes on to add, "We both use storytelling as a method of expression and this project was no different."
Below are just some of the stunning artworks created by the two artists for the social experiment.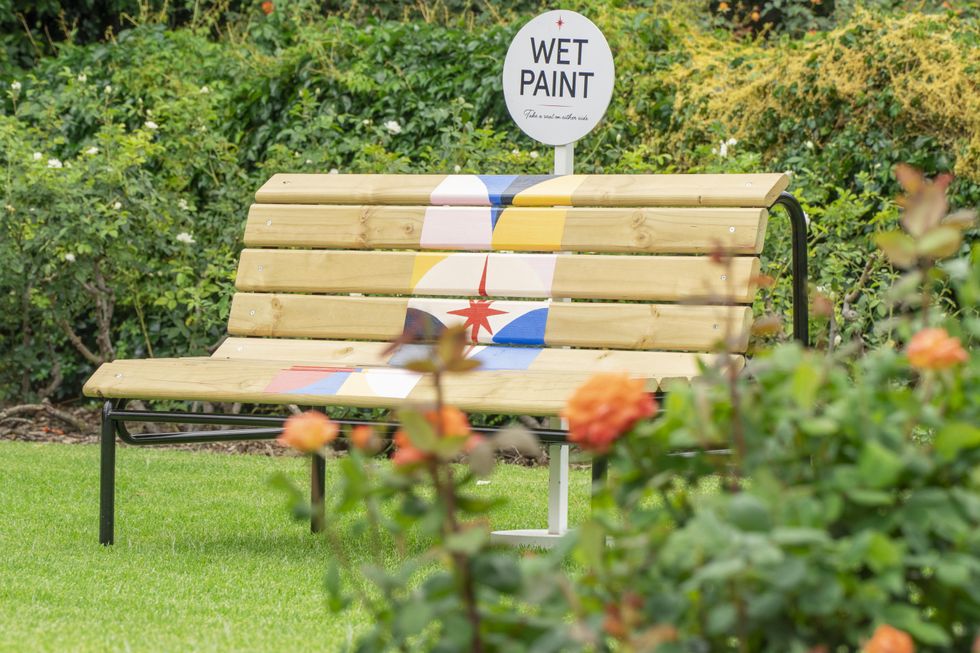 'Wet Paint' is a Social Experiment Encouraging Social Distancing Images supplied by the artists.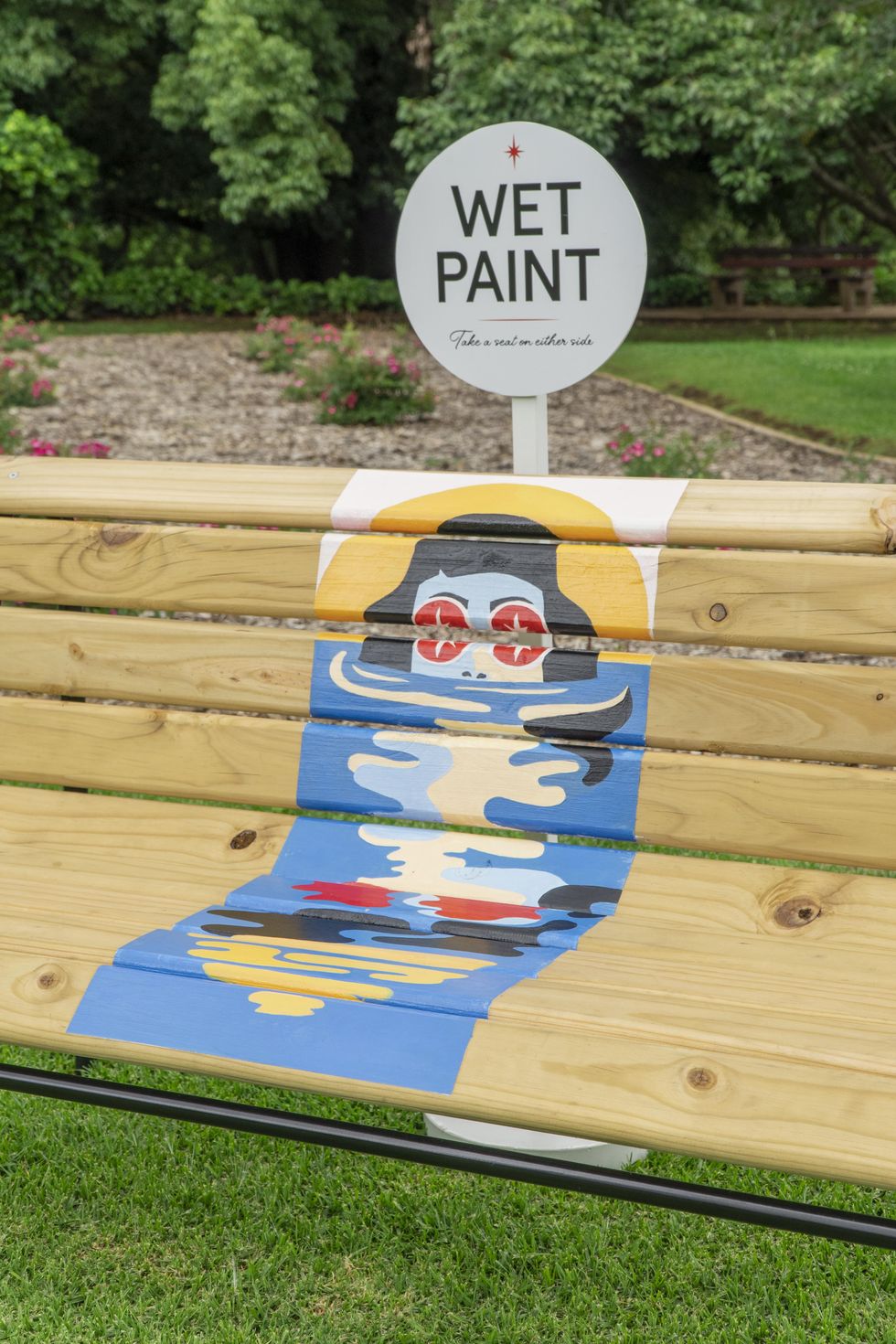 'Wet Paint' is a Social Experiment Encouraging Social Distancing Images supplied by the artists.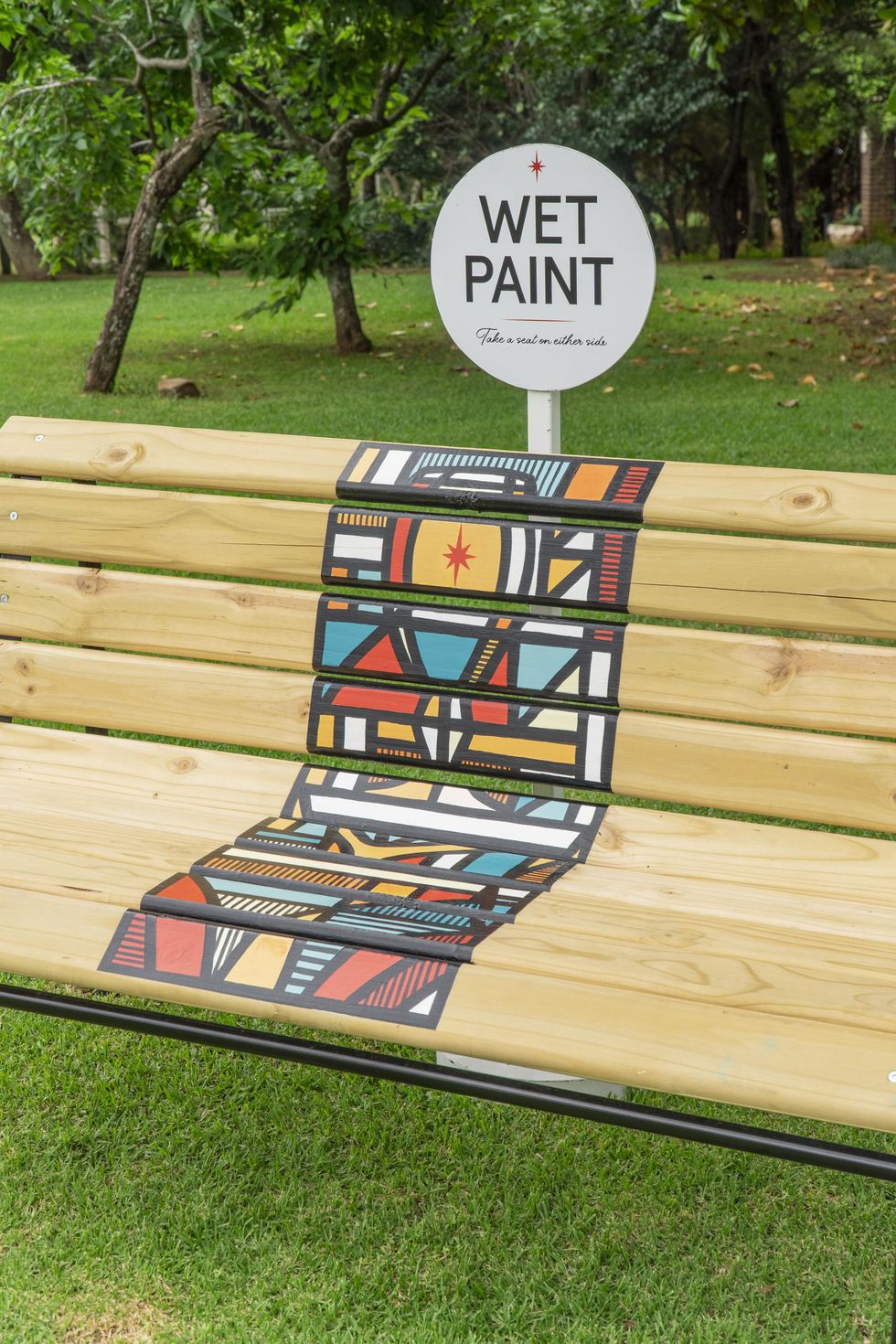 'Wet Paint' is a Social Experiment Encouraging Social Distancing Images supplied by the artists.
Now, while the social experiment also allowed people to become social in addition to engaging with the art. And while this may sound contradictory, it's important to emphasise that social distancing is not meant to make us recluses who no longer interact with another. It's meant to allow us to still do so but safely . Babe Tjeko says, "I think there's a need to emphasise the great challenge of people not practising social distancing in South Africa and the campaign was very intentional in tackling that." He goes to add that, "The secondary intention was for people to experience art in public spaces that are less intimidating like galleries and that was also achieved."

What Wet Paint shows, and quite well at that, is how art continues to be used as a tool for societal change. Sure you can tell people to social distance but they may not always listen as has been the case in South Africa. Conversely, you can use creative ways to encourage social distancing without people even realising it. To this effect, Curious Lauren says, "Art can bring about change in human behaviour and if you ever needed proof, well, we have it. "
Images supplied by the artists.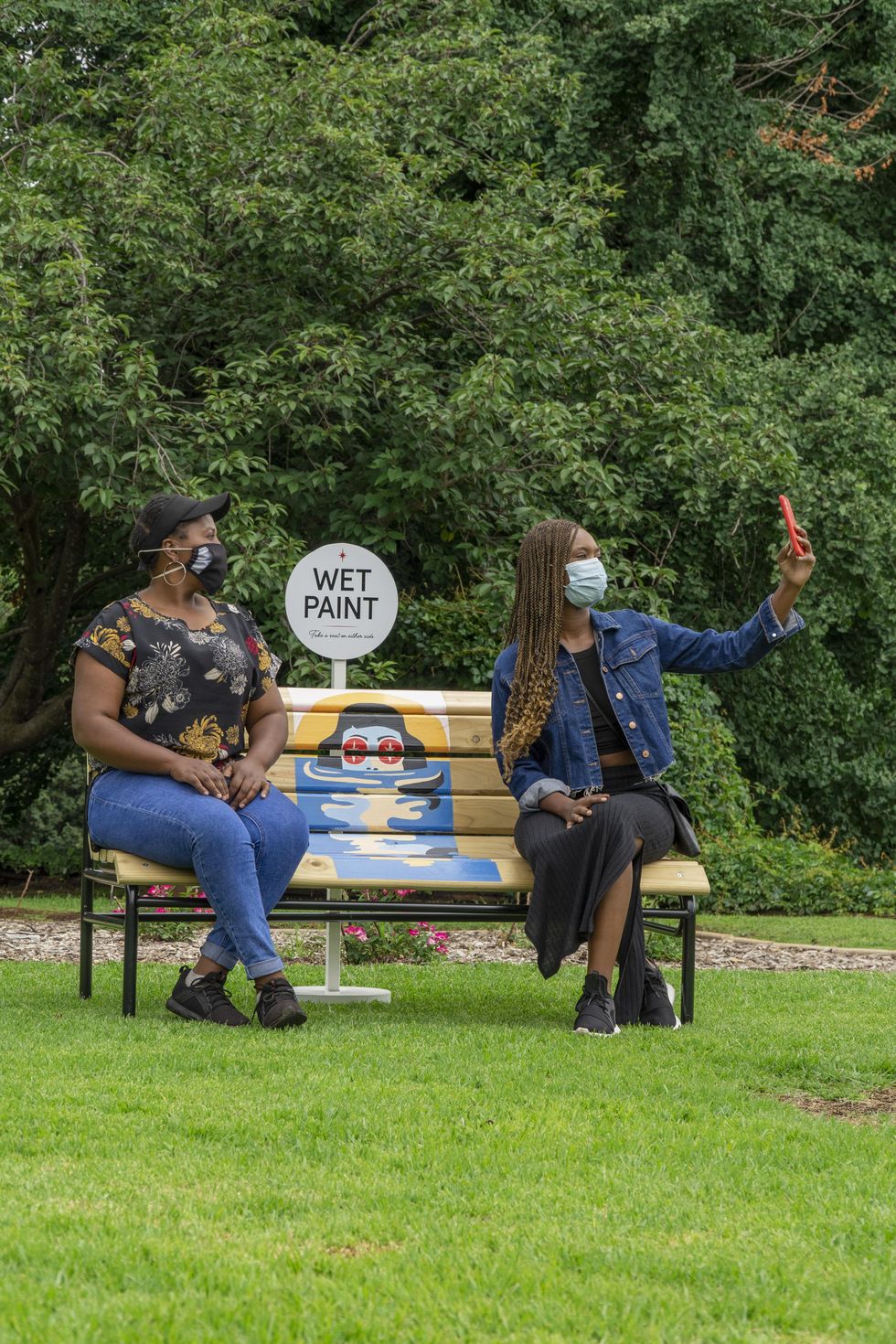 Images supplied by the artists.
Images supplied by the artists.
While Wet Paint focused on the Johannesburg area, there is great potential for this social experiment to be rolled out nationally, particularly in areas where COVID-19 preventive measures are needed the most. Baba Tjeko is of the opinion that "parts of the country, such as our townships, can really benefit from what the project aims to achieve because public art is still unpopular in those spaces." He goes on to add that, "Creative concepts can be developed to provide solutions in other spaces such as queues and restaurants."
Curious Lauren echos his sentiments saying, "I really do think there are places and provinces (won't mention any names) and even different countries that could really use this type of creative intervention." She concludes by adding, "People are reluctant to [adhere] to stickers on floors in queues and badly-designed signs on the walls. No one will take their chances with wet paint and well, we'll have to try it in new places to prove it."
But what happened when people inevitably discovered that the wet paint was in fact dry you may be asking? Well, they realised the true intention behind the social experiment and took social distancing a lot more seriously—a true win-win.
Watch how the Wet Paint social experiment came about in the short video below:
Stella Artois Wet Paint www.youtube.com