Popular
South Africa's National Women's Football Team to Receive Equal Pay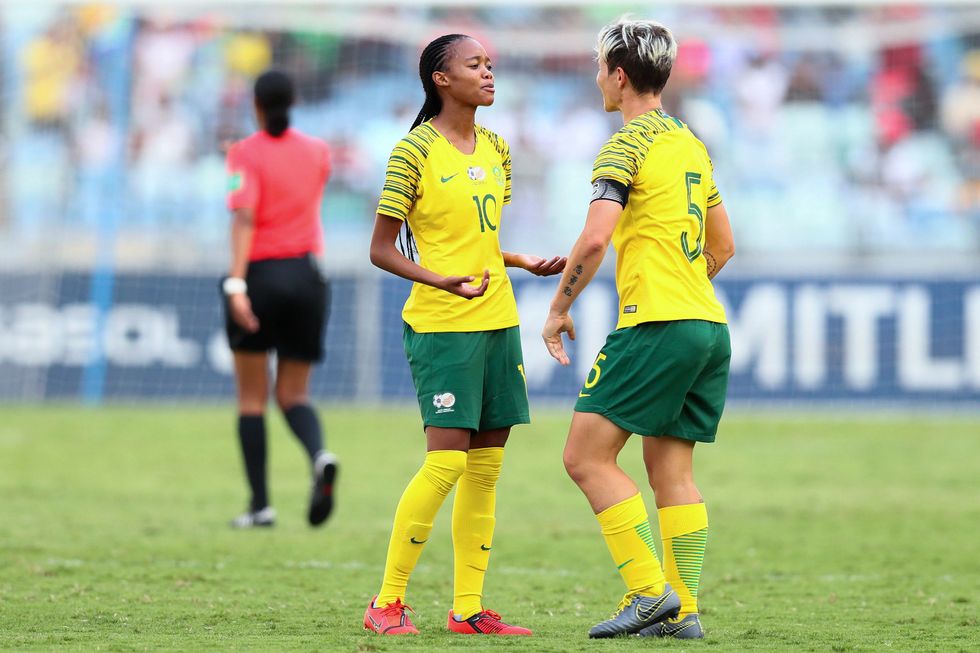 South Africa's midfielder Linda Motlhalo (L) and South Africa's defender Janine Van Wyk celebrate after scoring a goal during the FIFA international friendly football match between South Africa and Jamaica at the Moses Mabhida Stadium in Durban , South Africa on April 7, 2019. - South Africa's Women Team, known as "Banyana Banyana", has qualified for the FIFA Women's World Cup in France 2019. (Photo: ANESH DEBIKY/AFP/Getty Images)
The Banyana Banyana, will receive the same pay as their male counterparts for the first time ever as they head to the FIFA World Cup.
Last November it was announced that South Africa's national women's football Team, the Banyana Banyana, would be heading to the FIFA Women's World Cup for the first time ever. South Africans celebrated the news, but some also pointed out that despite their successes, the female players were still being payed less than their male counterparts.
This is set to change however, as for the first time ever South Africa's women's team and its men's team, Bafana Bafana, will earn the same pay as they head to the World Cup in France and the African Cup of Nations (Afcon) in Egypt, respectively, Times Live reports.
Today was such a special moment as @Banyana_Banyana depart for the @FIFAWWC in France. @SasolSA hosted a farewell e… https://t.co/eu4WLLhDIp

— Mpho Letsholonyane (@Mpho Letsholonyane) 1558624047.0
---
"This will go a long way towards closing the pay gap between the men and women footballers in this country and it is a happy day for South African football'" said SA Football Association (Safa) president Danny Jordan on Thursday.

According to Time Live, the players will receive R320'000 ($22,000) each if their teams make it to the Last 16 stage of the World Cup in France and the Afcon finals in Egypt, R520'000 ($36,000) of they are to reach the quarter-finals' R670'000 ($46,500) for the semi-finals and R920'000 ($64,00) if they win their tournaments.
"It is truly amazing as you know that we have been fighting for equality in sport for a long time," team captain Janine van Wykis quoted as saying. To know that we are going to get the same incentives as Bafana is amazing."
The team had a huge send-off on Thursday and are heading to France to play Spain, China and Germany.
Many are celebrating the news online, with some even arguing that the women should be payed more based on their record and overall performance.
I've just heared good news... Banyana Banyana Players will be paid the same match fees as Bafana bafana , finally o… https://t.co/WqgqGfcsoy

— MEC Faith Mazibuko (@MEC Faith Mazibuko) 1558630556.0
Danny Jordaan just confirmed that if #Banyana reach the #FIFAWWC Round of 16, all the players will get R320,000 eac… https://t.co/p99K16cLTO

— Joe Crann (@Joe Crann) 1558601127.0
Totally agree ☝️@Banyana_Banyana https://t.co/Tsi4QHfaGb

— Lee-Ann Grindrod (@Lee-Ann Grindrod) 1558703295.0
For now we celebrate but in future banyana banyana must be paid more after all they are the ones that put us on the… https://t.co/6MDdOFSa3J

— the journey man (@the journey man) 1558699655.0
The IFP Women's Brigade welcomes the news of equal pay for Banyana-Banyana which has been long due. For the longest… https://t.co/wrnesznO13

— Inkatha Freedom Party in KwaZulu-Natal_Legislature (@Inkatha Freedom Party in KwaZulu-Natal_Legislature) 1558690363.0