Popular
In Conversation: Pelé's Daughter is Making a Documentary About Women's Soccer Around the World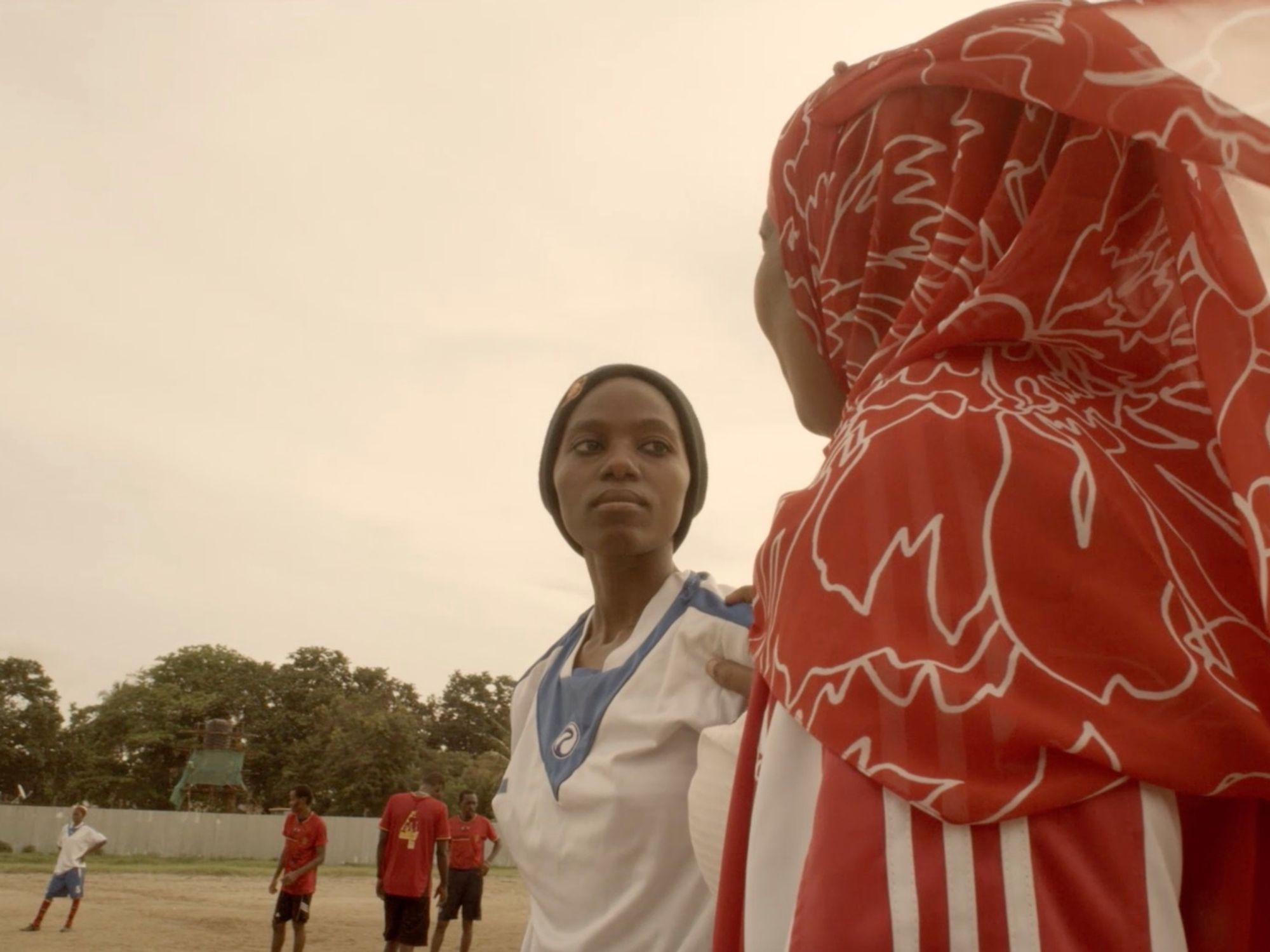 In this exclusive interview, Kely Nascimento-DeLuca shares the story behind filming Warriors of a Beautiful Game in Zanzibar, Brazil and other countries.
It may surprise you to know that women's soccer was illegal in Brazil until 1981. And in the UK until 1971. And in Germany until 1970. You may have read that Sudan made its first-ever women's league earlier this year. Whatever the case, women and soccer have always had a rocky relationship.

It wasn't what women wanted. It certainly wasn't what they needed. However, society had its own ideas and placed obstacle after obstacle in front of women to keep ladies from playing the game. Just this year the US national team has shown the world that women can be international champions in the sport and not get paid fairly compared to their male counterparts who lose.
Kely Nascimento-DeLuca is looking to change that. As the daughter of international soccer legend Pelé, she is no stranger to the game. Growing up surrounded by the sport, she was actually unaware of the experiences women around the world were having with it. It was only recently that she discovered the hardships around women in soccer and how much it mirrored women's rights more generally.
---
Screenshot from the upcoming film Warriors of a Beautiful Game
Her discovery led her to make a documentary "Warriors of a Beautiful Game" that goes around the world—including Zanzibar—to document the real stories of women playing "the world's game." The documentary interviews players, coaches and superstars like Neymar to unveil the impact the sport has not only on women but on society. The result is a beautiful, cinematic and powerful tale that is a sports documentary unlike any other. It is slated for release in the spring of 2020. In the meantime, we sat down with Nascimento-Deluca to talk about her experience in putting the film together, what she learned along the way and to sneak a peek at some behind-the-scenes shots ahead of the film's release.
This interview has been edited for length and clarity
Nereya Otieno for OkayAfrica: When did it first come to you to make the film?

Kely Nascimento-DeLuca: It all started with one girl in Bahía. My brother-in-law is a youth coach and takes a group of his players to Brazil every year. In 2009, he came back from the trip and texted me "Kely, I met this girl." Apparently she was playing in the middle of all the boys because there was no girls' team. She'd never played in an actual team. He said, "We have to find a way to bring her to the US because there's nothing for her there."

Her name is Lais Araujo. Some years later we were still talking about her and my brother-in-law got her a visa for a junior college in Brooklyn and she started playing for them. They have an amazing year and she makes the papers. The coach reaches out to Becky Burleigh, the coach for the University of Florida team, who is a staple in US soccer. Becky sends someone to check her out and the next thing you know Lais has a full scholarship to finish her last two years at the University of Florida and she gets a call from Brazil's U20 national team coach to play in the cup for Brazil. Now she plays in Australia. I was thrilled and horrified for her.
Screenshot from the upcoming film Warriors of a Beautiful Game
Horrified that it took so much effort? Or what do you mean?

Yeah, that it took so much effort. I was wondering what it meant for every girl in a country where soccer talent is apparently in the water. We assume that talent is gender-specific, but what's happening to all of those girls Lais played with that she used to talk about that were so good too? So I started looking into it. And then I started asking her tons of questions. And then I started researching. And I learned so many things that I didn't know about women's football. I thought, "Wow, somebody needs to write about this."
In order to see if the story had legs beyond my weird fascination with it, I told Justin Noto, my co-director, to go meet Lais. I said, 'Set up a camera in her apartment with her and 10 other girls and let's just have them tell their story. Then we'll see if this story can grow.' Just that little footage was so powerful. We decided to do it in multiple countries around the world where we had connections and the documentary was born.
Had you experienced any of what those girls were talking about yourself?
Not really actually. I was interested in fencing and dancing growing up, never soccer. Also, my father was so famous and Brazil didn't really have a structure for celebrity like that. So we just couldn't go outside. So, despite being surrounded by Brazilian culture and football, I never knew the realities of what it was like to play the sport as a girl.
Why Zanzibar? I mean, Brazil makes sense. The other countries you visit are Euro-centric and relate to your connections. But then why Zanzibar?
One of our first investors was Stephan Mbia, a 31-year-old soccer player for the Cameroon national team. I met him at a PSG [Paris Saint-Germain] game. My friend who was there with me told him about the doc. He came to me at half-time and said, "I want to help you. I want to help you help the girls in Africa." Originally we were going to go to Cameroon but that fell through and I still wanted some African representation. Then I saw this picture in the New York Times of girls playing in Zanzibar. The image of their brilliant headscarves was so arresting. I'm not going to lie, I was drawn to the aesthetics of it.
I'm a photographer by trade and I got excited about what we could do visually in Zanzibar. It wasn't exactly what I thought it was going to be. It was actually better in different ways.
Screenshot from the upcoming film Warriors of a Beautiful Game
Anything surprising while you were there?

Fatma Said Ahmed, our fixer, was telling us about how girls in Zanzibar have an exceedingly high rate of diabetes and joint disease because women don't participate in sport at all, not even in school. The girls go to a separate place to read while the boys go play outside. Mostly because they're not supposed to play together in contact. So they're required to be in a separate gym. Nobody's advocating for them.
Advocates, recognition—both are an integral part to anyone's success no matter the field. But certainly if you are up against something seemingly bigger than yourself.

Yeah, it's something very special. In Brazil, there's this woman named Dilma Mendes, and I filmed with her because Dilma is kind of the mama of football there. Dilma's devoted most of her career to helping girls get out of the slums and get out of really dangerous and horrible situations through football.
Anyway, there had been a lull in production due to bribes and bureaucracy and I thought Dilma would be upset so I reached out to her to explain the delay and she said, "Please don't worry about it. You have no idea what it did to those girls to just have you guys come here and ask them to talk about their story. To feel seen for a second. Whether they make it into the movie or not, someone from somewhere else in the world came all the way here to hear their story." That's the power of film, of storytelling and I'm so happy to be taking part in that.
I wonder what that was like, to be addressed as soccer players? It's probably the last adjective they would use to describe themselves outside a safe circle.
I feel like one of the things that surprised me the most out of the whole thing was I expected to find a lot more anger. I found exasperation at times, absolutely. But I found gratitude and hope across the board. They didn't want to focus on the bad things that had happened. Nobody did. They felt that wasn't the problem. The important thing was that things were changing, but they wanted to focus on how it needs to change more.
Screenshot from the upcoming film Warriors of a Beautiful Game
What was it like interviewing Neymar for this? He's probably the biggest name. Were you surprised at anything he said?

No, not at all. One of the reasons we went to him, aside from the fact that he's Neymar and he's Brazilian, is that he was a real supporter of the women's game when he was really young in Santos. At the time he was like 19 and he was the star of Santos. And he really helped the women's team, or tried to help the women's team. He said it was because they were his friends. He said, "We went to church together, we played at the beach together. I didn't understand. I never saw the difference, we were athletes."
It's a lot in one film, so what is the aim, the hope for what the film does when it is released?
I think in spite of how much you like sports or don't like sports, it's interesting because it's a human story. But also, the history of women's football really reflects the history of gender equality and sort of cultural development in these cultures because it reflects the position of women always. It's an absolute mirror. Women, race, everything. Especially football, because it's the world game.
I guess the point of the film was always to be a vehicle that told these stories to an audience that doesn't care about these stories. Just because it doesn't cross their daily life, and or they don't really care about sports or whatever. But more than anything, I think I want girls to feel like their story's being told. Because I know that they're the ones who are going to make the change. This film isn't going to change anything. But this film may be empowering them a little and making them feel a little bit like they can go one more week, the girls who are almost done, or the girls who are just starting feel like that's going to make the change. It's almost like a, "We see you. Everyone knows now, so you go, girl."