Last week, in a move that got various interpretations, South Africans were scratching their heads on Twitter trying to figure out why the country's musicians fail to break in markets like the United States and abroad.
This came after Burna Boy released his latest album African Giant. A fittingly titled album, it trended in different corners of the world upon release, shooting straight to number 1 in various countries. Pitchfork, The FADER and The Atlantic are some of the reputable publications that wrote in-depth reviews of the album, which boasts features from US and UK stars such as Future, YG, Jeremih and Jorja Smith alongside fellow African giants M.anifest and Angelique Kidjo.
Burna Boy is having his moment right now. But he's only just one of many Nigerian artists who are enjoying attention from the U.S. at the moment. The likes of Wizkid, Davido and Tiwa Savage are slowly gaining notable traction in the US and UK.
South Africa has refused to miss out on the current scramble for Africa by the west, which is looking at the continent for "inspiration" and, more recently, collaboration. South African artists such as Black Coffee, Nasty C, Sjava, Petite Noir, Sho Madjozi, AKA, Cassper Nyovest have all been on major international platforms, scooped some awards and collaborated with major US artists. But none of them, except for Black Coffee, have come close to making their mark in the States the way Nigerian artists have.
South Africans, in their analysis, have cited different reasons for South African musicians' failure to break internationally—lack of unity and lack of originality were two of the most cited.
---
For instance, YouTube vlogger @anarchadium tweeted a thread offering his two cents on the issue. "SA hip-hop doesn't have much to offer the world when it comes to originality but they are the most pressed about international support. It's very weird to me." He further added that artists such as Sjava and Sho Madjozi won BET awards because they "all have something very uniquely South African to offer." Which is the most prevalent reason given by most South Africans.

Such reasoning, however, is an oversimplification rooted in either ignorance or oblivion. In 2011, D'Banj got signed to Kanye West's G.O.O.D Music label and released the hit "Oliver Twist" the following year. The song's video was treated to a cameo from Kanye West himself. D'Banj had released "Mr Endowed Remix," which featured Snoop Dogg in the same year. The Nigerian duo, P-Square weren't resting either, collaborating with T.I. and Rick Ross at around the same time.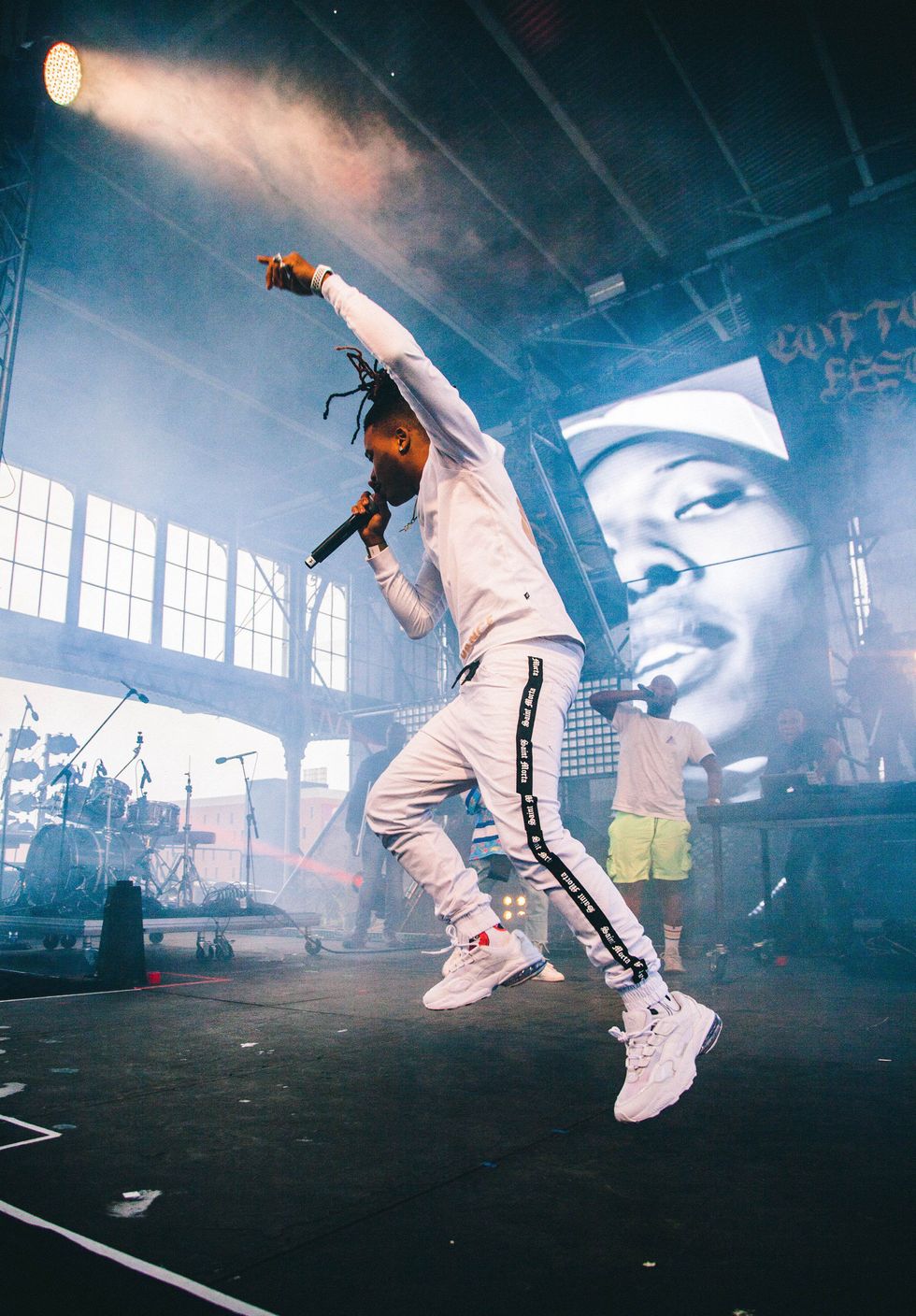 Nasty C. Photo by Sabelo Mkhabela.
While vintage SA artists such as Hugh Masekela and Miriam Makeba achieved international success in the '70s, '80s and '90s, in South Africa's contemporary scene, it has been mostly hip-hop and alternative artists who have shown interest in penetrating the US and UK markets. Alternative bands like BLK JKS and Tumi and the Volume carved their own lanes in the European scene in the 2000s. In the mainstream, however, there were no hip-hop artists playing on the same field as D'Banj and P-Square.
The late rapper HHP got close. Apart from collaborating with various African giants (Naeto C, Nazizi, M.anifest etc.), HHP managed to feature Talib Kweli, Nas (ahem), Asheru, Raheem DeVaughn and others in his songs. But he never got a co-sign from Kanye or any mega star.
Jabba's music was authentically (South) African, especially according to the standards of ministers of originality. Jabba blended his hip-hop with kwaito and rapped a majority of his lyrics in his first language SeTswana.
So, if all it took was being "originally African," as many people suggest, Jabba would have achieved bigger success in the States.
Almost since the early 2000s to present day, the hip-hop artists who achieved mainstream success were making quintessential South African music—Skwatta Kamp, Jozi, Teargas, Khuli Chana, Pro, Cassper Nyovest, AKA, Emtee, Kwesta and many others.
When Sjava dropped his sophomore album, Umqhele, last year, he was already a BET award winner and had appeared on the Black Panther soundtrack. His album, however came with not even a single major US feature, and it didn't shake the world the way African Giant did.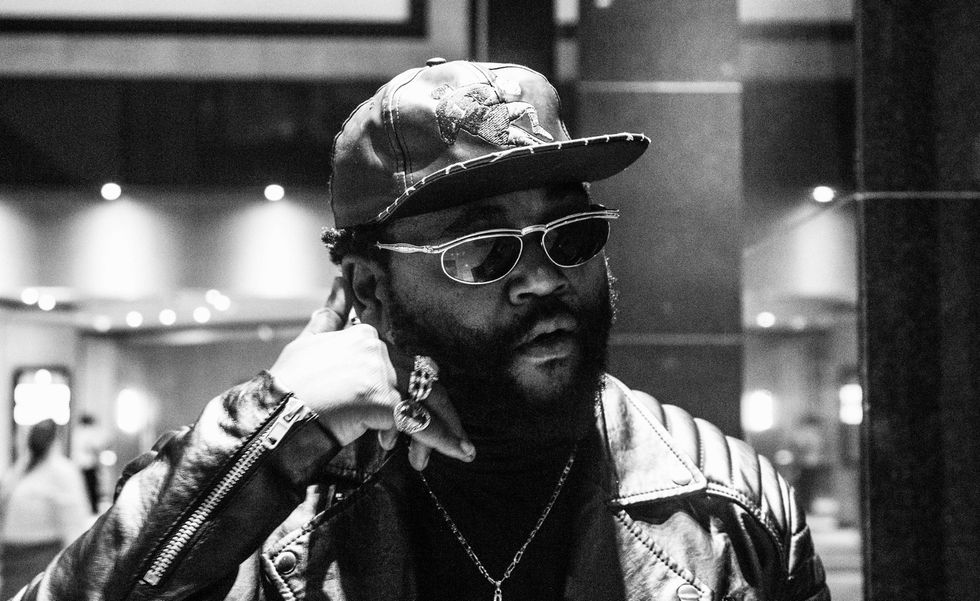 Sjava. Photo by Sabelo Mkhabela.
The most consistent South African music outfit in the US has been Ladysmith Black Mambazo. The acappella group, which now consists mostly of the original members' sons, has managed to sell out venues and scoop Grammy awards regularly for decades. When I interviewed Sjava in 2017, I asked him why he felt the west seems to only see Black Mambazo, but not artists like him and many of his peers. His response:

"What you must remember is that Black Mambazo have a manager in New York. We still don't have that, so they have people who will submit for them. We aren't on that level yet. They don't even know we exist. That's why [when we are featured on projects like] Black Panther, it's like you are new. There's levels to it. But I really appreciate them because they're showing us that it's possible."
Almost anyone who has a vague understanding of the music industry is aware that the game is more business than music. Left-field festivals may do a lot of searching, which is why niche artists like Muzi, FAKA and Yugen Blakrok have managed to perform consistently on stages at boutique festivals like Afropunk. In the mainstream, however, as Sjava implied in his response, it takes having teams dedicated to breaking an artist in their foreign country of interest, especially competitive markets like the US and the UK. Even the left-field artists need a base abroad. For instance, Yugen Blakrok recently signed to I.O.T Records, the same label the Cape Town alternative rap band Dookoom were signed to. Petite Noir and Muzi are the same.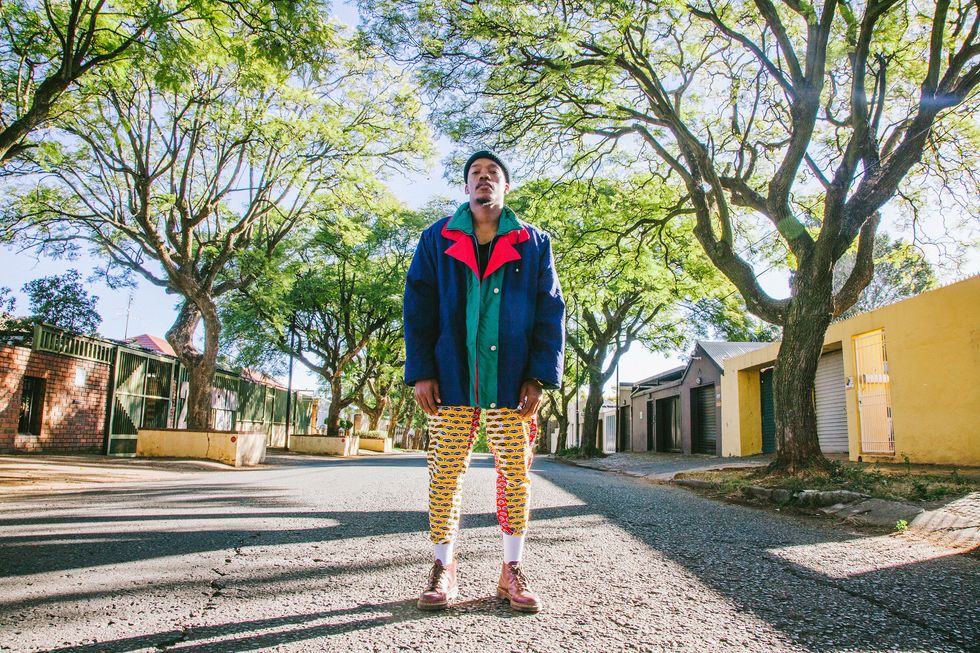 Muzi. Photo by Sabelo Mkhabela.
That's what Nigerian artists got right. Last year, when we interviewed Nigerian DJ and producer Kiddominant, he attributed the success Nigerian artists enjoy globally partly to hard work. "I think, as Nigerians, we work 10 times harder than the average African," he said. "Trust me, it's in our DNA, we are hustlers, man. So it's the extra mile artists are going pushing their music. And also the fact that in places like the UK and the States, the population of Nigerians there is very high. So we share our music with people around us, eventually, it spreads out."

Nigeria has a huge number of artists in the diaspora, too—the likes of Skepta and Wale among others. Nigerians used that as further leverage—Wizkid has worked with Skepta and there are a few other examples.
Nigerians are able to capitalize on the momentary exposure they receive through features, interviews and awards. South Africans, not so much. Which is why most of our artists have only achieved moments—interviews on Sway, getting hand-picked by Beyonce and Kendrick Lamar for soundtrack albums. However, there hardly ever is a follow-up in the form of setting up shop in the foreign regions they wish to conquer.
It's not by coincidence that Nigerian artists are dominating the US. Coincidences in the music business are very few and far between. The reality is that songs hardly ever land on radio and popular Spotify playlists organically based purely on their merit. They need to get plugged by professionals with connections, resources and expertise. Booking agents are required for artists to consistently play shows abroad.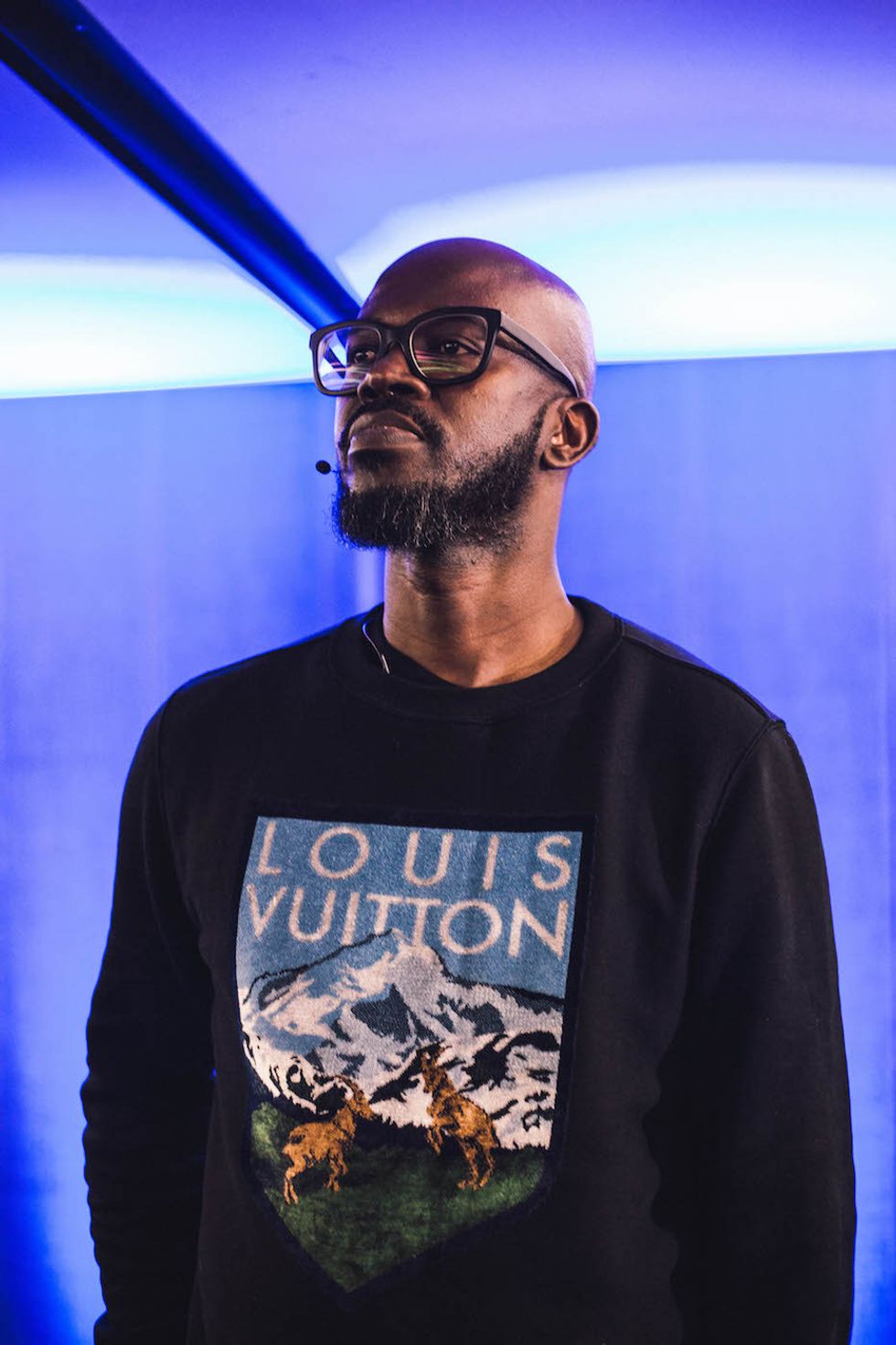 Black Coffee. Photo by Sabelo Mkhabela.
Black Coffee is a great example. Last year, during a press event in Joburg in which he was sharing progress about a streaming app he is working on, the house DJ and producer revealed he had a company that handles his social media just for his American audience. "The tweets go out in the evening in South Africa, but you need to understand that it's morning in the US at that time," he said.

There are definitely more of such professionals behind Black Coffee, ensuring he has a presence in the regions he doesn't physically live, but plays frequently in. Gqom, the popular house genre born in the townships of Durban, became popular in some parts of Europe through indie labels who released songs and projects by the Durban producers. Sadly, the artists didn't benefit much financially, but for the genre to make a dent in the UK, there had to be a channel of distribution in the country.
If it was all about an "authentic African sound," the rapper Nasty C wouldn't have gotten praises from T.I., Stogie T wouldn't have gotten praised by Black Thought for his God's Eye EP after his appearance on Sway last year. It took those artists being on the US radar for their talents to be recognized. It's up to them to get more aggressive in their business for those little nuggets of attention to translate to them being stars in the US.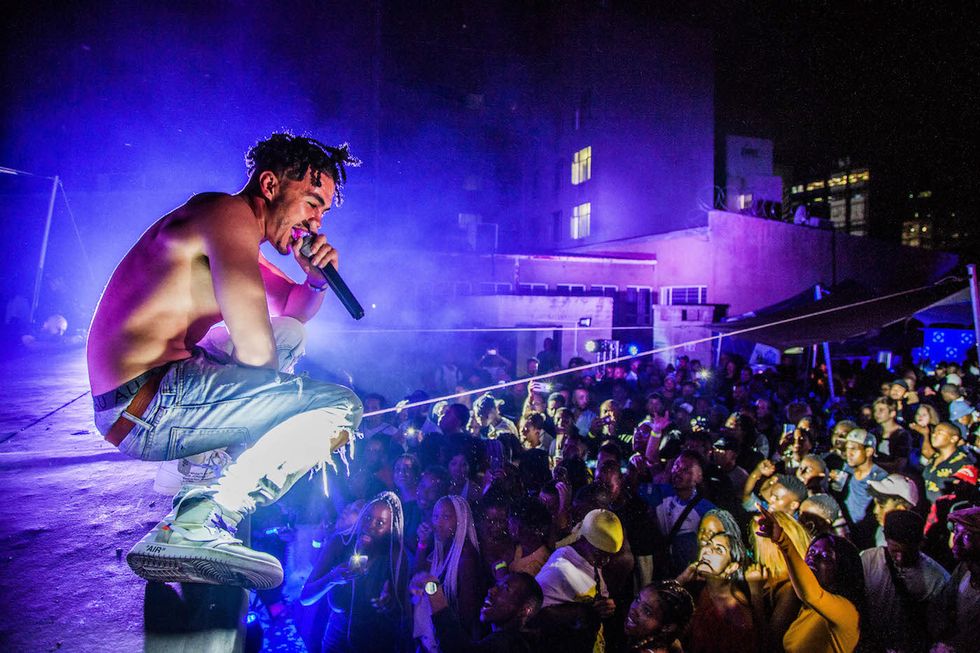 Shane Eagle. Photo by Sabelo MKhabela.
The expansion of artists like Nasty C and Shane Eagle into international markets disapproves the simplistic outlook that African artists need to sound a certain way to stand a chance of succeeding in the regions they gain inspiration from. Recently, when Sway was in South Africa, he told Metro FM in an interview that he feels Nasty C stood a huge chance of succeeding in the US.

"Nasty C to me," said Sway, "represents the new generation of sound where it's more of a fusion, but then he pays homage to where he's from at the same time, and I think that's great." He added: "Nasty C to me is special. Get behind that kid. He's the one that can really cross all geographical boundaries. He's the one who can initially blow up big in the States."
With his upcoming album confirmed to have production from No I.D. and a T.I. feature, the project could kick off his global domination. An authentic African sound does give artists an advantage, but it doesn't guarantee anything. If it did, Sjava would be where Burna Boy is. And HHP would have probably worked with Kanye West in the early 2000s.
That is all.
This piece is part of Sabelo Mkhabela's South African hip-hop column. He's happy to debate you on Twitter: @sabzamk