On a Thursday night toward the end of February, Haus Africa, a showroom gallery in Parktown North, Joburg was teeming with eager guests. The event: a listening session hosted by the rapper ByLwansta for his new EP, SpijØnget Chapter II, which preceded its 28th February release.
The rapper has shared this EP as the second companion piece in a series consisting of three EPs. The first of this series, SpijØnget Chapter I, was released in March of last year. Each of the EPs consist of four songs which, when complete, will form a 12-song album.
In SpijØnget Chapter II, ByLwansta enlists a handful of other artists, which is unusual—his previous EPs only have a few featured guests. Rapper Solo Ntsizwa Ka Mthimkhulu, singer ZULO, singer/songwriter Lungelo Manzi, producer Robot Koch and singer Kimosabe, all lend an assist on each of the four songs on SpijØnget Chapter II.
Speaking on what encouraged the numerous collaborations on this EP during an interview with OkayAfrica, ByLwansta says, "Admittedly, I'm someone who has always preferred to work alone. That's my comfort zone. I have always been responsible for my output and creativity, but that only made sense when I was working in the bedroom by myself. I have now realized that the world is much bigger than that, and I guess I grew tired of the familiarity of my comfort zone."
A music residency he was part of in Berlin, Germany also played a pivotal role in influencing this perspective.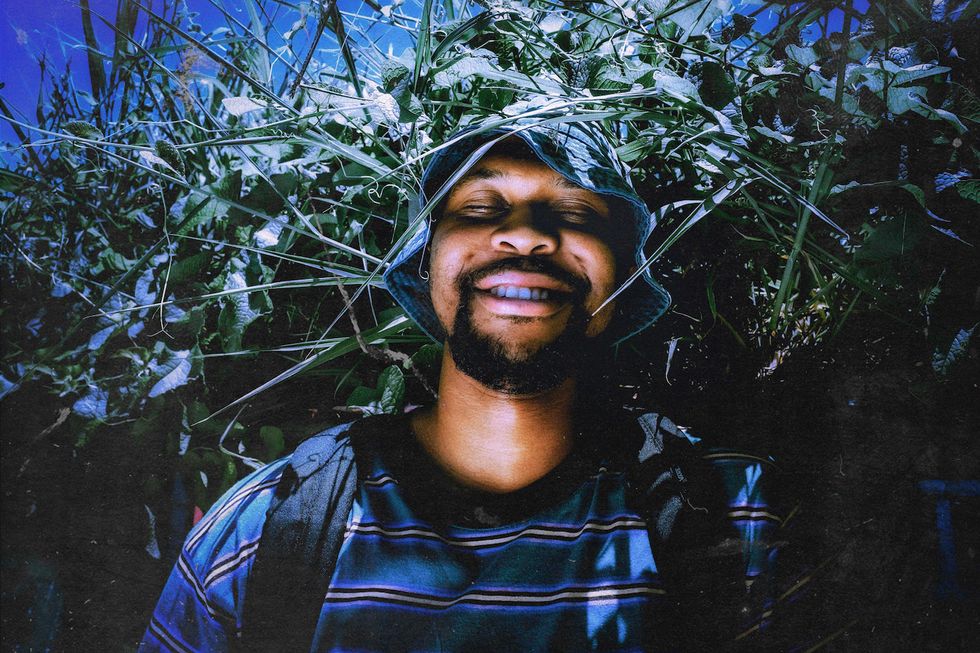 ByLwansta. Image courtesy of artist.
This experience taught him the value of being able to create seamlessly with others. He also mentions the importance of drawing inspiration and sourcing collaborations with those closest to him, particularly his sister, Anelissa Nkanyuza, who helped in the design of the EP cover. His brother, Kimosabe, and fellow Durbanite, who is featured on "Nightcrawlerz," is one of his favorite collaborators.

Having moved to Joburg last year, after living in Durban for a significant amount of time, he still has a strong affinity to the coastal city. It finds its way into his music. "I love Durban, and I have said before, when I die, I'd like to be buried there," says ByLwansta. "That's where my lady is, still. This is why it permeates my music. So, even in collaborating, it was important for me to get with Lungelo, who is a brilliant singer and songwriter based in Durban, because he is someone that's in my network."
An ever-present characteristic in ByLwansta's music is his canny ability to tell stories, weaving them into funny anecdotes that are as much self-deprecating as they are self-aggrandizing.
On "How About Now," his mind is in a tug-of-war, going back and forth with thoughts of pursuing music, but also wanting a stable life that can only be offered by a steady job (graphic design, which is what he majored in at college).
"Nightcrawlerz" is a tale of a fateful night in Jo'burg when he got mugged while on his way to catch a bus to Durban in December, soon after he had moved to Joburg.
The EP's lead single "The Bike Song" is a triumphant anthem, which also serves as a cathartic release of the trauma he suffered from the events detailed in "Nightcrawlerz." It has a bouncy feel to match, and is incidentally the product of his collaboration in Berlin, with German artist/producer, Robot Koch.
"Okay, Fine" featuring ZULO (formerly known as Lil Tix) and Solo Ntsizwa Ka Mthimkhulu (formerly known as Solo) finds the two featured artists using their new names for the first time coincidentally on the same track.

ByLwansta is an endearing artist who seems earnest in his pursuit of music-making. His soul-baring soliloquies reveal an emcee with incredible self-awareness. He second-guesses, but also believes in himself. This is exemplified in these lyrics from the song "How About Now":
"Listen, I don't doubt your ability/ The music is crazy ntwana, stay making it/ It's killing me, but I just want you to think about stability, man/ You need to stop keeping designing your periphery/ Do I have to remind you and rewind you back to the times you were grinding just for this degree?/ Crying just for this degree/ Now you're done… no looking back, brother/ Wrong way, you came a long way/ But they don't know that you're all day playing the long game..."
The skits on the EP, lifted off the animation sitcom It's Adventure Time provide comical relief while resonating with his personal story. "I watch a lot of stuff, and sometimes things jump at me. I often tell the story of how I came up with "spijonget" while I was watching Avatar, The Last Airbender with my girl. So with the skits that I used on this EP, some of the characters on It's Adventure Time said things that I felt were applicable to my life, so I decided to use some of those clips and excerpts," he says.
ByLwansta is meticulous in his craft, however, he is not cerebral or heady about himself. While his songs may come off as effortless, it's also evident that it takes a great deal of mastery to pull them off; using devices such as speaking about himself to himself in second person. There's refreshing honesty that doesn't feel contrived in his lyrics. He's able to illustrate the wide spectrum of security and insecurity which could translate to a listener feeling at ease with their own insecurities. In "Okay, Fine," he raps":
"Okay, fine, she knows I've been doing music a long time/ She knows that I'm sitting on top of a gold-mine/ She knows that I'm holding back, she knows that I'm afraid/ Like I'm actually scared of the fact, life is gonna change, and we might not be ready for that/ I don't want to get on the road and not ever come back/ I don't want to leave her alone, but I did it anyway, 'cause it's showtime…"
SpijØnget Chapter II is a great addition to not only the series itself, but to a body of work that's proving to be one of the most well-crafted and well-thought-out bodies of work of any hip-hop artist in South Africa. When asked whether he didn't worry that once the full album is released, it may sound fragmented due to it consisting of previously released EPs, he says, "I am not worried about the album lacking cohesiveness because the three chapters are meant to represent different stages of my journey. Plus, once it is listened to as an album, the skits will serve as signals to which section the listener is on the album."
SpijØnget Chapter II is a progression from Chapter I. It shows a different side to ByLwansta. In its predecessor, ByLwansta was looking inwardly, focusing predominantly on how he felt about his girlfriend, who served as the muse and centerpiece of the entire EP. With Chapter II, however, one gets a sense that he has an outward perspective that focuses on external themes in relation to how they affect him.
An overwhelming majority of current South African hip-hop artists who break out seem to be walking the same path of pandering to make radio and club hits. ByLwansta is carving his own. He is a much needed voice that offers a different approach to music. Masterful storytelling, fluid production and a keen sense to detail, design and presentation, are some of his strongest traits that not only set him apart, but also signal an unheralded staying power.
Listen to
SpijØnget Chapter II
below: