AFRICA IN YOUR EARBUDS #32. M1 mixtape featuring cuts from D'banj, The Very Best, Estelle, D'angelo, LL Cool J, R. Kelly + more.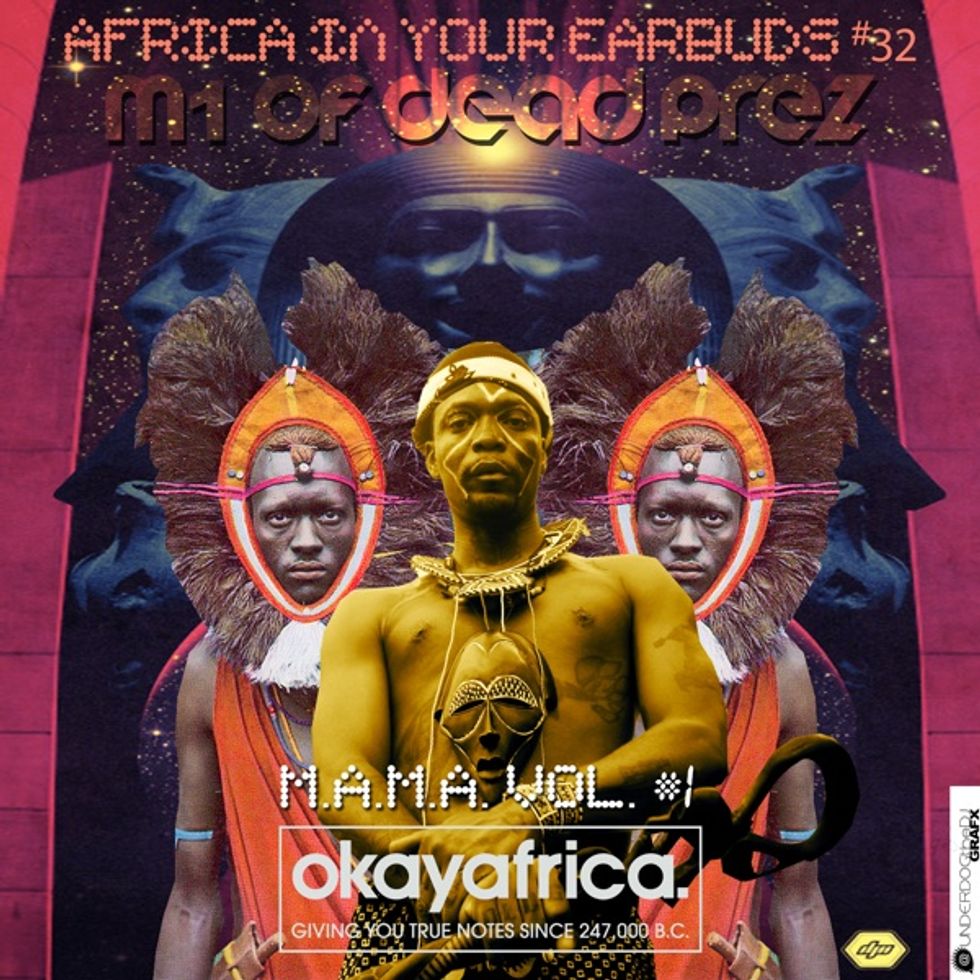 It's no secret that dead prez have been championing social action and promoting pan-Africanism since day one — see: most any track on their 2000 debut album Let's Get Free, in particular "I'm A African." So we were thrilled when M1, mere weeks after hopping off Damon Albarn's Africa Express Train Tour through the UK, hit us up with his own episode of Africa In Your Earbuds.
AIYE #32: M.A.M.A. Vol. 1, mixed by DJ/producer mikeflo, runs through a steroid-injection of mainstream hits and classic tunes with ties to the continent featuring D'banj, The Very Best, Estelle, D'angelo, LL Cool J, R. Kelly, Youssou N'Dour and more. Stream and download this special Earbuds below. Credit to Underdog for the artwork.
M1 of dead prez & mikeflo present: M.A.M.A. Vol. 1
D'Banj - Oliver Twist (Nigeria)
Estelle - Oliver Twist Remix (UK/Senegal/Grenada)
The Very Best - Yoshua Alikuti (Malawi/Sweden)
Soul Makossa - Manu Dibango (Cameroon)
African Funk - Monomo, Mandrill, Peter King
Canibus ft. Youssou N'Dour - How Come (Haiti/Jamaica/Senegal)
K'naan - Somalia (Somalia)
Tlahoun Gessesse - Yene Mastawesha (Ethiopia)
Toto - Africa (UK?)
Nakaaya - Mr. Politician (Tanzania)
Third World Girl - Marvin Gaye (US/DC)
Asa - Jailer (Nigeria)
Stephen Marley - Made in Africa (Jamaica/Nigeria/Ghana)
Luciano - One Way Ticket (Jamaica)
LL Cool J - Def Jam in the MotherLand (US/NYC)
Stetsasonic - A.F.R.I.C.A. (US/N.Y.C.)
Awadi - Roots (Senegal)
Awadi - LeSilence (Senegal)
D'Angelo - Africa (US/Virginia)
R'Kelly - My Africa (US/Chicago)
Maurice Joshua - R. Kelly (US/Chicago)
Previously on Africa In Your Earbuds: BODDHI SATVA, L'AFRIQUE SOM SYSTEME, NOMADIC WAX, THE BROTHER MOVES ON, LV, BEN ASSITER [JAMES BLAKE'S DRUMMER], JAKOBSNAKE, CHRISTIAN TIGER SCHOOL, SAUL WILLIAMS, TUNE-YARDS, MATHIEU SCHREYER, BLK JKS, ALEC LOMAMI, DJ MOMA, AWESOME TAPES FROM AFRICA, PETITE NOIR, OLUGBENGA, RICH MEDINA, VOICES OF BLACK, LAMIN FOFANA, CHICO MANN, DJ UNDERDOG, DJ OBAH, SABINE, BROTHA ONACI, DJ AQBT, JUST A BAND, STIMULUS, QOOL DJ MARV, SINKANE, CHIEF BOIMA
Keep reading...
Show less