Audio
Oct. 04, 2016 02:00PM EST
Minna Salami, founder of MsAfropolitan, selects an all-female mixtape for a 'feminist' episode of Africa In Your Earbuds, mixed by DJ Cortega.
For the latest installment of Africa In Your Earbuds, we asked writer Minna Salami, founder of the MsAfropolitan blog, to pick out some all-female song selections for a 'feminist' episode of our mixtape series.
Check out Minna's mixtape, which was expertly put together by DJ Cortega, below and read about the Yoruba inspiration behind her feminist mixtape. 
Here you are heard
There is an ancient Yoruba legend about Aje, a mysterious cult of women who were bestowed with supernatural gifts which they passed from mother to daughter or sold to women who wished to be initiated. The legend tells that they used their powers to both heal pain and destroy evil.
Fela Kuti once said that all women are Aje in the spirit world. "My mother is Aje, and so are all our sisters and wives," he mused. With the introduction of the English language, Aje was translated into "witches" emphasising our fear of women who are not bound by conventions of obedience.
It was therefore the essence of Aje that I conjured when curating the Feminist Africa in Your Earbuds playlist. Aje are a representation of protofeminist Africa and I wanted to imagine what the song of Aje might sound like in the twenty-first century? What contemporary music reflects the triad—woman, spiritual power and Africa?
So the playlist is feminist in its mood rather than in its content. Which is not to say that its content is not ideologically aligned or that the artists included aren't feminist. It's just not the focus. Rather the focus is to sonically explore emotions that are superglued into the female consciousness.
In my head, feminist Africa sounds like this: sultry, transformative, ethereal, revolutionary, unshackled, wild, spiritual, healing and wise. But like feminism itself, it is a contradictory sound. It is vulnerable and loving, but also frustrated and rebellious.
There is jazz to evoke sultry sensuality, there are synthetic beats whose loopy drums evoke rituals of fertility, there's the explosive expression of desert blues as well as nurturing soulful tones, there's the community spirit of hiphop. There's beats too, as in afrobeats, and alternative R&B so go ahead an play it in the midnight hours. I imagine the modern-day Aje dancing by the flames to this melange of harmonious sounds.
Throughout, there is a call to connect with your feminine energy. Even if you are male. Create space for sublime beauty in your life. Be aware of all your senses - taste, touch, sound, smell and sight. Don't forget the sixth sense too. Connect with nature. Dance. Wail. Ground yourself. Let go of yourself. Be free…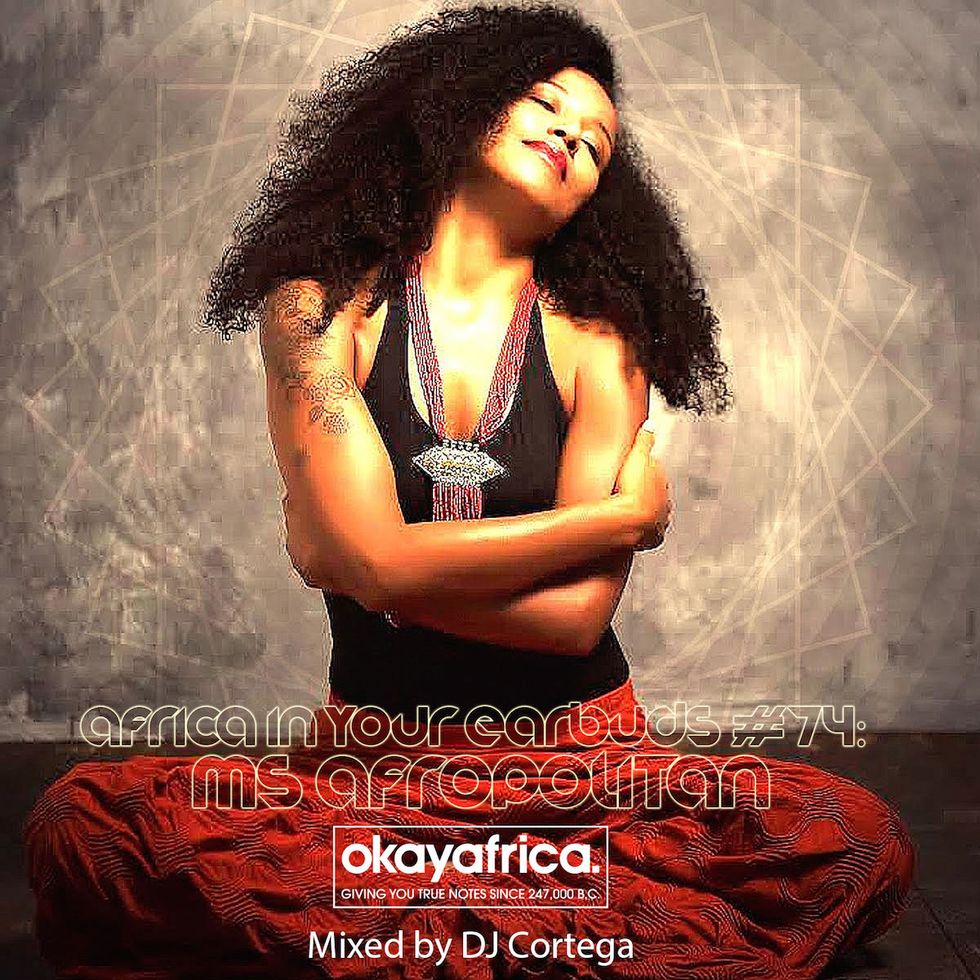 Cover artwork by DJ Underdog. Photo by àsìkò
Track List
Simphiwe Dana – Zandisile – South Africa
Kelela – All The Way Down – Ethiopia/US
Tanya Stephens – It's A Pity (eTas remix) – Jamaica
Jojo Abot – Lom Vava – Ghana
Thandiswa Mazwai – Ingoma – South Africa
Ayo Awosika – City By The Sea – Nigeria/US
Ibeyi – Oya – Cuba
Shishani – Clean Country (Produced by G-Do) Namibia
Somi – Ginger Me Slowly - US/Uganda/Rwanda
Nneka – Still I Rise – Nigeria
Jhene Aiko – The Worst – US
Angelique Kidjo – Bahia – Benin
Fatoumata Diawara – Musso – Mali
Chiwoniso – Rebel Woman – Zimbabwe
Falana – Start Again – Nigeria
Yemi Alade – Na Gode – Nigeria
Seinabo Sey – Younger (Kygo Remix) – Gambia/Sweden
Mayra Andrade – Storia, Storia – Cape Verde
Jah9 – Avocado – Jamaica
Miriam Makeba Homeboyz Muzik edit – Zulu Song – South Africa
FKA Twigs – Mothercreep – UK
Bumi Thomas – Walk with me – Nigeria/UK
Noura Mint Seymali – Tzenni – Mauritania
Speech Debelle – The Work featuring Miss Baby Sol – UK/Jamaica/Zaire
Keep reading...
Show less