News
Jul. 24, 2015 03:08PM EST
Kenyan cartoonists are "taking on" the U.S. president by holding a Barack Obama cartoon exhibition in Nairobi.
As Nairobi prepares to welcome Barack Obama for the first time since he took office, a group of Kenyan cartoonists are looking to "take on" the U.S. president. Opening Friday at Nairobi creative space PAWA254, the Obama Cartoon Exhibition looks to trace Kenyan-Obama relations in light of the President's first visit to his father's home country since taking office. According to the show's organizer, Nairobi-based cartoonist Patrick Gathara, the exhibition seeks to track how perceptions of Barack Obama have evolved in Kenya through the work of six artists.
In an email to Okayafrica, Gathara explained the significance of the cartoon exhibition.
"[Obama's] historic election in 2008 was a cause for much celebration in Kenya, which was the only country in the world to declare a public holiday in honour of his triumph. Across the country was seen as a beacon of hope by many Kenyans and a harbinger of a closer and perhaps even privileged relationship between Kenya and the US. However, this has not come to pass. In the years since, the relationship between Kenya and the US, and the Western world generally has been strained, by issues ranging from corruption to the controversial 2007 election and the ensuing violence, to the cases brought against President Uhuru Kenyatta and his Deputy, William Ruto at the International Criminal Court. President Obama, too, has kept his distance and it is perhaps not surprising that it is only in the penultimate year of his presidency, and on his third trip to the continent, that President Obama has seen fit to visit his father's homeland.

So what do Kenyans make of him now? How has this perception changed in the course of the last 7 years? What, if anything, does Obama mean for Kenyans today and what will his legacy be? What does this say about how Kenyan view themselves and their leadership?

These are some of the questions the exhibition is hoping to help Kenyans address."
The exhibition features work by six of Kenya's top cartoonists– Gado, Celeste Wamiru, GaMMZ, Gathara, Maddo, and Victor Ndula. "Themes [in the art] range from poking fun at Kenyans in 2008 for the perception that Obama was the Kenyan candidate in the US election, to riffs on his policies as US President," Gathara said. Some of the cartoons date back to Obama's 2008 election, while others were drawn in the week leading up to the President's visit, like the image pictured above by Nairobi-based editorial cartoonist Ndula. Speaking on the cartoon, the artist explained over email, "Obama's visit to Kenya cannot be downplayed, it has huge benefits, however he is not a silver bullet to some of Kenya's self inflicted institutional and historical problems, we have to sort this out ourselves, the man in the street has to understand this. My cartoon reminds the reader not to have unrealistic great expectations."
In our email exchange, Gathara also shed some light on Nairobi's cartoon landscape. "The political cartoon scene in Kenya continues to be very vibrant and irreverent," he told us. "We have sadly lost several of the first generation of political cartoonists including the grandfather of the all, Terry Hirst, who passed away this year, and Frank Odoi who died in 2012. However, a new generation of cartoonists mentored by 'veterans' such as Godfrey GADO Mwampembwa, James KHAM Khamawira and Paul MADD Kelemba is taking over and continuing in the tradition of skewering the country's political elite. However the dearth of newspapers in the country (only 4 national titles) as well as self-censorship in the media as editors succumb to pressures from the state, religious leaders and big business, curtail the number of cartoonists able to secure work and the scope of topics they can tackle."
'Obama Cartoon Exhibition: Kenyan Cartoonists Take On Obama' is on view at PAWA254 in Nairobi July 24-31. Entrance is free.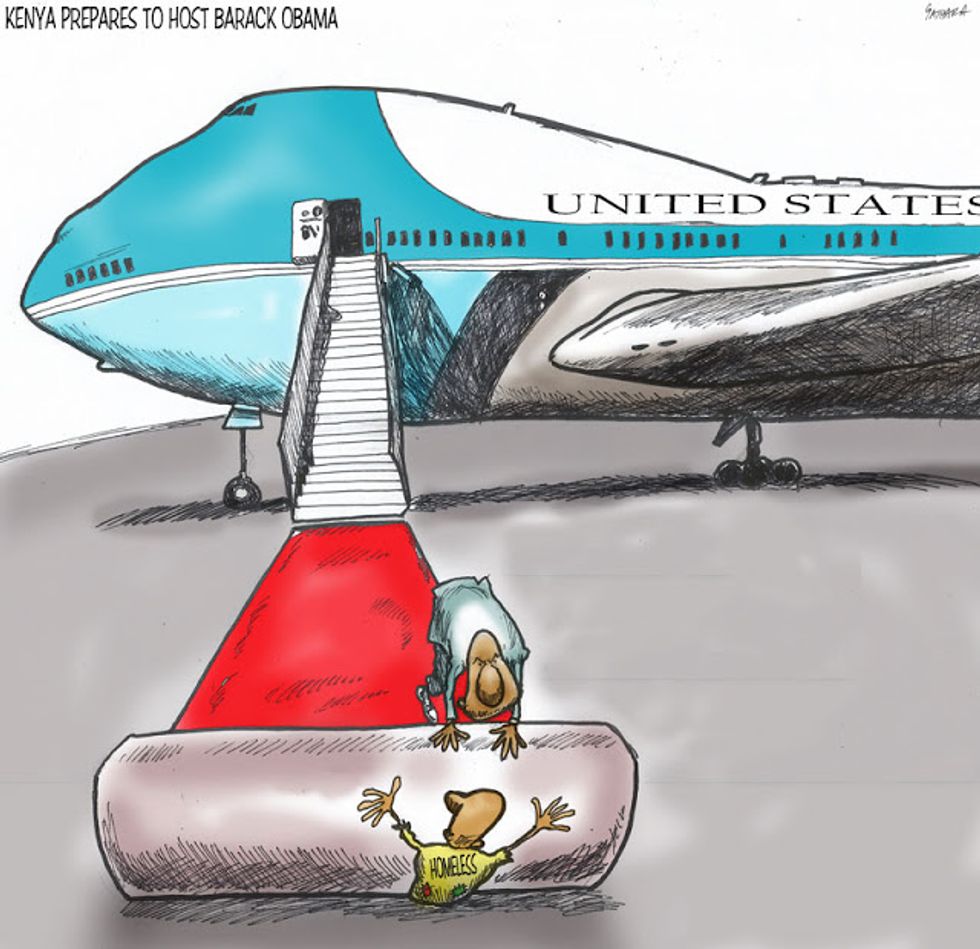 Gathara (@gathara), Kenya prepares to host President Obama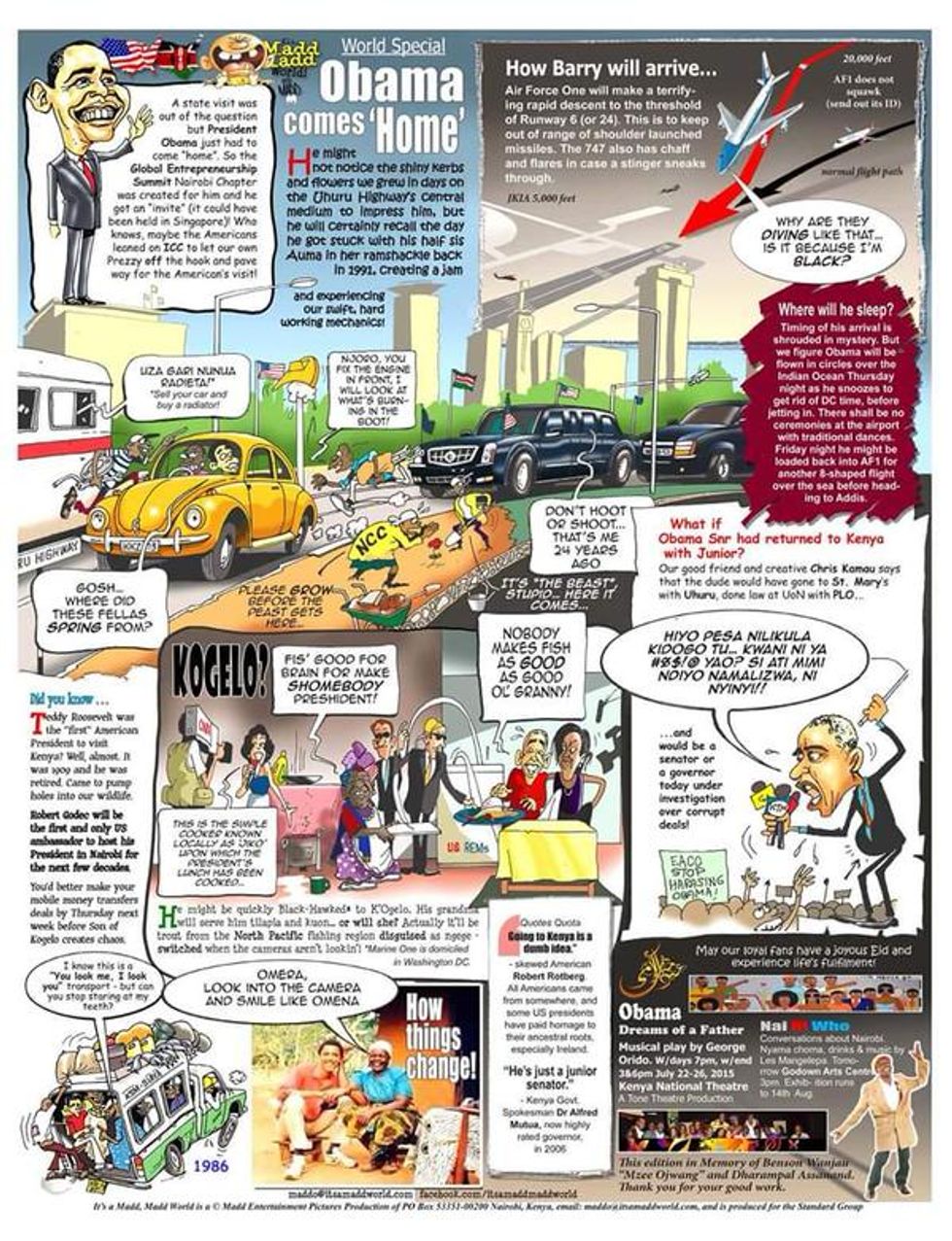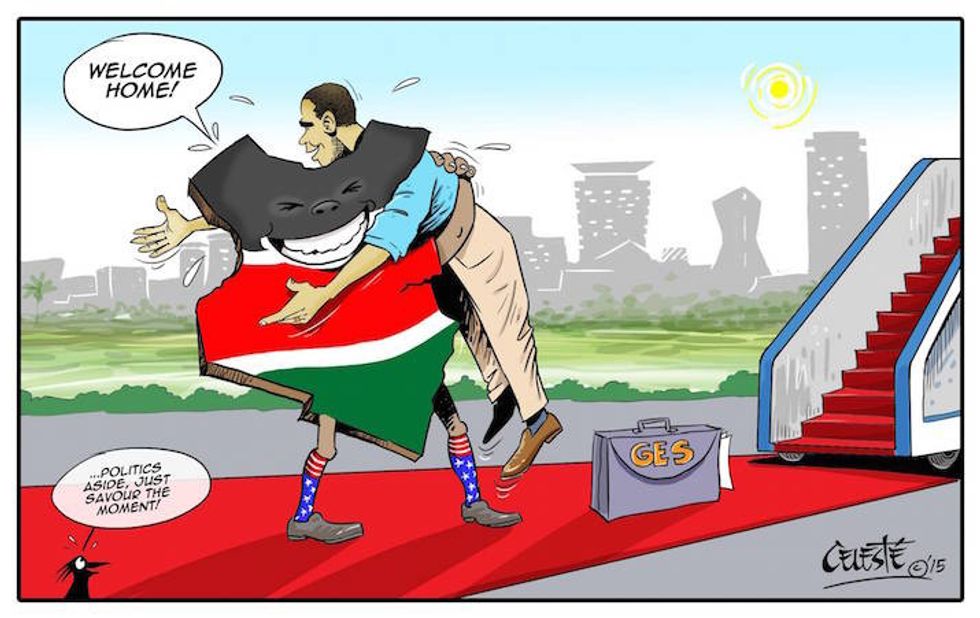 Celeste Wamiru (@toonsbyceleste)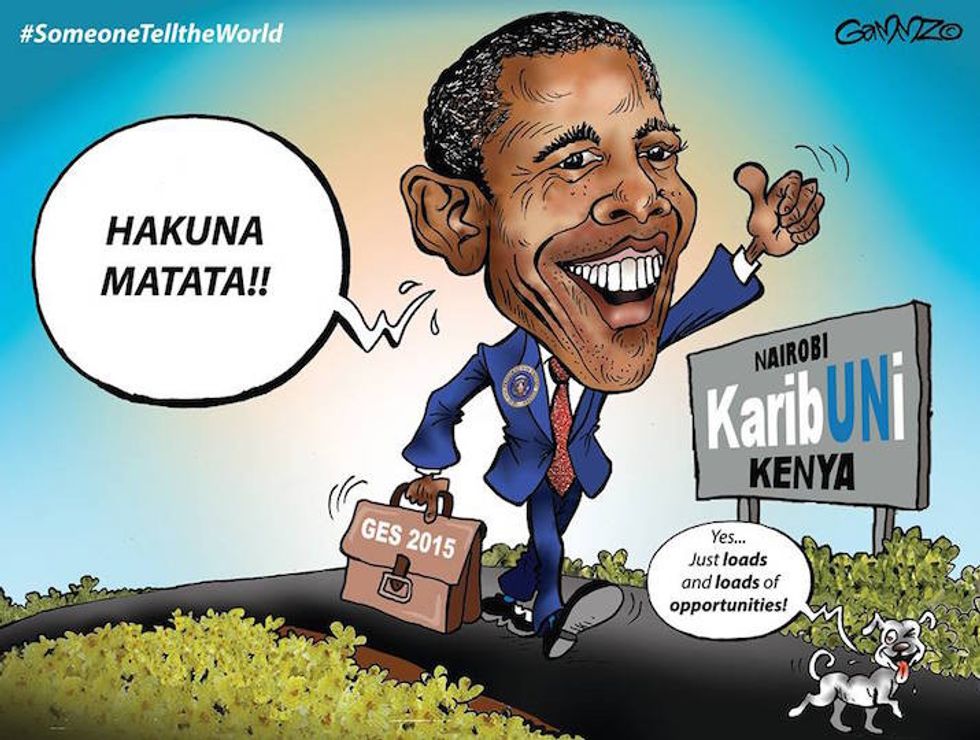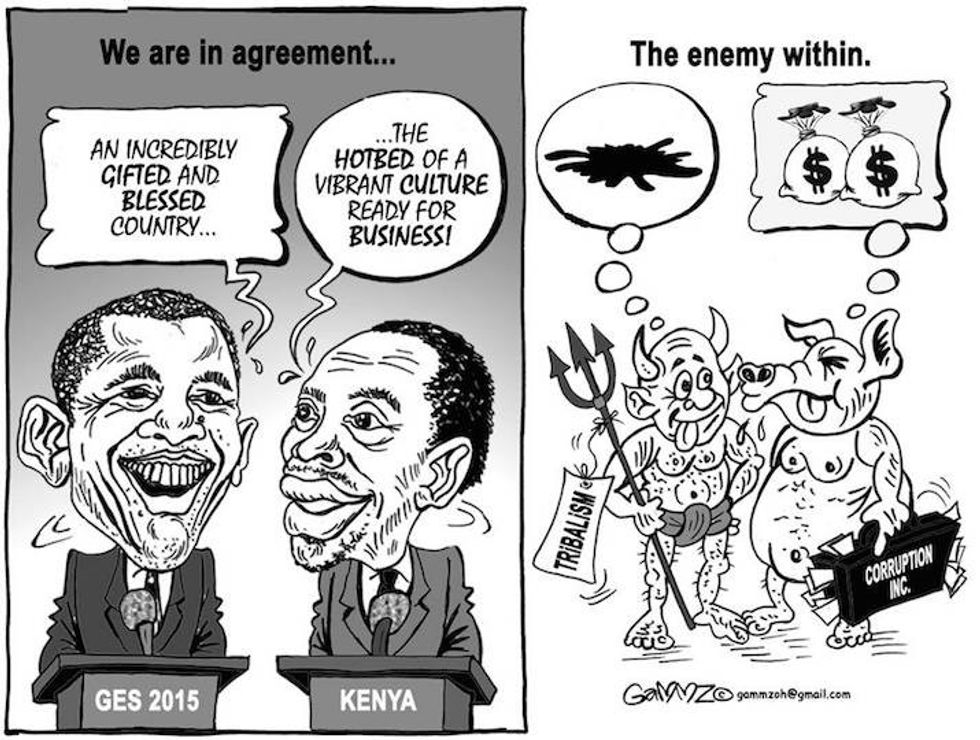 GaMMZ
My cartoon for @dailynation. #ObamaReturns pic.twitter.com/S5yVY03nqk

— gathara (@gathara) July 24, 2015
Set up for #Obama exhibition ongoing @Pawa254. Opens tonight. Details here https://t.co/dB5FlMToSj #ObamaHomeComing pic.twitter.com/zvGvrw9bq6 — Boniface Mwangi (@bonifacemwangi) July 24, 2015
Great exhibition at @Pawa254 #CartooningObama #ObamainKenya pic.twitter.com/khfA62Q7KS

— Mutheu Mutua (@AKenyanGirl) July 24, 2015
The brand "Obama" http://t.co/TKZYNDgQFT #ObamaReturns #ObamaInKenya pic.twitter.com/u5XwyJIAQM — Gado (@iGaddo) July 24, 2015
#ObamaAtPawa: Facing east but walking west. #ObamaAtPawa #ObamaReturns pic.twitter.com/CCzAtDvS1w

— Pawa254 (@Pawa254) July 24, 2015
#ObamaAtPawa: Some of the artwork at the exhibition. What's your take on artistic expression? #ObamaReturns pic.twitter.com/93RtDN2pdn — Pawa254 (@Pawa254) July 24, 2015
#ObamaAtPawa: Silence don't try to spoil this party!! ~ @igahKE #ObamaReturns pic.twitter.com/k3utPZUtdX

— Pawa254 (@Pawa254) July 24, 2015
#ObamaAtPawa: "You are very special to me..." ~ Celeste pic.twitter.com/qJgq2wKDzP — Pawa254 (@Pawa254) July 24, 2015
Keep reading...
Show less