Download Turntables On The Hudson creator and Wonderwheel Recordings founder Nickodemus' 52-minute Africa In Your Earbuds mixtape.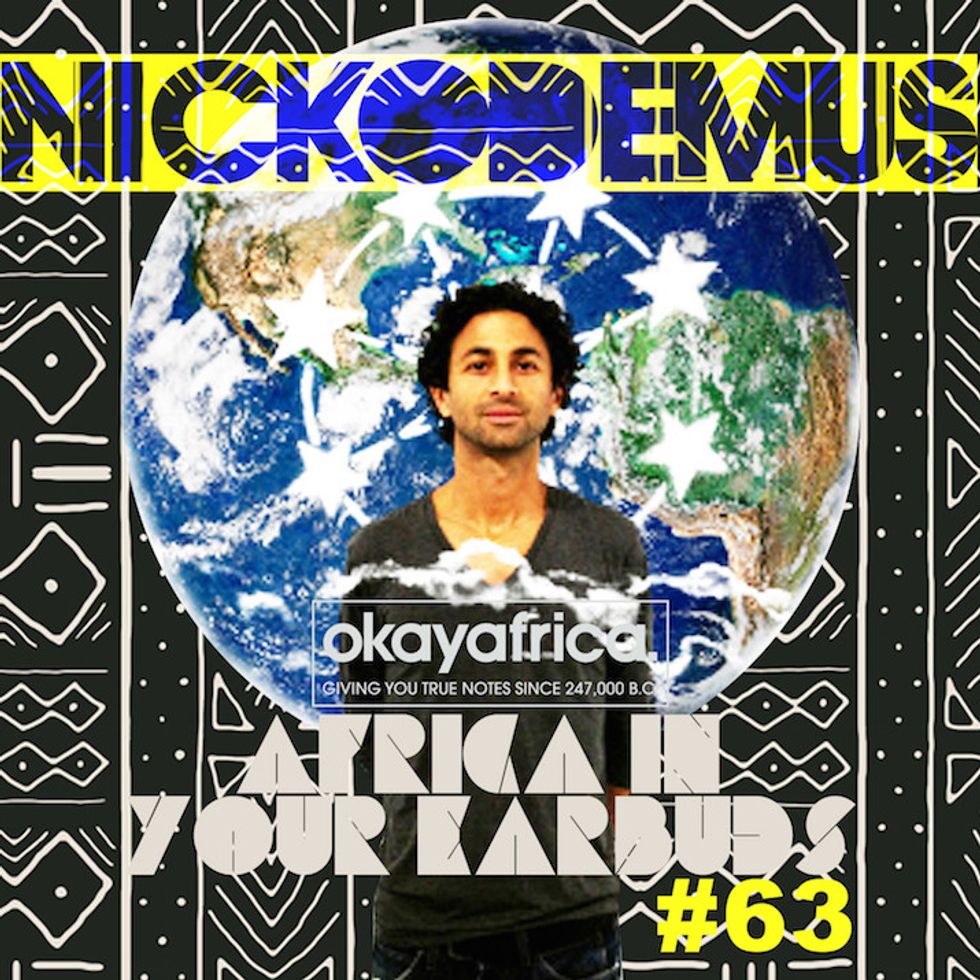 Cover Artwork by Underdog.
New York City-based DJ and producer Nickodemus made his name as the resident spinner at Turntables On The Hudson, a long-running global bass party held on a dock in Manhattan's West side. Since then, the Bronx-born producer's founded his own imprint Wonderwheel Recordings, from which he's released a number of singles, remixes and LPs by himself, Alsarah & The Nubatones, Quantic, and many others. Nickodemus also recently shared WONDERWORLD: 10 Years of Painting Outside The Lines, a celebratory mix CD to mark the 10 year anniversary of his debut LP.
For this installment of Africa In Your Earbuds Nickodemus turns in an entrancing 52-minute mix that runs through tracks by Bombino, Owiny Sigoma Band, Clap! Clap!, Rocky Marsiano and several others. "Throughout the years I've followed & spun African music in many forms of funk, hip-hop, house," the producer writes to Okayafrica via e-mail. "In this mix I wanted capture a little of it all including artists who may not be from Africa, but clearly collaborated with musicians or samples from the continent. As we know in music, it all comes full circle and we have to give respect to the many who've paved the way over the years to get us on the good foot worldwide today."
Stream and download AIYE #63: Nickodemus below. Check out the mixtape's full tracklist, plus our previous Africa In Your Earbuds releases listed underneath.
TRACKLIST
Romare "Nina"
The Sumo Brothers "I Love Music" (Umoja Edit) (Ivory Coast)
Umoja "Fiya" (Ghana)
Yacouba Diarra "Ginako (dj Smash Funky recall mix) (Burkina Faso/ USA)
Acid Arab feat. Avril & Shadi Khries "Samira"
Clap Clap "Barbuka"
Zed Bias & Mark Pritchard "Trouble in the Streets" (Kidkanevil Remix) (UK)
Owiny Sigoma Band "Nyiduonge Drums"
Novalima "Santero" (Peru)
Rocky Marsiano "Semba Assim"
DJ Khalab "Malala" (Italy)
Machine Drum "Listen to Me"
Bombino "Tar Hani" (Niger/ Kel Air Tuareg)
Alsarah and the Nubatones "Bilal Al Dahab" (Isaac Aesili Remix) (Sudan/ USA)
Nickodemus & Solani feat The Earthchild Project "Beauty is Your Name" (South Africa/ USA)
Get more African mixtapes from Africa In Your Earbuds:
MARAMZA — DOOKOOM — MIKAEL SEIFU — GARTH TRINIDAD — DJ SPOKO — CAPTAIN PLANET — THE HAPPY SHOW — CLAP! CLAP! — DJ GIOUMANNE —ALEXIS TAYLOR OF HOT CHIP— CARLOS MENA — ZACH COWIE — ELIJAH WOOD — KOOL A.D. — SOL POWER ALL-STARS — DJ NUNAS — NIC OFFER OF !!! — LARRY ACHIAMPONG — KYLA-ROSE SMITH OF FRESHLYGROUND— THE GTW — RADIO TANZANIA — JON THEODORE — DESMOND & THE TUTUS — MATHIEU SCHREYER II — YOUNG FATHERS — BBRAVE OF AKWAABA — OLD MONEY — DJ NEPTUNE — SAHEL SOUNDS — BEATENBERG — M1 [DEAD PREZ] — BODDHI SATVA — L'AFRIQUE SOM SYSTEME — NOMADIC WAX —  THE BROTHER MOVES ON — LV — BEN ASSITER [JAMES BLAKE'S DRUMMER] — JAKOBSNAKE — CHRISTIAN TIGER SCHOOL — SAUL WILLIAMS — TUNE-YARDS — MATHIEU SCHREYER — BLK JKS — ALEC LOMAMI — DJ MOMA — AWESOME TAPES FROM AFRICA — PETITE NOIR — OLUGBENGA — RICH MEDINA — VOICES OF BLACK — LAMIN FOFANA — CHICO MANN — DJ UNDERDOG — DJ OBAH — SABINE — BROTHA ONACI — DJ AQBT — JUST A BAND — STIMULUS — QOOL DJ MARV — SINKANE — CHIEF BOIMA
Keep reading...
Show less