When the coronavirus that has now claimed almost four hundred thousand lives began to ravage the world, Lola Shoneyin had cause to worry. Shoneyin is the founder of Aké Festival, a four-day celebration of arts and culture, literacy and education that has been held every year in Nigeria since 2013 and the pandemic put this year's festival plans in grave danger.
"As soon as the world became more aware and it was clearer how infectious the virus was, there was anxiety over whether or not the festival was going to take place," Shoneyin told OkayAfrica.
---
When the virus gained a foothold in Africa in March, it became apparent to Shoneyin that the 2020 edition slated for October was unlikely and she started considering alternatives. On 6 May, and with 3,466 cases of the disease recorded in Nigeria, Aké announced that the festival would move online. Regular attendees were delighted the festival was moving ahead in some form, although they admitted they would miss the live experience.
"I will miss the community that Aké Festival brings," Desmond Ebunwa Ekunwe, a regular attendee, said, adding that meeting people, sharing stories and drinks are always highlights of the festival for him.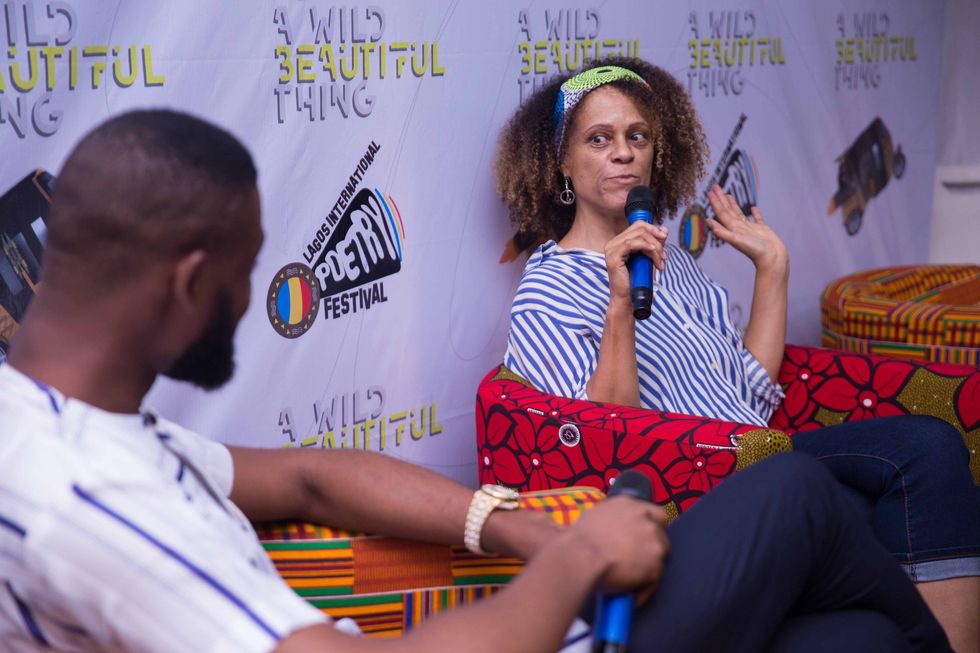 Image courtesy of Lagos International Poetry Festival.
But Shoneyin says it was the only way forward, and it wasn't an especially tough decision to make, all things considered. The spread of the coronavirus and the uncertainty of the duration of the pandemic was already disrupting the timeline for the event. A quick decision was the only way to prevent last-minute preparations. Once the major funders confirmed they were okay with the plan, an announcement was made.

Aké began as Shoneyin's vehicle to promote African literature. It features poetry and music and there are over forty sessions for attendees to participate in. The festival assembles influential voices in literature and the arts from across the world and hosts thousands of enthusiasts for four days of cultural immersion.
As the festival consistently held year in, year out, it earned a reputation as the most important event within the literature community in Nigeria and across the continent. In 2018, it moved from Abeokuta to Lagos — Nigeria's economic capital, further cementing its place in the conversation around literature in Africa. As the event grew in popularity in the literary space, its routine became predictable: A few months after the festival ends, the team announces the theme and date for the next edition and the cycle of planning begins. When Aké announced the date and theme of this year's festival in January, the feeling of enthusiasm began to build towards the 'homecoming' in October.
The coronavirus changed all those plans.
Image courtesy of Aké Festival.
Aké's situation is hardly unique in Nigeria's vibrant literary scene. The Lagos International Poetry Festival (LIPFEST) is an annual celebration of poetry that is held in Lagos every October since its 2015 debut. Like Aké, Efe Paul Azino, the LIPFEST director, says the festival had to be moved online, with a decision reached in April as soon as sponsors assented to the plans.

Moving online is fraught with challenges. Azino worries that if Nigeria's economy is reopened and daily life has returned, online engagements may not garner the kind of attention they would during a lockdown. "But it's a risk we are willing to take," he says.

There are many reasons why Nigeria's literary communities depend on live events. Offline engagements provide networking opportunities for artists and with creators spending a huge part of their creative process in solitude, Azino says physical events give them the opportunity to generate publicity for their work. Live events also provide Africans platforms to have conversations about what it means to be African, and Africa's relationship to the world in a space where they are not 'othered' and feel safe.
"African writers based abroad forget what it's like to talk to an audience that is largely African, where you do not need to make excuses, where context is understood," Shoneyin argues. "Something spiritual happens when these events take place on African soil."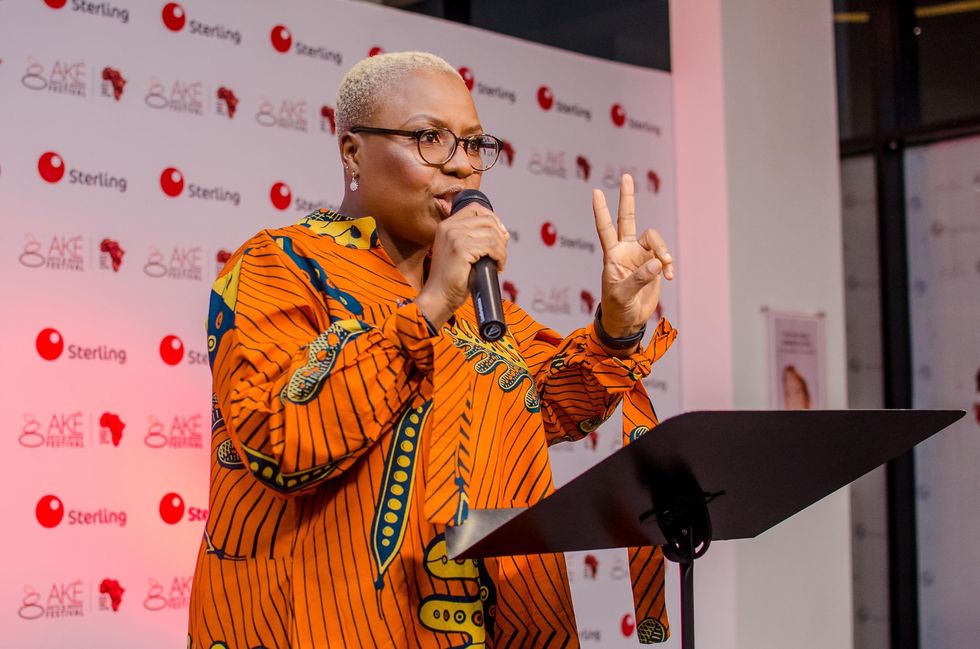 Image courtesy of Aké Festival.
But even with the unprecedented challenge of organising an online festival for the first time, Shoneyin insists on creating the "best, kick-ass festival possible." "We are trying very hard to make sure we bring as much of the original Aké Festival experience to our followers and to the people who love what we do," she says. Learning closely from events like Afrolit Sans Frontieres is a new challenge she's excited about. Afrolit Sans Frontieres is a new virtual literary festival curated by Zukiswa Wanner. The online festival is patterned after the usual festivals, bringing writers from across the African continent on Facebook and Instagram Live. There are book readings and question-and-answer sessions. Since March 23rd, three editions of the festival have been organised and plans are in place for a fourth. "It has given me a real opportunity to see what works and what works best," Shoneyin said.

It's not all gloom, however, for Nigeria's literary community. While festivals have been hard hit, bookstores and authors are experiencing an uptick in sales. Roving Heights, a Lagos-based bookstore, has recorded a surge in book orders owing to the newfound reading culture brought by the lockdown. Many of the books that hadn't received as much attention before COVID-19 picked up during the lockdown, Tobi Eyinade, the founder of Roving Heights, says. "[The lockdown] has been good for the business. Orders have increased, and books have seen a lot more interest and demand," she said.
Upending the age-long tradition of live events, however, is not a death sentence to the advancement of literary causes. The migration to online platforms provides people who are unable to access these spaces either due to the cost or distance with a rare opportunity. More people can now engage in literature from the comfort of their homes. "[Moving our event online] has given us a unique opportunity for wider participation at the level of invited guests and artists and participants," Azino says. Moving online also means event organizers can invite artists from different parts of the world without the added burden of travel costs and accommodation needs.
Image courtesy of Aké Festival.
Mayowa Omogbenigun agrees that moving online brings the benefit of increased access. Her book club, Women's Group, Lagos, has benefited since moving their meetings to Zoom, accommodating women from different parts of Nigeria, US and the UK. But she admits it could exclude the many Nigerians who cannot afford the high cost of data and expensive devices. Only 12 percent of mobile phone users in Nigeria are active on social media. Nigeria ranks 108 in the global mobile internet speed index, and while 5G technology is gaining ground in several parts of the world, only 47 percent of mobile subscribers in Nigeria have access to 3G and 4G technology.

Nigerian literature is majorly funded by corporate and individual donors, with little intervention from the state. Shoneyin attributes this to a lack of understanding of the arts, literature, and culture. "Culture, in general, is underfunded and undervalued. A lot of people in positions of leadership don't even understand the meaning of culture," she says.
The pandemic suggests an even worse funding outlook for literature as sponsors are now focused on curbing the spread of the disease and managing the economic fallout to come. Apart from funding, challenges like insufficient bookshops, low literacy rates, bad government policies and piracy still pose a huge problem for the future of literary engagement, but Shoneyin believes that Nigerian literary communities will always find a way through.
"I have no fears," Shoneyin says, "I'm so confident that we will find new and more efficient ways of doing everything that we do. I will just focus on finding solutions. That's the way my brain works."