Among the highlights of the 2022 art calendar included Foster Sakyiamah, for the first time ever, staging a solo exhibition in the city that birthed his artistic life, Accra, at the ADA\Contemporary Art Gallery, and South African Simnikiwe Buhlungu's sound installation that made her the youngest artist to show at the Venice Biennale.
While we wait to see what other artists have in store for us over the course of 2023, here are a handful of the events we're already eagerly awaiting.
Onyeka Igwe: A Repertoire of Protest (No Dance, No Palaver)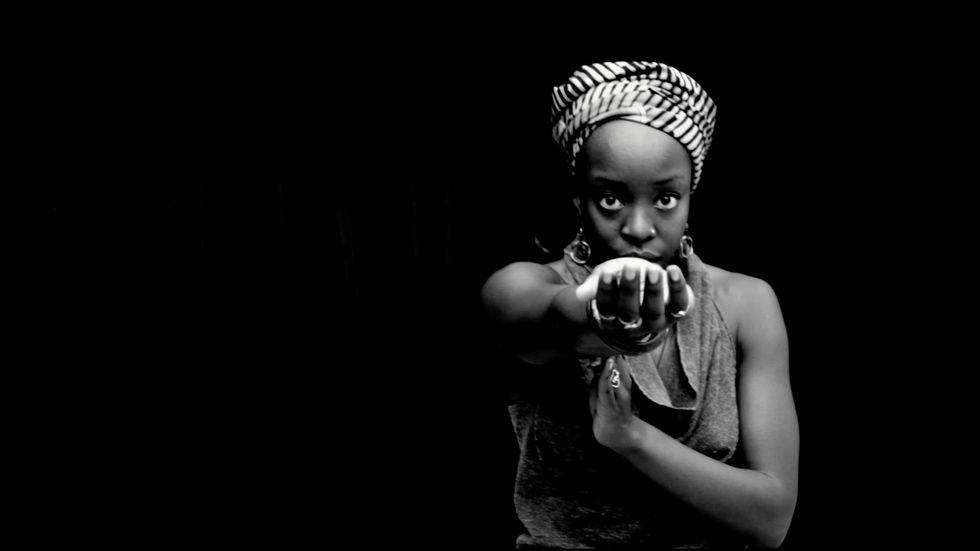 A video still of Onyeka Igwe's Sitting on a Man, 2018, from Repertoire for Protest (No Dance, No Palaver).
Photo: Courtesy the artist
In March, MoMA PS1 will present the first solo museum exhibition of the London-born multidisciplinary artist. Igwe uses cinema and installation to cast an eye on little-known historic events, incorporating the likes of government records and official reports into gesture, voice and song -- all to create a multiplicity of narratives. Three shorts will make up this exhibition: Her Name in My Mouth (2017), Sitting on aMan (2018), and Specialised Technique (2018), which will be shown as an expanded cinema piece.
The period of unrest in Nigeria during November 1929, known as the Aba Women's War, forms the center of the film cycle. Igwe first learned about it from family lore (her family is from Imo State), and she creates a layered structure around the subject.
This act of resistance, led primarily by Igbo women, is considered one of the first anti-colonial uprisings in Nigeria, and marks a violent episode in the defense of the British Empire. The museum says that the exhibition highlights the artist's "ongoing interest in the relation between physical movement—that is, dance—and protest movements, especially those enacted by women." Igwe finds, even in the tragedies of the past, new means for understanding the present.

On view at MoMA PS1, from March 16th to August 21st, 2023.
Wangechi Mutu: Intertwined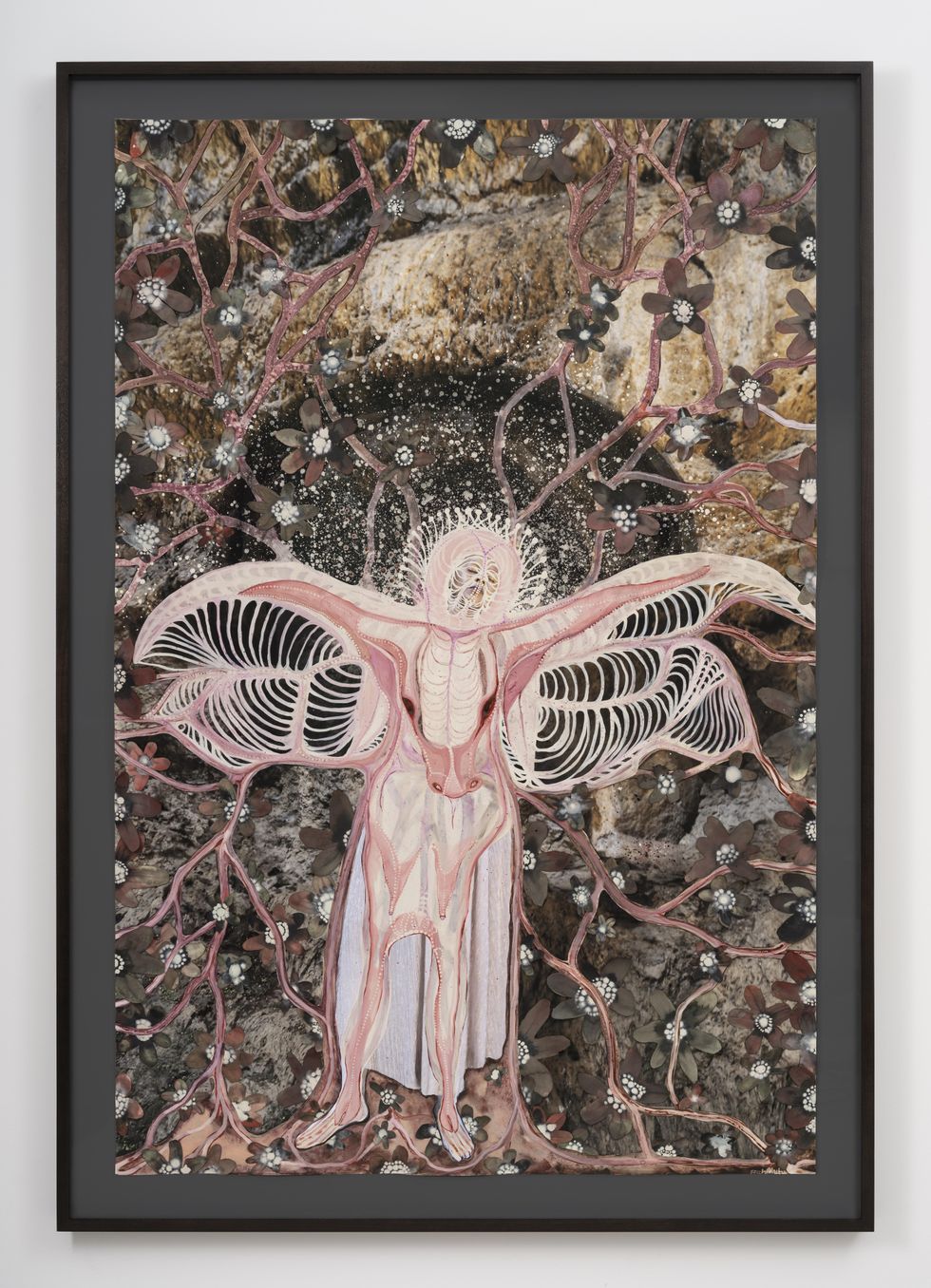 Wangechi Mutu's Subterranea Holy Cow, 2022.
California
Photo: Courtesy the artist
In 2019, Wangechi Mutu's four bronze sculptures brought life to The Met Museum's usually-empty facade with a daring boldness befitting of the Kenyan-American artist. Selected as the first artist to animate the museum's exterior, Mutu's The NewOnes, will free Us made real a dream 117 years in the making. The Nairobi-born artist will have another chance to work her magic on a museum façade this year, as part of the New Museum's massive exhibition of Mutu's work. Kicking off in March, the survey will feature over one hundred of her pieces, from a career that spans 25 years.
Expect works of painting, collage, drawing, sculpture, and film as the museum aims to present the full breadth of Mutu's practice from the mid-1990s to today. Wangechi Mutu: Intertwined will take over the entire the museum, covering the three main floors, lobby, and lower level, and we can't wait to see what she comes up with for the building's glass exterior.
On view at New Museum from March 2nd to June 4th, 2023.
Standing On the Corner: Seven Prepared Pianos for the Seven African Powers
We'll be heading back to MoMA PS1 in June for another exhibition, this time from the avant-garde musical ensemble, Standing on the Corner, which will create installations that encompass sound, performance, and moving image. The project, which forges connections between New York City, Puerto Rico, and African diasporic communities, seeks to imagine how spiritual forces "enchant and 'possess' through various forms of entertainment," and consider how sacred objects are intended to be seen.
The installation will feature a new performance piece titled Seven Prepared Pianos for the Seven African Powers, intended to bridge Standing on the Corner's interest in local cultural and ancient spiritual practices of Africa and the Caribbean, with an ear to breaking down Western musical traditions. There will be set performances that will take place during specific times, with the project on view during museum hours.
On view at MoMA PS1 from June 1st to October 9th, 2023.
The Investec Cape Art Fair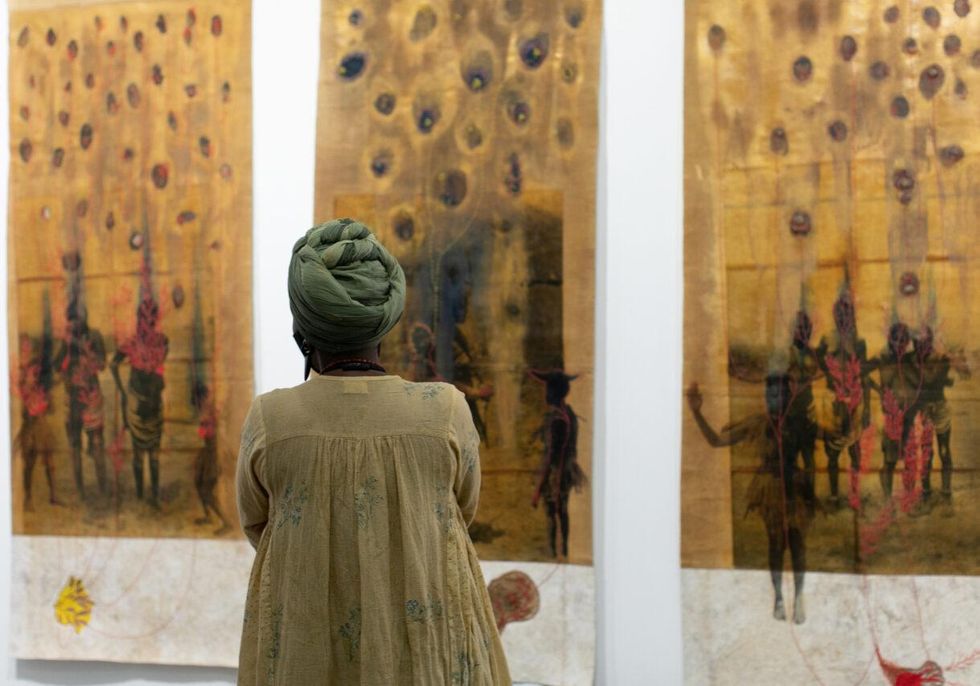 A scene from the 2022 Investec Cape Town Art Fair.
Photo: Investec Cape Town Art Fair
Known for being the biggest contemporary art fair in Africa, 23,000 guests attended last year's Investec Cape Town Art Fair. If 2023's milestone birthday is anything to go by, that number is set to reach a higher figure. To celebrate a decade of bringing together artists from across the globe, the art fair will examine the notion of time and burrow into those ever-intriguing concepts of past, present and future.
Taking place during February, it's become known for hosting prominent galleries from around the world, and will offer a hybrid event of in-person and virtual gatherings, giving both local and international art lovers the chance to be involved in this year's festivities. What we're most excited about is the Tomorrows/Today section, co-curated by the founder of the African Artists' Foundation Azu Nwagbogu, which focuses on giving up-and-coming artists a shot at reaching an international audience.
On view at the Cape Town International Convention Centre from February 14th to 18th.
John Akomfrah: Five Murmurations
Since March 2020, the London-based artist and filmmaker John Akomfrah has been working on the longest continuous-running project of his career. In Five Murmurations -- dubbed "a visual essay of our times" -- he addresses an 18-month period that covers the COVID-19 pandemic, the murder of George Floyd, and the worldwide protests in support of Black Lives Matter. Akomfrah's insights into post-colonialism, diasporic experience, and memory are illustrated through his use of images that mix iconic works of art with scenes that he has shot.
On view at the Smithsonian: National Museum of African Art from February 11th, 2023.
Africa Fashion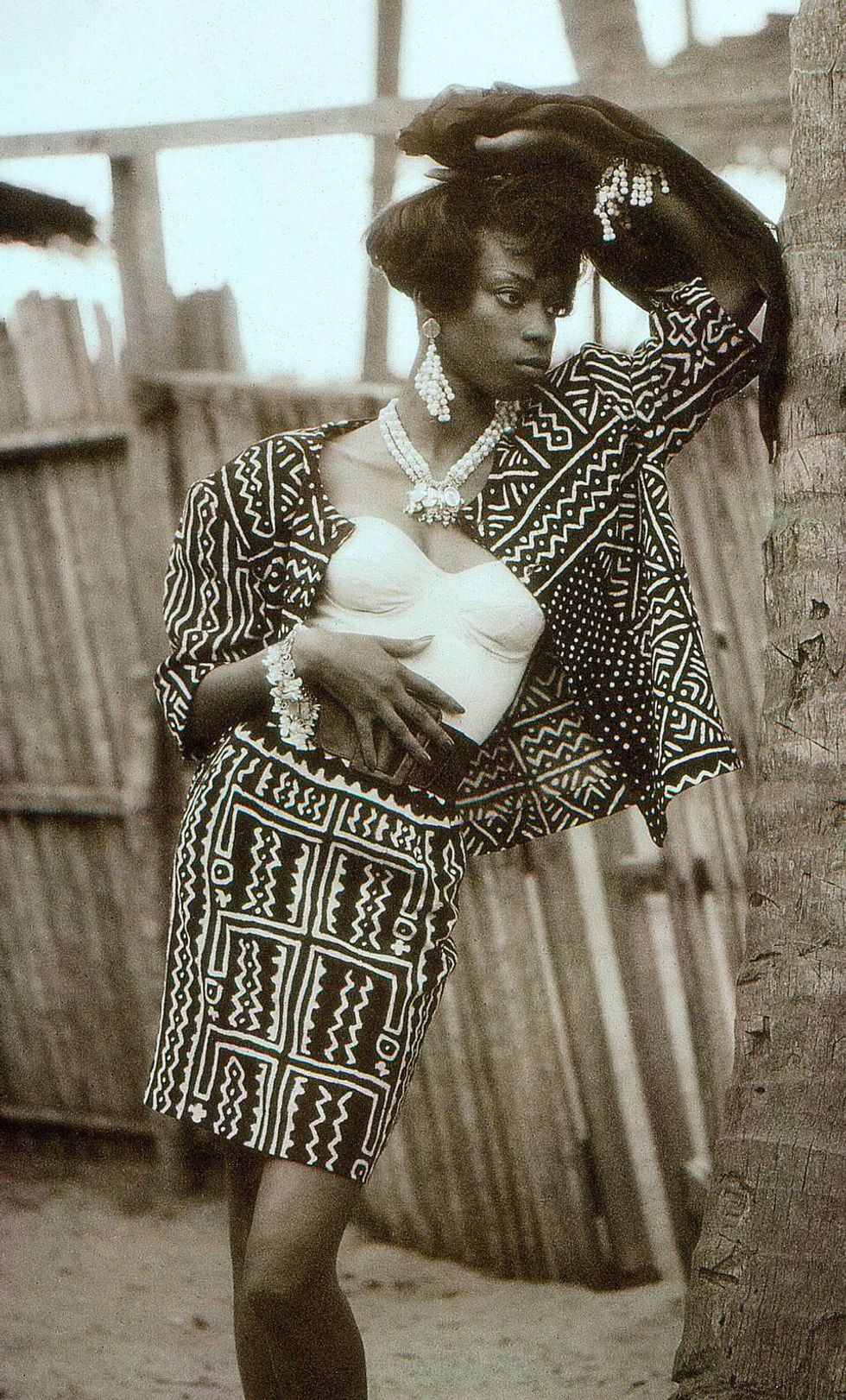 A design by Chris Seydou, one of the designers featured in the Africa Fashion exhibit.
Photo: Nabil Zarkot
London's V&A Museum opened its landmark exhibition titled Africa Fashion in July last year, and almost a year later, New Yorkers will get to see a touring version of it. The exhibition, which "celebrates the creativity, ingenuity, and global impact of African fashions," showcases fashion design, photography, textiles and visual art from the 1960s to today. The Brooklyn Museum's presentation will include works from their collections, alongside commentary from designers whose work has been inspired by those objects.
On view at the Brooklyn Museum from June 23rd to October 22nd, 2023.