In the vibrant heart of Africa's creative tapestry, a traveling exhibition is making the rounds. It started in Ghana last year, and this year, takes over the Palais de Lomé, a bastion of Togo's rich history and a symbol of its cultural resurgence. Presented by the African Artists' Foundation (AAF), 'Dig Where You Stand – From Coast to Coast: Seke,' is an exhibition that seeks to explore the regenerative potential of art within Africa and the diaspora.
Running until December 31, 2023, 'Dig Where You Stand - From Coast to Coast: Seke' provides an opportunity for art enthusiasts to immerse themselves in a captivating journey that unfolds within the evocative confines of the Palais de Lomé. Situated on the coast of the West African nation, the Palais stands as a powerful testament to the exhibition's commitment to decolonization through the transformative power of art. Once a symbol of colonial authority, this majestic structure has been reborn as a contemporary art museum, where history intersects with creativity, and where the past resonates in the present.
Curated by Rosemary Esinam Damalie, General Manager at the Savannah Centre for Contemporary Art in Tamale, Ghana, and with curatorial advice from AAF founder Azu Nwagbogu, the exhibition boasts a collection of over 166 artworks spanning diverse mediums.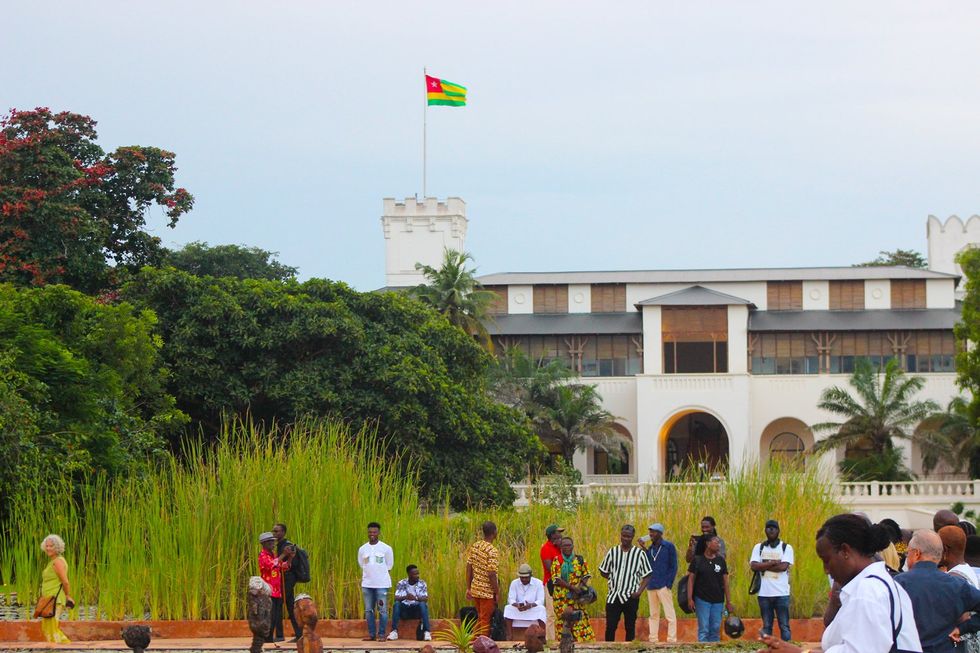 Visitors to the Palais de Lomé, where 'Dig Where You Stand' is currently showing.Photo by Mensah Agbenou.
At the heart of 'Dig Where You Stand - From Coast to Coast: Seke' is the potent symbol of 'Seke,' derived from the Ewe language, which translates to 'anchor.' This symbol serves as a powerful thread, weaving together Lomé, Togo, and other Ewe-speaking nations, echoing the call for African unity. The exhibition explores themes of voyage, displacement, migration, and labor, while breathing life into ongoing dialogues surrounding repatriation and restitution. Through the language of art, it fosters connections and dialogue, inviting Africans to reflect upon the diversity of their shared history.

Artistic unity and community engagement
Envisioned by Esinam Damalie as a kind of "symbolic Door of Return, a ship sailing back to the heart of Africa," the exhibition brings together artists from varying backgrounds. "These individuals have different practices and collectively form Africa," she told OkayAfrica. "As different as we are, this difference is important to be able to also depict them in the art as well. The individual countries are represented in their uniqueness of craft, in their uniqueness of language, and they carry their culture alongside them. It's more of an exchange of knowledge and an exchange of culture for all of us that are involved."
The exhibition features an ensemble of artists, including both rising stars and familiar names, such as Zanele Muholi, Bright Ackwerh, Joana Choumali, Victor Ehikhamenor, and Kongo Astronauts – all of whom share an unwavering commitment to breaking free from conventional artistic paradigms and reinvesting in their communities.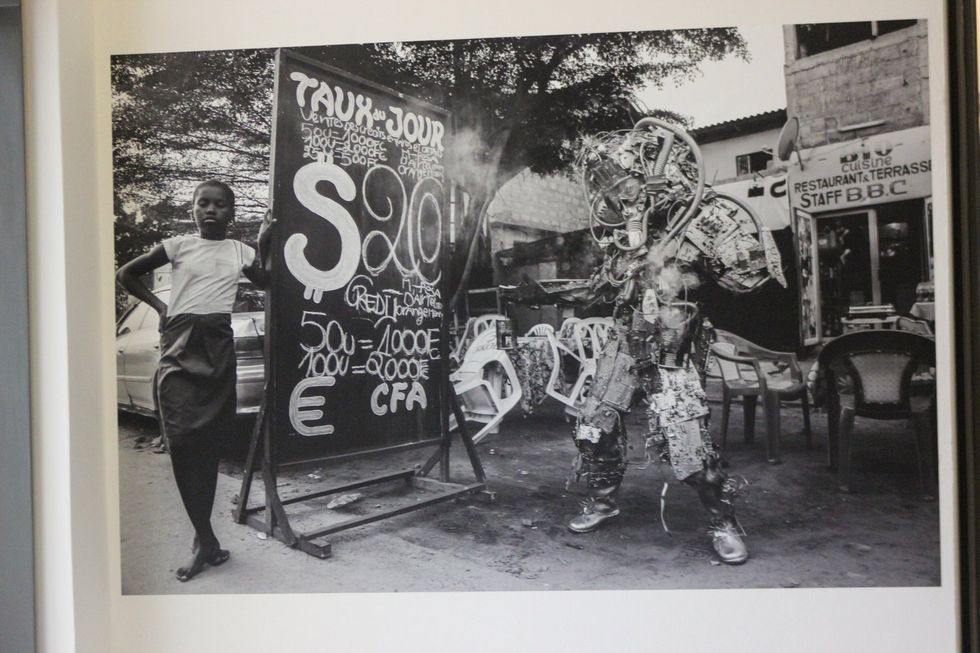 The work of Kongo Astronauts is part of the over 160 artworks featured in the exhibition.Photo by Mensah Agbenou.
The artworks explore themes that resonate with the artists themselves. Kongo Astronauts, the collective founded by the Kinshasa-based duo Michel Ekeba and Eléonore Hellio, evoke the "quasi-permanent" war related to the exploitation of coltan in the eastern Democratic Republic of Congo. According to Hellio, after being extracted, these mineral resources used in the manufacture of various electronic devices return to this Central African country in the form of waste. For their work, Ekeba dons a kind of astronaut suit, referring to the fact that "sometimes he feels foreign in this post-colonial context," says Hellio. "This costume allows him to enter a kind of trans and imaginary exile to confront this violence that is suffered every day in the Democratic Republic of the Congo."

For Dodji Efoui, the piece titled "Agama," which means the chameleon in the Ewe language, expresses ambiguity, "a sort of confusion between what we perceive and the messages that we cannot decode, so we question ourselves to sort things out," says the artist. "When we are going through a troubled situation, I think that the best way to get our heads above water is to put all the elements related to our condition on the table and try to put them back in the right order to be able to move forward."
Reaching far and reaching wide
A cornerstone of this exhibition is its commitment to broadening accessibility. Beyond the magnificent walls of the Palais de Lomé, 'Dig Where You Stand' takes art to the streets. Mobile photo exhibitions, film screenings, and workshops are resonating with students, teachers, and communities alike, offering inspiration and insight. Texts, captions, and audio have been thoughtfully translated into Ewe, ensuring that local communities are not merely spectators but active participants in this artistic journey.
"Every artist wants to work alone. And we think that it has not made the system work," says Esinam Damalie. "One of the ways we think has worked, even in Ghana, is to create a community, a collective community, where we are all artists. And so, if I'm having my exhibition, I can invite another artist to contribute. We bridge the gap between the artists."
As she adds, "There seems to be a separation of mediums. That is where our biggest problem is. But if we are able to create that community of people, we can work collectively and on a perfect level."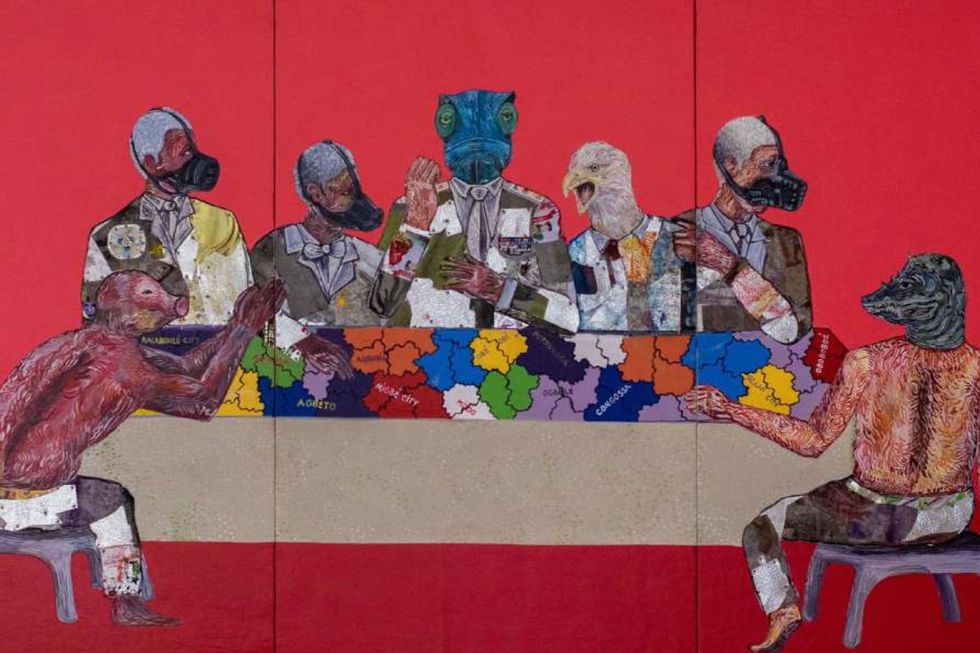 "Agama" by Dodji Efoui is part of Dig Where You Stand at Togo's Palais de Lomé.Photo courtesy of Dodji Efoui.
Having made its debut at the Savannah Centre for Contemporary Art in Tamale, Ghana, in 2022, and now finding its home in the Palais de Lomé, Togo in 2023, 'Dig Where You Stand' is poised to embark on an even grander journey across Africa. Tentatively planned from 2024 to 2026, it will traverse diverse landscapes, from Benin and Abidjan to Dakar, Senegal, carrying with it the torch of artistic transformation and decolonial discourse.

The exhibition was set in motion by the African Artists' Foundation (AAF). Founded in 2007 in Lagos, Nigeria, it's become far more than a non-profit organization; it is a dynamic and transformative art space that embraces community values and thrives on pushing the boundaries of artistic expression. As 'Dig Where You Stand' continues to travel, so, too, does the work of the AAF continue to expand.
'Dig Where You Stand - From Coast to Coast: Seke' runs at the Palais de Lomé, Togo, until December 31, 2023.