For years, major highlights in the African fashion industry have gone undocumented — missing the mark for a much younger generation of people seeking information to reference during research purposes. However, books with a focus on African fashion, like Ken Kweku Nimo'sAfrica In Fashion: Luxury, Craft and Textile Heritage, are surfacing, and documenting leading African designers from the past, present, and future.
Ken Kweku Nimo is a Ghanaian fashion author and researcher who's been hugely influenced by the ample and immersive cultural scenes in the continent. He completed a first degree in Economics and Statistics, before establishing a screen printing and digital embroidery business.
Seeking more challenging feats, Nimo went on to do his honors in a research-based fashion program, Fashion Merchandising at the then LISOF, now called STADIO. Since then, he's gone on to work in fashion spaces like luxury flagship store Luminance and menswear brand Odrin. Through working in these spaces — and seeing glaring disparities between stocked international brands and local brands — Nimo asked questions that led him further down his education, where he obtained a Master's degree in Fashion Design from the University of Johannesburg.

Now, Nimo is using these experiences, his degree, knowledge of fashion, and observance, to help us understand, beyond the reins of academia, inept occurrences in the African fashion industry, through his book, Africa In Fashion: Luxury, Craft and Textile Heritage.
OkayAfrica spoke with him about his journey in fashion, why it was important for him to publish this book, what he's found during his research, and more.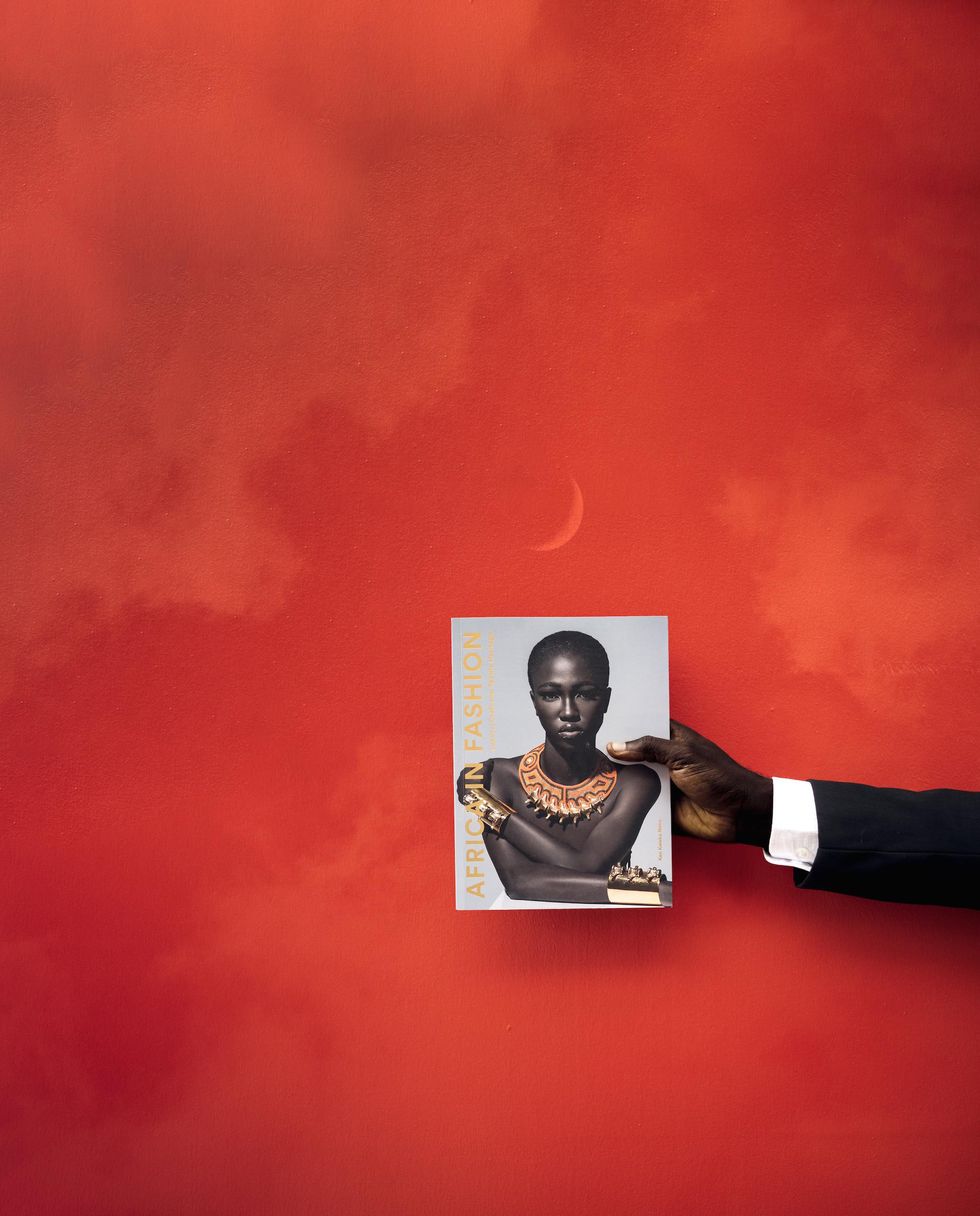 Photo Credit: Josh Sisly
How did this journey start for you?
In between the time that I spent at these retail flagship stores and individual brands, I was meeting a lot of designers in SA. I'll visit their studios and engage them. After completing my mini-dissertation, I took it upon myself to understand what made these brands unique, and why they're able to command this kind of value. Along the line, I went to Cape Town, where I visited some local designers to gather data. I'll sit with them, ask very pertinent questions, and record. Unbeknownst to me, I was gathering data for the book.
Just when I was signing out in 2020, I was in a conversation with one of the designers, Lezanne Viviers, who has a brand called Viviers Studio. I told her that I was thinking of putting a book together and I was thinking of archiving it in a way. And she said, "that's it!" I doubted it for a while, and she asked "who else?" That's when I started picturing the idea of it. Sent synopsis to publishing houses and agents and it just started.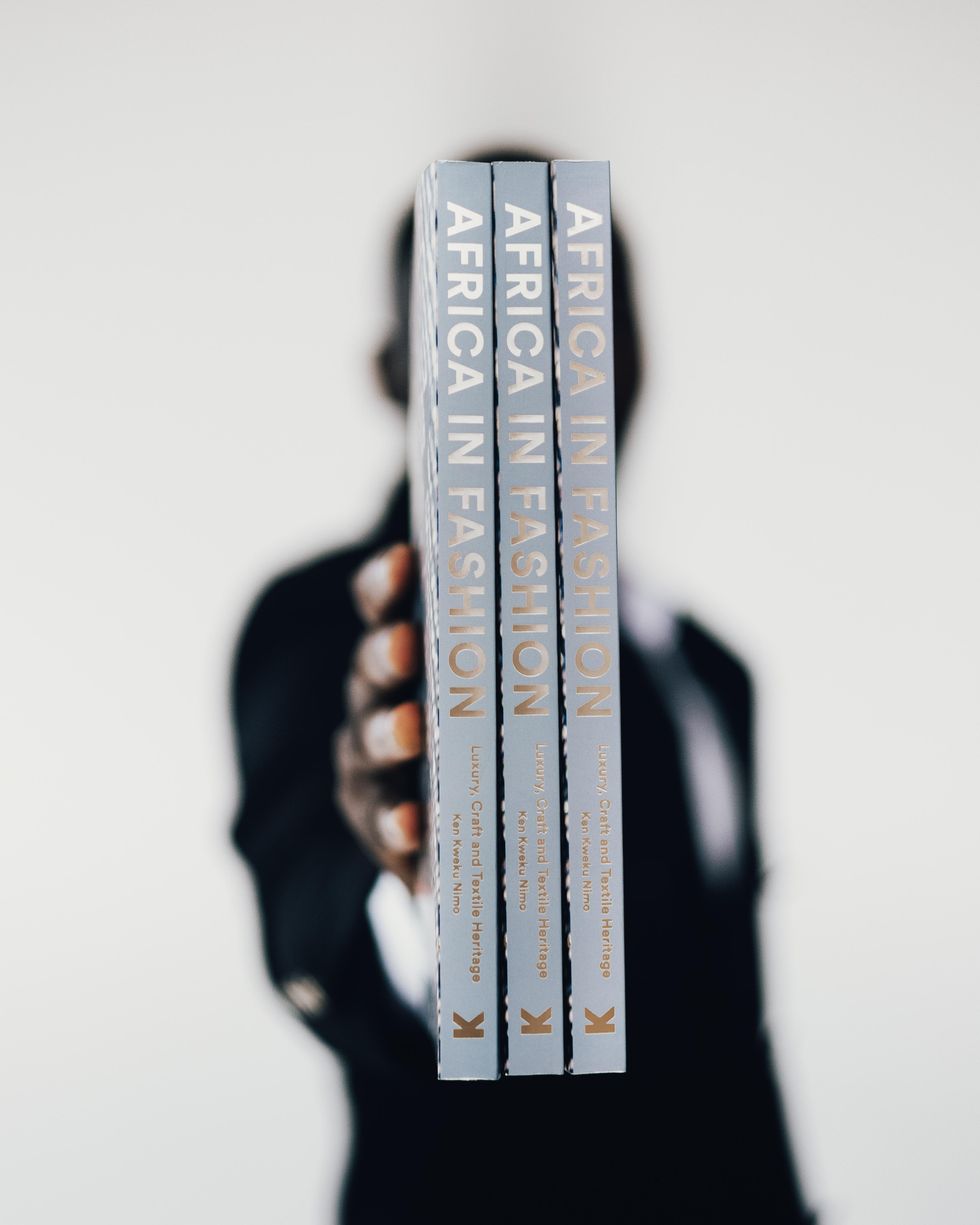 Photo Credit: Josh Sisly
If we bought the book, who are some of the designers we'd find?
The book is an attempt to retell African fashion history, and also to capture the contemporary scene. I did this in an interesting way. For example, with African fashion history, the reader isn't put through a chronological analysis of African fashion history, but what I call the vectors that have shaped African fashion history. I touched on trade, both trans-Atlantic and trans-Saharan. I talked about globalization, colonization, and culture. For me, these are four of the most prominent elements that have shaped African history, and that makes the reading very interesting.
I also talked about the contemporary scene of designers contextualized by the evolution of African fashion from the 21st century. I attempt to recapture the designers that shaped African fashion from the early days of independence. Some of the names I talked about were Shade Thomas-Fahm, Alphadi, Kofi Ansah, and all these legends and luminaries who established an identity for African fashion.
I touched on textiles, their stories, and their origins, many of which are hardly explored. Even jewelry and embellishments, before capping it off with the works of contemporary designers who are making waves around the world. I called them the new wave of African designers like Lukhanyo Mdingi, Thebe Magugu, Tokyo James, Maison ARTC, Adama Paris, Bubu Ogisi, Mmuso Maxwell, Christie Brown, and a whole lot of them. To be honest, it was almost impossible to capture a lot of these brands into one volume.

What were the things you considered about these brands before reaching out to them?
I began off with a long list, and the primary criteria I looked at was global impact. After all, the book is supposed to be an inspirational book that is able to propel the next generation of designers. They have to see themselves out there. The brands have to be visible enough to do something unique, and these brands are where they are because they're doing something unique.
I also looked at "stability". You'd see that some of these brands may not be all over the news. But they have withstood the test of time. It was therefore important for me to document brands that have been here for a while. If you read past books about African fashion, you'd see that some of the featured brands are no longer active or in the public domain.
I also considered brands that weren't only here in Africa, but identified with us in other continents, and were displaced for whatever reason. For example, Imane operates from Paris, T-Michal is based in Norway, Mimi Plange is based in New York, and so much more.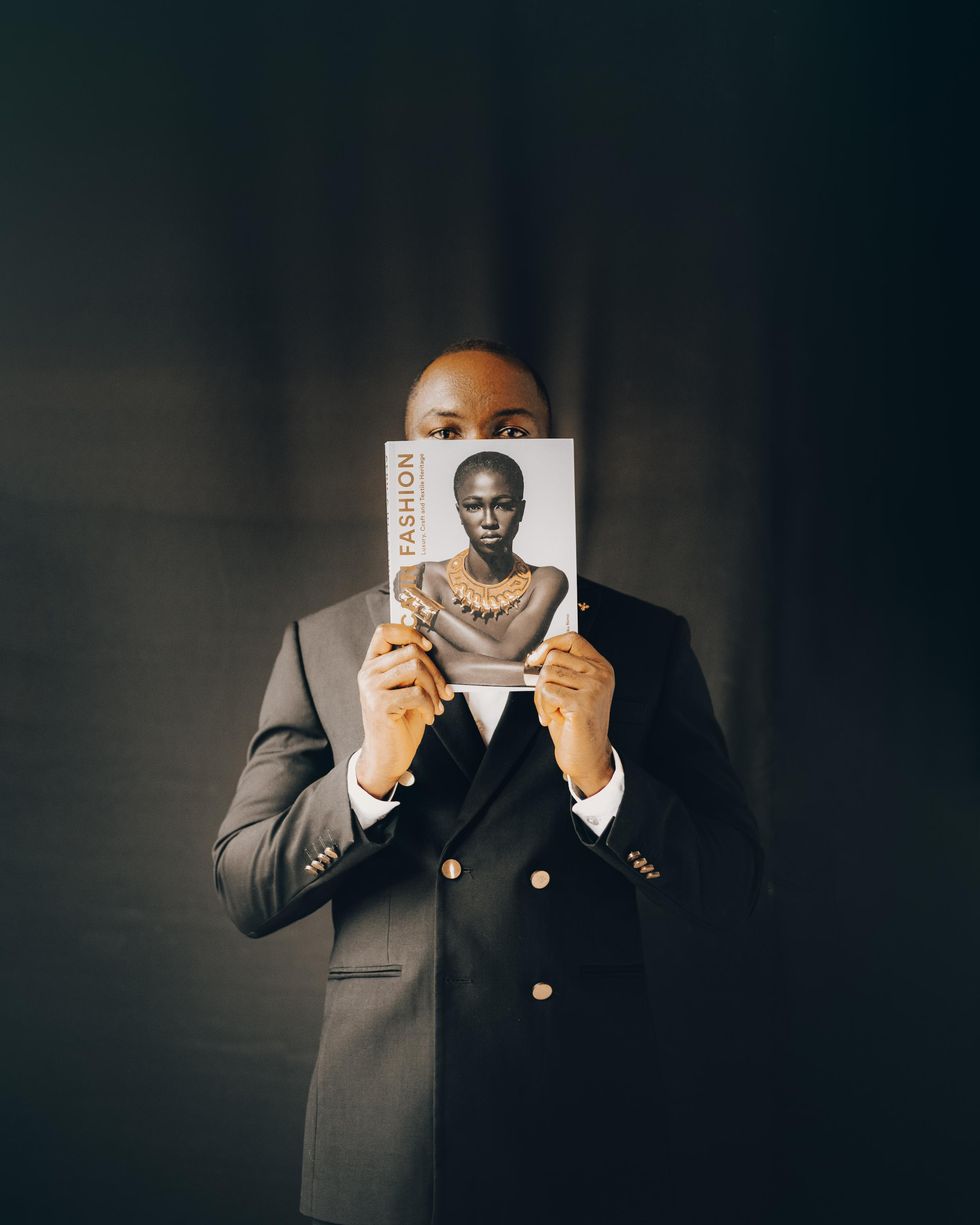 Photo Credit: Josh Sisly
It's very interesting that you'd reference certain past books about African fashion. If you were asked what differentiates yours from others that have existed before now, how would you respond?
This book dips into the designer's voice. It's theirs. There's a section of the African fashion industry from my perspective, then there's theirs. You are listening to these designers. I allowed them to literally take over the book. The book takes you behind the glam of what they're doing. For example, [in addressing the challenges bedevilling the industry], Adèle Dejak holds back no barrels citing the frustration of designers who are expected to sell their brands as "cheap curios" because they are African. This book is a book that literally allows them to speak directly to readers. That's what distinguishes it.
For example, in addressing the challenges bedevilling the industry, Adele Dejak holds back no barrels citing the frustration of designers who are expected to sell their brands as cheap curios because they are African.
This book also attempts to give a holistic take not only on their operations but on the contemporary African fashion scene. We talked about the economic dimension of the industry and its impact, emerging issues like retail, and everything that deals with how the African fashion industry is being shaped.
What do you hope that this book does?

I want this book to be on the shelves of as many schools and fashion institutions across the world. I want young aspiring African designers in Africa and the diaspora to look at this book and see themselves at the stage and beyond where most of these profiled designers in this book have gone.
I look forward to doing some more books on fashion and more broadly on African culture, which is very much underrepresented in literature.
*Correction: this story initially claimed that Ken Kweku Nimo lived in South Africa. This is not true. We regret the error. Also, due to a transcription error, we mistakenly quoted Nimo as saying: "Adèle Dejak holds back no barrels and chastises designers for desiring to always have African designs look like 'cheap curios.'" The actual phrase was "cheap curios." We regret the error.