In 2015, South African designer Lukhanyo Mdingi founded his eponymous label. Inspired by his mother and grandmother who raised him, Mdingi has created a formidable brand that is centered on building a bridge between heritage and timeless fashion pieces. Since the brand's inception, Mdingi has made great strides in fashion, from his NYFW debut in 2019 to being crowned a joint winner of the 2021 LVMH Karl Lagerfeld Prize.
This year, Mdingi took his vision of Africa to France's fashion capital, Paris, where he made his Bodyland Autumn/Winter 22-23 debut for the Paris Fashion Week Menswear Collection. Being the first designer on the program schedule to present, Mdingi showcased a collection that spoke of the relationship he shares with himself and the artisans he collaborates with. For the past two years, Mdingi has been working to source his woven textiles and knitwear from crafts communities in Burkina Faso, Somalia, and the Eastern Cape, and the collection featured textural and sartorial nuances paying homage to his being a young Black creative.
---
Garments were tailored from vibrant emerald ikat cloth, which suggested a perfect mix of nuance and style. Women's tailoring included a suit with wide, cuffed pants in an ikat pattern, combining green and yellow checks with bold blue stripes. The collection also had textured knitwear, which included fringes, ponchos and patchwork shawls, matched with fine knit polo tops and dresses in zingy shades of yellow, lilac and pink, set off with graphic color-blocks and jagged stripes.
Mdingi, who grew up in the Eastern Cape, studied fashion design at Cape Peninsula University Technology, and soon after became a name to watch, when he was named a finalist in the ELLE Rising Star Design Awards.
OkayAfrica spoke to him about his ever-evolving brand and making his debut at Paris Fashion Week.
Interview has been edited for length and clarity.
Tell us about your debut in Paris -- how did it go for you?
Incredible and very important. Haha! And I'm honestly still making sense of it all to myself. It's clear that there's a renaissance of young emerging Black and brown skinned creatives, and I have recognized that this was an opportunity for myself and my fellow peers like Thebe Magugu, Priya Ahluwalia, and other extraordinary designers that I respect from a distance. There's a resurgence that what we're doing matters in the most incredible way. It is a form of representation, understanding your place in the world, and how people would see and be inspired by your achievements and milestones you'd reach as a person of color.
What was the inspiration behind the collection?
We want to create something very modern, but most importantly, bring visibility to the [craftspeople], which will essentially lead to some sort of social impact. So, the collection just expands on something we've done in the past, checking on ways we can grow from it. That is the premise and foundation of the collection: how we can work with these incredible craftspeople to show the world how crafts can live within the modern society. This season just expands on our story that has started and has been a part of our brand's DNA.
In building this collection, what were the best and challenging parts?
The exciting part would definitely be our works with the collaborators. I think I live in a particular way that's based on community and building human relationships, and for me, the best moment was seeing how we can come together. I love the human networks that are involved around the clothes, even working with them here in Paris. It was incredible.
And to be quite honest, I think the challenging parts for me were things outside of my control, so they're not things I try to deliberately change or complicate. Some of them are usually the internal dialogue that I have with myself, how I see the business and myself, the complicated backs and forths of why I'm doing what I'm doing. These are my biggest challenges. I'm carrying it, but it's a different kind of weight.
Taking it back to 2021, how was to be a winner of the LVMH Prize?

I mean, it's really incredible. I think being part of the LVMH Prize really causes a lot of visibility to entrepreneurs and young designers, and the reality is that each designer uses that platform and opportunity to explore potentials. It truly is incredible to have and be a part of that history, especially because it is one of the prominent awards in the fashion industry. It was an extraordinary thing, to be able to share with so many other amazing designers. I am super grateful for that.
How would you describe your brand, Lukhanyo Mdingi?
I've had so much time to really reflect on this, and as I've gotten older with the brand in steady progress, I've realized that the premise of who we are comes down to human beings and human connections, and how we have expanded our work, which is very reliant on collaborative projects. This is predominantly done through crafts, more than anything else, because textiles, fabrics and designs are essentially a huge part of our label. What we've also realized is that crafts has become a huge part of our brand's DNA, and we are in a fortunate position to position and align ourselves with different communities in places like South Africa, Burkina Faso, Ghana, and so on.
At Lukhanyo Mdingi, we have also tried to use this design entrepreneurship as a vehicle to make social trends and social impact within these particular groups. That's how we kind of shuffled the paradigm where our label is not necessarily about these beautiful well-made clothes, but is really just about the human beings behind the craft, and to see how we can add value to their lives through craft, designs, and textile development.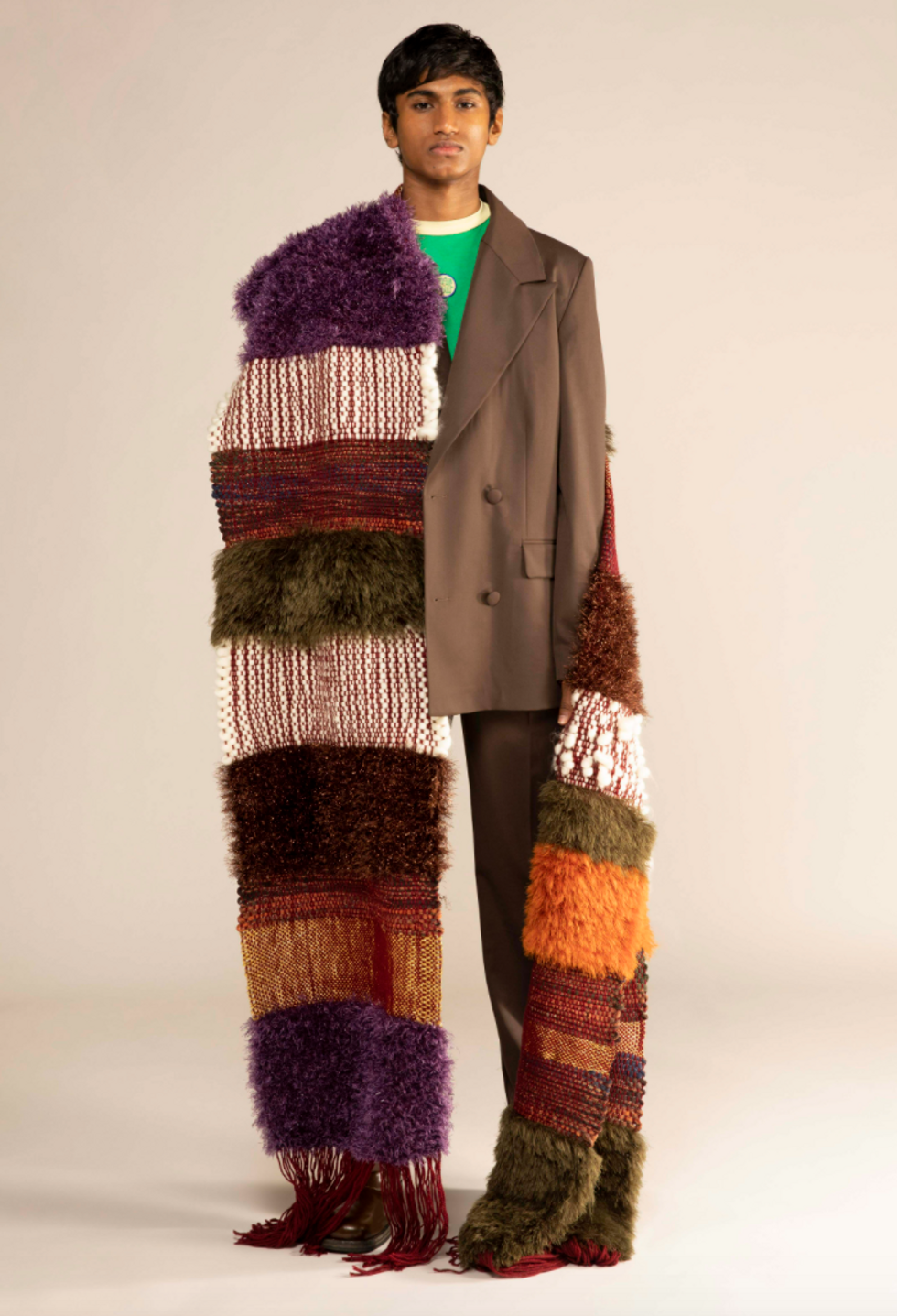 For his Bodyland collection, Lukhanyo Mdingi aimed to bring visibility to the craftspeople he worked with, in the hopes of creating social impact.Photo: La Fédération de la Haute Couture
Most times, entrepreneurs who go on the route of influencing and elevating smaller communities do this from a place of personal experience. Did you grow up as part of a smaller community? Why is doing this important for you?
I agree, and the reality is that we've all had our particular conditions as we grow up, and I think from my childhood, I grew up in a household filled with kids and women, and that community in itself has really shaped who I am today -- as a Black man coming from a space or group where we are constantly marginalized. I know what it's like not to be seen or heard. I've experienced and felt it. I, therefore, tried to make that experience more apparent within my work, and the values that I put on the relationship I have with this community of women that are coming from the same space that I did.
And can I just say that I have never answered that before, and I just realized that it's something I am still trying to make sense of myself, but I've never been so honest about how the shaping of my childhood has penetrated my life in such a way where it's informed the way I move with work, and how I'm using my gifts as a way to channel all of the past baggage and trauma.
Appreciate you for sharing this with us. We have seen Lukhanyo Mdingi as a brand, but who is Lukhanyo as a person, outside of the brand?
I want to say that the brand is informed by my own personality. It is something that is incredibly layered, and to even give an elevated pitch of what the brand represents reflects some kind of effects of who I am. I'm direct, but also not direct; I'm complicated, but also not complicated. I like to be incredibly private. You know what I mean? If a person really, therefore, wants to understand who I am, they really just need to pay attention to the trajectory of the brand, mainly because it is informed by my own personal feelings as to how I see myself or how I see the world.