Steve French personifies the thought that unwavering faith in one's talent and capabilities can open doors. The Ghanaian fashion designer, stylist and illustrator didn't make the initial top 10 for the 2019 Gucci Design Fellowship program but the organizers ended up expanding the list to include him because of his aptitude.
Launched in March 2019, the program is part of the luxury fashion brand's initiative to offer opportunities to underrepresented designers, and to promote cultural exchanges between people from different backgrounds. The fellows get to learn from the Creative Director of Gucci, Alessandro Michele, and his team for a year. Due to the COVID-19 pandemic, French's class shifted, and they began their fellowship in March this year.
"The 11th designer from Ghana [French] was a decision taken today," stated Marco Bizzari, President and Chief Executive Officer of Gucci, about the decision to add French to the mix, as reported on fashion website, WWD. "The team didn't want to let him go."
---
Born Steve French Oduro in 1993, his love for drawing cartoons at age seven led to a passion for sketching clothes. It culminated in him switching from General Science to Visual Arts in his third year as a senior secondary school student. The decision was not well-received – the authorities and his new coursemates at school disagreed – but he stayed committed to his dream. He enrolled at the Radford University College with the support of his parents to study Fashion Design, and later unveiled his debut collection "Alewa," via his self-named contemporary womenswear label in 2015 at the Ghana Garden & Flower Show.
Some two decades after he developed an interest in fashion, he got to meet and connect with British supermodel, Naomi Campbell, through the Gucci Design fellowship program. For ESSENCE Magazine's 50th-anniversary edition cover spread last year, during lockdown, she dressed and styled herself, choosing to wear a red and yellow wax print dress created by the Ghanaian designer.
In an interview with OkayAfrica, the designer talks about consistently believing in himself, his 2021 EMY Africa Awards nomination, and the Gucci Design Fellowship program.
Responses have been edited for length and clarity.
Belated congrats on your 'Discovery of the Year' nomination at the 2021 EMY Africa Awards.
Thank you so much.
YouTuber Wode Maya ended up winning but what does a nomination like that mean to you - since your first collection was launched in 2015, and you received a "Discovery" of the Year nod six years later?
I really appreciate and am super honored to have been nominated for EMY Africa Awards Discovery of the Year. This means a lot to me, to be chosen amongst so many other wonderful creatives is very humbling. Everyone was like, 'What do you mean by the discovery of the year? He's been here,' which is true. But you can be doing something for a long time and still not be recognized or have people know you. I love that more people are getting to know about my work, and sometimes it's through these nominations and awards.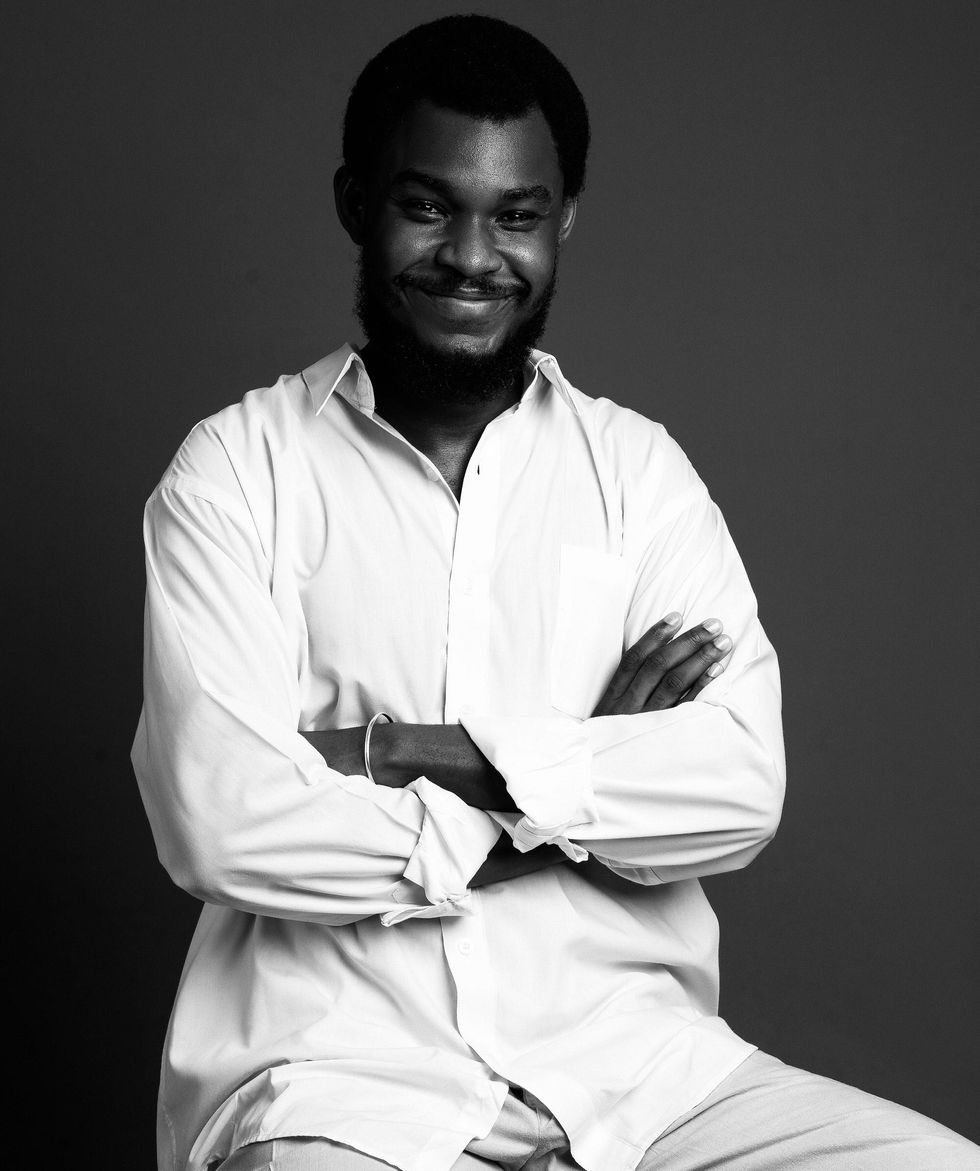 Impressed with his talent, Gucci added Steve French to its list of Gucci Design Fellowship recipients. Photo: Lightville
You've said that you want to use your craft to honor tradition and tell stories, how do you aim to do that?
I feel like as artists, we are always drawing inspiration from so many things. And for me, I feel like the core of everything is culture because from that you get everything – you get art, music, the people, lifestyle. So for me, my immediate environment is Ghana, and I always say this thing because I feel everyone is telling their story, so it's my responsibility to tell my story also because if I don't, who will? So I do it through my designs and collections. For instance, Celebration of Life was a collection about my grandmother and her journey through marriage, children and aging. I was deliberate about the textiles, patterns and colors that I used.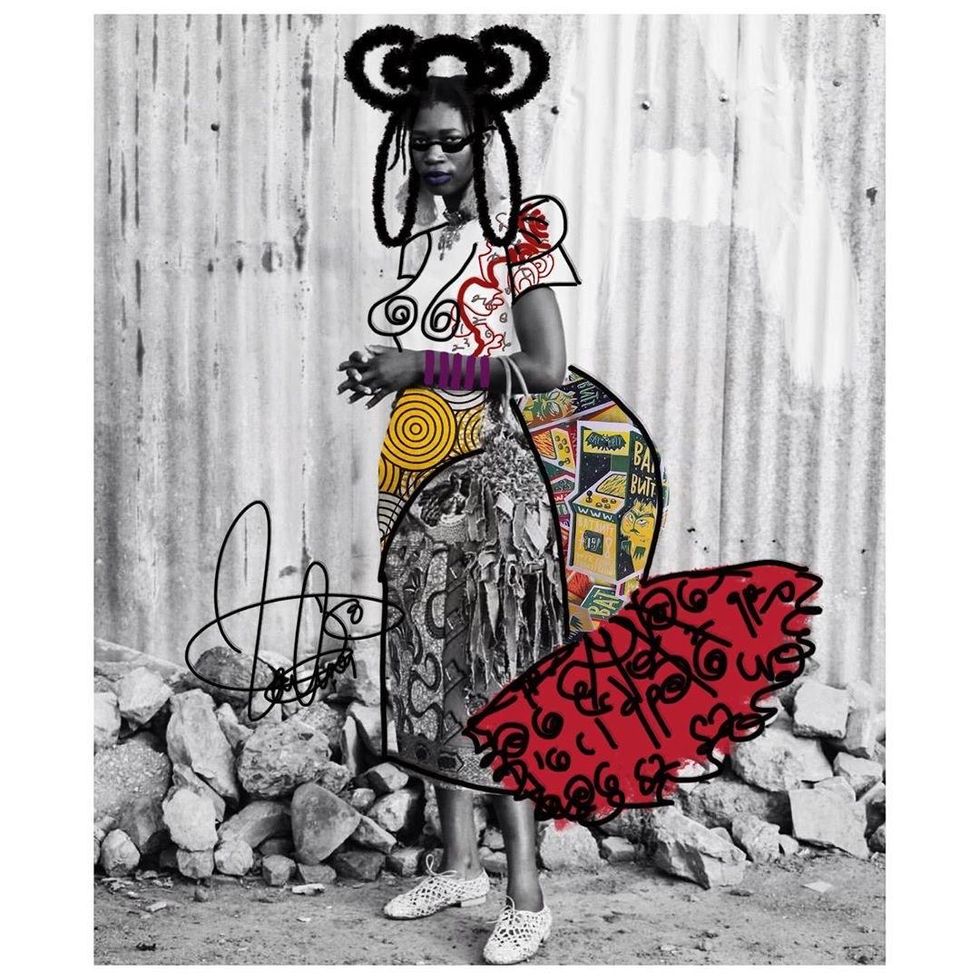 Cartoons have always played a major role in Steve French's life and designs.Photo: Steve French
You stated in a recent Vogue interview that you believe in fashion with a cause. What does that look like for you?
I feel like we take a lot from the world but don't give back enough, so as a creative I'm always trying to incorporate this into my work. For me, fashion with a cause means as we create we use our art to help solve some of the world's issues, even if it impacts someone's life in the smallest way.
There's been a lot of international focus on the Ghanaian creative community in recent years. Does it place any pressure of expectation on you?
If you love what you do, you constantly have that feeling that you are at the edge. Once you lose that feeling it means there is no passion for whatever you are doing. Personally, I have always said to myself that regardless of what's going on around me, I will try to focus on myself and stay true to my authenticity. There will always be something different, new, and it's easy to lose yourself. It's an easy way to forget yourself as an artist so while it's great to have all this attention and witness the changes, I will always be about my art. In the end, I want to create things that make me happy, impact the world and put a smile on the face of people.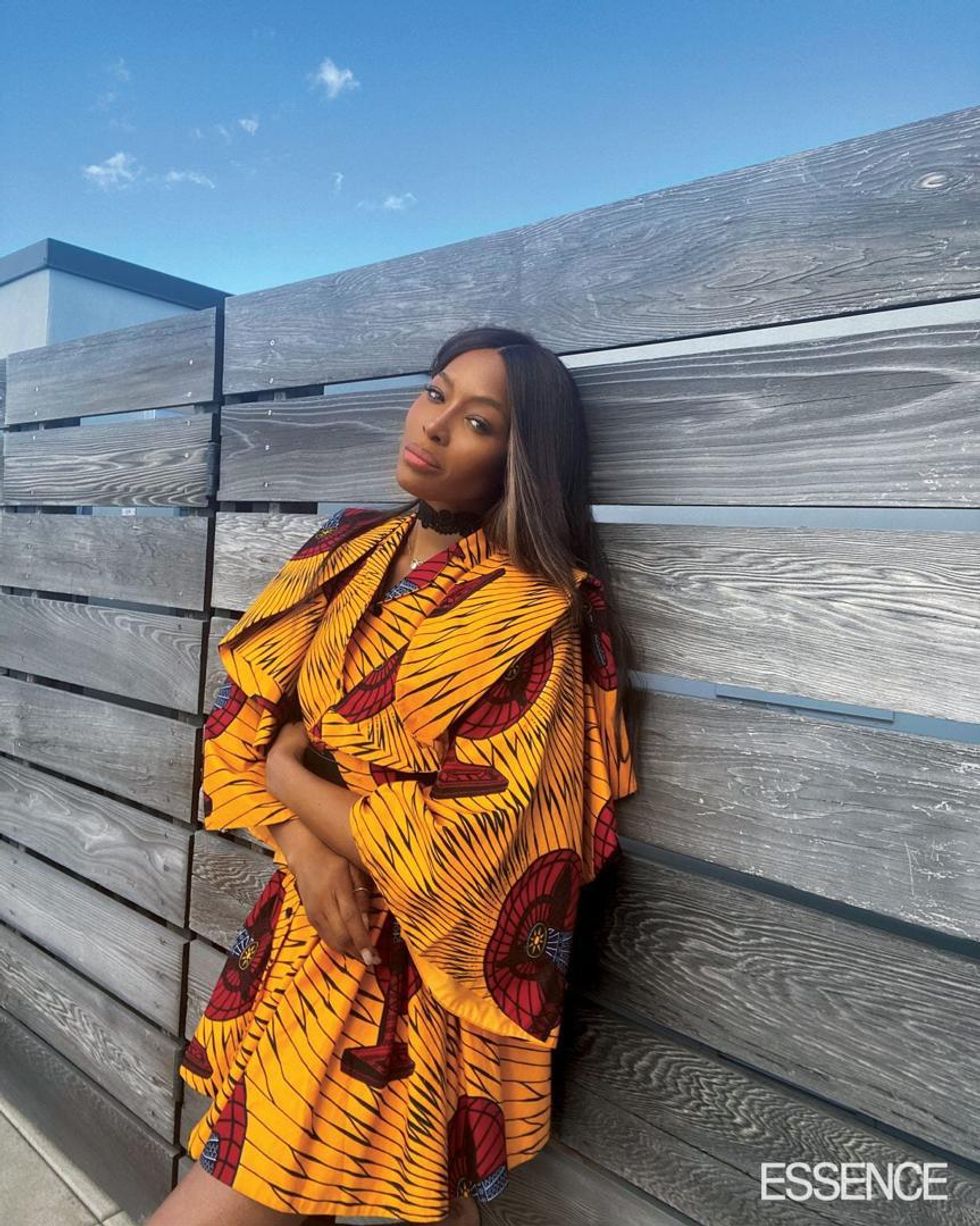 Naomi Campbell chose to wear a Steve French dress for this self-taken Essence cover last year, shot during lockdown. Photo: Naomi Campbell
Are there any lessons you've learned between when you first enrolled in fashion school and now that have shaped your life?
There are a couple of things I have learned; the biggest lesson would have to be staying true to myself, always. It sounds easy, but it isn't and you can easily lose yourself in this fast-paced industry. I've also learnt to trust my journey. Sometimes you will feel under pressure to achieve things at a certain time or hit a milestone at a certain age and that pressure isn't good and can derail you. I look at my journey from designing as a little boy, to fashion school, and then now meeting Naomi Campbell, working with Gucci and getting nominations. I know that there's no one way to get there, you just focus on your work and the rest will take care of itself. If you focus too much on how fast to make it, where you should go and who you should be like, you're living for others and not you.
You initially didn't make the 2019 Gucci Design Fellowship Top 10 but the powers that be decided you still had to be a part of the program. How do you look back and see that moment?
I don't do it so much now but I used to journal a lot. I always say, 'Who would I have been if not myself?' When the lecturers didn't understand my jumpsuit or generally people were not understanding of my creations, I could have just been like 'I am going to be like everybody else,' and toned my creativity down and be what the world wanted me to be. I remember at age seven, designing came out of cartoons and I used to draw a lot of cartoons, and from cartoons, I developed a style. I would never draw the usual, it always had to be extravagant. And my mom always asks 'Who's going to wear this? Why don't you design something people can wear?'
I remember my mom would watch GTV News, and Gifty Anti [veteran Ghanaian News Anchor] would have on a Kaba and Slit and she would ask me to sketch. Whenever I brought the sketch back, it was completely different from what I saw on the TV, and she would usually say something along the lines of 'This isn't what I asked you to sketch," and my response was, 'This is nicer.' So during the height of COVID when the Gucci Fellowship had to be put on hold, it gave me time to reflect. And on one of those days, it hit me, and I was like, 'Wow, what if I didn't stay true to myself?'
What are you currently working on?
Because of confidentiality, there are a lot of exciting things I can't say 'til they are out but I am currently doing my fellowship with Gucci and I am schooling as well. I will say that I'm extremely excited and confident about the future.
As an African designer who's also trying to break barriers with your work, it must have been hard to hear of the passing of Virgil Abloh?
Virgil Abloh's death is an extremely sad one and still hard to talk about. He was extremely talented and gave hope to a lot of designers, especially those who didn't conform. It's heartbreaking but I know he will live on through the impact he made.