DIASPORA—'Soundcloud afrobeats' is the term some use to describe this group of young artists of Nigerian heritage who eschew the heavy rhythms and flash of afrobeats, and look to trap, R&B, soul, and even emo, for inspiration.
---
Nigerian contemporary music is, today, in an odd state of high confidence. The music has an exciting and profitable market, but it's also in utter confusion as to what exactly to call itself. "Afrobeat" as done by Fela Kuti insists on being different from "afrobeats" as done by the new brigade.
A separate strata of young artists are forging an identity for being free of the heavy rhythms and flash of pop. An easy term and common denominator could be "spaced-out R&B," a slow, sometimes druggy diffusion of instrumentation and emotions.
The gushing and belting that are the high-engagement points in so called "radio R&B" aren't to be found here. Drake's name is synonymous with the sound, but the blueprint may have been Kanye West's 808's & Heartbreaks.
Like-minded but better known artists like Santi, Nonso Amadi, Odunsi, and producer BankyOnDBeatz have put our impressive bodies of work. BankyOnDBeatz did the exceptional by making an album with only female artists, titled Fuego Señoras. Santi's Suzie's Funeral, Odunsi's Time of Our Lives and War EP, his joint project with Nonso Amadi, whose own debut project is called "Alone".
Most, particularly those featured here, are young, with ages ranging from from 20 to 23. They all write their own music and some produce their own projects as well. Many live outside of Nigeria, with quite a few in the UK (all featured here) while others based in U.S. (Daramola), Canada (Nonso Amadi) and Dubai (Santi).
These artists have a strong presence on Soundcloud, but would resist being called 'Soundcloud artists' and would definitely chafe at the term 'Soundcloud afrobeats.'
Yet, no two would agree on a term for the music they make. Lady Donli calls her music "box less." AYÜÜ calls his "world" because. "I make all kinds of music and enjoy fusion of genres." Genio Bambino doesn't yet have a name for his, but is staunchly against the term 'alternative afrobeats.'
Dami Oniru will settle for 'R&B soul' or 'alternative' but certainly not 'alternative afrobeats.' Davina Oriakhi opts for 'rhythm and soul fusion,' while AYLØ will go for 'soul-fusion' or the higher minded 'alt-soul-synthesis.'
These opinions notwithstanding, a group of individuals, however distinct from one another, make up a group all the same—just a more rarefied one.
DAVINA ORIAKHI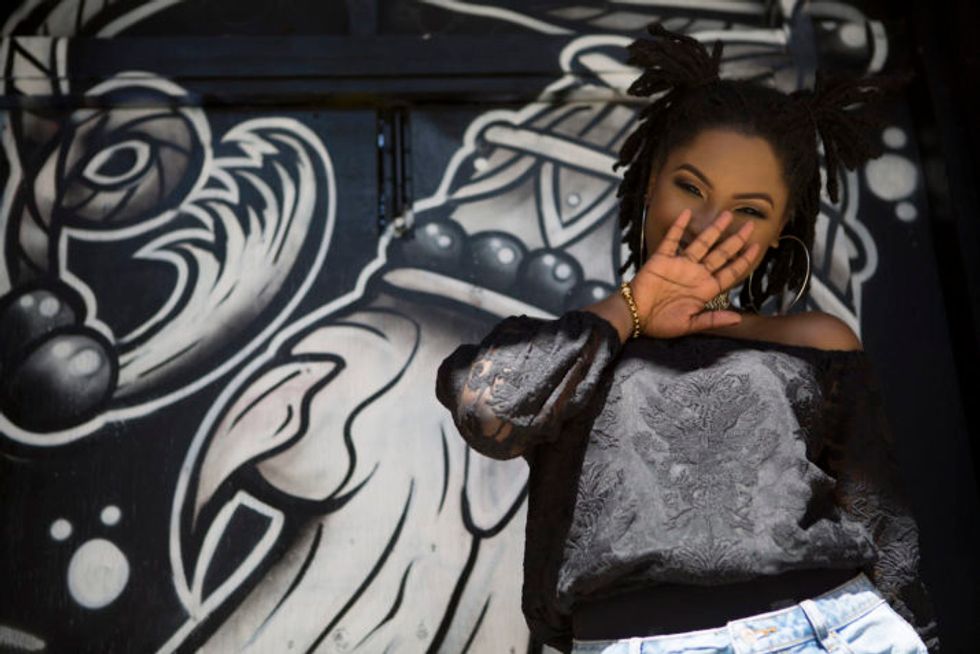 Davina Oriakhi. Image courtesy of the artist.
Davina Oriakhi's debut LP, Love To A Mortal, which she describes as "love on a spiritual level and a treat for genres," is due this month.
Oriakhi has a monkish approach to making music and so she mentions that, "if it is not a personal experience or story, if it is not uplifting, if it doesn't have a healthy message, I'm not putting it out."
The songwriter goes on to add: "I do not make music about sweet nothings. Every song I write has a profound meaning".
GENIO BAMBINO
Genio Bambino. Image courtesy of the artist.
Genio Bambino recorded his first song at 18 and now has put out two projects—Carpe Diem (2015) and Virtuoso (2017).
Bambino's began learning to play the piano as a kid. "My dad used to sing at church and he would take me to practice nearly every week from a young age," he mentions.
This early inculcation, unsurprisingly, makes for a rich development of music sensibilities. For his next project Favelo Nord, Bambino had teamed up with his guitarist-friend Banakoy.
LADY DONLI
LADY DONLI. Image courtesy of the artist.
Lady Donli's first project was Love Or War (2014), followerD by What Is Perfect? (2015) and, most recently, Wallflower in 2016.
Donli describes her start in making music as "organic" and has "been writing poetry and songs since I can remember". She is also one half of a group called SAFI with the singer Ayüü. Her newest single "Ice Cream" is a summer delight.
DAMI ONIRU
Dami Oniru's early introduction to music came by way of CDs that belonged to her mother and her twin, "they had like over 50 CDs each," she mentions. It was lunch time jam sessions in secondary school that sparked her interested,  "that was when I realised that, you know, I had a little bit of talent."
Oniru's standout single "Fallin" dropped in February "as a birthday present to myself." Her as-of-yet untitled debut EP is slated for release this summer.
AYÜÜ
AYUU. Image courtesy of the artist.
"I guess I became more conscious about my ability to write songs in secondary school" says AYÜÜ who, in May of this year, released his first full project, H.E.R (His Emotions Recorded).
AYUU is one half of SAFI, whose other member is Lady Donli. SAFI "means purity in Swahili and that's what we aim to represent with our sound and lifestyle."
---
AYLØ
AYLØ. Image courtesy of the artist.
What AYLØ calls "a snippet of my imagination" is his impressive EP, Honest Conversations,  released in December 2016.
Sampling and live instrumentation take equal places of pride in the music AYLØ makes, but he also adds that "the baseline for my creation is in the soulfulness of it."