AKA loves dance music and wrestling. Both act as the pillars on which his latest EP, Bhovamania, is built. Constructing the EP as a concept album, AKA was deliberate in referencing WWE, the most obvious example being the title and artwork (Bhovamania is derived from Wrestlemania).
"There's a lot of electric guitar on the album which is very much in the style of vintage WWE wrestler entrance themes," AKA told Apple Music in the album's liner notes. "I tried to play on that throughout the album to give it that kind of texture, and all those wrestling clips gave it that feel. In hip-hop, you project a persona, sometimes get stuck in character and become a bit larger than life with all the drama and over-the-top-ness. That's what the parallels between the two art forms are."
---
The connection between wrestling and AKA's persona is straightforward—AKA's carries himself like an indomitable superhero with an explosive personality just like wrestlers themselves. On Bhovamania, this connection manifests itself through egotistical lines that project Bhova as the top dawg (the meaning of the new moniker). In what could be one of his best verses on Bhovamania, in the song "Heavy Drank," AKA raps:
"I'm a machine like RoboCop, put my feelings in a deep freezer/ I can never show weakness in Babylon, only Oregons/ Walk around like I shit ice cream, there is no V.I.P/ There is just me and the rest of you idiotis."
A clip of Mike Tyson stating his belts were "nothing" plays towards the end of the song "Holy Water." In contrast, AKA has in many occasions dismissed the importance of awards in his career.
Dance music and nostalgia
Sonically, AKA returns to his trademark sound—merging dance music with hip-hop—for most of the EP. For that, the artist/producer uses one of his favourite production techniques, sampling.
He slows down the 2014 chart-topper "My Love" by UK producer Route 94 and vocalist Jess Glynne for "Casino," a song that features the unexpected combination of Sho Madjozi and Flvme. Most of "Python" is a loop of "Mob Hunter" by Les Indiscretes, while the calming and tingling lead pad of Nick Holder's classic "Summer Daze" floats over 808s on "Energy," one of the project's lead singles.
"Dance music always creeps into my shit somehow," AKA tells the audience at the project's release party, a few hours before its release.
AKA - Energy (Official Music Video) ft. Gemini Majorwww.youtube.com
It all started in 2014 when he sampled Martin Solveig and Lee Fields' "Jealousy" for his hit single of the same name, released in that year. The song wasn't only the genesis of Levels, the album it would later appear on, but it marked the start of a stint that's still continuing.

Since "Jealousy," AKA has sampled and referenced a number of both vintage and contemporary dance songs, ranging from EDM, 80s' bubblegum pop to house and even Afro-pop. Most of the samples are looped and have their tempos slightly tweaked. But, for the most part, they are kept recognisable—a winning formula in a world that tends to indulge in nostalgia.
AKA's music is a mashup of most of his influences. Explaining the inspiration behind some of the songs on Bhovamania in the album's Apple Music liner notes, AKA said, "I managed to blend amapiano bounce with a trap-sounding beat and a dance music sample. For me it's three genres in one, which I'm very proud we managed to get," referring to "Casino." About "Python," he said, "Makwa 6eats came up with that sample which is also from a dance song. It actually comes from an old Metro FM ad called, 'What makes you Black.' We thought that would be really nostalgic, so I put that in there."
In the song "Mr Perfect," AKA collaborates with like-minded artists Yanga Chief and house musician NaakMusiQ for another song deeply-rooted in nostalgia. In it, NaakMusiQ, who by the way released the bubblegum pop-inspired "Ntombi" in 2018, passes his vocals through a voice box filter, which is fitting for a song that references 80s' pop music.
Collaging
But it's in the song "African Man" where AKA conspicuously stacks his influences. Apart from the obvious Mahlathini & Mahotella Queens' "Kazet Gazette" sample, AKA deploys the collaging technique which his frequent collaborator Yanga Chief uses in the 2017 song "Jika," which the latter co-wrote. On "Jika," Yanga Chief manages to merge a Nguni folk song ("Jikelele"), the kwaito group Bongo Maffin's "Thathi Sgubhu" and house veteran DJ Ganyani and FB's "Xigubu".
Photo by Sabelo Mkhabela.
Similarly, on "African Man," AKA uses Mahotella Queens and kwaito/Afro-pop Mafikizolo ("Lotto") melodies, and borrows Nigerian Afro-fusion artist Runtown's flow from his 2018 Nasty C team-up "Said." Towards the song's end, he repurposes kwaito artist and producer Arthur Mafokate's "Mnike" and the Reel2 Real 1994 classic "I Like To Move It".

In "African Man," the sample and an electric guitar battle for attention over an Afro-pop rhythm. An 808-snare roll decorates a few transitions in the song's many nodes. "It's a real African record," says AKA in the album's notes.
Speaking on Levels in Levels Unlocked, a documentary from the deluxe version of the now platinum-certified album, AKA said, "I wanted to get a full spectrum of my tastes and influences, 'cause that's what making an album really is about." To this day, AKA still operates on that philosophy. "Bhova" is a moniker the rapper gave himself a few years ago. It has taken precedence over Supa Mega, a moniker he gave himself when he became more than just a rapper who was, in the early 2010s, referred to as The Prince of South African Hip-Hop. All those incremental characters come with different quirks inspired by events that take place in AKA's life as he goes, a transition that mirrors wrestlers' character-shifting nature.
Bhovamania is a playful and fun album that gives an update on the life of an artist who doesn't have much to prove after a decade of mega hits and blockbuster albums. When he raps, "Every year, Dejavu" on "Mufasa" and "I could chill and never record a song again off the strength of my catalog" on "Energy," AKA is sharing his reality and giving some of his takes on the world. According to the artist, the project explores the themes "mind, body and soul" across its 13 songs.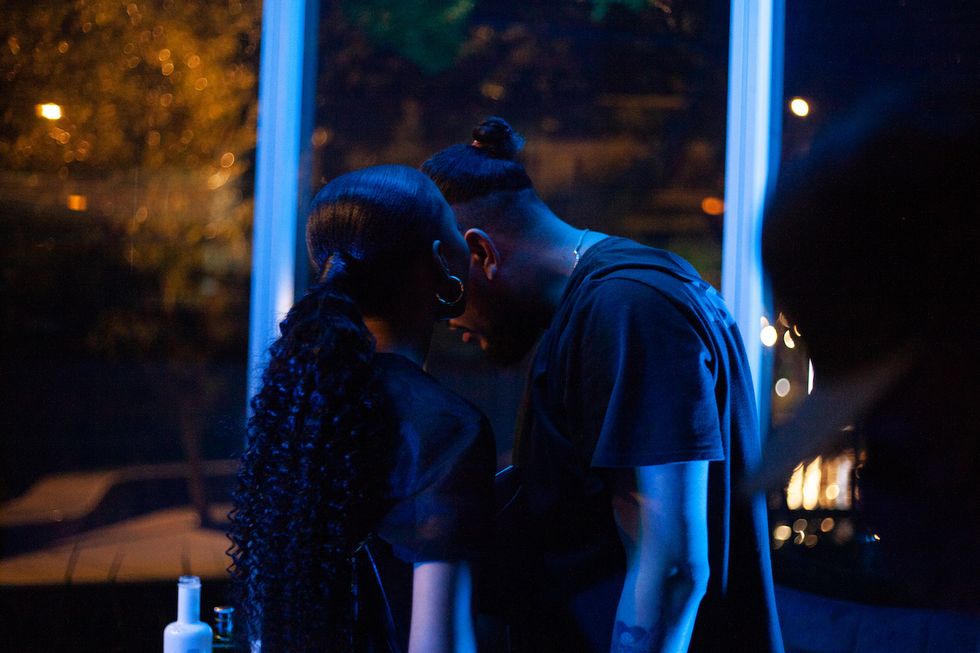 Nelli Tembe and AKA during the 'Bhovamania' listening session.Photo by Sabelo Mkhabela.
The song "Finessing'" is a collaboration with his girlfriend Nelli Tembe which was a result of her being in the studio with the artist. "I was like, 'Babe, why don't you just do the lyrics?'" he tells the audience. Anecdotes centered on his relationship appear on several songs ("Holy Water", "Mr Perfect", "Cross My Heart") through Bhovamania.

Breaking down the meaning behind some of the lyrics on "Cross My Heart" ("Jabu was using Google to tell the Uber what he was thinking in Zulu/ Before the driver turned around and said, 'Bro I speak really good English'), AKA recounts the story of his friend Jabu having to use Google Translate to speak to an Uber driver during a trip in South Korea. "That song is laced with all sorts of memories of me going away on my trip at the start of the year, missing my girl and speaking to her every night," he says, before pausing for a while and thereafter saying, "Man… I'll write the book one day."
Chuckling after sharing Jabu's anecdote, AKA mentions the importance of humor in his lyrics. "Kanye West and 2 Chainz are two of my favourite rappers because they always have witty and humorous lines." His words are a reminder that, throughout his robust and fruitful pursuit of pop superstardom, AKA hasn't forsaken his hip-hop roots. His previous album Touch My Blood (2018) and his collaborative album with Anatii Be Careful What You Wish For (2017) both have notable rap moments despite their pop-leanings.
"Heavy Drank," which features veteran rapper K.O, is one such moment on Bhovamania. Before playing the song during the project's release party, the artist gives a bit of background. "I've been wanting to do a record with K.O ever since he rinsed me, and then he probably rinsed me again, but I don't care because he's that type of guy," he says, referring to the rappers' previous sparrings on songs such as DJ Vigilante's "God's Will" (2013) and AKA's "Run Jozi" (2014)—the general consensus on both songs is that K.O came out victorious.
"The essence and core of hip-hop"
Enemy-turned-friend L-Tido, another rapper AKA has a string of collaborations with, makes an appearance on the EP's closing song "AKA" while "Monuments" reveals just how deep AKA's relationship with hip-hop goes. The song features Yanga Chief and SA hip-hop pioneer Grandmaster Ready D and was released alongside "Energy" and "Cross My Heart," while the country was on lockdown earlier this year.
In the song, AKA reflects on why he became an artist backed by a minimalist beat made up of woozy pads and a big bass line. Towards the end of the song, he comments on the effects of the Covid-19 pandemic and the country's lockdown. He raps:
"I go to Woolworths, come back and feel terrible/ It's easy to stay home when you ain't gotta deal with no domestic abuse/ Please count your blessings, don't be complaining about your Wi-Fi connection"
All this as Grandmaster Ready D throws cuts containing 80s' hip-hop classics such as N.W.A's "Straight Outta Compton" and Erik B & Rakim's "Paid In Full".
AKA - Monuments (Official Music Video) ft. Yanga Chief, Grandmaster Ready Dwww.youtube.com
South Africa-based culture writer, Tseliso Monaheng, picked up some of the references in "Monuments." "Flow-wise," he says, "I'm sensing a heavy 80s rap influence. Think LL Cool J, Rakim, Run DMC. That feel, that aesthetic." The writer has always been moved by AKA's tendency to pay homage to artists who have inspired his music. "He's also very aware of the other pop culture figures who influenced him; the likes of Michael Jackson and his leather jacket, for instance (he wears a similar joint on the "All Eyez On Me" video)," adds Monaheng.

AKA says he set out to make a "really hardcore hip-hop song" and refers to deejay cuts on a song as "the essence and core of hip-hop". "I was able to reach out to Grandmaster Ready D, and I'm happy that I got one of the greatest turntablists in the world," says AKA.
"Many forget, or don't even know, that he competed and won at multiple SA DMC championships at a time when very few (if any) deejays from the continent were doing the scratch deejay thing," says Monaheng about the member of Prophets of da City, one of the country's first-ever hip-hop crews.
Bhovamania gives the listener a screenshot of where AKA is as a human being and an artist—it's a curation of what currently matters to him, what keeps him occupied and the new and vintage music he's fascinated by. South African hip-hop is always under pressure to find a relatable identity that will make it palatable to music fans beyond hip-hop circles. AKA has found his formula and it has worked for approximately six years. With the mixed reviews the album has received, the future remains open-ended for Bhova.
Stream Bhovamania on Apple Music and Spotify.