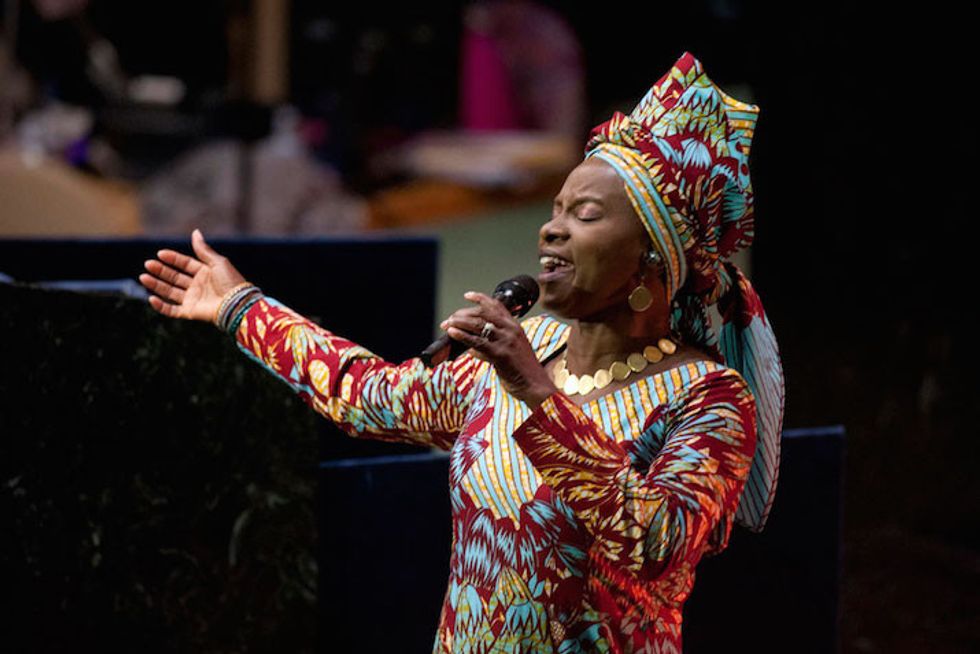 ---
Angélique Kidjo performs "Afrika" at the UNGA (Image: UN Photo/Kim Haughton)
The United Nations General Assembly began its three-day Sustainable Development Summit on Friday in New York City with a visit from Pope Francis. The Pope's historic speech though wasn't the only highlight that morning– Beninese icon and UN Goodwill Ambassador Angélique Kidjo lit up the UN with a performance and message of her own.
"Today is a day where we talk about Sustainable Development Goals," Kidjo addressed the crowd as she took the stage at the UN. "We should talk about Sustainable Development Goals every day, every second, every moment, until we put an end to poverty. Until we put our children to school, our young girls to school, and empower boys, men and women all around the world, especially in my continent. We need to do this. And together I think we can achieve a world that is better for the future generation, because that's the only solution to preserve the earth and to preserve the economic system that we have. So today, I'm going to ask you... let's celebrate the African way the success to come. The success of a better world for the next generation that we are here for today. So when I ask you to sing, you go along with me," she said before breaking into a high-energy performance of her song "Afrika."
Kidjo was first appointed a UNICEF Goodwill Ambassador in 2002. "It's allowed me to travel all over my continent and listen to real people [talk] about their lives and their issues," Kidjo explained in an email to Okayafrica. "I have sat with many women and heard their stories from their mouth. It has allowed me to become a better advocate for women and children." The role has also been a source of inspiration for her music. "The people I meet are the inspiration behind my songs," she tells us. "The truth is when you are on a 'field' visit, as it is called, the people you meet teach you so much."
Kidjo says she believes the UN's Millennium Development Goals have achieved a lot in terms of promoting primary education and battling child mortality since they were first passed in 2000. "Some of the goals have not been reached, but other have been very successful," she says. "I like the fact that now we are expanding on those and building new ideas, like promoting secondary girls education, which has been the mission of the Batonga Foundation." For Kidjo, singing to promote the launch of the UN's Sustainable Development Goals was important. "[The goals] need to be promoted as much as possible so world leaders will feel the pressure to make progress," she says.
Kidjo also explained the significance of performing after Pope Francis. "Normally, I would not have cared much about singing after a Pope's speech, but we have to agree that this Pope and his message are quite powerful and timely," she says. "At a time where the world seems so divided and partisan, it feels so good to have a powerful voice preaching more understanding and love between communities and support to mother earth (Agolo was about that, by the way!). To sum it up, we need to care a bit more for each other. It has been the main theme of my music since I wrote my first song Azan Nan Kpe at age 15."
What message does Kidjo have for world leaders? "What I want to tell them is what I said to the world leaders right before my song: the world we're living in won't be sustainable if we don't share its wealth more equally. And we have to work at this every day, every hour, every minute. Each of us with our own voice."