When filmmaker, activist, and cultural agent Heny Cuesta first started her career in Colombia, she noticed a severe lack of black creators in the industry. Cuesta, an Afro-Colombian originally from Cali, was the only Black woman in a room full of mestizo directors at a panel discussion at the International Film Festival in Cartagena de Indias (FICCI) in 2013.
"None of the filmmakers were black, but they were talking about ethnic content despite the fact that they didn't know the territory," says Cuesta. That scene shocked her, but it reflected the low number of movies directed by black directors in Colombia. In 2018, Colombia's film industry premiered 37 feature films and only one of them –Candelaria– was directed by a black director. It received many international awards.
The lack of blackness in Colombia's film industry goes far beyond studios, film festivals and production companies. Afro-Colombians make up almost 20 percent of the population but historically have had few opportunities to access education. Most black Colombians, who come from cities and towns along the Pacific and the Caribbean coasts, have been neglected and isolated due to a lack of infrastructure, as well as a lack of education and job opportunities.
---
Teaser Cimarrón Produccionesyoutu.be
Cuesta recalls that when she went to college, she was the only black woman out of 60 students. "That was my starting point to think about what happens when others are telling me who I am." All this prompted Cuesta to start a film production company, initially with a classmate, to create a safe space for the Afro-Colombian community in the audiovisual industry, "because the Afro-Colombian community needs support and leadership to tell their stories," she says.

According to Cuesta, at the beginning "it was hard to convince my peers, because the project required money, resources, and none of us had a camera, nor stable jobs, or artistic or audiovisual background. However, that became a way to challenge ourselves to do what we could do with what we had."
It was 2013 when she officially launched the film company with a Canon T3 camera and $70. Its team consists of four young black and mestizo women: Karen González, the co-founder; Zulay Riascos, an Afro-Bogotana filmmaker; as well as Maria Rivas and Laura Asprilla, both journalists who are taking an audacious approach to the cinematic question of black representation.
Photo courtesy of Cimarrón Productions.
Now it's been five years since Cimarrón Productionshas existed to train Afro-Colombian communities along different territories. They have trained black and young people on film skills, developed panel discussions, and organized movie screenings and workshops on identity, race and representation.

According to Cuesta "this is the first Afro-Colombian film production company. There were film collectives in Cartagena, Popayán and in San Andrés, however this is the first one led by black women."
This project is a feminist women collective. "For me, this became a movement when people began to recognize that they won't find audiovisual content, but rather a way of social criticism. A way to strengthen identity processes. Film is an excuse to reach that," Cuesta says.
The collective has partnered with human rights and non-profit organizations as well as anti-discrimination associations to strengthen the narratives around black communities. Additionally, they have worked with other black collectives such as Chontudas and the Matamba to understand the struggles of young people and women living in the country.
Cimarrón's commitment towards Afro-Colombian communities has led them to various territories in the country, where they have worked with communities on matters of identity and black representation. According to Cuesta, "we have worked on how to narrate, respect and recognize the pain of others. It is not just coming to their location to shoot, but starting to feel what they're living and [establishing] how we will work together."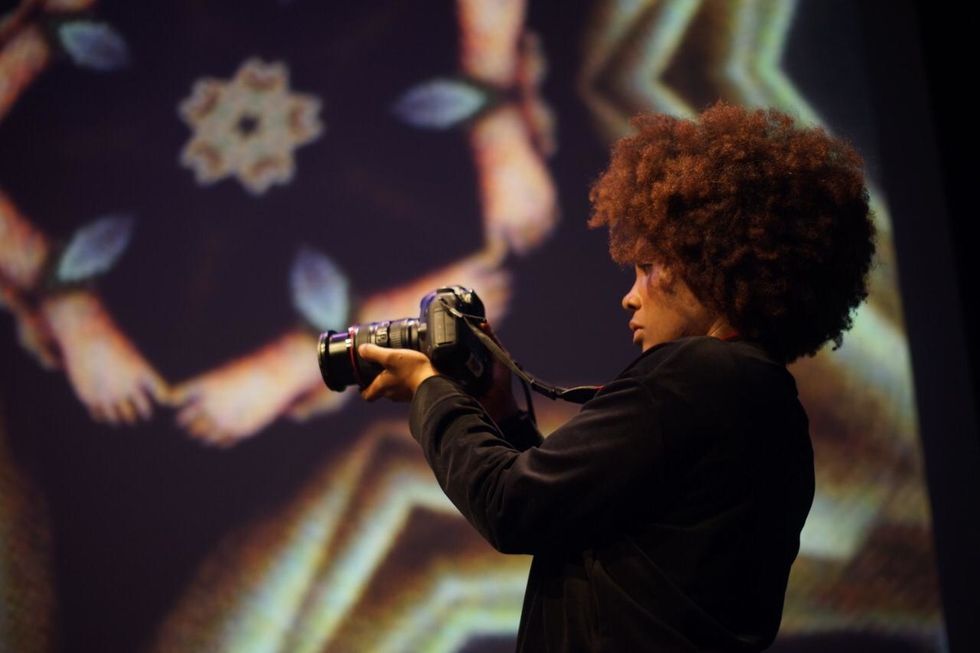 Photo courtesy of Cimarrón Productions.
All of their works has received wide acclaim. In May 2019 Heny Cuesta was one of the few Colombians invited to the Nobel Women's Initiative in Monrovia, Liberia to talk about Colombian social conflicts and the struggles of leaders to fight for their rights and enhance cultural transformations through film.

Cimarrón has worked with more than 400 Afro-Colombian women, children and young people who are starting to tell their stories with what they have. The collective is helping more black voices reflect on their identity and narrate their stories themselves with the resources they have. As Cuesta says, "what we want to be is a voice, so that there won't be others who narrate them, others who do not have the sensitivity to do so."
They've also became a critical voices against producers who go to different territories, make films about the Afro-Colombian community and leave without giving credit or rewards to the subjects. Cuesta believes that "they never recognize where these stories come from, and from my point of view this is stealing, because they didn't have a commitment to see what they can do for these communities. They never return them back anything."
Photo courtesy of Cimarrón Productions.
Their upcoming event is a collaboration with the human rights organization Skylight Pictures, to create the first Afro-Colombia arts lab to empower black leaders, filmmakers, artists and writers, and help them develop collaborative stories on their territories and communities. Cuesta was also selected to join the workshop on narratives with social impact at the American Film Showcase. The collective is headed down a bright path, that will surely keep inspiring young, gifted and black filmmakers to tell their own narratives instead of others doing it for them.