Last November, Jizzle sold out the Independent Stadium in Bakau for his Finally album concert. It was a historic moment as the 30,000-capacity grounds were completely filled up with fans all gathered to see the singer alongside other popular Gambian and Senegalese acts.
Born Jereh Jallow in 1994, Jizzle's first love was soccer. After watching his older brother making music at home, he decided to give it a shot and discovered that he too had a gift for it. It's been ten years since he started doing music professionally but the hard work has paid off immensely with his songs regularly topping Gambian iTunes charts. Now a hit-making, multi-award-winning artist, Jizzle would like the world to pay attention to what the Gambia has to offer.
Jizzle hopes his newest release, Scorpion: Vol 1, breaks his music in the rest of West Africa and beyond. The 6-track EP, which features Nigerian acts Oxlade and Idyl, sonically ranges from afrobeats, to dancehall to hip-hop. Besides English, Jizzle raps and sings in his native Wolof, Mandinka and Fulah languages.
Jizzle explores his financial struggles on the first track, vowing never to be "Broke Again." He courts his female audience with "Jehgehma" and the sultry banger "Mexicana." The bouncy "Levulo" has been the most popular track on the project so far and the numbers look to only keep growing.
We caught up with the fast-rising artist to discuss Scorpion, influences and future plans.
---
Jizzle - Gang Gangyoutu.be
Tell us a little about yourself and how you got started making music.

I used to back-up some artists here during their rehearsal and shows, acts like Mighty Joe andT-Smallz. They really influenced me in my musical journey and growing up, that's how I got into music.
Can you paint us a picture of how the Gambian music scene looks like at the moment?
We don't have a music industry yet, [but] the music scene has really grown in terms of crowd attendance and support from the people here. Money-wise, most artists like me who are independent finance their music from their own pockets. Royalties from streaming don't do much here. It's something new here and not all platforms are available... some of the resources & platforms are not available like in other countries. But a lot has changed now compared to ten years ago, Gambian artists are able to fill up stadiums and mini stadiums. All in all, we are growing.
What was the creative process behind Scorpion like?
The scorpion represents The Gambia. The National football team is called The Scorpion. It's a project I started working on last year. It's not only about music, it's a brand also. Me and my team will be introducing new merch soon. Also, people call me Jizzle the scorpion. You know, the scorpion is small but dangerous.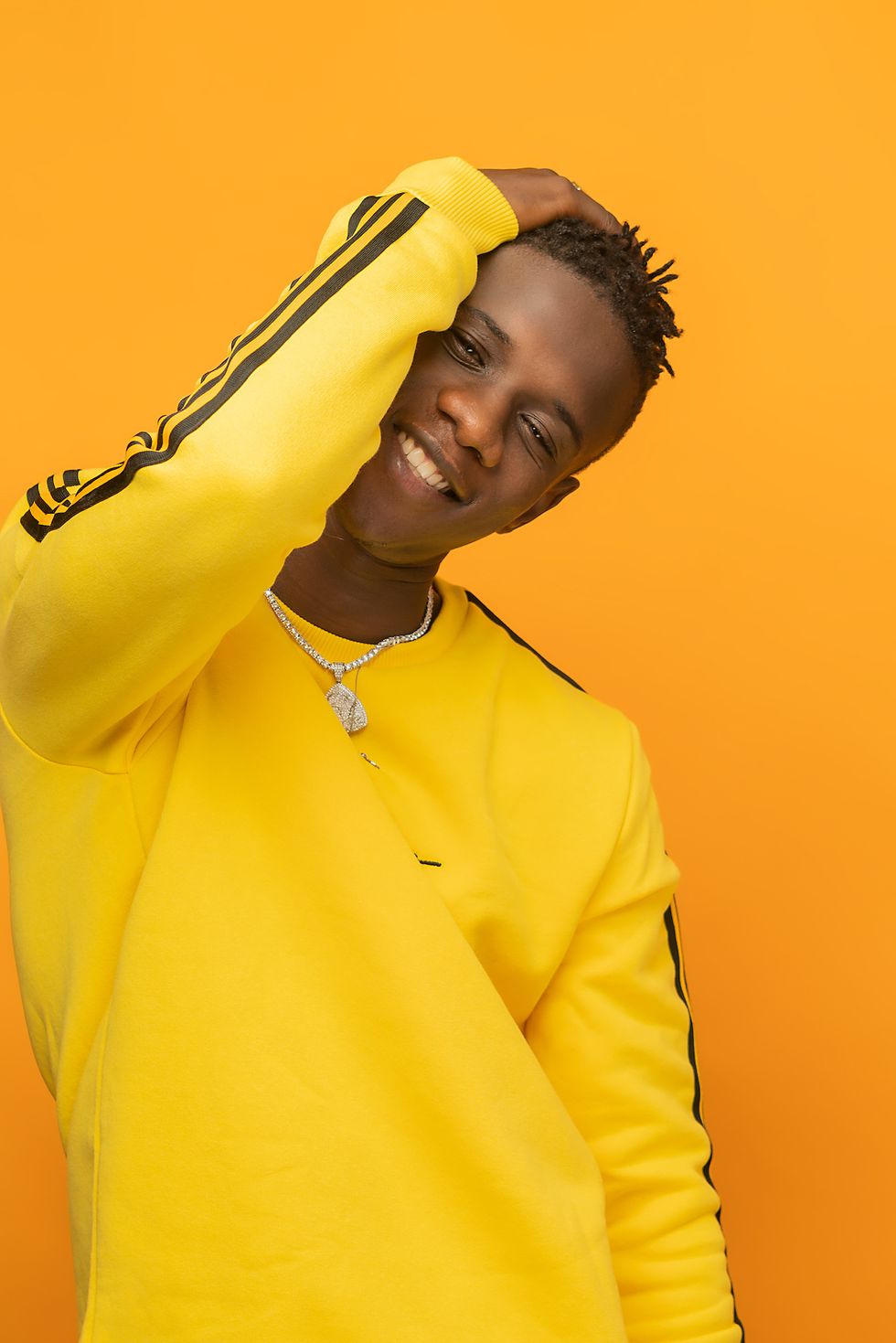 JizzleImage courtesy of the artist.
What experience would you like the audience to have when listening to Scorpion?

The EP is full of vibes ranging from afrobeat, to dancehall, to afromanding to afro-salsa and hip-hop. I put my heart and soul into it. From how far I have come to where I am now, to love, money, and friends, all these are represented on the EP. Basically, it's not just about the music only is my life experiences. All the songs are catchy with different vibes & flavors I believe every listener will enjoy this project.
You have collaborated with Nigerian artists Oxlade and Idyl in this project, are there any other artists from the continent that you'd like to work with?
Yeah I've done songs with few other stars here in the Gambia and the sub-region and I will definitely love to work with Wizkid, Burna Boy, Da Baby, Chronixx, Davido, Rema and Mr Eazi.
What more should we expect from Jizzle in 2020?
Yeah, people should expect more music and more collaborations and I'm ready to take over the world, I might drop another project before the year ends you never know. I am also looking at doing media tours within the sub-region and performances as well. I will be doing a European and US tour in the summer too. Every year I close it with my annual end of year event. This year it will be #ScorpionFest and we will have one or two acts as guest artists for the event, basically some of the artists I have worked with this year.