Fatim Jawara was one of The Gambia's top football players: she was the goalkeeper for the national team and for the Red Scorpions, one of the strongest teams in the country's female league. Sometimes she'd even play as a defender, because she she liked a challenge—that's how passionate she was about the game. At age 15, she represented her country in the Under-17 World Cup and received money from the government for her performance which she gave to her mother to build a bigger house in the crowded family compound.

But every day represented a new struggle. Fatim earned no salary from football and faced constant criticism from neighbours who thought her appearance was too manly. She also came up against the cultural barriers that make Gambian women's lives particularly challenging. Her father was a well-respected imam in Serekunda, outside the capital city Banjul, and she shared her home with her father's four wives, including her own mother, several step-siblings and dozens of nieces and nephews.
"Fatim was kind of strange in the family," says Momodou Jawara, her older brother. "No matter how dressed up she is, there is always shorts on her. Yes, she is always and ever ready for the game."
Momodou shifts between the present and past tenses when talking about his younger sister, as if he cannot fully accept that she is gone. With a 20 year age-gap between them, he always made sure to look after her.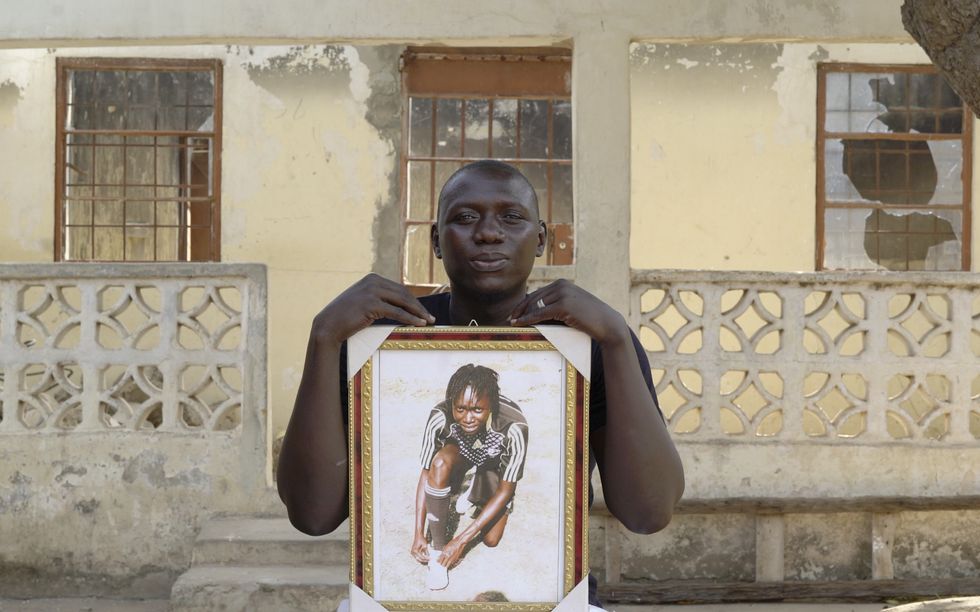 Momodou Jawara with a photo of his sister Fatim Jawara Photo: Claudia Jardim
"It was very difficult for her, not only with our family," Momodou continues. "In The Gambia, if you act like that, they look at you like a lesbian, even if you're not. And everyone knows the tradition: if you are a lesbian, you are put aside, they don't even want to talk about you."In 2016, at age 19, Fatim decided to embark on a dangerous journey to pursue her dream of becoming a professional footballer in Europe. She lied to her family about her plans, saying she was going to Senegal for a game. She only told the truth to a handful of team mates.
"She was honest to me. She wanted to help a little bit with her parents. That was her dream, to become a professional in the European leagues—to improve her football," says teammate Pullo Bah . "I tried to convince her to stay. Then I gave her goodbye. I cried. I cried. Big cry."
Fatim's story made headlines around the world—but for the wrong reason. In October 2016, she died in the Mediterranean, as the inflatable boat that carried her and dozens of others capsized.
Fatim took what's called "the backway" into Europe—this is how Gambians describe the route that thousands of people take if they don't have a visa. It is a long, dangerous and expensive journey, which can cost over $2000, most of which goes to smugglers along the way. Fatim and her friend went from The Gambia to Senegal, then Mali, Burkina Faso and Niger, crossing the Sahara desert all the way to the Libyan coast.
Thousands of Gambians attempted the same journey in 2016. The Gambia has 1.8 million inhabitants. That year, close to 1 percent of the country's entire population reached the coasts of Europe. Many were pushed away by the economic and political hardships of Yahya Jammeh's 22-year autocratic regime."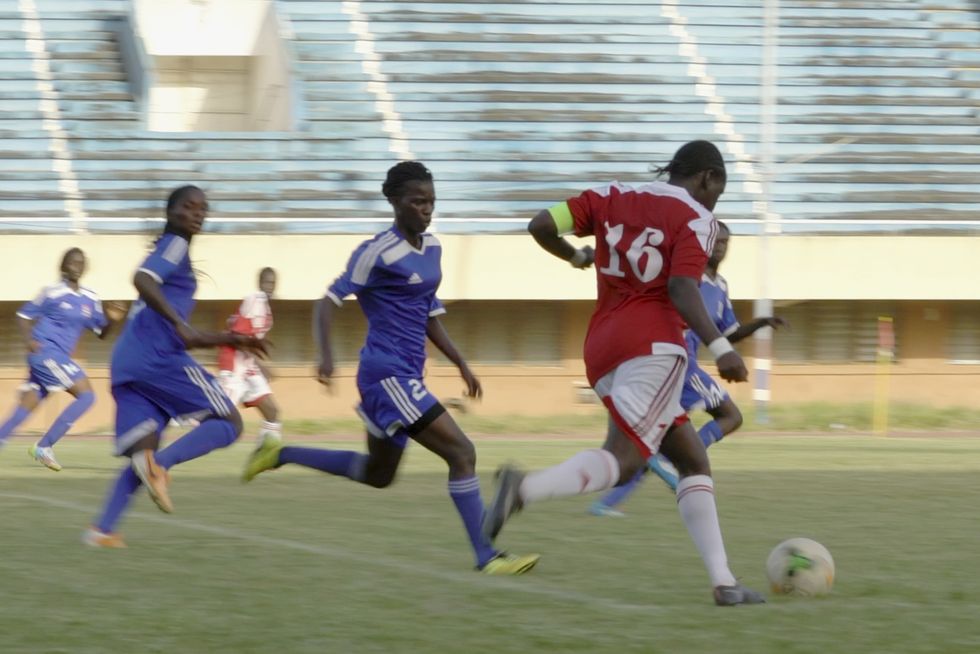 Gambia's U17 squad play a friendly game Photo: Claudia Jardim
She had no opportunity as a girl to excel, to achieve her dream of being maybe a football star in The Gambia," says Fatoumata Jallow-Tambajang , The Gambia's vice-president and minister responsible for women's affairs. "Looking at Fatim's background, with the opportunities in Europe which she was driving at, she would have succeeded to be a shining star. I really want to champion her cause for her not to be forgotten, to become a symbol of hope for the youths."
Fatim Jawara's story serves as a cautionary tale for her teammates, who say they would never attempt such a journey, despite the lack of money and infrastructure for women's football. Girls play on sandy pitches. Often their goals have no nets. They only qualified once for the Under-17 World Cup—it happened in 2012 in Azerbaijan, and Fatim was part of that lucky team. But they did not make it past the group stage and took a beating in each game.
With a majority Muslim population and a traditional social structure, girls in The Gambia also face other barriers. Female genital mutilation and child marriage remain widespread, despite bans that came into place in 2015 and 2016 respectively. The UN children's agency UNICEF says that three in four girls are victims of genital mutilation, one in three are married before the age of 18, and one in ten before the age of 15. But despite this challenging background, there is a women's football league, and the sport is growing among girls.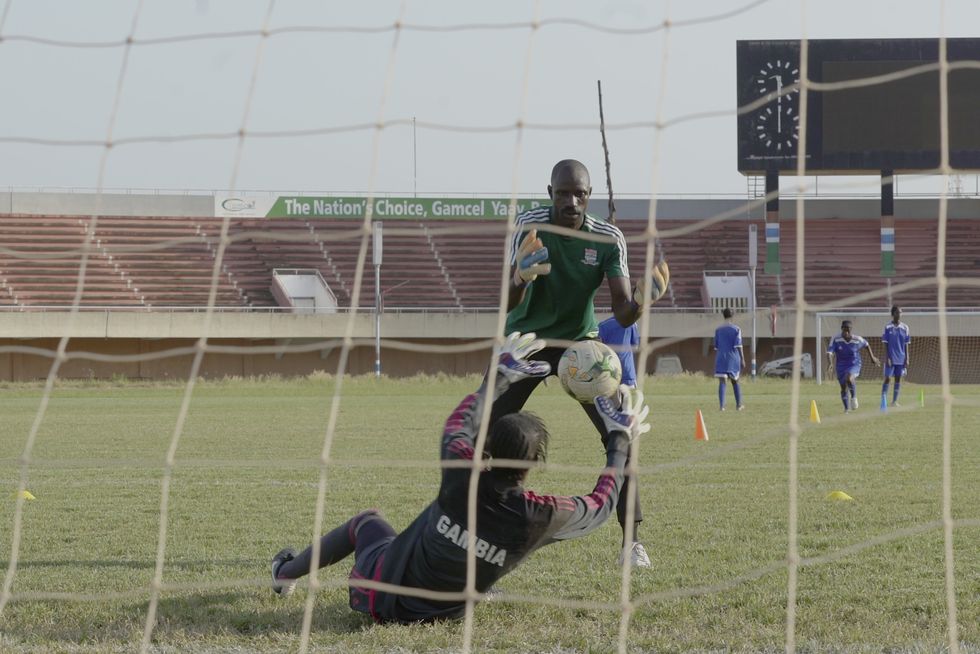 U17 Team Training Photo: Claudia Jardim
Aminata Camara is an example of how football can become an instrument for female emancipation. She comes from a traditional Sarahule family, who believes strongly in child marriage. She started playing football with boys in her neighbourhood. But her father was against it.

"In our tribes, some are 14 years old, they get married, so that's what my father said," says Aminata.
Aminata had to sneak away from her family compound with her football shorts underneath her dresses and she had teammates wash her training clothes because she could not have them lying around the house.
"Whenever they hear about football, they say it is for men, not ladies. They say the only thing that ladies need to do is to go and get married but do something else that is more important," says Ajara Samba , a national team player and friend of Fatim's and Aminata's. But Choro Mbenga , the coach of Red Scorpions, spoke directly to Aminata's father and convinced him to let her daughter play. Aminata eventually became the captain of the Under-17 team and even travelled abroad for games.
Aminata dreams of being a professional player in England one day. Football became a way for her to avoid early marriage, and it was possible only thanks to the support of her coaches and teammates. Yet, despite all the progress she has made, it is hard to tell what her future holds.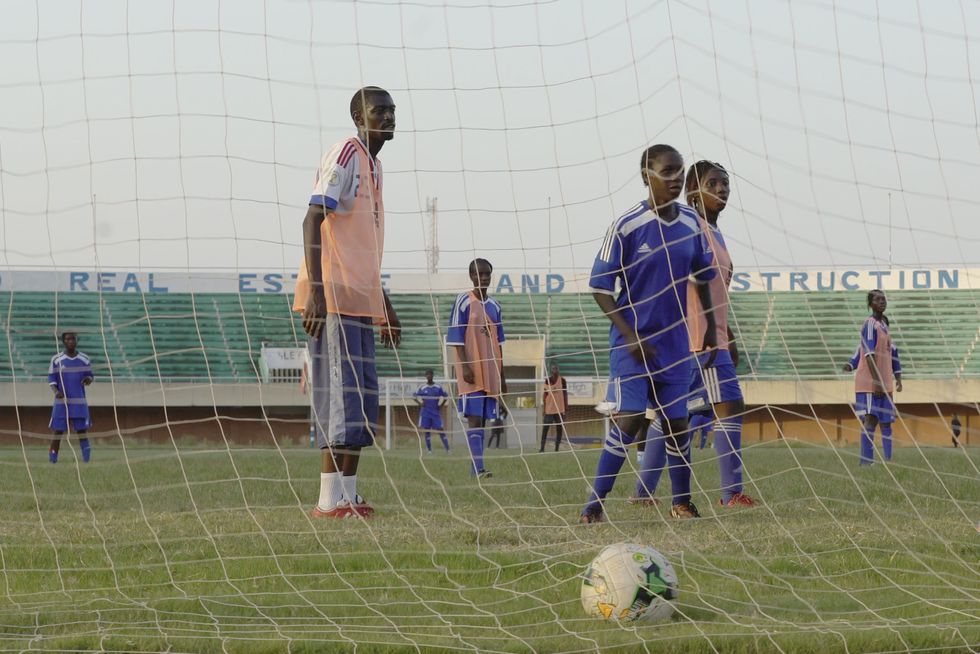 U17 Team Training Photo: Claudia Jardim
Samba says that usually women leave football around the age of 20, something that is common in other countries too, because women are drawn into forming a family and fitting into a more traditional role. "By that time, you will see that you're growing old, and you're not gaining anything from playing football," says Samba. But she believes there is room to change that. "If you see football in The Gambia, the girls are scoring even more goals than even the boys. So obviously that shows that we can make it," she says.
Coach Mbenga agrees. After many years of experience training girls, she believes the tipping point may be coming: "I believe that everything is about time. The future of The Gambia's football is feminine.
This report is part of A Girls' Game, a multimedia project that was funded by Innovation in Development Reporting Grant granted by the European Journalism Centre.