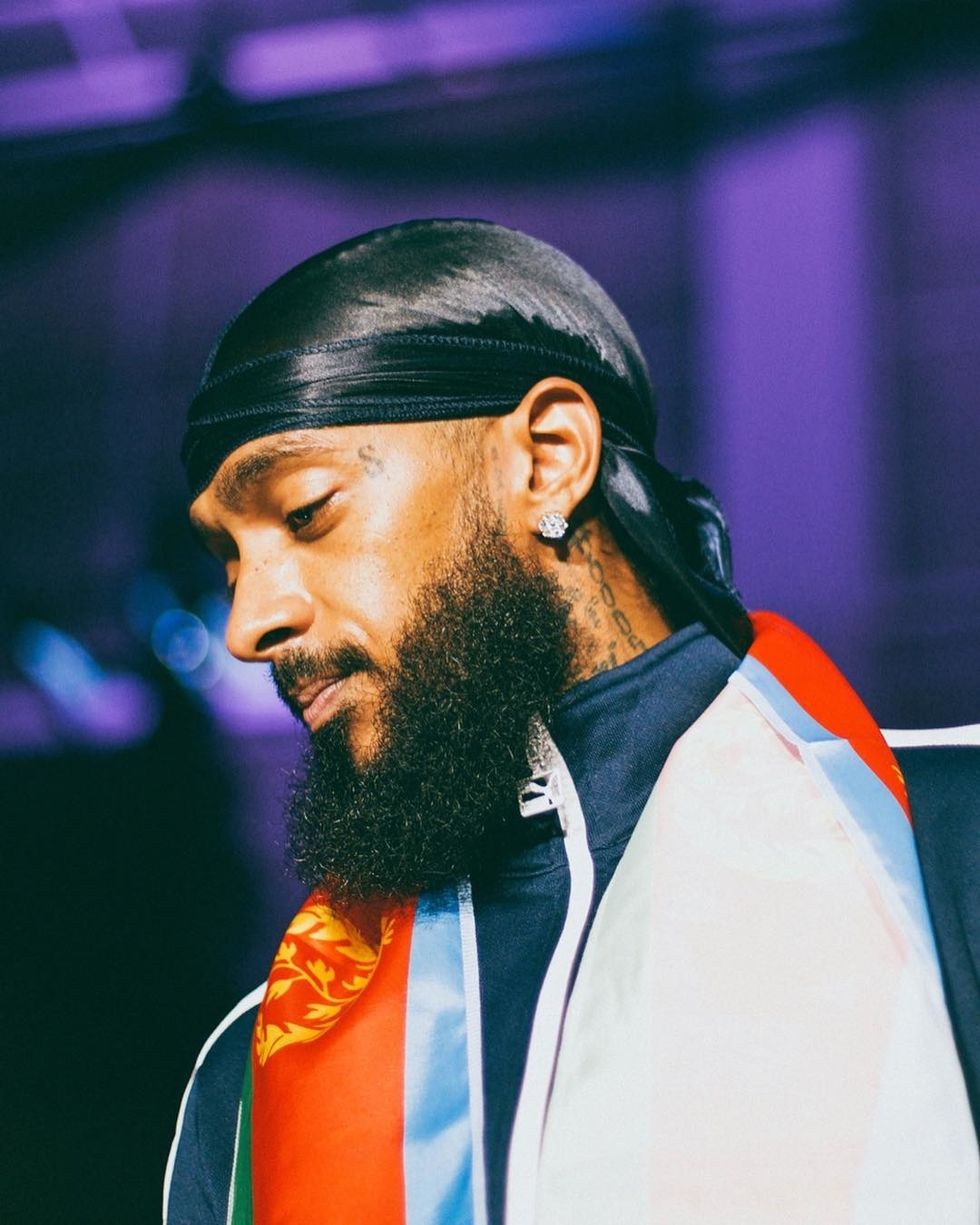 "I'm half American and half Eritrean—as much as I am a black person from America, I am a black person from Africa too."
The utter shock continues to reverberate as the world mourns the loss of Eritrean-American rapper Nipsey Hussle. The Grammy-nominated artist, entrepreneur and community builder was killed March 31st in front of his store Marathon Clothing in Los Angeles.
He was 33 years old.
"Extremely saddened to hear the news of the tragic and untimely death of iconic recording artist/entrepreneur Ermias Asgedom (Nipsey Hussle)," Yemane G. Meskel, Eritrea's minister of information, tweets. "RIP and condolences to his family."
Born Ermias Davidson Asghedom to an African American mother and Eritrean father, he was very proud of his upbringing and heritage. As Abraham T. Zerenotes for Africa Is A Country, his pride is one of the many examples of notables in entertainment who have been reconnecting to their African roots and made it so "public and explicit."

---
In a March 2018 interview with Dallas-based radio station 97.9 The Beat, Nispey reflects on meeting his Eritrean family for the first time:

"I went out there for three months in 2003—met my granny for the first time, met my cousins, so it definitely had a major impact. I was raised in LA by my mom, my mom's family is Black American, but I always knew my heritage from my dad, but I never met my family. My dad was the only one in America—everybody else is back home. So when I went out there, it educated me to the other side...it just gave me an understanding of what my dad's life was like growing up, what his family was like. I got embraced and they loved me and I became aware of the culture. I'm half American and half Eritrean—as much as I am a black person from America, I am a black person from Africa too. I embraced both sides of that after I went out there."
He returned to his fatherland a few months after his interview in May. Check out his appearance on the "Open Mic" program on ERi-TV below where he speaks on his sense of pride knowing the history of his country:
ERi-TV: Interview with Nipsey Hussle Eritrean-American Recording Artist & Entrepreneuryoutu.be
Fellow young Eritreans, Ethiopians, folks from neighboring countries, as well as just Africans worldwide have been reflecting on the impact he's had as one of the few to represent the habesha community in such a profound way.
Here are a few reactions that hit home:
you made eritreans feel seen in a world where we often felt invisible. you made us proud. you gave us a voice and r… https://t.co/Zp816ud3V3

— negārit, awakener✨ (@negārit, awakener✨) 1554079916.0
speechless to say the least. you inspired this lil habesha boy every day. RIP NIPSEY HUSSLE

— Aminé (@Aminé) 1554079096.0
"The morals we were raised on" every friend or person I call my brother stands by those morals. Real ones know what… https://t.co/nabPgfG1Jl

— TES🇪🇷 (@TES🇪🇷) 1554082449.0
The habesha community have lost royalty today. Nipsey is gone you know 😭

— Darren Tenkorang 💈 (@Darren Tenkorang 💈) 1554101214.0
Nipsey Hussle and his brother Blac Sam receiving blessing from their 90 years old grandmother in #Eritrea Rest In P… https://t.co/jPjEcqvuzf

— Mahta (@Mahta) 1554120679.0
R.I.P to the brother #NipseyHussle Back in 2010 I had the privilege of meeting him and talking while on set for De… https://t.co/UmkQkzrNpz

— Blitz the Ambassador (@Blitz the Ambassador) 1554122956.0
Nipsey taught us that even as a children of African Immigrants, where it feels like you're never 'American' enough… https://t.co/rSx8wHZUYD

— Amarachi Nwosu (@Amarachi Nwosu) 1554139662.0
I can't get over this. Nipsey was a true activist. He invested heavily in the upheaval of his community and inspire… https://t.co/qIIxMVGupg

— samra (@samra) 1554097802.0
almost certain that he was the first habesha american in entertainment that i ever knew about. his presence meant s… https://t.co/z7ogTWM6Hy

— agerenesh ashagre (@agerenesh ashagre) 1554079447.0
Nipsey meant a lot to a lot of people, but especially to his fellow Eritreans. His name was Ermias Asgedom. This hurts so bad. 🇪🇷

— manny (@manny) 1554079433.0
Ermias Asghedom AKA Nipsey Husle was an Eritrean rap star, a preformance phenomenon, who had just returned home. In… https://t.co/LSHAJt7b4J

— Billion Temesghen (@Billion Temesghen) 1554108830.0
Keep up with the developments around this tragedy, via our sister platform Okayplayer, here.