Nkechi Okoro Carroll is one of the busiest women in American television. She is the showrunner and executive producer of the hit CW drama, All American, and its spinoff, All American: Homecoming, which premiered in February. Her production company, Rock My Soul Productions, is set up at Warner Bros. Television Group (WBTG), where she recently renewed her exclusive, multiyear overall deal, originally signed in 2018.
As part of her WBTG deal, Okoro Carroll is working on the reboot of the iconic 1990s series, Life Goes On, with original cast members Kellie Martin and Chad Lowe returning in some capacity. She also has the pilot for Found, a drama about missing people of color and the public relations executive dedicated to looking out for them. Both shows are set up at NBC, with Found set to start shooting in May, and Life Goes On still in the scripting phase.
OkayAfrica spoke with Okoro Caroll, mother to two boys, about her storied journey to television, upcoming projects and her Nigerian identity.
Interview has been edited for length and clarity.
When did you know that you would write for a living and was the dream always television?
I went to boarding school in England when I was eleven and was introduced to Shakespeare as part of our curriculum, and I fell in love with his plays and the ways he could do both comedy and tragedy at once. I'm no Shakespeare but I wanted to be able to move people with my words such that years later there are moments that still capture people. Twelfth Night is one of my favorite plays ever and that character of Malvolio will stay with me forever. As I recall, we were living in Cote d'Ivoire, I was 13 and came home for the holidays and I had it figured out. I told my mum I wanted to be a writer, and she just laughed. 'Til today I am convinced that is the hardest she has ever laughed in her life. Then she asked me what I would like for dinner and that was the end of the conversation. I was, like, 'Okay good talk, back to Economics.'
Economics was the back up plan while you continued to dream about writing?
Economics is the only reason I was able to do a slight pivot and not stop chasing the dream of writing. So, it wasn't a backup plan, I just knew that my path to writing would have to be different. I went to college in Philadelphia which is a train ride away from New York. The promise I made to myself was to study Economics but not stop honing my craft. So, the whole time I was in school I was performing and writing and directing for theater. When I got a job at the Federal Reserve, I chose the New York office to be near Broadway and the theaters. I would be down at the trading desk from 6.30-7am, and at 5.30pm I would leave work for whatever theater we were putting up, whatever show. Sometimes I would rehearse through the night, shower in the gym, and go back to work in the morning, other times I would make it home. But I had decided to live this dual life, and if I could afford to pay for my bills, no one could talk me out of pursuing the dream.
Sounds like a lot of stress…
With time, it started to become clear that I was going to have to choose one, and even though I loved theater, I wanted to get into television because something about the immediacy of that magical black box spoke to me. But I couldn't afford to stay at the Fed and enroll to study television writing. I had a conversation with myself and with God and we decided I was going to teach myself to write for the medium. I would download scripts from the internet, and it would be pretty much anything Shonda Rhimes, Aaron Sorkin or Joss Whedon wrote. I would watch the shows and study the screenplays. I honed my craft and decided that I had to move to Los Angeles to try at least or regret it forever.
I got married six months prior, and my husband thankfully supported me. He is a teacher and offered to teach anywhere, including LA, if that is where we needed to be. We quit our jobs, packed up and moved to LA. I had worked with the Federal Reserve for 14 years and it was time to take the leap. Either we trust God, or we don't. I was very blessed to have some of my short films do well on the film festival circuit, and ultimately that got me my literary manager and within a few months landed my first junior staff writing gig on the spin off for Bones. I have been very blessed to have kept working since then and that was eleven years ago.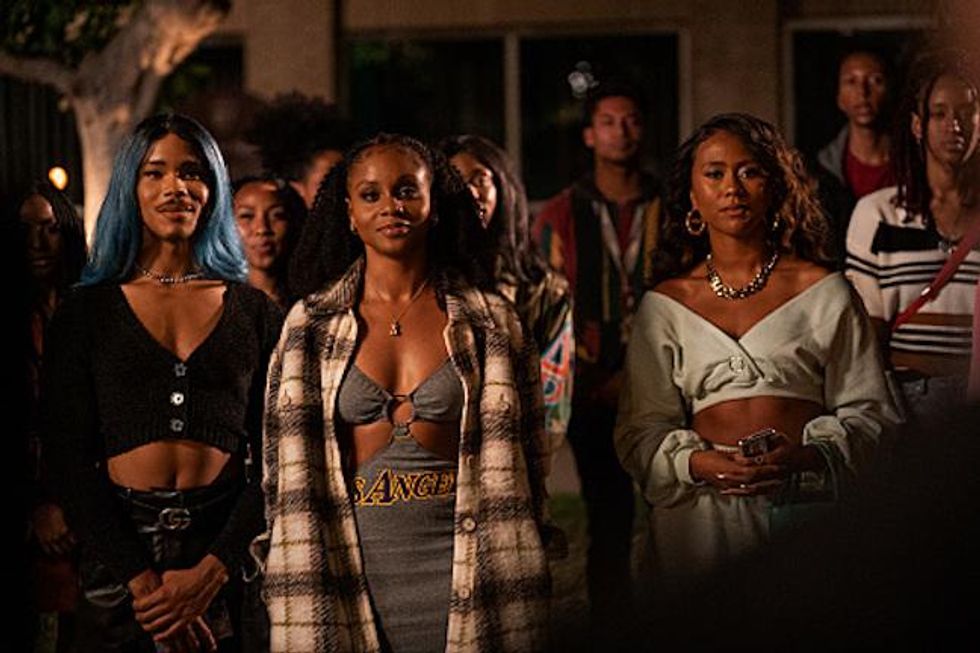 Through shows like All American: Homecoming, Nkechi Okoro Carroll aims to tell stories that are about the American experience and tell them through Black youth.
Photo: The CW
The idea of all-American for me conjures up a picture that is predominantly white. What are you looking to say with the show and how did you want to expand the perceptions of that definition?
When there is a hyphen in between the two words, it is usually used to denote elite athletes in high school or college. On our show we specifically do it without the hyphen because then it has a double meaning. So yes, it is a show about elite athletes but more importantly it is about a universal American experience that happens to be told by people who look like us. Growing up, I loved shows about teens and high school and love triangles, but I had to superimpose or imagine myself in those situations because the characters in the show most times did not look like me. Yet I was still able to appreciate the universal experience of being young and in love. Here, we had the opportunity to create those same story lines but with characters that look like us, and with similar family structures and aspirations. We just wanted to say that we can tell stories that are about the American experience and tell them through Black youth, adding the authenticity and truth of what their experience looks like. And that too is part of the all-American story.
What special skills do you need to succeed as a showrunner?
People always ask me the kind of training I would prescribe for someone who wants to be a showrunner and I always tell them to take a business class. As showrunner you are head writer but also CEO of a corporation. You are also a manager for a 250-person cast and crew and staff. Honestly, it was the 14 years I spent in corporate America that I feel like best prepared me for the producing side of the job. Thankfully, I have my creative brain for the writing side and then my business brain for keeping us on budget and overseeing the production side.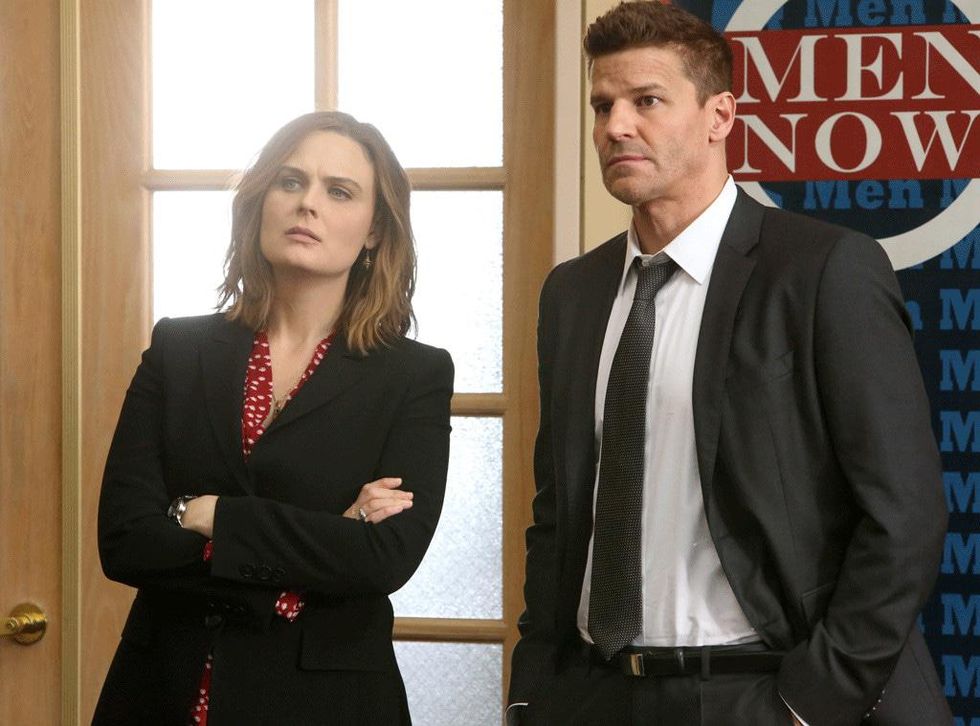 Nkechi Okoro Carroll was a writer and producer for Bones from 2012 - 2015.
Photo: Fox
What is your relationship with Nigeria these days?
I haven't been back home in a while. Every time I plan to go back, my mum offers to come over instead. But I took my older son back about 10 years ago. In that time, I have been to South Africa and Ghana. And Cote d'Ivoire, which was home for me for the longest time. But it's funny that it doesn't feel like I have been away for that long because my mum has nine sisters spread across Nigeria, the United Kingdom and here, and with all my cousins we are so connected that we often forget the last time any one of us was in the other's continent. The culture and the essence of who we are as Igbos is very much alive in our household.
Should we look out for some Nigerian representation in your work, in All American: Homecoming, perhaps, which is set in the world of HBCUs?
Absolutely. In the backdoor pilot of Homecoming we actually had a Nigerian character, one of the journalism students in the show. We cast a Nigerian actor that lives here in the States in the role. There is such a diversity of Black students that come to HBCUs from all over the diaspora and I absolutely want that world expanded and represented on the show. Every time I see a Nigerian actor come through my auditions I get very excited.
Has your mom come around to appreciating your work?
The minute she could point to my name on the screen on Bones, she was good. Once it was no longer the starving artist picture, I became for her 'the big Hollywood writer' to everyone who would listen. She is a typical Nigerian parent in that sense. But she is incredibly proud and yells it loudly from the rooftops. She admits that she was scared for me and wanted me to not struggle in life. That was where all the anxiety was coming from. She has been a fantastic supporter, even for days when I go on location to shoot; she'd come out and watch the kids so I can go do what I need to do. It's been her and my husband and his mother; it's the village. We have been blessed to be able to recreate that with our family here.
Related Articles Around the Web