For fans of the South African Netflix series, How to Ruin Christmas, December means it's time for another fresh installment of the laugh-a-minute family saga that began in 2020 with TheWedding. Created by the sibling trio of Rethabile, Katleho and Tshepo Ramaphakela for their Burnt Onion production company, the Christmas special has since become a holiday staple, as audiences look forward to the chaotic antics of the Sellos and Twalas, the two families at the center of all the drama, who gather over the festive season to renew their bonds.
---
In the first season, the nuptials between Beauty Sello (Thando Thabethe) and Sbu Twala (Sandile Mahlangu) became the inciting factor that brought the unlikely families together for a thoroughly engaging comedy of manners. The snobbish Twalas whose patriarch Vusi (Saint Seseli) is a government minister meet the working class Sellos led by retiree Dineo (Clementine Mosimane). The second season, The Funeral, was a considerable improvement, as a death in the family led to even more craziness on both sides, thus establishing the show as a firm favorite. In this season, titled The Baby Shower, the gang is reunited as Beauty and Sbu welcome their first child.
Not everyone is returning for a third season though as actress Busisiwe Lurayi who led the first two series in her role as the messy, but lovable Tumi Sello passed away in rather unexpected circumstances in July. The cause of death is still unknown. Lurayi's Tumi had been written out of the show though, as the character's arc in The Funeral ended with her choosing herself and putting some distance to the family. A promo clip that dropped earlier this year ahead of the arrival of The Baby Shower saw Tumi exit the family Whatsapp group.
OkayAfrica spoke with creator and executive producer Rethabile Ramaphakela about moving forward without Larayi and how the show has exceeded expectations.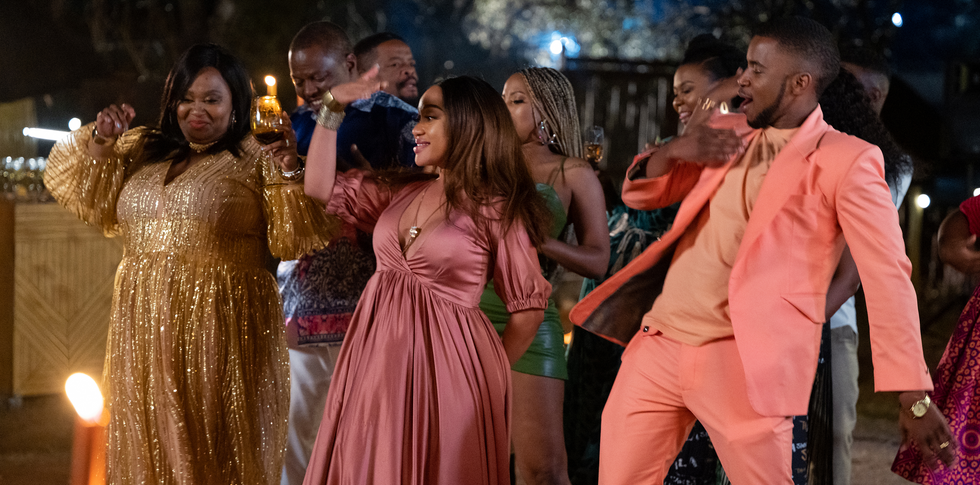 In the 'How To Ruin Christmas' series, the Sellos and the Twalas gather together over the festive season to renew their bonds, usually with much drama involved.
Photo: Netflix
Let us start with expressing our condolences on the loss of Busi Lurayi. How are you processing this?
It was a shock to the system for both cast and crew, and we found out just as we wrapped filming on the third season. Anyone who knew Busi would tell you that she was a force of nature and she embodied Tumi like no one else could. She was extremely talented, and this is a big loss for the industry at large.
In an earlier promo, it was suggested that Lurayi's character Tumi left the family group chat on Whatsapp? Was this a clue that she wasn't going to return for this season?
Yes, when Tumi got on the plane at the end of season 2, that was Tumi choosing herself and being true to herself. It just didn't feel right to the character we established to not show growth. In this season, we also speak about how Tumi decided to do what she always wanted to do for Christmas. So we address the character's absence in the show, and it is very true to who Tumi was.
What are your fondest memories of working with Busi?
It's how she interacted with Lulu (Khaya's daughter from Season 2) off set. I have videos of them playing around and making fun of the scenes we wrote. It really showed the kind of mother that Busi was.
You are now on the third season of the series. Did you envisage this when you first started out?
If you had told me in 2020, that by 2022, we would be 3 seasons in, I wouldn't have believed it. The response we got from the first season was just overwhelming. We knew we had a great show, but we did not expect everyone to love it as much as they did. I feel so proud to know that we have given South Africa and the world, a South African Christmas special. We have been longing to tell a story about Black families being Black families, and this series is a celebration of who we are in all our chaos. We are so grateful to Netflix for taking a gamble on us and this story.
The series has had the Sellos and the Twalas causing havoc and making bonds at a wedding and a funeral. What are we to expect from The Baby Shower?
Well, there will definitely be chaos. One thing is certain, when these two families meet, things will go down. We have also had a bit of a cold war brewing between the two moms, Valencia and Dineo for two seasons, and this season we will see it come to blows. There is also the addition of Denise Zimba who plays Zama, a slay queen that is about to add more fuel to the How to Ruin Christmas fire.
How did the idea for the original title come about and what was it like getting Netflix on board?
We literally came up with the idea during Level 5 lockdown. Katt [Katleho] and I were thinking that after all this COVID stuff, people will need to laugh, and we needed to be ready for that. It was first meant to be a movie but then Netflix had seen our debut feature film, Seriously Single, and they loved it, so we decided to maybe pitch our Christmas comedy. And so How to Ruin Christmas was born. It is really just a celebration of family. Working with Netflix is literally a dream come true. They trusted our vision and let us tell the story the way that we wanted, and for that we will be forever grateful.
How did you marshal the cast together and ensure that they have such great chemistry?
It was a long audition process. Everyone you see on the show auditioned to be in it. It was quite intensive with call backs and chemistry testing because it was important to build the families with people that would bring what was on the page to life. But let me tell you that we never expected everyone to embody and own the characters like they do. It's almost as if the roles were written for the actors.
How do you identify directors and writers you work with, and what was your process like this season?
We have been in the industry for over 14 years and in this time, have worked with various people and we love to keep that synergy. We work with people that have a similar sense of humor but also have their own ideas and creative visions. This season, we brought on actress and director Ferry Jele to direct and we loved it. Also, Sunni Faba who was previously just a writer on the last two seasons, was the head writer, and we loved seeing her grow into the role.
What ceremony can we expect the Sellos and Twalas to ruin next holiday?
You will just have to wait and see!