Spike Lee's revamp of his 1986 cult classic film, She's Gotta Have It, dropped on Thanksgiving and we're obsessed.
Lee reintroduces Nola Darling, an artist who tries to stay true to her sexual liberation as she juggles three lovers. As we watched the series, we run into, Opal Gilstrap, Nola's former lover who she eventually runs back to when she takes a break from her triangle of men.
Opal is one of the few characters in the series who's a breath of fresh air. She keeps it all the way real with Nola and isn't afraid to call her out on her selfishness and how it impacts the people she's intimate with.
Ilfenesh Hadera is the Ethiopian-American actor who plays Opal so well in the series. You might have seen Hadera star alongside The Rock in the film Baywatch, Lee's controversial film Chi-Raq, as well as in the TV series Master of None and Billions.
---
The New York-native is the daughter of an Ethiopian refugee and an American acupuncturist.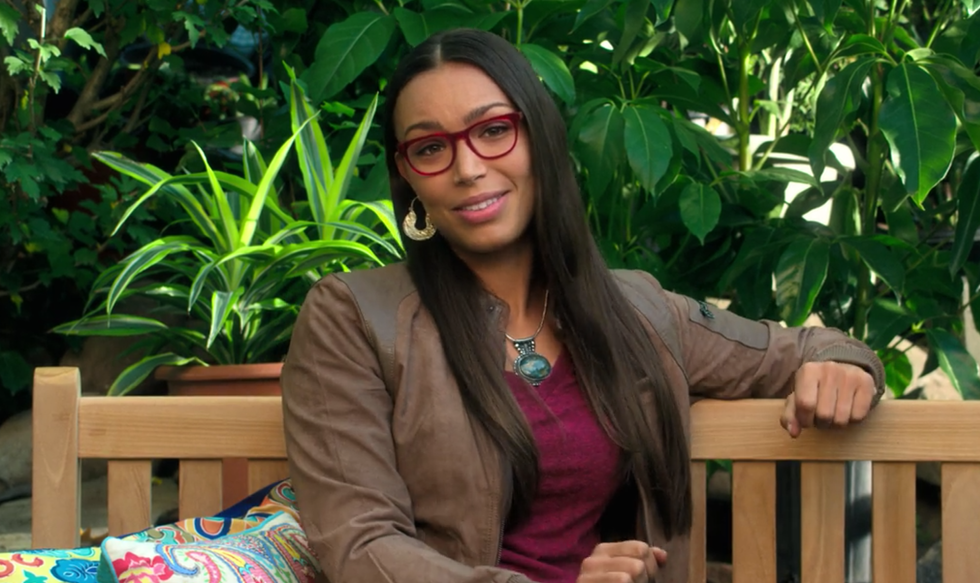 Video still via Netflix.
"I identify as half Ethiopian, half white. I'm equal parts," she says in an interview with Time. "I hear so many biracial people say, 'I didn't know where I fit in.' But I grew up in Harlem and went to school on the Upper West Side, where half the students looked like me. I consider myself lucky to have lived in this bubble."
Before Hadera had her big break, she was on the grind as a waitress for 10 years.
"You pay your dues. You meet some great people, and it teaches you how to deal with long hours and grump[y] people," she says in an interview with Coveteur. "It is definitely not glamorous work. I was the low man on the totem pole at The Standard for a year, so I was closing every night that I worked. The things people would say to me if turned away…I can't even repeat. You take a real bashing."
Hadera also identifies strongly with her Ethiopian heritage, and understands the importance of giving back. Soon after her father, Asfaha Hadera, arrived to the U.S. in the late 1970s, he started the African Services Committee, an organization that helps displaced refugees with legal services and community building.
"I had my first summer job there doing paperwork," she continues to Time. "You meet the clients and you hear the stories. So, I know how vital the work has been to the lives of thousands of people over the years. We've got to look out for one another."
We can't wait to see what's next for Hadera—she's definitely an actor to watch.