First making an impression in 2018 with the song "Ngaqonywa", Aubrey Qwana quickly won the hearts of many South African music lovers. Shortly after, the singer-songwriter caught the attention of, and signed with Sony Music Entertainment in 2018.
With the deal came the release of the now gold-certified, DJ Tira-assisted remix of "Ngaqonywa". That same year, he went on to appear on Sho Madjozi's highly anticipated debut album Limpopo Champions League, and in return, he featured the rapper on his 2019 single, "Uhamba Nobani."
Aubrey Qwana now delivers vocals that you would perhaps expect to hear on seasoned mbaqanga and maskandi music, similar to the style made popular by the Afro-pop/mbube duo, Blaq Diamond with whom he is close.
---
He fuses modern Afro-pop and gospel rhythms with enchanting folk harmonies, and sometimes hip-hop cadences—musical styles that were embedded in him during his formative years in Johannesburg, Ulundi and Ladysmith.
What may seem like an immediate rise to stardom, has been years in the making. The 28-year-old musician from the KwaZulu-Natal province started out as a rapper in 2008, but ended up quitting.
He then attended university and had a brief stint in the corporate world, but his knack for music would, however, prevail.
Much like Ikhansela noJBC, Soul Brothers, Platform One, amongst many of the artists whose music he grew up being exposed to, his music is relatable and easily digestible.
Aubrey recently released the EP titled Imvula Mlomo. The phrase "imvula mlomo" refers to a gift that is presented to a bride's family before any proceedings during a lobola negotiation.
On the EP, Qwana tackles topics ranging from love to betrayal, and personal experiences, through amicable storytelling and songwriting. The lead single "Molo" just went gold, and the song's music video has surpassed two million views on YouTube in just over three months.
Having worked with the likes of Sho Madjozi, DJ Tira, Manu WorldStar and Emtee (the only feature on his nine-track EP), Aubrey has cemented his position in the industry and with a debut album already in the works, he is on a path to reach greater heights.
In the interview below, we speak to the "Zulu Michael Jackson" over the phone, about his cultural heritage, his life's journey, his EP and forthcoming debut album.
This interview has been edited and condensed for clarity.
How does imvula mlomo relate to your EP?
The EP is my gift and is an introduction to what I want to bring. I needed people to first hear who I am and what I represent before I jumped into dropping an album. A lot of people have mistakenly perceived my music; they think my main focus is love songs, which is not true. When you really listen to the EP, I sing about real life situations, there's songs like "Umendo" which tells a story of an older sister who is unmarried and has younger siblings that are already married. This usually makes older sisters think that they are maybe worthless, but that is not the case. It's all about knowing where your calling and purpose as a person lies.
How do you manage to make music that resonates so much with ordinary South Africans?
My work is based on energy, and the topics I sing about in my music just come to me. I listen to a beat then convey the message that it communicates to me. I keep true to who I am and I tell stories that people know about.
I will never run out of topics to sing about because I have friends and know people that go through different things, who need me to be a voice for them. I want people to know my struggles and for them to realise that I also have gone through what they might be going through. Fans always tell me that it is rare for a celebrity to interact with them and I tell them that I'm not a celebrity, I'm like a pastor that has been appointed by the people for a particular purpose and to spread a message.
Aubrey Qwana - Ngaqonywa (Remix) ft. DJ Tirawww.youtube.com
Your music has traces of many other musical styles. Do you perhaps have a specific name for your sound?

People generally regard it as Afro-pop, but, for me, it is not necessarily that. If anything, we make umculo wases'bayeni or amagwijo (folk music); music that is sung during various traditional celebrations, ceremonies, weddings etc. The only exception is that we write and compose our own songs, and we sing on top of modern beats due to our various influences. You can say it is its own genre that we have created. However, we do accept Afro-pop, as people will always want to categorise music for award purposes and such so we can't really change the rules and norms.
Ndu (one half of Blaq Diamond) co-produced your breakout single "Ngaqonywa". Tell us about your relationship with the duo.
Abafowethu (my brothers), we attended the same high school in Ladysmith and we stayed together when we first arrived in Johannesburg. I was still a graphic designer at the time, and I assisted them with other tasks as well. They encouraged me to record music because they could hear my voice when I sang. I learnt much of what I know about music from them and Sjava. They are my friends, I do not hide that, they are on the "Molo" music video.
You managed to deliver a cohesive project despite working with multiple producers. How do you maintain your sound even when working with different producers?
It goes back to the music that I make, umculo wases'bayeni. It does not matter who is backing or who you're singing with, the essence of the music itself doesn't change. You can work with all kinds of producers, but what's more important is the approach, the voice and the [lyrical] content of the music.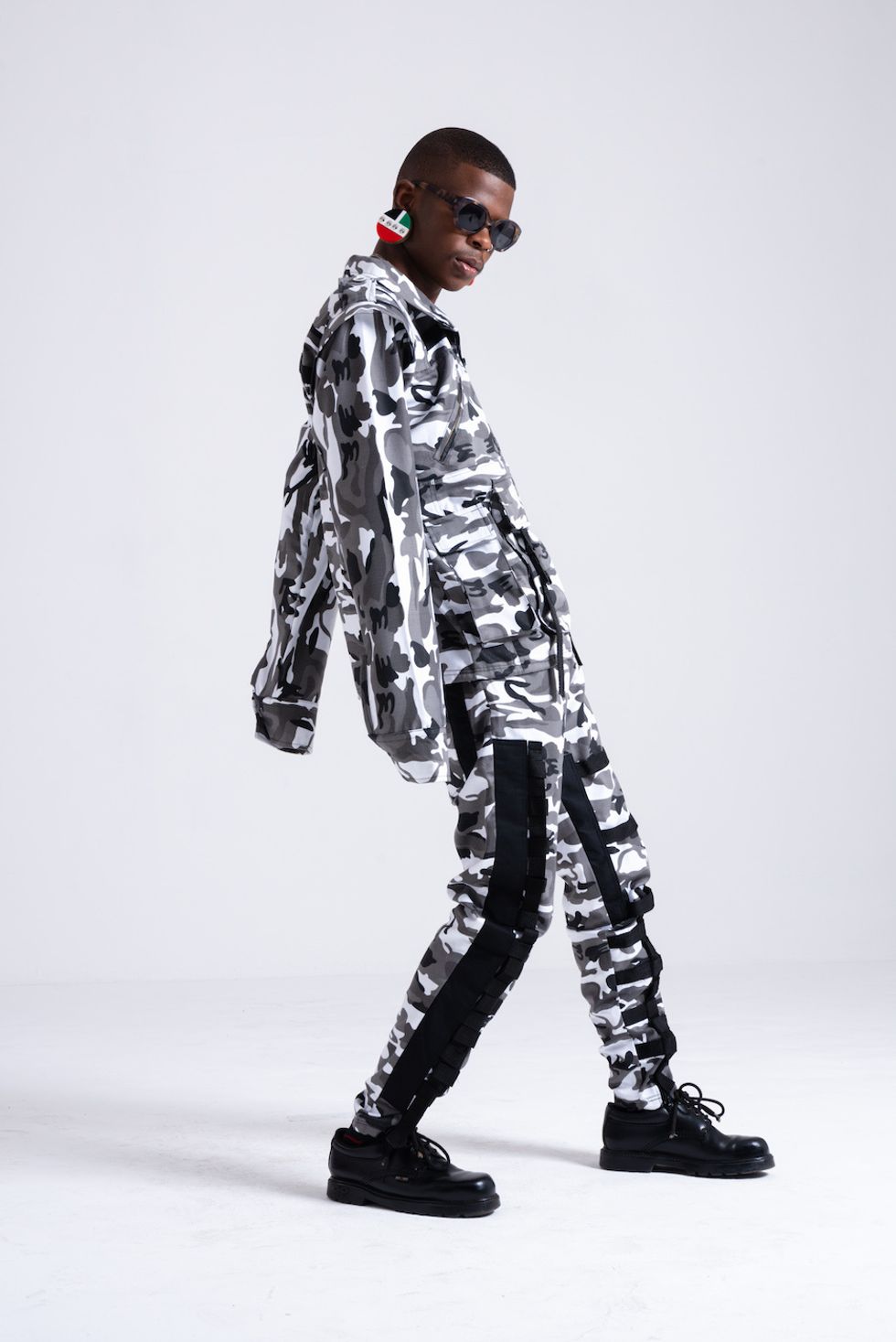 "When I used to visit my mother in Johannesburg at the hostel as a kid, the music that played a lot was mbhaqanga and maskandi music," says Aubrey Qwana. Image supplied.
Your parents were pastors and had Zion churches. Did growing up in church impact your sound anyhow?

"Umbhulelo" and "Umendo" are fully inspired by the sound of the Zion Church. Zion people believe in both God and in ancestors, that's who I am and I'm proud. I know it is not a popular church, but I sing the way that I do now because of it.
What were some of the other musical influences you had while growing up?
When I used to visit my mother in Johannesburg at the hostel as a kid, the music that played a lot was mbhaqanga and maskandi music. Soul Brothers and Ikhansela noJBC were very popular at that time. Ikhansela stayed in the hostels as well and he used to sing about things that happen at hostels so people related to his music.
I was privileged enough to be exposed to that music and to be able to experience hostel life because, if it wasn't for it, then I wouldn't be making the type of music I make now. This is why I don't even have a specific name for it because it comes from many influences. The influence and impact of their music would only dawn on me when I was much older and was trying to understand why I sounded the way that I do. I still play the songs now 'cause they remind me of the time I had with my mother and the gift she gave me.
Aubrey Qwana - Uhamba Nobani ft. Sho Madjoziwww.youtube.com
What lessons did you learn at the hostel that you wouldn't necessarily have learnt in Ladysmith and Ulundi?
Humanity is something that I learnt at the hostel. People are able to live with each other in harmony there—people would live in a three-bedroom room flat even though they do not come from the same family. It showed me you don't necessarily have to be of the same blood to regard people as your family. I call my acquired family "ingane zebhodwe elilodwa" (children/people that eat from the same pot)—people that you go through life with, and you share your struggles and successes with. It is a principle I still apply in my life right now. People that are on my team are my friends.
You started out as a rapper even before you began singing. Did you dig deep into your rapper bag for the "Ngakwenzani" verse?
The beat of the song is hip-hop, so I wanted to explore the art [of rap] but still fuse it with elements of ushuni wasemakhaya (traditional tunes/sounds/vibe etc.). I have a huge hip-hop background as well, but when I used to rap, I would rap about frivolous topics. For this song, I wanted to not only rap about a real life experience, but also bring it closer to home, that's why I also called up Emtee to feature on the song.
Apart from your diverse musical capabilities, you have an interesting sense of style. What goes behind the clothes and accessories that you wear?
I love bright colors. I do not talk much, especially in large social settings, so my clothes must always speak for me and tell my story. When you see me, you should sort of have an idea of the type of person I am, based on my clothes. I am a fashion and graphic designer as well, so art in its entirety is close to my heart.
You recently went down to Ladysmith to work on your upcoming album, Inyathuko. Why did you go there to work on it and what can we expect from it?
I went back to Ladysmith because that's where I started my music journey. I needed to go back to the same producers that introduced me to music and give them an opportunity, the same way Sho Madjozi and DJ Tira gave me. I wanted to uplift them and also get the energy from back home. We recorded 4 songs in 4 days.
Stream Imvula Mlomo on Apple Music and Spotify