In December of 2011, Fisayo Longe, a young Nigerian who had just moved to the United Kingdom, stumbled onto Tumblr and discovered the world of fashion blogging. A few weeks later, in January, as she embarked on a gap year, Fisayo started her own blog as a way to document both her style and her experiences while traveling.
The blog, Mirror Me, was one of the first fashion and travel blogs created by a Nigerian and since its founding, has evolved from a fun hobby, into Longe's full-time job—providing her with opportunities to work with and partner with big international brands like Adidas, Nike among others.
It also allowed Longe, a Nigerian who now constantly moves between London and Lagos, to build a global audience and platform which she leveraged when she launched the fashion brand that in 2020 has become the go-to for fashion girls all around the world—Kai Collective. The brand was first launched in 2016 and features colorful styles that Fisayo's audience as an influencer all loved immediately, but it wasn't till 2020 that the brand began its meteoric rise in popularity.
---
Kai Collective—in Nigerian vernacular, Kai can be translated as "wow!"—has become increasingly popular in the last year going from being featured on Beyoncé's website as one of the Black owned brands to support in 2020 to being featured on the cover of ELLE's September issue.
The brand's attainable luxury aesthetic has made it a hit amongst many, especially young Black women, but it is the distinct designs of the dresses that truly set it apart from other brands. The brand has several designs that are known by their names because of how distinct they are. But Kai Collective's most famous piece is the Gaia dress, a sheer colorful print dress which has been dubbed the print as well as item of the year by many.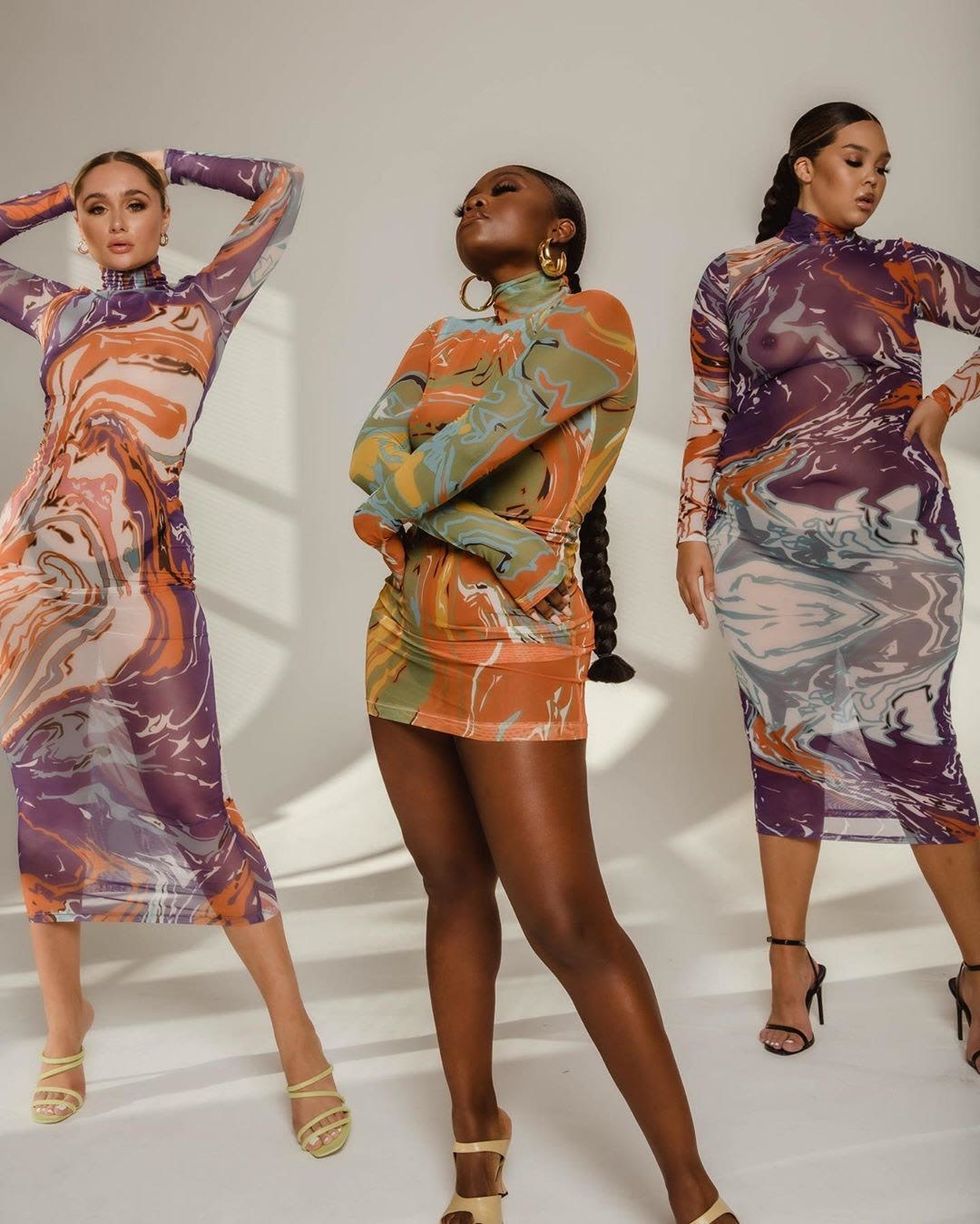 Longe (center): There is nowhere to hide in the Gaia dress—you have to show up as your full 'naked' self and I love that.Photo: @bekkycalverphoto
An illustration of how famous Gaia has become on social media is that it has spawned the hashtags #GaiaTakeOver from enthusiastic fans who use it when they spot celebrities in Gaia—rapper Saweetie, influencer Jackie Aina, influencer Temi Otedola, singer Tiwa Savageare just some who have recently been spotted in Gaia—and #GaiaAtHome for fans who wore the dress to stay at home during the lockdown. The success of the brand even amid the pandemic which has greatly affected the fashion industry across the world can be traced to the fact that like Fenty Beauty by Rihanna it isn't only Black-owned but it also heavily caters to Black people and in particular Black women—a demographic that isn't often catered to in fashion.

Today, Fisayo is a busy woman. The brand she has built from the ground up is thriving and can barely keep up with the orders coming—Fisayo is constantly updating her site's bandwidth just to keep up with the ever-increasing influx of orders.
With her busy schedule, it's hard to reach Fisayo. When we do finally talk, it is a few days after her birthday while and she is in Italy and even then, she is working. Speaking to Fisayo, you can tell she is overwhelmed by the growth her brand has gone through in the past few months especially in the midst of a pandemic but more than that, she is grateful.
Here, we met up with fashion influencer and the creative director of Kai Collective Fisayo Longe to talk about making Gaia, the year of Kai and so much more.
When did it hit you that 2020 is—as fans of the brand say—the year of Kai?
It really has been the year of Kai. I think just when I see all the photos of women in Gaia and when they share how it makes them feel. That is always the best part of Kai for me—our community. Women speak about how confident Kai makes them feel and the fact that Gaia is a sheer dress that shows every curve and crevice of the body, and has that effect. It blows my mind. There is nowhere to hide in the Gaia dress—you have to show up as your full 'naked' self and I love that. Also, getting a DM from Beyoncé's stylist Zerina Akers and being one of the first to be featured on her website in her Black-owned business documentary showed me how far it could go. And then since then, there has been an Elle cover story feature and a Vogue feature. It is all just finally happening and so exciting!
Kai has been worn (and loved) by Black women all around the world, was this deliberate? Did you set out to create a product that catered to Black women's style or it is something that just happened?
I always show up primarily for women. I am on this earth for women—my purpose is to create a better world for women and make the women I come across more aware of their power. Kai clothing is for every woman and has been worn by women of all different races, and even men too! But as a Black woman, Black women are my primary concern. We lie right on the intersection of gender and race discrimination, a unique experience, so I will always make an extra effort for Black women to feel seen and understood. I want to be able to connect with every woman but my priority is to make Black women feel beautiful despite all that we deal with.
What are your influences—from personal style to business?
I have so many. I am inspired by vulnerability and love, and human emotions and experiences both in personal style and business. I am also very inspired by powerful women and extremely inspired by women who make people uncomfortable. I am influenced by the places I visit, women I see on Instagram, and in everyday life. Wealth and rich women, beautiful homes, big jewelry, the idea of a lifestyle that allows me complete freedom to explore every facet of my existence without worrying about finances. Companies that produce incredible products - from multinationals like Apple to companies with huge cult followings like Glossier. I am also influenced by rule breakers and people who question everything.
You've been battling fakes—brands copying your fabrics or styles, sometimes subtly and other times very boldly that has some of us wondering where they buy the guts from—what is your strategy with battling it? Or do you just leave it for God?
I have no strategy to battle it as it is so expensive and complicated. Right now, I don't want to invest emotional and financial energy in legal battles which will distract me from my purpose and negatively impact my creativity. I just want my business to get the recognition it deserves and people to know the real thing. They can't fully replicate the product—nothing I have seen compares. The quality won't be there. And, that feeling, the one that makes women feel like they can take over the world, they will never get that from the fakes.
How has navigating the fashion industry been for you as a Black woman who is both an influencer and a businesswoman?
It has been fine. Not that there haven't been numerous challenges or I haven't been overlooked—I have. But I am focused. I know that I might have been further ahead if my background and ethnicity were different. But that's beside the point—in the long term, things can change and I want to be part of that change. But for now, it is what it is and the game is the game. My focus is on my own race and my own journey. And being relentless- continuing to create beauty that cannot be ignored or overlooked. I am not saying that it is okay and it is definitely not easy—but I choose to channel my energy in this way because comparison drains me. Also, I get all the love and motivation to keep going that I need from my people. The effect that Kai has on women, particularly Black women, is my primary purpose and that is being fulfilled. 2020 has been a truly wild year, COVID-19 and BLM protest, and more, how have you adapted as a person and a businesswoman?

I have learned so much and I still am. I won't really know until I do all the reflection in those last few days but I have mostly learned that vulnerability and empathy are superpowers. Sharing my feelings and connecting on an emotional level with my community is the most important thing. I am also trying to become more comfortable with death and appreciate my loved ones and everyone I come in contact with as much as I can. I have tried not to overthink my existence because I have had way too many existential crises. And I have learned to just go with my heart. Feel pain, feel joy, seek healing, and help my community and the causes that are important, as much as I can.
What do you think makes KAI stand out as a brand the way it does?
Definitely, the fact that my primary purpose is women and the fact that I create with intention and passion for women.
Is there a story behind the famed Gaia dress?
Gaia really just unfolded with the time and I took the whole community along with me. Adebusola of Grapes Pattern Bank knew the colors I wanted to work with and I sent her a mood board. She insisted on hearing my voice and said that my voice influenced her creation of the print. When I saw the print, I knew that I wanted to sample it in different fabrics and I immediately knew that mesh was one of them. I also knew exactly what I would make. When the sample arrived, it was loose and very different from what it is today. But I saw the potential and got it adjusted. I decided to wear it to the BAFTA's rising star awards party in February and from the way that I felt that night wearing the dress, I knew that it was life-changing. Lol, that sounds dramatic but really. I asked my community to name it and someone came up with Gaia which was just the absolute perfect name for it as Gaia was the name of an ancient Greek goddess who personified the earth. I feel like Gaia now represents Black excellence and even the men want in on it as well now. It has taken on a whole new life of its own and it inspires me daily. In Greek mythology, Gaia is also the ancestral mother of all life. I am just as excited as everyone else is to see all that is birthed from Gaia.
Did you ever envision it would be this popular?
No, I could never have imagined it. I have never had a reason to have high expectations ever since I started the business and it underperformed. It has been a constant struggle and I still can't believe that everything is finally working out.
What do you have in store for the near as well as distant future?
Putting my head down to create more beauty—more Gaia moments with even more intentionality. Just real hard work and grafting, I cannot afford to get distracted. There is so much more ahead and I have not achieved even a tiny fraction of my goals.