Mr Eazi is a mogul. From navigating a solo afrobeats career to building a music business empire, the Port Harcourt, Nigeria-born singer and songwriter went from simply making music of his own to becoming a full-fledged music executive.

Over the past few years he has made the business side of music his business, and as a result African music is beginning to show forth the fruits of his efforts in more ways than one. Throughout last year, Mr Eazi held off on releasing a full-length solo project to focus on gaining ground with his full service music firm emPawa Africa. Nigerian singer Joeboy is one of the imprint's success stories. From going through emPawa's incubator program to becoming Africa's next global afrobeats star, the singer's flourishing career is a shining example of Mr Eazi's music business savvy.
Today Mr Eazi drops a brand new EP, a 5-track offering titled Something Else. "The Don," the lead single from the EP, is a testament to his mogul status, an afrotrap anthem where the singer boldly declares his standing. But if you're inclined on taking a cue from "The Don" to determine the direction of Something Else, you'd be mistaken.
Something Else is afrobeats excellence, bringing us back to the musical side of Mr Eazi that we've come to know and love. From the signature Mr Eazi sound on "Love For You" to the beautiful highlife number "E Be Mad" which he hints at being his new musical direction, Something Else shows us that Mr Eazi is indeed back to the music.
We sat down with Mr Eazi, and he spoke to us about being a music executive, the future of afrobeats, and how boredom pushes him to accept new challenges. Check out the interview below.
This interview has been edited for length and clarity.
---
Photo: Ojoz. Courtesy of Mr Eazi.
You've been back in Ghana for a while now. What have you been up to while you've been here?

I've been basically just settling in and spending time with family. Just a couple meetings here and there. I try to have lunch and dinner with family, and just try to relax. I get updates from my team maybe like twice a week about everything. So it's basically really chill. I can't remember the last time I was this chill.
So what can you tell us about the new EP?
The new EP is like... say you're about to travel and you're in an airport, and off the airport speakers you can hear music playing. It's just like background music for the airport where you're about to travel. That's what it is. It's just me having fun on sounds that I heard last year that I thought were fun. There's a track there called "Cherry," and it has Xenia Manasseh from Kenya. I wanted somebody on that record. I had been speaking to a couple big female names, but after hearing Xenia's emPawa 30 submission, the name of the song is "Lowkey," I just told Ikenna on my team to have her do a verse, and she sent like two verse options and we liked the latter and we put that on.
The last song on the EP is called "E Be Mad", I think that's my favorite song on the project. For most of the project, I recorded myself during the lockdown. It was the first time I was recording myself, learning how to record and use software. And that sound, that highlife beach kind of vibe, I feel like that's where I'm naturally leaning towards these days. That's like an indication of what the next project might sound like, which is just very guitar-led beach vibes.
Why did you take a break from making music to focus on being a music executive?
If you look at it, it's like okay I took a break, but I didn't actually take a break. I just took a break from dropping my individual project. I mean 2017 I dropped one, 2018 I dropped one. So seemingly I was doing yearly projects, but I just took a break from focusing on putting out a full body of work and all that energy, because frankly I was just bored. Luckily in that boredom I was able to find other things that inspire me, like building emPawa, trying out the experiment that was emPawa that ended up becoming what it is now.
"I ended up winning a Latin Grammy and I don't even speak Spanish."
And my fascination with the Latino scene. From like 2018, rather than just doing my usual tour usually every year I just come back to Africa from around like September and just tour back to back, but instead I chose to go open for J Balvin for crowds of 20,000 capacity per show of people that don't even know me or know anything about afrobeats. That was more challenging for me than just performing for the same crowd on a norm. I mean I appreciate that, but it just gets to a point where it's just boring, especially if you have an active mind like mine. So the only break I think I took was not putting out a full body of work, but I channeled all my energy towards the Latino experiment. Three bangers with J Balvin, Bad Bunny. I ended up winning a Latin Grammy and I don't even speak Spanish.
There's the record with Nicki Minaj, Joeboy working on putting out his debut project. He ended up being perhaps one of the only true African pop stars in his class. I think he's performed in over 12 or 13 African countries. I don't know how many people have done that in their first year, even with COVID. So perhaps if there was no COVID, he might have even done 30 African countries you know. And the amazing work with Killertunes, E Kelly. It might seem like it's been a break, but really and truly it's not been a real break.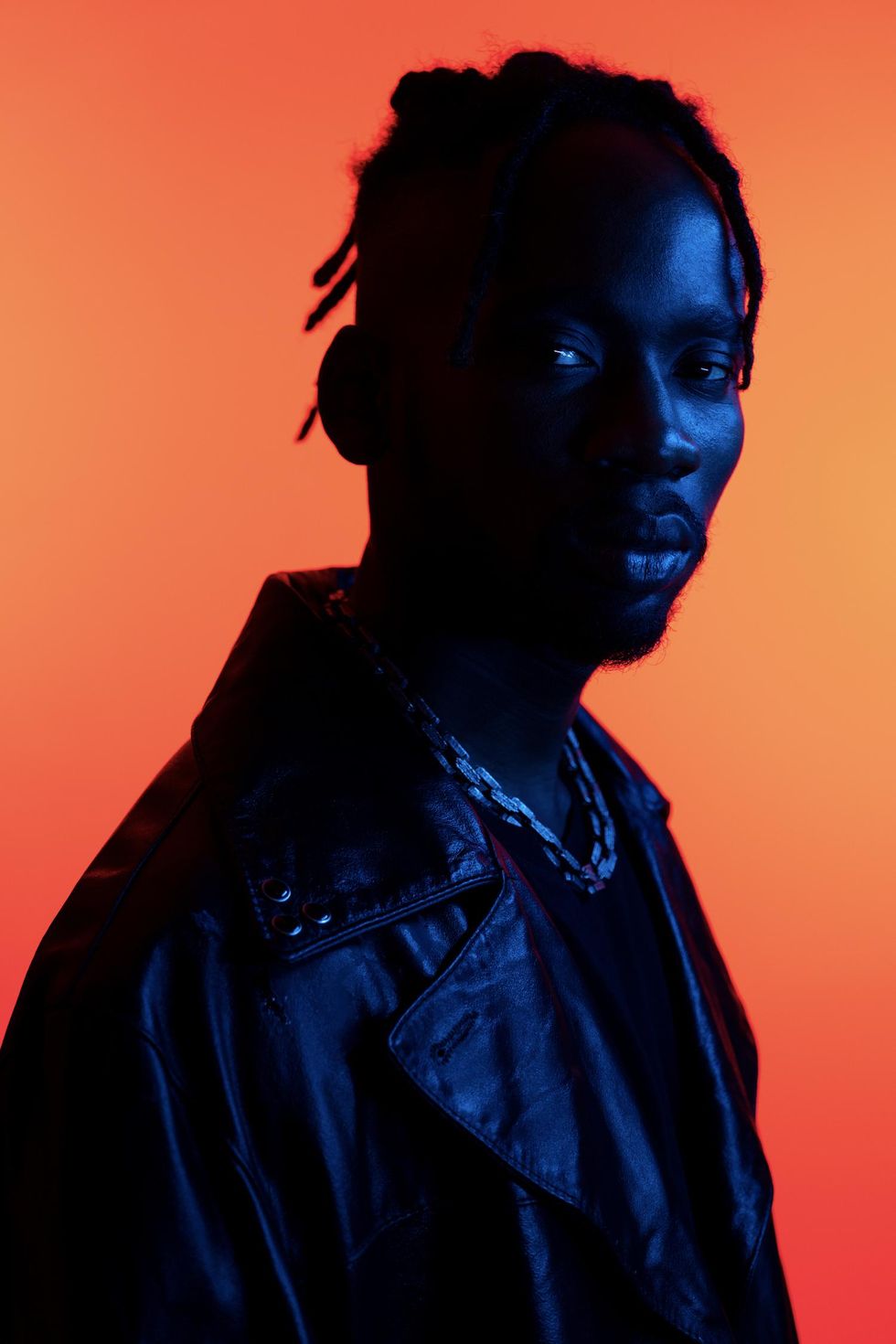 Photo: Ojoz. Courtesy of Mr Eazi.
So breaking into new international markets like you did with the Latin community, is that something you'd like to be doing more often?

Like I said, I get bored easily. I've had number ones in most parts of Africa. I know what it feels like to have the most popular song in Nigeria or Ghana or among the African community globally. But with the kind of mind I have I also want to know what it feels like, like when I've done that in Ghana then what next, you know? I went to Nigeria and did the same thing, and I'm like okay what next? And then I went to London and I did the same thing and I'm like okay what next?
For me it's the new challenge. What drives me is the challenge to do something new. You know one might say, you might as well spend so much time in Ghana and exhaust all of that. You might as well do the same thing in Nigeria or London, or across Africa. Because I don't think I've toured up to 30 African countries. I don't think I've toured up to 30 states in Nigeria, or even 20. So it's not like I've exhausted it, it's just that for me I'm just always on to the next one. Like I stepped out of Coachella and immediately when I came down from stage everybody was excited, but for me it's like 'so this is what it feels like, okay what's next?' For me, the fun is in the journey, not really the destination.
"I stepped out of Coachella and, immediately when I came down from stage everybody was excited, but for me it's like, okay what's next?"
So, it's the journey of 'hey, I love this music, what's it called?' Okay. I'd like to make some of that music and mix afrobeats with it. I'd like to speak Yoruba on a record that has the two biggest Latino artists Bad Bunny and J Balvin on it, and I want it to be produced by a Nigerian producer, Legendury Beatz. I want to be the first to do that, and I want to see how their fans will relate to it. I don't care if it's a smash hit or not, it's a new challenge. And when I do it it's like yeah I've done it, okay I wanna do it again, and I wanna do it again. So for me it's that excitement, it's not like I sit down and just plan it. It's like when it comes then I wanna go for it. I'm still kind of on that tip, I think I still need to put out something like an EP, an Afro-Latino EP. I might just do that, and then it's on to the next challenge.
Photo: Ojoz. Courtesy of Mr Eazi.
You often speak on ownership. You've said things that show that you believe in ownership, especially African ownership. Can you explain what that's about, the thought process behind it?

I just think it's common sense, right. I feel like afropop is at the place hip-hop was in like 1990 or 1991. If you look back, or you think about reggae music and how big it became, the phenomenon it became. Reggae music was always reggae music, music from the Caribbean. Hip-hop has always been good music. It's not like the popularity made it better. It had always been good music. But if you think of any culture that became something worth exporting, the people who gained the most from it are the owners. So if you think of hip-hop for instance, and you wanna think of the biggest people who gained from hip-hop, it's the people who owned the actual music and ended up selling it, maybe selling to Universal or the guy who ended up selling to Island Records or Island selling to Universal. It's always about whoever owns the content.
"I feel like afropop is at the place hip-hop was in like 1990 or 1991."
So I just feel it's important for us as Africans to see that hip-hop was a phenomenon for how many millions of people. Afropop, this thing we have is a minimum of 1.2 billion people, and the demographic is a young population. Maybe like 60 percent. At least 600 million people are the direct market for this beautiful culture we make, and I think we have to learn from the past and just think about what happened, and what keeps happening with natural resources and just learn from all of that. Learn from hip-hop, learn from reggae music and just fight it out if we can and own the stuff we create, or at least have equity in the ecosystem that we are creating. That's how true wealth, true value gets passed down. Because it's easy to take a check. That's the easy part. And no beef for anyone who takes a check. But I think it must be a mixture.
Photo: Ojoz. Courtesy of Mr Eazi.
So what are your long-term plans as far as the music business is concerned?

For me I'm just fascinated about the upsides that exist for the African music industry, because it's still very much an open ground. There's no real major player in the scene. So I feel like the upsides are crazy. If you think about how for instance if I put out a song right now. I just put out "The Don," and if you think about how many people are listening to the song but they're not captured on any platform right now because they listen through different means. Or you think about touring, and how unstructured touring is but even with that non-structure, artists were actively touring pre-covid. So there's so much opportunity and for me it's just an obsession to find and develop those opportunities and keep investing and keep owning equity in all those structures.
When can we expect the album?
I don't know. I feel like it's gonna be this year. I literally just recorded the first record, the first submission last week even though I only wanted to start recording from February 16. But after recording I think I'll record from now up until May. It's also gonna be the first time I won't be A&R'ing my own project. It's going to be A&R'ed by E Kelly, Kel P, and Spellz. So I'm letting go of that power and just being a creative and just create, not thinking about which song is gonna be on it, and when is it gonna drop. I've never felt that my entire career, because I've always been in control of making my own music, selecting which song drops, when it drops, the marketing plan. I've always done everything myself so this will be the first time I'm actually trying to be just an artist and just record and let other people take the driver's seat, so help me God. E Kelly kind of doubts I'd be able to do that but we'll just try and see.