This is our seventh gift guide in the run-up to the holidays. Keep checking for more lists of great African products here. And for more ideas check out the Okayafrica Shop.
---
Shopping for a self-proclaimed hair product junkie is no joke. What exactly do you get for the friend who has every oil, cream and custard crammed under her bathroom sink?
While you could go the safe route of gifting her with a re-up of her staple products, we suggest veering off course and getting a bit creative. From a pioneering natural hair magazine to an ingenious handheld steamer, the nine goodies listed on this guide are not only guaranteed to win over all the hair lovers in your life, but they're also all sourced from Black-owned companies.
Win-win!
For the newbie naturalista
Guide To Growing Long Natural Hair by A.I. Omoruyi
If you know of someone who has recently decided to forgo the relaxer in favor of her natural kinks and coils, then definitely consider purchasing Catherine Marion's Guide To Growing Long Natural Hair. Written by Abby and Ivy Omoruyi, the Nigerian sister duo behind the beauty company, the comprehensive guide simplifies the natural hair maintenance process by breaking it down into 10 chapters, leading up to a 42-day calendar regimen.
The best part about Catherine Marion? Their commitment to catering to "Kinky hair girls," as noted on the website, as well as their mission to encourage natural hair growth. "Our goal is to empower women of color to love and embrace our natural hair because natural hair is beautiful," said the founders.
For the locstar and the jewelry lover
Hair Jewelry by Kpellé Designs
Locs, braids and twists are labors of love certainly worth the investment of time and effort that they require. So, why not adorn them like the precious works of art that they are?
The hair jewelry sets from Kpellé Designs come in either gold, copper or silver and feature intricate charms and cowrie seashells. "This business started out as a side hustle to make some extra cash as a hairdresser," wrote founder Gwanyan on Instagram. "After numerous requests to make more jewelry I opened up an online store to sell my handmade accessories. At this time I can proudly say that I have a growing business and I'm in the works of expansion." We look forward to seeing what other hair adornments Gwanyan has in the works!
For the bibliophile
CRWN Magazine
Whether weaving braids or detangling knots, styling one's hair is a tactile pasttime, just like reading. If you have a loved one whose passion for hair is only rivaled by her obsession for books and magazines, then you'll want to look into CRWN Magazine.
Having launched earlier this year with Issue No. 01, the independent quarterly publication has an inspiring mission in mind for Black women everywhere.. "Through beautiful content, thoughtful commentary, hair inspiration and resources; we're telling the world the truth about black women by showcasing a new standard of beauty—and documenting our story in tangible, print form," reads the magazine's website.
For the die-hard wrap fashionista
Head Wraps from The Wrap Life
Let's face it. Bad hair days are real and, unfortunately, they happen to the best of us. One of the best gifts that someone can give a lover of all things hair is an alternative to having to keep up her styling routine. In this case, opt for a vibrant head wrap from The Wrap Life for those days when she feels like keeping her tresses out of sight and out of mind.
Between the dozens of different prints, textures and colors available, you're bound to find the perfect match for that special someone. And we completely understand if you convince yourself to throw a wrap in for yourself. With all the beautiful selections, who could blame you?
For the history buff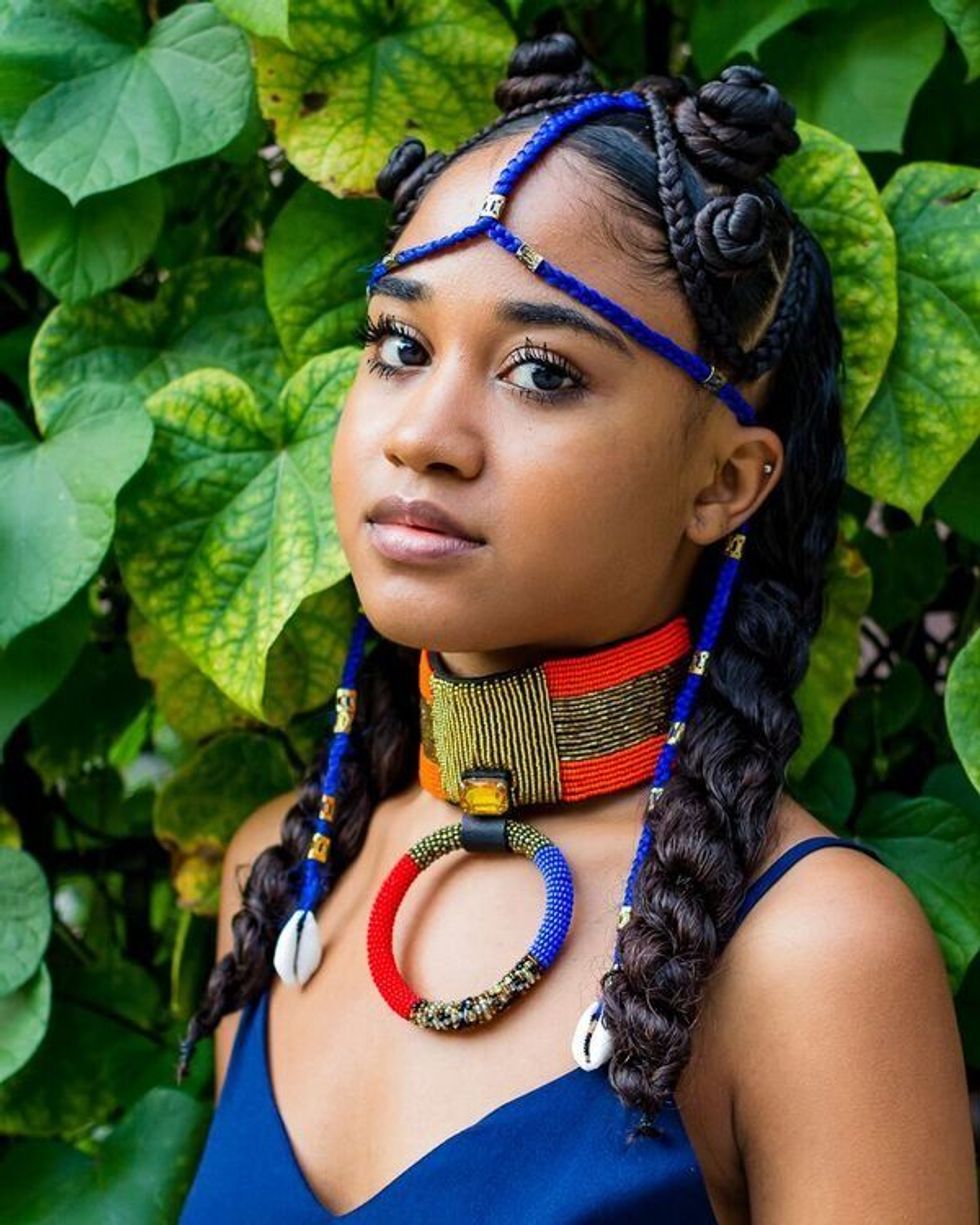 Ancestral Strands' Tig' Braid Bang Attachment
I recently came across the Tig, a standout hair accessory that's steeped in East African history. According to its designers at Ancestral Strands, the piece was inspired by the traditional hairstyle of the Tigray and Amhara people of the Northern and central highlands of Ethiopia as well as central parts of Eritrea.
"This hairstyle has variations and is worn based on the ages and marital status of the tribal women," reads the description. If you're not digging the electric blue, not to fear. This bold head piece comes in a wide variety of colors, including blond, pink and green.
For the t-shirt collectors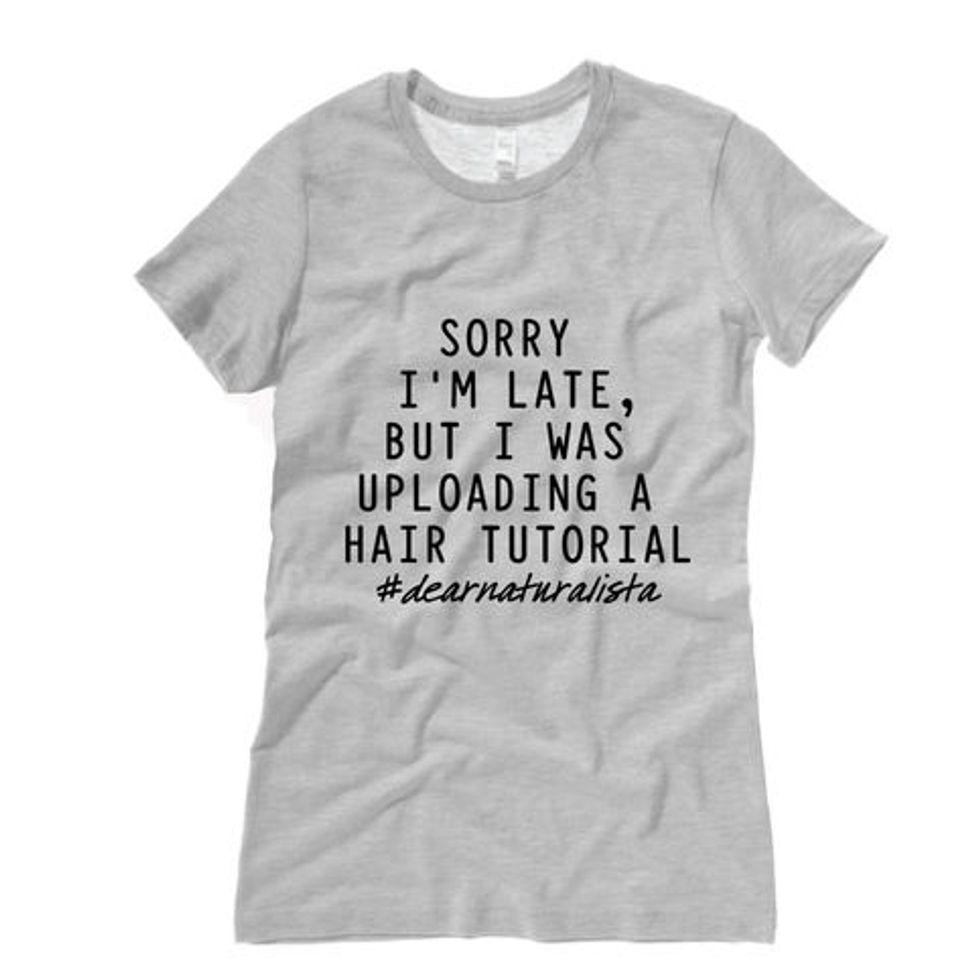 Women's Hair Tutorial T-shirt from Dear Naturalista
"Sorry I'm late, but I was uploading a hair tutorial." Same, girl, same. Okay, so maybe I'm not a hair vlogger, but I'm definitely a consumer of them. This shirt is one of the many at Dear Naturalista that speaks to anybody well versed in the language of Black hair culture.
Not sure if this is the right t-shirt for your loved one? If they frequently say things like, "sorry, but it's my wash day," "my TWA is poppin," "I could use that in my deep conditioner" or "meet me at the product aisle," then head to Dear Naturalista now.
For the "more is more" believer
Hair extensions for Kurly Klips
If you're dealing with a DIY type, then she'll appreciate being able to add some length and volume to her locks without having to haul herself to a salon. "I created Kurly Klips, curly textured clip-in hair extensions, to further empower women in their personal hair care journeys. It's time for consumers to have more options," wrote founder Lana Boone. "Kurly Klips offers versatility, protective styling, and CONTROL over your tresses." The company offers 8 varieties of premium curl textures, all of which are sure to give your 'fro, buns and ponytail some major oomph.
For the artist at heart
I Love My Hair by Andrea Pippins
Uber-talented graphic designer Andrea Pippins' debut coloring book I Love My Hair is pretty self-explanatory. Meant for children and adults alike, this mesmerizing book features a mix of intricate hairstyling patterns and imaginative illustrations, like Marie Antoinette's bouffant and Cleopatra's iconic headdress. I Love My Hair will give readers a chance to let their hair down and escape by way of pen, pencil and crayon.
For the careful and stylish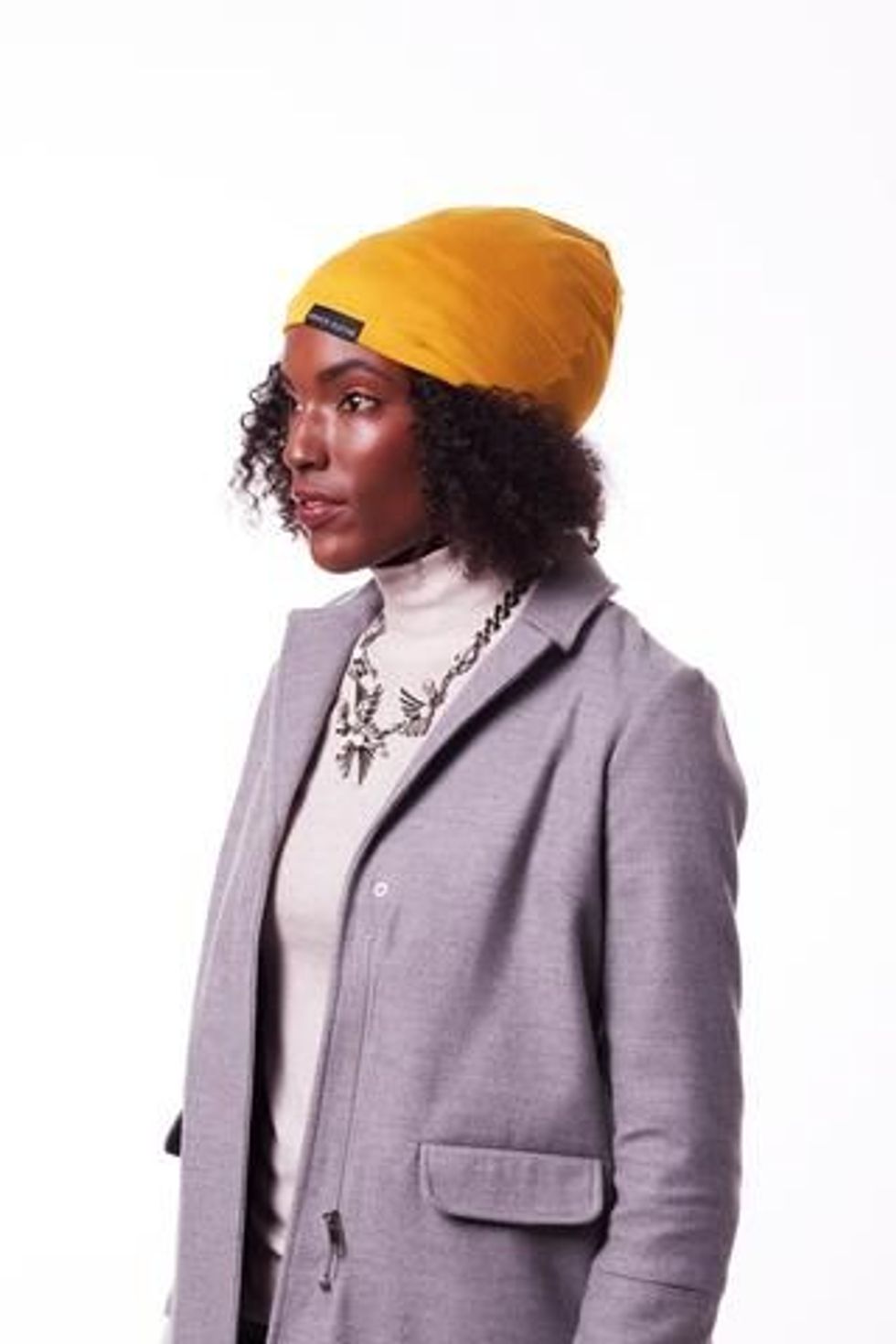 Satin Lined Cap from Grace Eleyae
Does your loved one protect her strands at all cost, but hates compromising haircare for style? Then, do her a huge favor and gift her with a satin lined cap—otherwise known as a SLAP—from Grace Eleyae. According to the website, the versatile, stylish cap was designed primarily for style, comfort and functionality.
By lining the cap with satin, your kinks will avoid any tangling and drying out as it's likely to do on a cotton pillowcase. Plus, the description insists that the SLAP helps to keep a style lasting longer. Any product that helps to stretch a hairstyle is welcome in my wardrobe any day.