Blood & Water premiered on Netflix on May 20th and left fans in an uproar on social media. The teen-led drama focuses on Puleng Khumalo (Ama Qamata), a young girl who transfers to Parkhurst College, a fictional take on South Africa's expensive private schools, to find her missing sister. And while the series spotlights human trafficking and sub-themes of loss and grief, it is the high school drama surrounding the "popular" kids, heartthrob jocks and risqué house parties that had everyone reminiscing on their own eventful high school days. Who can forget how social media collectively mourned when Wade Daniels (Dillon Windvogel), the proverbial "nice guy", failed to win the heart of his crush?

It's an African Original Series that seems to have resonated with audiences across the world far better than its spy-thriller predecessor Queen Sono. Just three days after its premiere, the show took the number-one spot in South Africa, France, the Bahamas, Libya, Jamaica, Trinidad, Jamaica and Kenya and became the first-ever South African show to be ranked first in the USA. Produced by Gambit Films with a fresh-faced and talented cast in addition to being led by one of South Africa's top directors, Nosipho Dumisa, it's hardly surprising that Blood & Water's successful first season has left fans wanting more.
And so we caught up with the award-winning Dumisa to reflect on the production's massive success, the lessons learnt along the way and how it feels to be the Black woman director that made it happen.
This interview has been edited for length and clarity.
---
Blood & Water was trending on Netflix at the number one spot in 10 countries, something that's never happened for any African Original Series. How did that win feel for you?
When we created Blood & Water, we were really hopeful that it would resonate with a lot of the world. We definitely wanted it to resonate with South Africans and Africans. I think the fact that it reached number one in South Africa and countries like and Nigeria, was such a big deal for me. That was like a dream come true and it felt like a blessing. It still feels like a blessing. I get giddy every time I think about it.
What would you say has made this teen-led drama a production that's resonated with so many people across the world not just here in South Africa?
We haven't had many young adult series being told with such a diverse cast. Especially, where people of colour are living in a prestigious world. I think we haven't had that many. So I think people definitely found that exciting. That was at least something that made people think, "I want to watch it." And then I think once you begin to watch it the story itself is a story that resonates with a lot of people.
"Everyone can relate to the idea of losing someone that they love."
In some way or the other a lot of us have suffered trauma and I think when we conceived Blood & Water, the statistic was something like "every five hours a child goes missing in South Africa." That is an insane statistic. And that tells you how many people have had to deal with something like this. So I think generally the world and South Africans are ready to be able to experience a new African narrative.
Blood & Water has a fresh-faced cast with some young individuals for whom this was their first big break. What do you think are some of the lessons that the industry can take from that?
I think it's always story-specific. With Blood & Water being a young adult series, it was such a great opportunity to be able to know that I need to find new faces to cast. That's the nature of the story in that it requires young people. We were intentional about wanting to do that while also balancing them up with veterans who could support them and help grow their skills. And listen, they didn't really need a lot of help if I'm being honest. These guys knew what they were doing. Some had done one or two projects before, but for Khosi Ngema who plays Fikile Bhele, this was her first project ever. She did an astounding job.
I think as far as the industry goes, speaking from my experience, I create and write with the purpose of telling a story. People will ask me, "So who do you think you're going to cast in this?" And usually I'll say, "I don't know, I must still do auditions." I believe that it's always about the right actor fitting the right role. Sometimes that will be an actor everyone knows, and I know that it's sometimes difficult for people to understand. But I think it's also okay for us to celebrate our stars who have worked hard to be in the spaces that they are in whilst also allowing for the opening of the industry to new actors as well.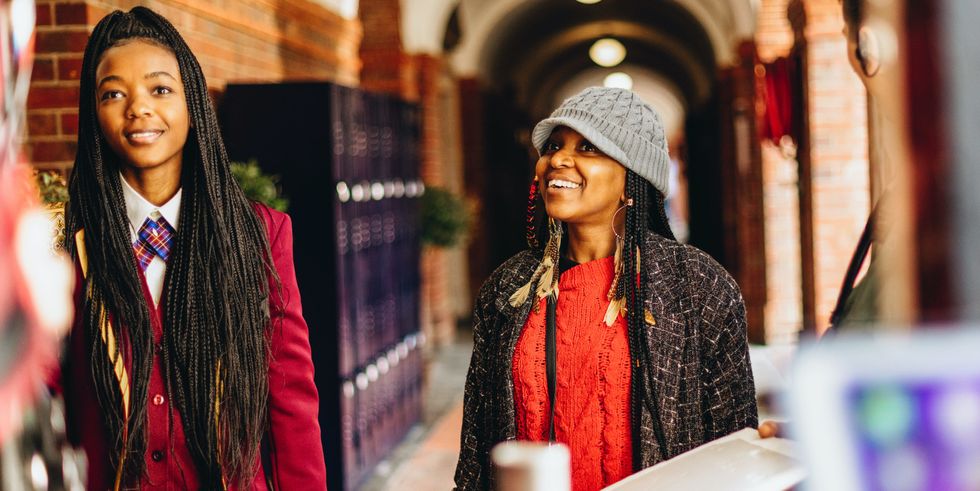 Ama Qamata and Nosipho Dumisa pictured above.Photo by Tegan Smith.
The South African television and film industry receives flak about the lacklustre marketing of films. Would you say that working with Netflix has allowed productions to have much better marketing than we often see in the local industry?

Yeah. I think that the challenge of working in the industry is, of course, budgetary. I think that working locally just often means that you put it all out there to create the show and it takes everything to do that. Often there's very little left over to be able to have a campaign. And there's very little funding towards creating campaigns around getting people to know about the production. So often it's a hit or miss.
Netflix's reach is stupendous. They are in 190 countries, as far as I'm aware. I think it's over 180 million subscribers. And of course they really understood the young adult space and how to reach that audience. It was really refreshing as a creative, this time around, to not have to think around a campaign at all. It was someone else's job which is great because I'm not a marketing person.
One of the common criticisms about Blood & Water was that some of the portrayals were unrealistic in terms of the ordinary South African teenager. How did you balance the realities that the production is founded on with the fictional storyline?
I think that as a creative, as a storyteller, you're often trying to tell a story with characters that are authentic, that are believable, and you try to heighten the stakes for the characters. A story is no good if everyone's just going along life like everything's fine. You've got to throw obstacles at your characters, and you've got to set them up in order to be able to fail as well as succeed. And that's essentially what the goal was with Blood & Water, to build it in an aspirational way. To put these characters in a world that was a breaking of stereotypes––breaking what we've come to know as "this what it is to be South African."
"The truth is there is no one experience that's the same for everyone."
There are plenty of private schools in the country who have a lot of kids of colour who are having a very different experience to a kid who might be living in a different situation. And one of our writers was actually someone who went to one of these private schools. So we really drew a lot from research and speaking to kids who we knew who went to private schools. It's important for us as storytellers to not only be led by life, but put out our dreams of what life could be out there.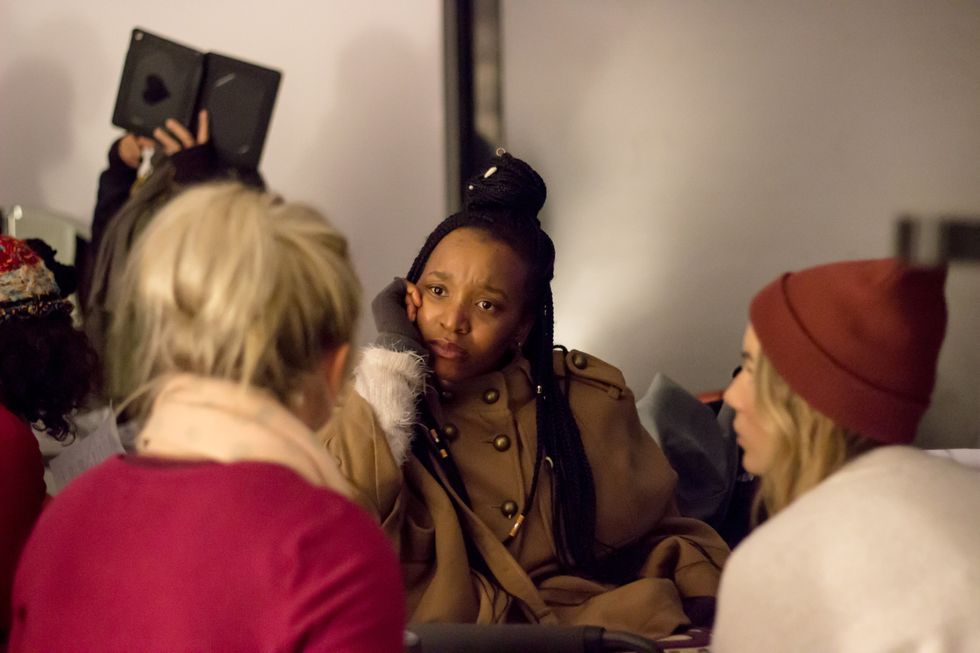 Nosipho Dumisa pictured above.Photo by Mosa Hlophe.
What has Blood & Water meant to you specifically as a Black woman director in the industry?

This might be the best question I've ever been asked. And I don't know the answer because I think I'm still processing what this means to me. I think every day there's a new revelation of what this means. When I set out to enter this film industry, I set out by accident at the time. I thought that I was going to be an actor. I really wanted to do that. I had seen Black women on screen as actors but I hadn't heard of Black women as directors. And of course we know that there are plenty, but it was not a narrative that was told and celebrated often.
I had to educate myself in that, and I stumbled into it. I stumbled into that role whilst I was still a film student, and began to realize that I have a place in that role. And I have a place in this industry in this way. So I wanted to be able to tell stories to reach the world, but it's a journey that you're constantly having to discover the new revelation of your purpose in that space. For me, I take this space as a place to tell stories and do my job as well as I can. Hopefully, that sets the next person up to be able to enter the space a little bit easier.
This may be premature, but can fans expect Blood & Water to come back for a second season?
I can neither confirm nor deny. I'm kidding. Honestly, the answer is that I do not know for a fact that Blood & Water will come back for a second season. But what I can say is that should there be another season, I hope that we will improve on what we've already done. And that we will create space for more new actors, more new voices to enter the brand. And musicians too. I think music is such a big part of the series that we will create more space for new artists who the continent and the world may not know. I think there's certainly hope.