A little over a year ago, Netflix announced that Africa's first Original Series Queen Sono was in the works. Excitement has been building for the spy thriller series ever since. Social media has been abuzz with fans putting out what their play-by-play expectations of the series are, especially for its star, Pearl Thusi. After dropping a number of enticing teasers that kept fans on the edges of their seats, and more recently the official full-length trailer for Queen Sono, the wait is finally over. The series premiered on the streaming platform yesterday.
---
Created by South African comedian and actor Kagiso Lediga, the Queen Sono series follows Pearl Thusi in her lead role as the main character Queen Sono, a female spy working for an the Special Operations Group (SOG) who is also trying to demystify aspects of her complicated personal life. The star-studded cast includes the likes of Vuyo Dabula, the male lead who plays Shandu, an ex-spy for the SOG, Kate Liquorish and Chiedza Mhende who play the supporting female roles of Ekaterina and Miri respectively as well as Connie Chiume, Miri's mother and Abigail Kubeka, Queen's paternal grandmother.
If you thought this was just another spy thriller series with plenty of action but not much else to it, think again. Without giving away any spoilers, we will say that the layered themes in Queen Sono will prove that the cast and crew really considered every single detail and its significance in the telling of the story.
Lediga, who is a talented producer and creator is known for also creating culturally significant comedy sketches The Pure Monate Show as well as Late Nite News with Loysia Gola. His debut film was the 2017 romantic title Catching Feelings which he then followed up with Matwetwe, a coming-of-age adventure and frenetic ode to boyhood, in 2019. Lediga could have told any story he liked but it was this particular story and its importance for Africa as a whole that really spoke to him. Speaking to OkayAfrica, he says, "I thought the spy [genre] is great because you have this super cool female agent who travels across the continent, slipping in and out of all of these powerful organisations. The result of [spies'] work is always on the news. You know what I mean?"
"I thought it was a cool way to tell the African story in a hip modern way that had like a touch of current politics."
Queen Sono is set in present-day South Africa and attempts to highlight the country's present-day politics, growing femicide crisis and gender-based violence issue in real time. "In the story, we build on South African history and I feel like it's a cool way to give the viewer a first hand account of what might've happened in South Africa, " Lediga adds.
What stands out about Queen Sono are the wide variety of female characters with unique personalities. Sometimes having several women all playing very strong characters can fuel stereotypes that all strong women have to be one way. They're seen as strong and nothing else. Queen Sono doesn't fall into that trap in its first season. This is what the South African actor Liquorish tells me when we meet up at the Houghton Hotel in Johannesburg to talk about the show. She plays Queen's rival Ekaterina Gromova, the heiress of a Russian oligarch who works hand-in-hand with Shandu to obtain as much power as she possibly can.
"It's just so wonderful to play a three-dimensional, strong-willed woman who is not going to take any shit from nobody," she says. "A woman who is going to fight for what she believes in even if it might be the wrong thing."
"It was so empowering."
Thusi agrees, "I want other women to see themselves in this. Women are the heroes of this show." She also adds that, "We are still heroes of this continent. We still nurture, we still look after, we still fight. We don't have a lot of freedoms but women still choose to be here and they still choose to be heroes in an environment that doesn't allow it." Thusi is known for her roles in several films including Kalushi, Lediga's Catching Feelings as well as the American drama series Quantico.
The synergy between Liquorish and Thusi off-screen feels just as authentic on-screen, especially during their fight scenes. "Fighting scenes are very intimate. You have to have a rhythm with each other," says Liquorish as she describes how her relationship with Thusi off-screen is a close one. "We brought each other coffee on set. Pearl did an amazing job of leading and she was just really amazing and caring about everyone."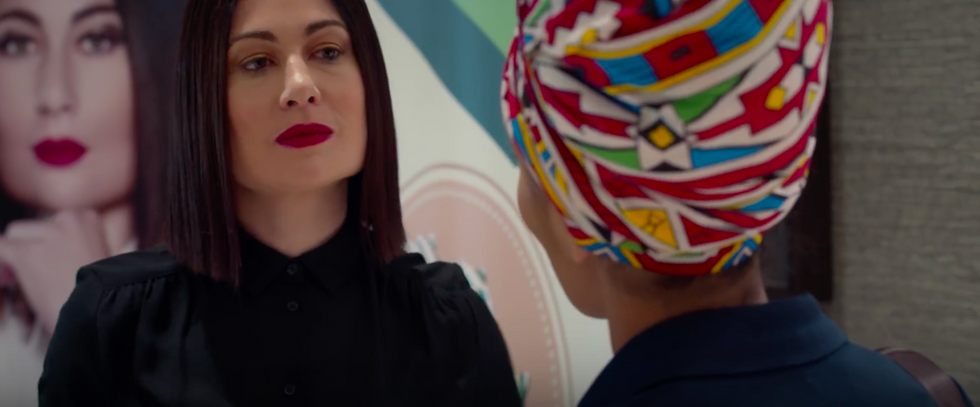 Still from YouTube.
While character development in action-packed spy thrillers can come at the risk of portraying characters as nothing else outside of what the cutthroat world of espionage expects of them, Queen Sono is able to strike an interesting balance.
Dabula, who plays the leading male character Shandu, an ex-spy, tells OkayAfrica that, "[Shandu] really is not one dimensional at all, he is complex, you know? One moment he is commanding his space and he's powerful and one moment he doesn't know what to do and there's a sense of desperation." Dabula also speaks to the vulnerability that his character shows saying, "As an actor, it's not easy to be vulnerable. It's a very kind of challenging thing...you're working with new people that you don't know, you haven't really connected to on the same level, and then to just let go and be vulnerable at particular points. I think to jump from here to there and then have to come back and be vulnerable, for me, that was the challenging bit."
Still from Youtube.
For Mhende, who plays Miri, the director of the SOG and Queen's boss, there were challenges that she wrestled with personally before playing her character in the series. "I was scared," she says with an air of revelation. With a relatively young career in the film industry, Mhende had been unsure about stepping into the limelight especially in front of Netflix's international audience. But she soon realized that stepping into that role embodied everything she had dreamt of as a child. "And so the challenge not only came with stepping up and remembering what God gave me, but it came with, 'I wanted to do this, I have to do this, I can do this and so I will.'
"A big part of playing Miri was just showing up."
Mhende goes onto speak about what she feels fundamentally sets Queen Sono apart from other spy thrillers that have come before it. "I think the power of what mama is, is held in the story. And whether or not you like her or not, have her or don't have her, she is present." She adds that, "That's what's different about things that I've seen before where it's more masculine, more kick ass. There is the presence of seeking mother in this."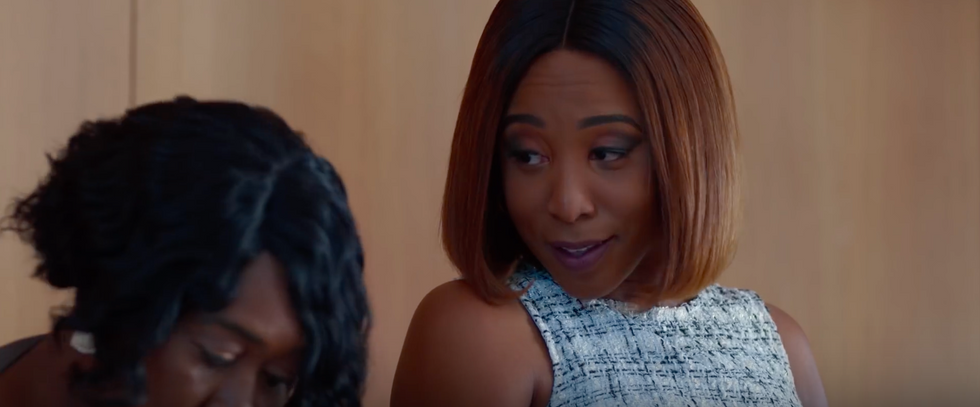 Still from YouTube.
Perhaps what is most important about this high quality production and an African first, is how having an international audience will help change how South African actors and actresses are treated by the so-called "gatekeepers" of the industry. Last year bore witness to a number of veteran actresses especially, lifting the lid on just how much they were struggling to survive amid rampant and unchecked exploitation by producers.
"This is what we can do. Pay us, respect us. We deserve it." says Thusi. She ends off by adding that, "I just hope this ignites a moment where actors can be unified enough to fight for what they deserve so that the industry can open up and allow people to come into a healthier environment."
Watch Queen Sono on Netflix here.