There is a stillness in Eniola Olanrewaju's upscale Yaba, Nigeria flat. It matches the abiding sense of quietness that almost seems to envelop the 24-year-old when she retreats into her world. Eniola, popularly known as Korty EO,is one of the most popular faces in the post-digital creative taxonomy that has swept through Lagos over the last half-decade. In many regards, she is a poster child for the boundlessness that characterizes the grind and hustle of young people in Africa's most populous city. Over the last four years, she's worked as a graphic designer, writer, content creator, and videographer. Now she is one of Nigeria's brightest YouTube talents, gathering almost 200k followers on YouTube and more than 100k followers on Instagram.
But Korty's story did not start in Lagos. She grew up in Bodija, Ibadan.
"It was a safe area but my house in Bodija was not around the fanciest sides," Korty said sitting in a rocking chair in her spartan living room last month. "My parents were very protective but that's because they knew that our environment wasn't the safest but if you asked me I was proud to say I lived in Bodija because it was a fresh area but I wouldn't bring you to my house." Growing up as the middle child in a family of five, Korty was aware of the limitations of her parents and strove to make a way for herself. She started out working as a graphic designer while enrolled in the University of Ibadan after a brief stint at Bowen University. "I saw that there's a lot I could do and I could even not go to class if I wanted," she said. "I was just freer and able to do my business."
Her clarity of purpose meant that she always knew she was going to have to move to Lagos to pursue some of her grander dreams, even if she didn't know what those dreams were at that moment. An opportunity came in 2018 when a modeling agency scouted her while in Lagos to get a certificate from her IT attachment office. But Korty was reluctant to step into the modeling world. "I said no because I used to think that models were shallow," she said, half-joking.
Eventually, Korty decided to give modeling a shot. She was grateful for the extra income and the opportunity to explore Lagos's creative community that her constant visits provided. In the modeling world, Korty was faced with having to navigate a labyrinthine maze of toxic booking agents and haughty designers who treated her poorly. "You can usually tell when someone is not so comfortable in a certain place," she said. "Because I wasn't comfortable, a lot of stylists did not pick me to walk their shows."
Mostly observing other models strut their ways on glitzy walkways, Korty started to document their lives in short videos that piqued the interests of her fellow models. Soon after, she joined Zikoko, where she worked as a writer and content creator before convincing her bosses at the time to let her helm a show named HER that was dedicated to showcasing the often-overlooked life of women in Nigeria. In December 2020, after working with Zikoko for close to two years, she left to join Mr. Eazi's music accelerator program, emPawa, as its head of content. Where Zikoko had a big collaborative culture that emphasized creative cross-pollination, emPawa was more independently structured, giving Korty free rein to pursue projects and create her work in her own image.
It was while handling the YouTube channel of emPawa that Korty began to see the potential of the platform to host the quirky, confessional-style videos that she really wanted to make. "I was always looking at the analytics and understanding how the platform works," she said. "After a while, I was tired of it and I just left because I realized that YouTube paid."
She, of course, wasn't getting paid immediately. The YouTube channel started taking off with a video documenting the thought process of moving out of her parents' house and quitting her job at emPawa to create videos for YouTube.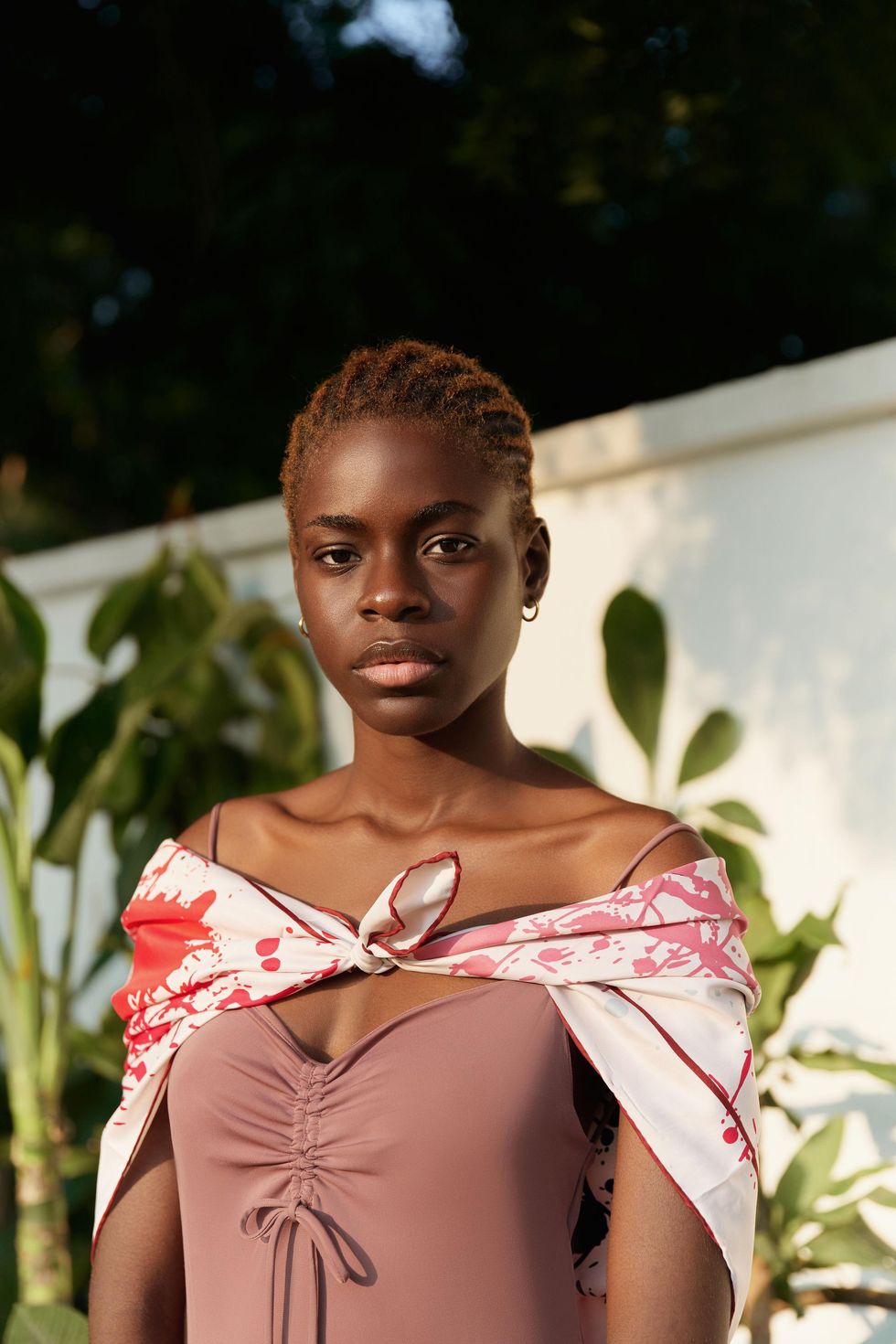 Korty's YouTube channel has taken definitive shape, anchored around two shows: Flow, with Korty andLove and Lies.
Photo Credit: Ikechukwu Okonkwo
That was in 2020. In the months since then, Korty's YouTube channel has taken definitive shape, anchored around two shows: Flow, with Korty, is an exploratory show into the life of celebrities and trendsetters in the Lagos and wider west African cultural scene. While the newer one,Love and Lies, is a dating show that chronicles the drama and comedy that follows setting random people on dates in Lagos. When she shoots her subjects, what Korty aims for is submersion, seeking a way to remove any distraction from their immediate consciousness and get as much information as possible from them.
"I put my camera far away from them so they can even forget that it's there," Korty said. "It's usually me, my cameras, and a photographer because most of the people I film are in some sense celebrities and once they see too many people, they become guarded but if you make them comfortable they can express themselves." Editing, though, is where it all comes together as she applies her experiences while staying true to the vibe of the shoot. It usually takes place over an active period of one or two weeks depending on the quantity of footage she gets.
The distinctive contours of life in Lagos and the city's ever-present trans-generational tensions weigh on Korty's mind and spill into her visual content. "I think Lagos is the center for a lot of things because there's a lot of people here so it's easy to find various communities here," she said. "Sometimes I'm very conflicted about where I stand because I'm old Gen Z. I'm 24 and there are people being 18-year-old in 2022. It often feels like I'm in the middle because where does the class of 1998 fit into it all." Still, the grind, hustle, and growing fearlessness of young Gen Z'ers's in Lagos inspire her more than anything. "There's more evidence of people's patterns and lifestyles (in Lagos) because of the Internet and that brings more exposure. I feel like the Gen Z culture awareness in Lagos is so strong that it's being transferred to other parts of the country but Lagos is the pinnacle."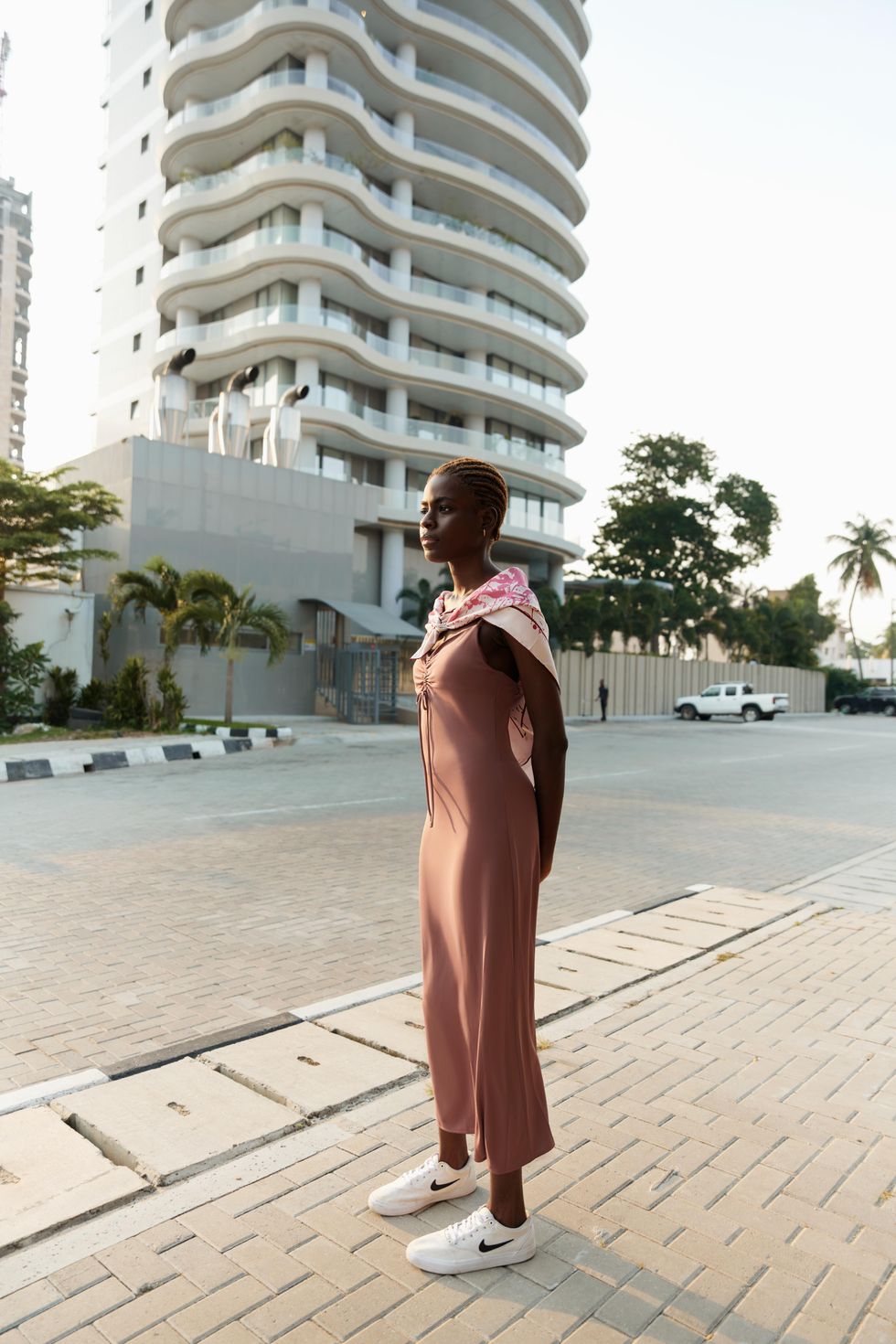 "There needs to be a better process for how people get monetized in Nigeria," Korty said. "If YouTube says it's catering for everyone in every part of the world, they need to do that regardless of the difficulties in the country."
Photo Credit: Ikechukwu Okonkwo
Still, existing in Lagos can take its toll, and navigating the YouTube payment model as an independent creator can make it even harder. "It was very difficult," she said about getting her channel — none of Nigeria's fastest-growing — monetized. "They have to send a pin to a post office. It's very easy for people abroad but if you live in Nigeria, getting your pin and money is very hard." Korty had to make a video detailing her frustration with the monetization process before further relief came and she worries about the next generation of indie creators hoping to share their talents with the world via YouTube. "With newer people coming into the platform, it's really hard for them because they are confused. There's a procedure but the procedure doesn't work unless you get your pin and it's mentally wrecking.
"There needs to be a better process for how people get monetized in Nigeria, if YouTube says it's catering for everyone in every part of the world, they need to do that regardless of the difficulties in the country. I know that's easy to say but that's just it, it shouldn't be better in one place than it is in another, and also I guess Nigeria should also care about these things enough to make it easier for everyone."
Earlier this year, a video documenting Korty's attempts to schedule an interview with Wizkid over three days in Lagos went viral. And it's an experience that has only solidified her resolve. "For me, the main thing is that only a few things can stop me in this life," Korty said. "Obviously, the goal I had was to get Wizkid but the real thing was for people to see how if you set a goal and you move towards it, you either get it or move really close to it."
For all the inspirational themes of her videos and persona, Korty is not a filmmaker that really cares about cajoling an awakening in her audience, seeing her role as more of a guide on the facts of a situation or phenomena. "I think for me, my role is to talk about certain things, shine a light on them and leave people to take whatever they want from the video," she said. "That's why I tell people that my aim is not to inspire. If it happens that you're inspired, that's on you."
Despite all her protestations to the contrary, Korty understands the impact of her videos and is warming up to her role as an archivist of Nigerian contemporary culture. "When I do things, I don't have plans but they start to unfold and people start to see what it can become," she said. "I'm just trying to make it in life, I'm really not trying to be a culture shifter but I also feel like if that is happening and people are seeing a pattern, it's now up to me to see if I can accept that responsibility.
"I'm very aware that there is a growing responsibility and, if I don't accept it, I might not grow, I could just be stagnant."

In many instances, Korty is quick to reject tags or titles and as our conversation comes to a close, I ask what she identities as these days. "I'm starting to say filmmaker," she said. "A lot of people would say that where do I get the audacity to call myself that because I make YouTube videos but if you put me up next to the YouTubers of today, there's a clear difference. It's also why I don't like it when people call me an influencer because I didn't sit outside Eko Hotels for three days to be called an influencer. Filmmaking is where I have found myself. In 2018, I was in fashion. Before 2018, I was designing. As time passes, I'll stumble on something else. I don't think I can do one thing for all of my life. But whatever I decide to do, I'll succeed and be competing at the top."