The death of Dagrin, who through hip-hop championed a course for the underground slums of western Nigeria, was a blow. While Nigeria inadvertently sought a progeny, an underground rapper silently picked up steam through bluetooth shares and word of mouth. By the end of 2010, Olamide broke into mainstream consciousness after releasing "Eni Duro," a street freestyle that caught the attention of ID Cabasa who then signed him to Coded Tunes where he released his debut album, Rapsodi in 2011.

In 2012, Olamide teamed up with a handful of relatively unknown producers, rappers for his sophomore album YBNL, which he also christened his own record label, marking his exit from Coded Tunes. YBNL has now become one of Nigeria's leading record labels having produced talents like Lil Kesh, Adekunle Gold, Fireboy DML, and more. It comes with no surprise that the recording artist born Olamide Adedeji, revered as the "voice of the street" has become one of Nigeria's most successful rappers ever. He's now known for his multilingual tracks which showcase his ability to rap and sing in English, Yoruba, Pidgin. His knack for lacing wordplay into his music stems from experiences of his formative years in Bariga, a rural part of Lagos.
---
Furthering his decade-long run in the Nigerian music scene, Olamide releases his eleventh project, Carpe Diem. This album follows the partnership between YBNL and US indie powerhouse, Empire. The album features a number of burgeoning talents like Omah Lay, Bella Shmurda, Bad Boy Timz, Fireboy DML, Peruzzi and usual collaborator, Phyno. The album also sees 18-year old wunderkind, P.Prime holding his own as the producer of seven tracks, with others produced by Pheelz, VStix, ID Cabasa and Young John.
Here, we spoke with the rapper about his penchant for taking on young talents, doubling as a frontline artist and music business exec, his long overdue international run and desire to explore his vocal range as a singer.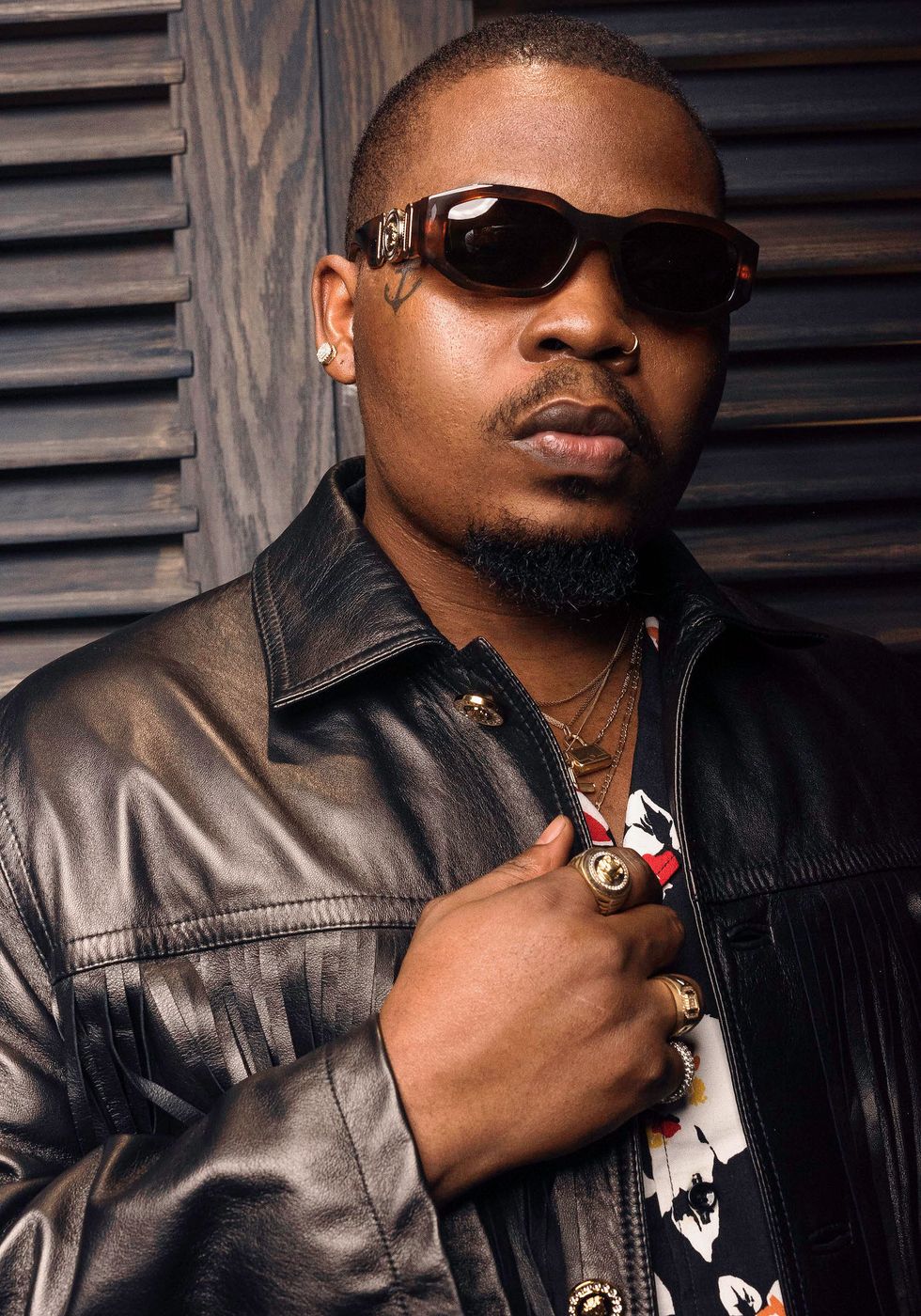 Photo courtesy of the artist.
How has the #EndSARS movement affect your work ethic?

I have an album that has just come out that I am very happy with, and the people seem to love. But I am not out promoting it because we have to be respectful of the significance of this moment for Nigeria. It's not the time for self promotion. Injustice anywhere is injustice everywhere.
How did the infusion of clever wordplay in your rap come about?
[Laughs] I'm not sure where it stemmed from but I think it's due to the kind of people I grew up around. From an early age, I tend to hang around friends way older than I am, which had me pondering about being ahead of my peers in whatever I do, especially with music. In my quest to always stand out, I try to ensure whatever that's done or said in my song is not one that's been said before and if at all they've been said, not in the way I'll use or say them.
What does the term YBNL entail?
YBNL meaning Yahoo Boy No Laptop is a slang—a form of hailing in my hood that people use for guys that are doing well without illegal business. You're prone to be called that if you look fly and put together. I decided to use it for my sophomore album and it just stuck ever since.
Unlike your contemporaries, you never seemed to be about the international run despite your local success. You didn't think there was a need for it?
I have always been the type with big dreams but trust me, I won't take shortcuts or chase clout for any reason. Everything I have today was earned genuinely and at the right time. I just always wait for the right time. I always let God take the wheel while I stick to my plans, in my own pace and let things fall in place when it's time.
Olamide - Eru (Official Video)youtu.be
In the Nigerian music scene, you have one of the smoothest evolution from artist to music business exec, what's your penchant towards signing and breaking talents?

Honestly, I guess it's due to the hell I went through before making it. I was close to many established artists who didn't lift a finger to help. I didn't feel good about that and I took it upon myself to always try and help anyone worth helping around me, if I make it. I'm not sure I understand why you want to overlook or ignore a talented person that has something to offer. It doesn't take anything from us to share our blessings; I love sharing mine and spreading love because it's lonely at the top, you don't want to be there alone.
And what's at your fore before taking on an artist?
Self-discipline is one thing for me. Another is, if I love and connect with the sound, it's definitely a go. So far they're focused and a go-getter, I'll do anything for the artist.
In wearing both hats as a frontline artists and music business actively exec signing and breaking talents, are there times you encounter a conflict of interest?
I believe if you're confident enough in yourself, and you believe the sky is enough for everyone, you won't have issues with investing in another to achieve their goals because at the end of the day, either or not you invest in them, someone else will do it anyway and y'all will still link up at events, backstage and all. So, if you have the means to invest, and you really like an artist, why not do it and do it like you really mean it. I see no reason why I shouldn't support people while I'm doing my thing. So long I have the strength and finance, why not?
Photo courtesy of the artist.
Since your debut album in 2011, you've released an album every year. Tell us, is there some philosophy behind that ritual?

I won't call it a ritual but you can call it that. Actually, it's becoming a ritual [laughs]. I didn't intend to make it that though, I'm just overzealous about work. I'm passionate about music, I always want to put out something. I never want to leave my fans hanging. If you genuinely love what you do, even if you're not getting paid like you'd like, nobody can stop you from going about it. That's my approach to music because it was passion first before money rolled in. Even if I didn't make it this big or I'm working at some bank or anywhere, I'll still go home, pick up my pen and write music because it's something I genuinely love.
What changed last year though?
I was too focused on Fireboy's project.
Kindly recount what the creative process of Carpe Diem was like.
After the deal with Empire, I returned to Nigeria, called my producer and we were locked in for 4-5 months. Right after I finished the project, I received an email from my content manager, Bolaji Kareem. The email had attached a beat from P.Prime. Listening to the beat was like an 'aha' moment for me. I returned, scrapped about 90% of what I'd done and started afresh—making new beats, writing new songs, etc. It was crazy because some heavy investment had gone into hiring A&Rs, songwriters and we eventually didn't get to use all they came up with simply because I found just what I was looking for in working with P.Prime. It took just two weeks to put the album together after P.Prime got on board.
What inspired the title, Carpe Diem?
I've always wanted to reach the extreme about my singing. I started out as a singer but people around thought I sounded awful. Overtime, I've realized it's not about having a spectacular voice but managing or learning to use one's vocal range. I went through the process of researching, learning because it's something I really want to do. I chose Carpe Diem because it is what it is regardless of what people think. I honestly want to live my life because I know I only live once. I want to do everything I want while I'm still breathing.
Olamide - Green Light (Official Video)youtu.be
Which was the most challenging record to make in the album?

I'd say "Plenty" featuring Fireboy. You know, coming from different perspectives—as a record label boss, a big brother, as Olamide and then there's Fireboy, whose sound is way different from everything. I took my time to listen to Fireboy very well prior. We recorded multiple songs because I needed a balance, something not far from the real Fireboy and Olamide as well. Finding that balance took some time before choosing one track out of seven recordings.
Which record means the most to you?
"Greenlight." It is everything about the making of that song for me. I recorded "Eru" on the beat P.Prime first sent, and "Chimichanga" on the other. Those beats were made without my input, so when we got into the studio and made something together, the sound was refreshing.
What makes Carpe Diem different from your other projects?
It's a reflection of my current mood. Most of my other projects reflected my mood some way but Carpe Diem depicts it wholly. For others, even if I didn't feel like it, I had to be commercial however but with this, nothing's forced. Everything is effortless because I'm on a YOLO level presently.
Is there some rationale behind your frequent collaboration with burgeoning talents?
People didn't see anything in me back then. I want to see people rise and I believe the younger ones are stronger, smarter and a better version of us. I tend to always work with them to maintain my own sanity. I want to work with art, not age. For me, it's all about the connection over whatever big name.
What strikes you about P.Prime's art?
His sound is larger than life, bigger than the name, P.Prime, and if I may, bigger than him. Seeing him, you won't believe he's the brain behind those records. His sounds are otherworldly; they don't sound like anything I've heard anywhere and if you listen closely to any song produced by him, you'll realize it sounds like nothing you've heard.
What do you think is the relevance of African-Americans in the #EndSARS discourse?
It's important to have all hands on deck for our voices to be louder globally—when it comes to African issues or societal issues anywhere in the world.
As protests ease, are there ways that you think the music industry can keep momentum going?
The work is beyond the music industry. It has to be a collective effort. Societal ills need more than just the music industry to be taken seriously. Sports, the movie industry and even some politicians who believe in humanity should always keep striving to make Nigeria and the world a better place.
As you reach for wider and new audiences, what's the envisaged takeaway about your music?
I just want to pass on the vibe and let people know that our sound is limitless. We have Fuji, Juju, Apala, a lot. I want them to feel something way different from what they've been hearing and still feel connected because music is a universal language.