Olamide andFireboy DML have been working together for three years, but the first time they sit down to do an interview together is hours after they arrive in New York City on a promo tour.

It's Fireboy's first time in the Big Apple — and in the US — and the rain that's pouring outside his hotel doesn't hinder his gratitude. "It's such a relief to be here, it's long overdue," he tells OkayAfrica. "I was supposed to be here last year, but Covid stopped that. This is a time to reflect and refresh. It's a reset button for me."
Olamide looks on, smiling assuredly. Since signing Fireboy to his YBNL Nation label in 2018, he's watched the soulful young singer rise to become one of Nigeria's most talked-about artists — from his breakout single, "Jealous," to his debut album Laughter, Tears & Goosebumps, hit collabs with D.Smoke and Cuppy, and his sophomore release, Apollo, last year.
Even while he shares his own latest record, UY Scuti, with the world, Olamide nurtures Fireboy's career with as much care and attention as he does his own, oscillating between his two roles of artist and label exec seamlessly. His 2020 album Carpe Diem is the most streamed album ever by an African rap artist, according to Audiomack, hitting over 140 million streams. When Olamide signed a joint venture with US-based record label and distribution company, Empire, in February last year he did so through his label, bringing Fireboy and any other artist he decides to sign along for the ride, and establishing one of the most noteworthy deals on the continent.
Below, Olamide & Fireboy DML speak to OkayAfrica about their mutual admiration for each other, what makes them get up in the morning and how they switch off.
---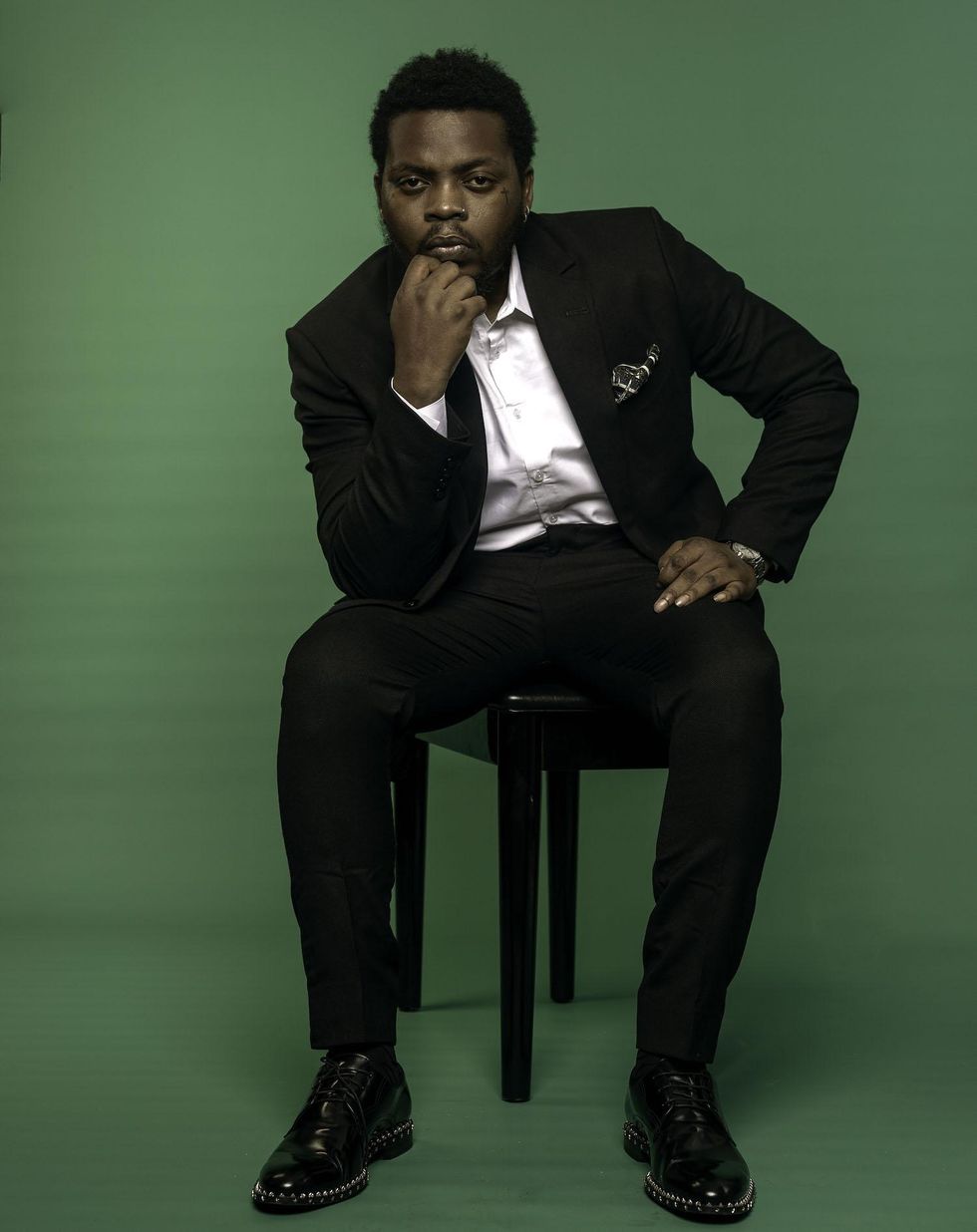 Olamide.Courtesy of the artist/Empire.
Can you remember the first time you met?

Fireboy DML: I remember. Because that was a big moment for me. I met him for the first time in person at a hotel in Lekki. We exchanged a few words — he's a man of few words. But I think we started recording that same day, working on the album.
Olamide: His sound was just so unique. When I got to hear his music and see his video. I was like, this dude is dope. I was honestly done with signing artists, I was tired of it, but I just couldn't resist.
What was it that made you not only sign him but become his mentor?
Olamide: It's the sound. Still today, for me, it's still the same. There are so many young artists out there but they're nothing compared to the kind of music Fireboy makes. It's just way beyond his age. I think Fireboy is 57 years old [Fireboy laughs out loud]. He writes like an old man. He's one of those few people that I learn from sometimes. Like, 'what does this dude think about when he's writing?'
You're 24, Fireboy, but how old do you feel?
Fireboy: Well, sometimes the experiences that we've gone through make us feel like we should be more than our age. I still feel young at heart. It is what it is.
Why the name Fireboy DML?
Fireboy: I first was just DML, from my name, Damola. It was the acronym I was using for a while. At that point, I had not found my sound. I was sounding like a regular Afrobeats artist, like what every pop Afro artist was sounding like at that time. But when I sat down, took some time to actually know what my sound was, I decided to rebrand. I went to Google 'DML' and I was like, 'okay, when you blow up what will people see when they look up DML?' I saw 'data manipulation' and I thought, 'nah, this is not what you want for yourself!' Fireboy is what a friend called me one time and it just had a nice ring to it. So, there you go. Nothing deep.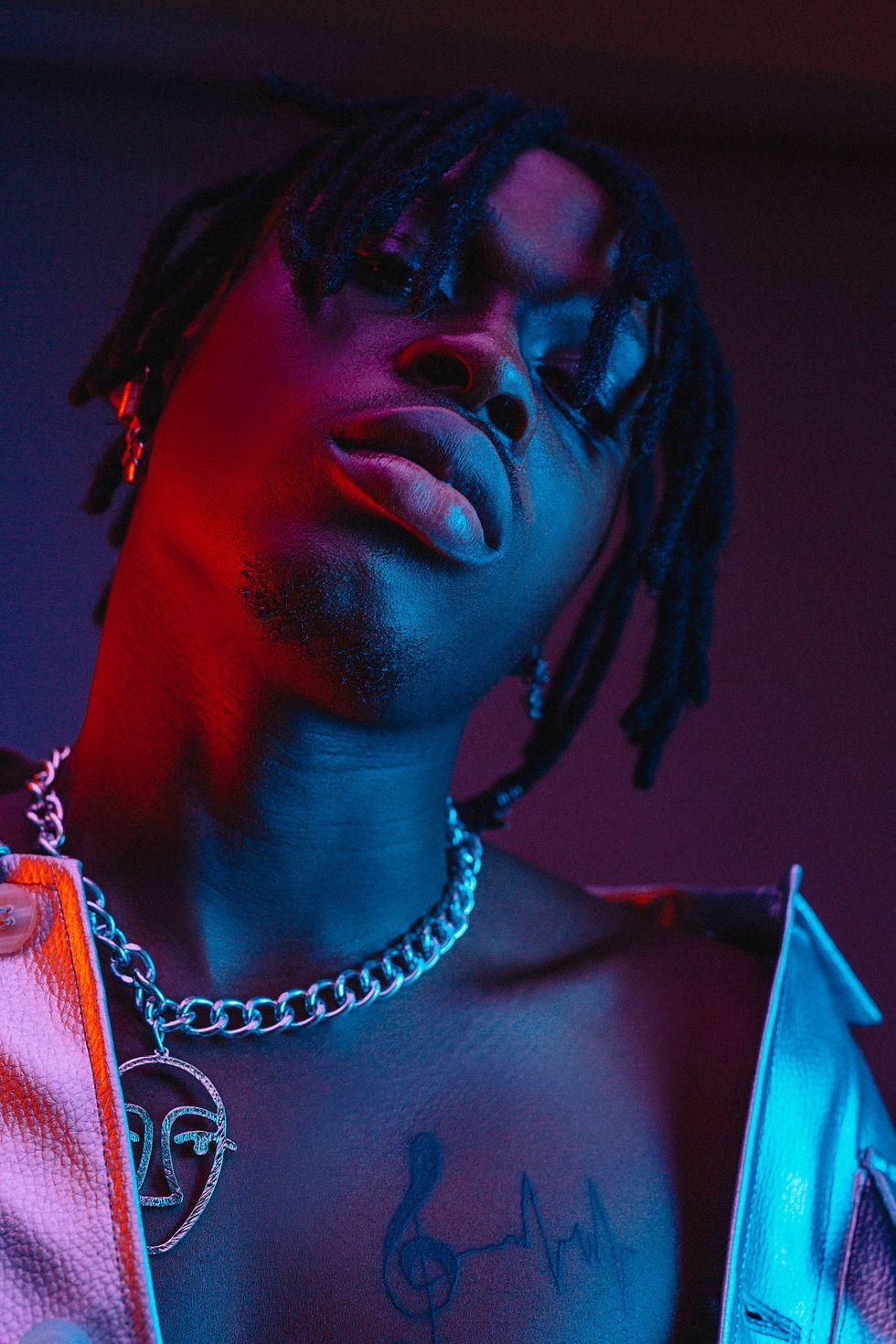 Fireboy DML.Courtesy of the artist.
What drives you to get up each day?

Fireboy: Living in Lagos, Nigeria, is a flex. Because every day you see different reasons to want to make some money, make a name for yourself, or make success for yourself. So I think that's enough. When I wake up where I live, I hear the sound of generators. I'm like, 'oh my God, I need to leave this place and move to a place where there's no noise and I'm just chilling.' That drive is part of it.
Olamide: So many dreams to be achieved. So many lives to touch. So many aspirations. I know that when I wake up every morning, this is not where I want to be. I never get comfortable. There is no amount of money in my bank that can make me feel like I've done it. I'm never satisfied. I always want to get better. Be it in my business or in my way of life. I always want to get better, every day, every second, every minute.
What's one thing you do when you wake up in the morning?
Fireboy: I thank God for waking up. It's not necessarily a prayer. It's like a declaration, 'Oh, thank you, Father.' It's like instinct. My parents put that in me since I was a kid so I just thank God and then I pick up my phone and go about doing my stuff.
Olamide: I wake up and most times, I'm like, 'Oh I'm up, okay, good.' I meditate for an hour or two. Pick up my phone, start checking my emails, my WhatsApp messages, then Instagram.
How long have you been meditating for?
Olamide: Almost forever. It's just a part of me.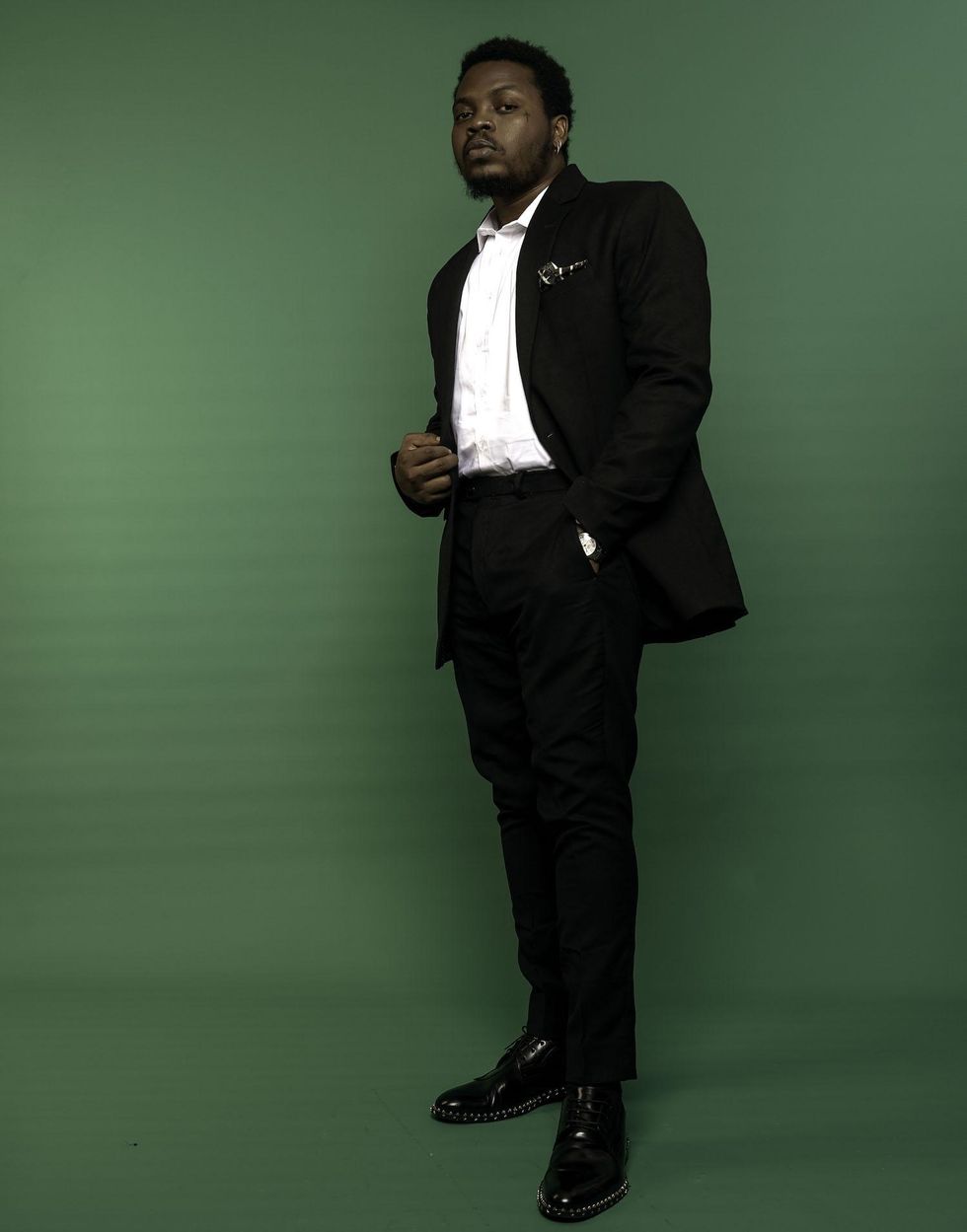 Olamide.Courtesy of the artist/Empire.
You're both from different parts of Nigeria, where do you consider home?

Olamide: It's like they say, home is where the heart is. For me, personally, I feel like I'm a global citizen. And I wake up some mornings and feel like being in Spain, and that's home for me for two weeks. It's how I feel. I'm like a chameleon, I adapt easily. I'm ready to go.
What does it mean to be Nigerian?
Olamide: Being Nigerian means being able to rise against all odds, being able to smile through your pains, your sorrows, and make everything look good, even when things are difficult for you. But really, I think, what I stand for, what I represent, is beyond being Nigerian. It's being human. I just want to stand out and live my life to the fullest and not restrict myself to whatever ethnic group, whatever country, whatever image, whatever race. I just want to live my life to the fullest.
What's been the hardest lesson you've learnt?
Olamide: I think I was about nine years old. In 1999, when armed robbers came to my house. And they shot my dad. So I almost lost my dad then. My mom was a full housewife. And in my head, I was just thinking, if this man died now, there'll be nobody to take care of me and all that. Since then, I've never, for once, wanted to rely on nobody. Since then, I've always been chasing all the things I want for myself. Not thinking about what anybody thinks about me or how I go about my dreams.
What was the best advice you've ever been given?
Olamide: I listen to so many people. There's too much information that can really trigger so many great things in my life. I must confess that I do listen to people. I seek advice. Today, I was asking my good friend Jesse [Serwer] what the "Julie" video should look like. I think most artists don't want somebody else's point of view. I listen. I pick one or two things that I feel like fit in with where I'm going and apply them to what I'm doing.
Olamide - Julie (Official Video)youtu.be
How would you describe the music you make — Afrobeats, Afro-life….

Fireboy: Basically, I'm an Afrobeats artist. My Afrobeats can have some R&B in it, unique stuff in it, but it's Afrobeats. Afropop. Afro-life is because, even though I do Afrobeats, my music is very different. You can hear that this person actually writes. This person takes time to be very intentional about the lyrics, which Afrobeats is not really known for. So I've just believed that okay, since music is different, it deserves its own identity. And that can just be a name. And that name is Afro-life.
Riffing off Fireboy's first album, what gives you "Laughter?"
Olamide: Bank a lot!
Fireboy: Same thing, money. Money and music. Makes me happy.
"Tears?"
Fireboy: Honestly, I can't remember the last time I cried. I get sad. More times than any human should. I don't like the way it makes me feel vulnerable so I just killed that a long time ago.
Olamide: Spicy jollof fries!
"Goosebumps?"
Fireboy: Beautiful music, man. Beautiful music melodies give me goosebumps every time.
Olamide: Good music and good shoes.
Fireboy DML - Airplane Mode (Official Video)youtu.be
What makes you put your phone on "Airplane Mode?"

Fireboy: It's just a feeling of wanting to be in your own space. Sometimes things can get overwhelming. You just want to shut everybody out. And the internet is very, very powerful thing, so if you don't put your phone in airplane mode it will fuck you up. The mind of the creative person is a very, very fucked up place. So, anything can trigger it.
Olamide: In most cases, it's when I want to listen to music or read or watch a movie or play my game, I put my phone on airplane mode or do not disturb. Or when I just want to be with myself. Because I love myself so much. I'd rather spend a whole year with myself than be out there unhappy.
Best place to listen to music?
Olamide: Alone, in the house. I feel like the house is the best place to listen to music.
Fireboy: I turn off all the lights and stand on my bed. I just vibe out.
Best place to write music?
Olamide: My toilet. [Both laugh] I come up with the best melodies in the toilet.
Fireboy: For me, as long as I connect to the melody, it will come. Words come naturally to me, so as long as I connect with the beat, it doesn't matter where I am. Mostly in the studio.
Olamide, you call YBNL a family, so if it was a sitcom, what kind would it be?
Olamide: They're a bunch of serious guys, but there are so many other layers to the family. It's a fun family, but we don't joke with business, so it's probably going to be like The Kardashians.
The thing you admire most about each other?
Fireboy: It's the way he respects people and treats people with so much respect. He treats you like a human no matter who you are.
Olamide: His writing skills. Sometimes I wish I could make him understand, how dope he is when it comes to writing. I believe in him so much, maybe more than he does.
What is the biggest dream you had that has come true?
Olamide: In most cases, and I can't speak for everyone else, but in most cases, I wake up, I live and I realize that I'm living my dream. They just happen. I just wake up and make this decision, I'm going to do this and I'm going to do that, on the spot, and they just happen. Everything is manifesting. It's not like I plan for years or months. I just wake up and make a decision and everything just aligns for me. I've always known I want to be great in life. I want to play music. So I'd say music — being able to do this on a big stage and all that.
Fireboy: It's pretty much the same for me.The first time I actually had a dream: I wanted to make music and to be heard, and it's really manifesting. And I realized that even in your dream there's always more. So, having a dream is kind of limited to an extent, because there is always more. But I'm grateful that the one dream I had came to pass. The cars and the houses and those things that you want along the line, you work towards them. The material stuff.