Asanda Mvana, better known as Msaki, remembers trying out for the school choir twice and not quite fitting in. The first time she was in Grade Four. "I remember getting a fright from the size of my voice," she tells OkayAfrica, over the phone from East London. "I have a low speaking voice and I had a big alto for such a little girl. And my voice coming out of my body gave me a bit of a shock. It was just out of place because everybody was singing like sweet little birds."
She tried again in Grade 8. But still, nobody could figure out where to place her. "They put me in alto, then they moved me to descant," she says. "I had a chest voice that was quite soft, and I had a falsetto, and I had this other big voice that would just come out. And nobody really knew what to do with all those textures."

It's these very textures that helped turn Mvana into Msaki, the artist we know and love today. Textures that have allowed her to play in between the worlds of dance music and folk songs, between improvisation and composition, between the spaces of pain and gratitude. It's what allows for the layers in her songs, from the fervent urgency of "Blood, Guns and Revolutions" to the buttery thrill of "Marry Me," her most recent collaboration with Black Motion. And it's what will go into her forthcoming album, PLATINUMB HEART: Of Love and Protest, due for release early next year.
---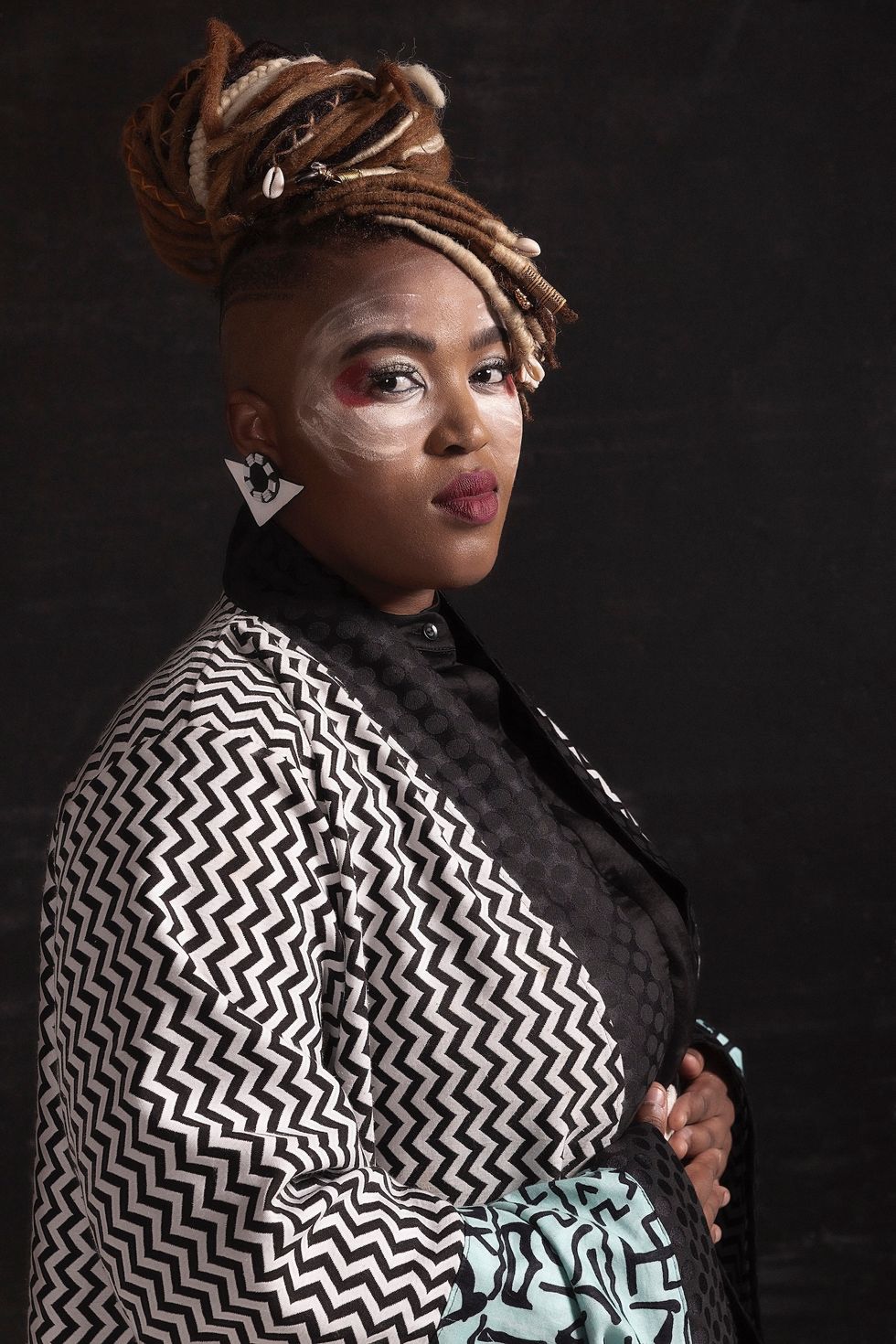 Image courtesy of the artist.
Born and raised in East London, the 32-year old singer grew up in Butterworth, Grahamstown, Peddie, Nqamakhwe and Cathcart. Wanting to fit into the school choir made sense given the family of musicians she was surrounded by—her father was a DJ while studying at the University of Fort Hare and also ran choirs throughout his life; her grandfather was a revered composer and songwriter. The gift within her voice only truly started to become apparent when she was studying fine art, after first working as a graphic designer.

"I started hearing sound a lot," says Msaki. "From my very first art project that I was given, in first year, where I had to do a two-by-two meter charcoal drawing, the songs started coming. In fact, I presented my first charcoal drawing with a little song called 'Dreams,' which was on my album." She could barely play the guitar but a friend helped while she sang. "I didn't know why I wanted to sing the song that went with this drawing. But somehow, the teacher I had at the time—she's an excellent artist named Tanya Poole, making the most incredible work right now—she got it and she was like, 'I see how this adds to this work.'"
But Msaki didn't find as receptive an audience, the further along she traveled on this path. "I found myself hitting my head against purists who were expecting us to be one thing: 'Are you a sculptor? Are you drawing? Are you making sound?' I was like, 'Guys, I'm making all of it. This is my process.'"
She dropped out in her third year, after a vulnerable project she created in the wake of her older brother's death from AIDS. "It was a painful project, and I didn't have the mental and emotional capacity to process it while being questioned about how I was processing it." Being one of only two Black women in the class, Msaki also felt like she had to "perform her pain" in order to receive acclaim. "We must always be wounded, I can't just make clouds, make a pretty picture, then I don't get marks because I'm not deep" she says. "The academic fine arts space was a bit rough for me at the time. It may have evolved now. Maybe now they could hold the fact I was hearing sound and I didn't want to just sing in painting."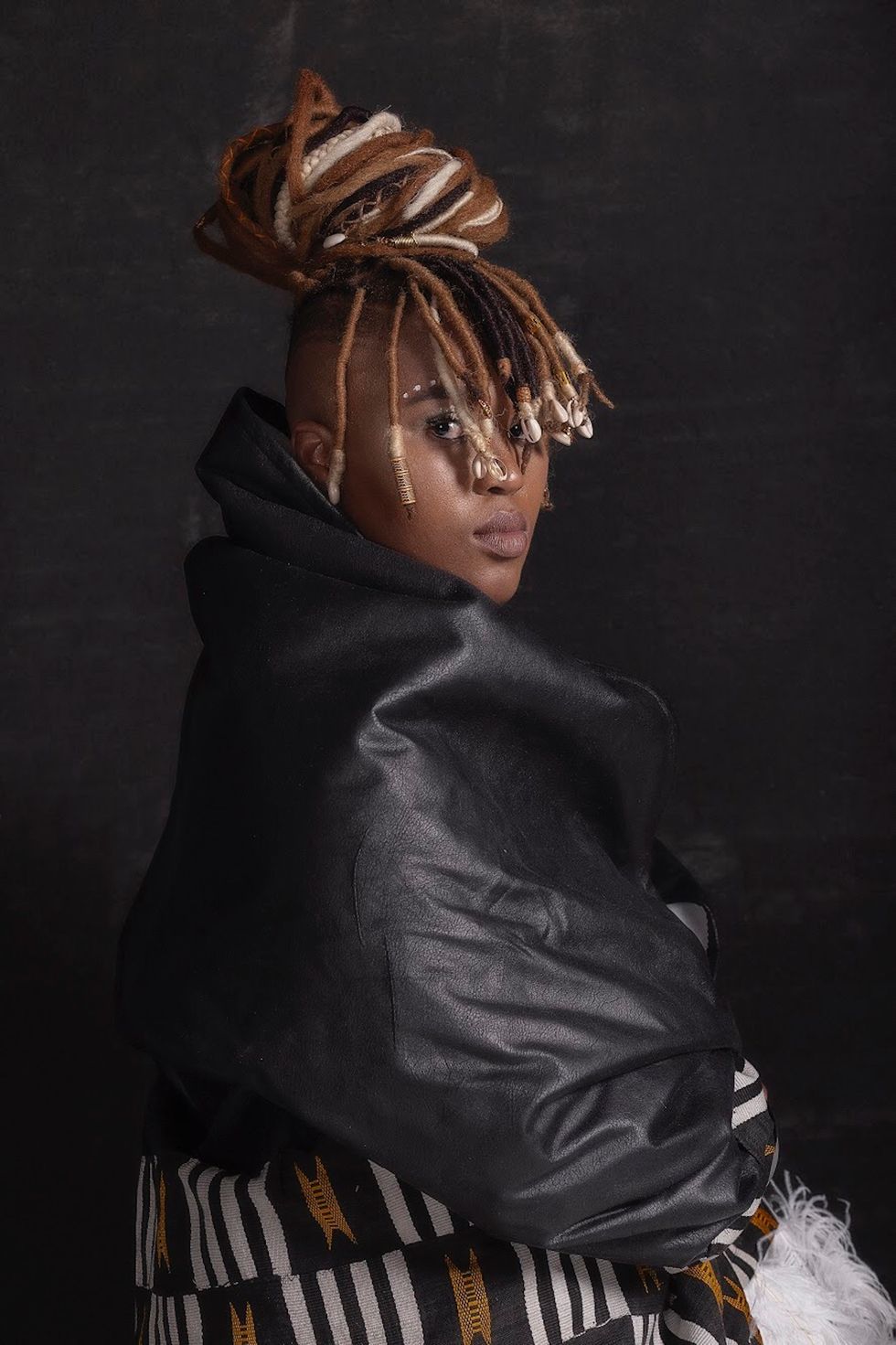 Image courtesy of the artist.
Needing to find an outlet for the songs inside her, Msaki recorded her debut EP Nal'ithemba and then full album, Zaneliza: How the Water Moves, which she released in 2016 under her indie label One Shushu Day Artistry, co-produced with Nduduzo Makhathini. In the time since, she's also collaborated on a handful of dance hits created by the likes of Black Coffee, Sun-El Musician and Prince Kaybee ("Fetch Your Life" won the House Record of the Year at the Dance Music Awards SA in 2019).

"I live in these two dichotomies—the acoustic and the electronic, the protest and the love," says Msaki. "It's interesting that my project that I'm working on now, my sophomore album, really has got both of those worlds in it, in a way that I wasn't expecting." She's taking it in a lot more than she used to, not so much in the production studio but in the performance space.
"I was playing into the singer-songwriter [persona], there with your guitar and your jeans and your sorry, sad song. But now I'm really embracing my complexity. It's fun. I'm having so much fun. I'm not sleeping. I'm just up at night, digging into the sounds."
Blood Guns And Revolutions - Msakiyoutu.be
Working with Neo Muyanga, who is as comfortable in opera and experimental electronica and choral spaces as he is in pop music, allows Msaki to bring forth even more textures in the sounds she creates. She was a teenager when she first heard the theme song to All You Need is Love, Muyanga's "My World." "I remember I burnt the supper," she chuckles. "That's what I do, I burn food when I hear good music."

They work on a myriad of things, including film soundtracks, and in Muyanga, Msaki has found the perfect collaborator, mentor and prototype for the kind of artist she strives to be. "He's an absolute feminist, even in the way that he's worked with me as a co-producer, completely validating my ideas, learning my language, trying to find out what my approach is," she says. She calls the impact he's had on her confidence in arranging and producing songs a blessing. "He does it in the most gentle way, the most loving and affirming way."
She wrote and produced "Blood, Guns and Revolutions" with him, about the Marikana massacre, which eight years later, still leaves many queries unanswered. "It's questioning the violence that makes us violent against each other and against ourselves," she says. In it, she evokes protest chants of yesteryear, in South Africa's apartheid past. "Art has the ability to hold multiple narratives, multiple feelings, multiple views," she says.
"It's the thing that's able to trick us in terms of time and space," she continues. "In the first verse I'm actually writing about my parents generation and the fact that I couldn't make sense of this freedom in the face of this insane inequality that we're living out every day as the youth. So it was this question about youth; they spent their youth running away from mellow yellows and we're spending our youth running away from white hippos. What happened in '94 if this is our reality? That obviously was just a kind of dress rehearsal that left us in the same place, in the most important ways. It's not to say that there wasn't a difference. But it was also to lament the fact that people sacrificed for the change to be real and true, but here we are living out the reality that things are still really not great for the youth—the Black youth."
Black Motion - Marry Me (Official Audio) ft. Msakiyoutu.be
With police violence an ongoing issue both in SA and in other parts of the world, like the US, she asks further: "How are we still running away from bullets? Why is this still a conversation?" Msaki's art — her words and her voice — allows her to pose the questions that roll around in her mind, taking on different shapes and forms. "What are people choosing now: people that are in power are choosing corruption over reducing inequality; they're squandering funds meant for elders, chowing Covid money," she says. "What are their wounds? And what didn't happen for them to be able to put their people first — if they also, at some point, were revolutionaries that were willing to die for freedom? What happened?"

Msaki sees the greater social ills, but she knows they start with those smaller questions. "I always go back to the heart. A lot of it is about the small decisions of the heart that lead to the big issues," she says. "You can ask those questions and somehow hope that in the asking, and in the petitioning and alongside the protesting, that we keep hoping for justice. That's the world where I can still hold that hope. Because in the real world, it is not that easy." It's a good thing Msaki never did find her place in a choir. Her voice, and all that it holds—the glory, the disappointment, the hope—was meant to shine on its own.
Msaki's PLATINUMB HEART: Of Love and Protest will be available for pre-order in November.