It's here! Today we are launching OkayAfrica's first annual "South African New WAV"—our annual round-up of the most exciting young SA music artists.
For Youth Month, we've picked the 10 singers/rappers/producers who we think will define the sound of SA for years to come.
---
We've chosen artists who are bringing innovation to the game while being true to their South Africanness and themselves. Only a few of these artists have released albums and gotten recognition from mainstream platforms. What they have in common is their subversive approach to their craft and how they incorporate South African genres into contemporary ones like EDM and hip-hop.
In 2019, strict boundaries between music genres are largely a thing of the past. In South Africa, artists such as Sjava, Anatii and Mashayabhuqe KaMamba, among many others have managed to make contemporary sounding music infused with the sounds of vintage South African genres such as maskandi, mbhaqanga, Afro pop, kwaito and bubblegum. With many cultures running the risk of extinction thanks to globalization, it's refreshing to watch young musicians across the continent preserving genres that they grew up with.
The trend gained mainstream recognition when the hip-hop supergroup Jozi released their debut album Muthaland Crunk in 2006. The album title was an introduction to the subgenre of the same name. The group's four members rapped and sang over crunk beats enriched by samples from vintage mbhaqanga samples and vocal styles. For their hit single, "What's With The Attitude?" the crew's producer and member Bongz, sampled the late Vusi Ximba's "Bayekeleni" and looped it over the customary crunk bassline and 808s.
Listen to The WAV 2019 playlist on Spotify
Emtee, Sjava and Saudi would later carry on the tradition with their localized version of trap: ATM (African trap music). In the early 2010s, it was the group Teargas who infused Afro pop into their music on some of their biggest songs: "Mhlobo Wami," "Wake Up" and many of their hits.

A new crop of South African artists is following in these artists' footsteps and establishing themselves as preservers of culture. For instance, Muzi laces his Afrocentric EDM beats with maskandi vocals. Sho Madjozi's XiTsonga raps float over gqom beats. ASAP Shembe's music fuses gospel, maskandi, electronic, soul and hip-hop.
Artists like J Molley, Touchline, Seba Kaapstad and Dee Koala may not be sampling maskandi in their music, but their approach to their craft is a glimpse into the future of South African music. While the group Seba Kaapstad refuse to play within the confines of jazz in their debut album Thina (released under Mello Music Group), J Molley and many like him represent the new generation of young South Africans who weren't as exposed to the aforementioned vintage genres, but hip-hop and other contemporary US genres growing up.
Out of the large number of young artists who are slowly changing the face and sound of the country's diverse music scene, we pick 10 whose craft gives us a hint of where the country's music is headed. Most of these artists have been profiled or interviewed on OkayAfrica. In the remaining days of South Africa's Youth Month (June), we will be sharing more profiles of artists from the country's new wave that are shaping the scene.
Note: The list is in no particular order.
Muzi
Photo by Sabelo Mkhabela.
A producer for Riky Rick, Patty Monroe and Reason, among others, Muzi is also a notable solo act. His EDM-leaning production always has sprinkles of vintage South African genres and his throwback vocals ensure Muzi's music is always identifiably South African. Muzi's debut album, 2018's AfroVision was an exhibition of this Afrocentric approach to music.
"It was just trying to find words that explain what me and many other artists are trying to do," he told OkayAfrica in an interview last year. "Us telling our own stories—like, this is the vision we have for Africa. Not the vision you keep telling us about."
Muzi's latest EP Stimela SeGolide sees the artist further experimenting with the genres he grew up on—telling the stories of black South African men who were forced to leave their homes to work in the mines.
Muzi has managed to, as an independent artist, to tour some parts of Europe, performing in such major festivals as Afropunk among others.
Manu WorldStar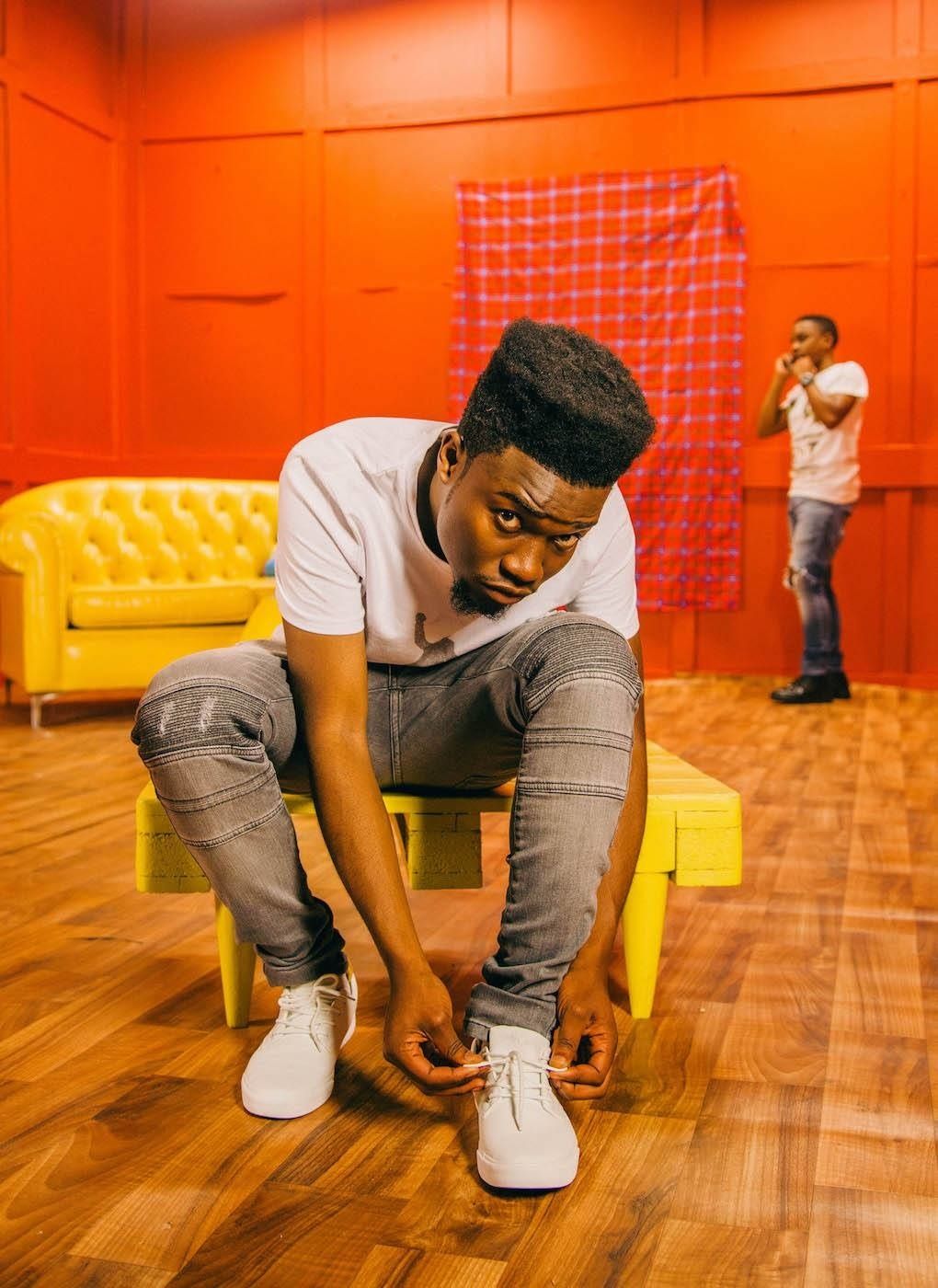 Photo by Sabelo Mkhabela.
After establishing himself as a lyricist of note in hip-hop circles, last year Manu WorldStar decided to return to his roots as a singer. The song "Nalingi" is officially his breakout hit. In it, Manu serenades thousands of South Africans over lush Afrobeat production. The song was playlisted on most of the country's radio stations.
"My day-one fans, they know that I sing, so it's not a surprise to them," Manu WorldStar told OkayAfrica last year. "But I was like let me switch it up and change the Manu WorldStar narrative out here; bring out a fresh thing.
Alongside Gigi Lamayne, last December Manu WorldStar collaborated with DJ Sabby on "Theowa." On the song, Manu shows that he hasn't lost his way with raps. His latest single "Future Plan" has been bubbling under, and was recently heard on Diddy's Instagram story.
The artist is not just making his own music, but building alongside his Punchline label mates—Tony X, Luna Florentino and Dee XCLSV. The crew recently appeared on the digital cover of the popular youth culture website The Plug.
Dee Koala
Photo by Sabelo Mkhabela.
Dee Koala caught the attention of Riky Rick last year with her cult hit "Whuzet" released in 2017. Since then she's performed on some of SA's biggest stages—Major League Gardens and Cotton Fest—and launched a campaign with retail giant Sportscene that saw her photo appearing on storefronts across the country.
The Cape Town-born and based rapper has a big personality, which is always on display in her music. She raps in Cape Town slang—ringas—which is a combination of mostly IsiXhosa, Afrikaans, English and Tsotsitaal. The subgenre she works in is called ringz, and was pioneered by the rapper Amilca Mezarati, with whom Dee is affiliated.
Dee Koala is part of a new generation that are slowly changing how Cape Town hip-hop sounds—ask around, the Mother City is known for its traditional approach to hip-hop, specializing mostly in socially conscious lyrics over boom bap production. In our interview with Dee Koala from last year, she tells us she strives for simplicity and being understood by those who look like her and grew up in Cape Town townships just like she did. Tackling a heavy topic, she said, is easier when you rap in your colloquial lingo.
Dee Koala and her acolytes aren't scared to celebrate being young, fly and living carefree while still reflecting on the hardships faced by black people in Cape Town.
J Molley
Photo by Sabelo Mkhabela.
With the release of his 2018 EP, Leader of the Wave: A Playlist by J Molley, the hip-hop vocalist crowned himself the leader of a new crop of South African hip-hop artists.
"It's just this whole movement that's very inspired by American SoundCloud culture," J Molley said of his now defunct crew Treehouse. "Like the mumble rappers, that's how they've phrased it on that side; Lil Yachty, Playboi Carti, all those guys. It's very inspired by that. So it's like a whole fashion movement, music, mosh pits, just that whole culture."
A few years ago, J Molley started sharing his music on SoundCloud, and it caught on serious fire, amassing tens of thousands of streams. The game came knocking—to date, J Molley has collaborated with industry heavyweights, DJ Speedsta, Stogie T and PH among others and has amassed decent spins on major radio stations and TV channels like YFM, 5FM and MTV Base.
J Molley's music is characterized by virtuoso melodies and a natural swagger. The artist's music is deeply rooted in melancholy and egomania—painting a picture of what goes on in his mind.
J Molley represents a new generation of young South Africans who grew up being exposed to mostly US genres and for whom hip-hop is second nature. While the new wave may have its fair share of critics, the fans who pack their shows and stream their music have a strong connection to these artists.
Una Rams
Photo by Sabelo Mkhabela.
"I describe my sound as the soundtrack to people's lives," Una Rams told OkayAfrica last year. Many people have made memories to Una Rams' latest EP, 2018's Wavy Baby. The project consisted of six heart melting songs that revealed an engaging song writer and skilled singer.
Una Rams' bases are hip-hop and R&B, but his craft is an enigma that blends other influences and is always evolving. The artist, who's also a producer, can rap and sing, and has the rare talent of writing lyrics that have depth but are worded in everyday English. These traits are displayed in his own solo projects and singles and on his guest appearances on songs by Reason, DJ Speedsta, Mass The Difference, and a few others.
R&B may have made a huge comeback in the US in the past few years, but it's nowhere near as popular and successful as hip-hop in South Africa. Una Rams knows that it will take time for him and like-minded artists to convince more fans beyond their cult followings. "I know for a fact that when I release something it's not gonna be a trending topic," the artist told us. "It's something I've had to learn, because initially it used to hurt so much. I came to see 'Nobody,' a song from 2016, become someone's favorite in 2018. It took a whole two years to get to them, and it's still happening."
25K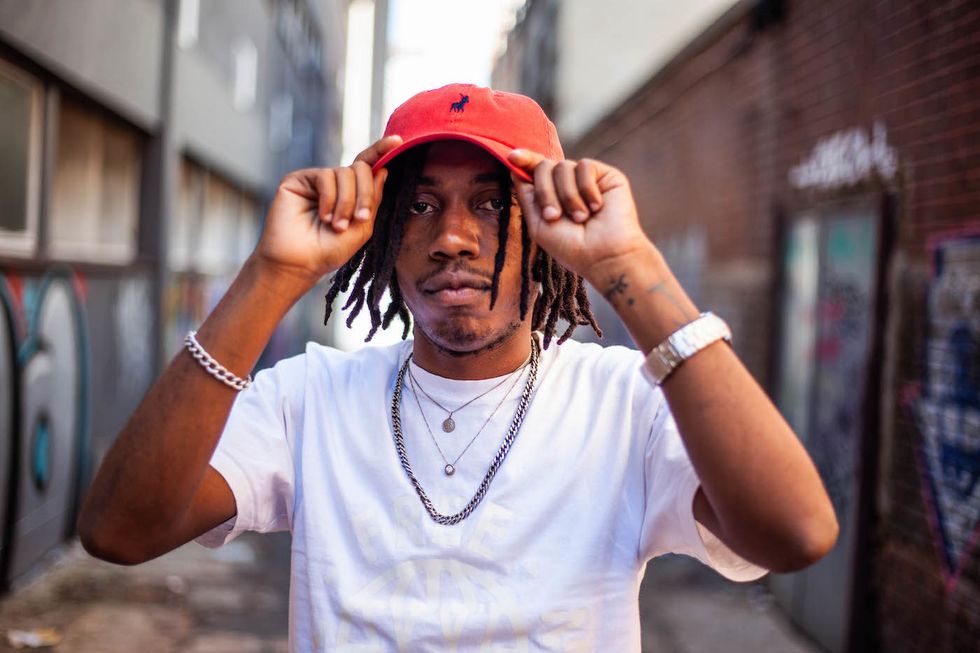 Photo by Sabelo Mkhabela.
Many eyes and ears are on 25K. His viral hit "Culture Vulture," reached the ears of AKA, who exposed him to his social media followers and members of the Megacy who attended his Orchestra on the Square concert earlier this year. Supa Mega will appear on the remix to "Culture Vulture." A deal from Universal came knocking.

25K's style of rapping is distinctly representative of Atteridgeville (the Pretoria hood he is from) while referencing modern rap music by way of trap production. His use of Pitori slang and references to street idols such as Mashobane let you know that his music is made for the streets by the streets.
"But there's that influence like, you can hear, like this kid listens to so-and-so-and-so-and-so. So, it's weird that my sound is actually overseas influenced, but when I give it to the people it's original South African."
Just like many artists on this list, 25K incorporated his everyday lingo and identity into what he is currently hearing around him, and the result is a sound that has great potential.
"I felt like that sound," said 25K about 'Culture Vulture,'" "I was the first person to come up with it, so for anybody to come with something similar to that, they would be a culture vulture to me."
Touchline Truth
Photo by Sabelo Mkhabela.
Top tier lyricists aren't easy to come by. Which is what makes Touchline Truth one to keep a close eye on. Touchline has the potential to be one of the best to ever do it in the coming years. On his 2018 EP, 18 Flow, the Tembisa-born rapper displayed polished rapping skills and dynamism—top notch storytelling, impressive wordplay and convincing delivery.
On the EP, just like with most of his music, Touchline reflects on his surroundings, and expresses his ambitions to better himself and those he cares about.
Touchline told OkayAfrica:
"I want to be more than a person that came on earth, got his money, flexed on people; I actually want to impact lives, and so, I'm trying to find all avenues of doing that. That is what my passion is, and that's why you can hear it in my music. I speak my truth, and, unfortunately, it's a truth that many people relate to, and I just want to bring change in some way."
Earlier this year, Touchline won the People's Choice award at the Verse of the Year awards hosted by Stogie T and Slikour On Life.
Touchline is a ray of hope for kasi rap, a subgenre of SA hip-hop that hasn't been getting enough representation in the mainstream in the past few years.
Seba Kaapstad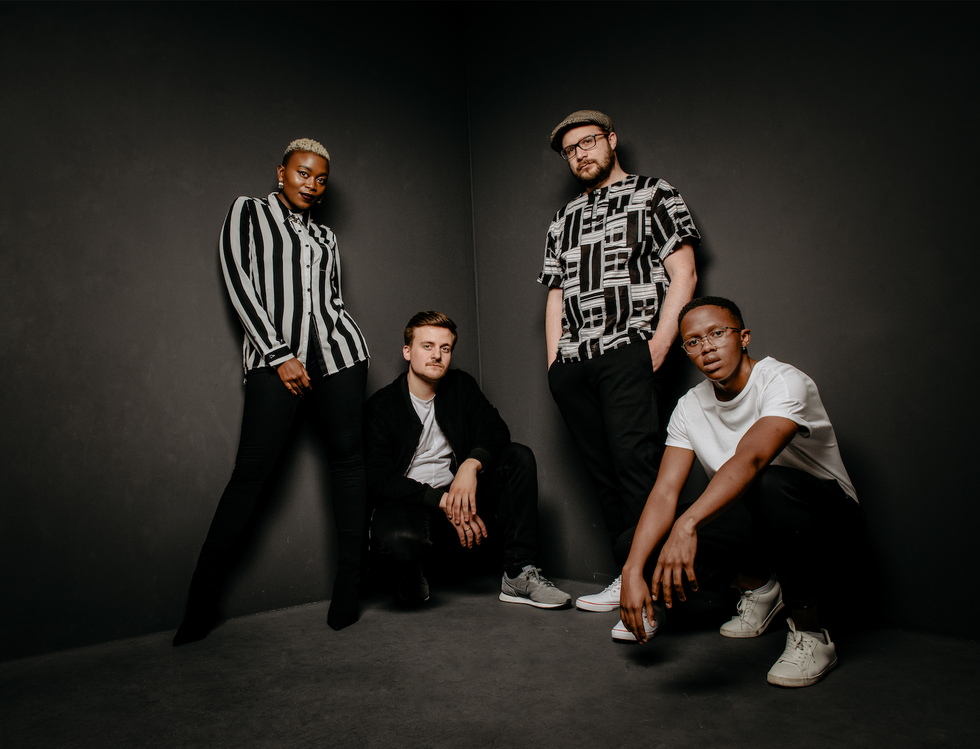 Image supplied.
Seba Kaapstad's music is an anomaly. The quartet's craftsmanship is owed to their jazz roots. Formed in Cape Town, the crew consists of diverse members from South Africa, Swaziland and Germany.
Their recently released sophomore album, Thina meshes the crew's influences such as R&B, hip-hop, neo soul, jazz and electronic music, smudging the lines between the genres.
On their newly adopted sound, band member Zoë Modiga told OkayAfrica:
"We are people that just love to experiment and explore with different colors, and also be a lot more inclusive, because sometimes the jazz genre can lend itself to an elitist thing or cutting off certain crowds of people, and we wanted to appeal to people that are our peers as well. We wanted to appeal to younger people, older people and just have a lot more people moved by the music."
Thina was released under the reputable US indie label Mello Music last month. Seba Kaapstad released their debut album Tagore's in 2016. The members are all solo artists in their own rights, which lowkey makes Seba Kaapstad a supergroup of some sort.
ASAP Shembe
Photo by Sabelo Mkhabela.
ASAP Shembe's music sounds as sacred as his name. The artist is following in the footsteps of such artists as Mashayabhuqe KaMamba and Sjava—his vocal style is inspired by the vintage maskandi and mbhaqanga artists. His references play out like an inside joke—depending on how deep your knowledge of South African music goes, you'll pick up lines appropriated from Shwi Nomntekhala, Jabu Khanyile and several others.
ASAP Shembe told OkayAfrica:
"My music always has that spiritual element within. And it's not even necessarily on some preacher vibes. Music is like a mirror; you talk to yourself, therefore reflect to the world and other people pick it up. So, spirituality is a major key, it's a major point in my music because it's part of my life."
ASAP Shembe's one of the most prolific emerging artists—having released several EPs in a short space of time, and all of them worth every second you spend with them.
Sho Madjozi
Photo by Sabelo Mkhabela.
Sho Madjozi is officially a star. After releasing several successful singles in the last few years, she finally released her debut album Limpopo Champions League in 2018. The album featured the likes of Kwesta, Makhadzi, Ycee and PH. At this year's SAMAs (South Africa African Music Awards), the country's biggest award show, Sho Madjozi walked away with two trophies—"Newcomer of the Year" and "Female Artist of the Year," officially marking her arrival. She recently won the Best New International Act at the B.E.T Awards.

Sho Madjozi walks a lane started by OkMalumKoolKat—rapping over gqom beats and making seriously catchy songs. On her album she plays with different styles from hip-hop to Shangaan electro.
Sho Madjozi's success helps put the XiTsonga language in the mainstream. Tsonga people are among some of the most ostracized ethnic groups in South Africa. OkayAfrica contributor Rofhiwa Maneta once wrote in a reflective piece on the importance of Sho Madjozi's success:
"What Sho Madjozi represented for me was a brand of fearlessness that had eluded me in my teenagehood. Here was someone so self-assured, so unapologetically XiTsonga in both her music and outside of it. In a country where tribalism pegs both TshiVenda and XiTsonga people at the bottom of the totem pole, Madjozi's artistry dared to say, 'We are more than the sum of your stereotypes.'"