Interview
May. 03, 2023 12:31PM EST
Photo credit: album cover, '5th Dimension.'
5th Dimension is a rich representation of the expansion of Stonebwoy's soundscape, the creative transition that has seen him go from a seasoned reggae and dancehall act to a mainstream act being prepped and primed for the global stage.
For over a decade, Stonebwoy has cemented himself as one of the best talents Ghana has to offer. Throughout his career, songs like "Pull Up," "Bhim Nation," "Run Go," and "Mightylele," as well as many others, have stamped the accomplished singer-songwriter as Ghanaian reggae and dancehall royalty.
As far as Ghana's music industry is concerned, Livingstone Etse Satekla has done it all. From international collaborations with the likes of Beenie Man, Demarco, and Keri Hilson, to winning a BET Award for Best International Act: Africa, landing brand ambassadorship deals with Tecno Mobile and more, the list of wins on the singer's resume is long. Last year, Stonebwoy signed a record deal with Universal Music Group's Def Jam Recordings, through its flagship outfit Def Jam Recordings Africa, positioning him to level up even further.
An outcome of that deal is Stonebwoy's fifth studio album, aptly titled 5th Dimension — a 17-track star-studded offering laced with sounds from across the Afrobeats and Afro-fusion spectrum. Featuring the likes of Davido, Tiwa Savage, Oxlade, Angelique Kidjo, Stormzy, and Maphorisa, 5th Dimension is what you get when a seasoned artist is primed and ready to infiltrate the global stage. Stonebwoy and his team shortlisted 17 songs from over 60 tracks created for the album, and the motive was clear: to express a new, elevated, afro-inclined variant of Stonebwoy's sound.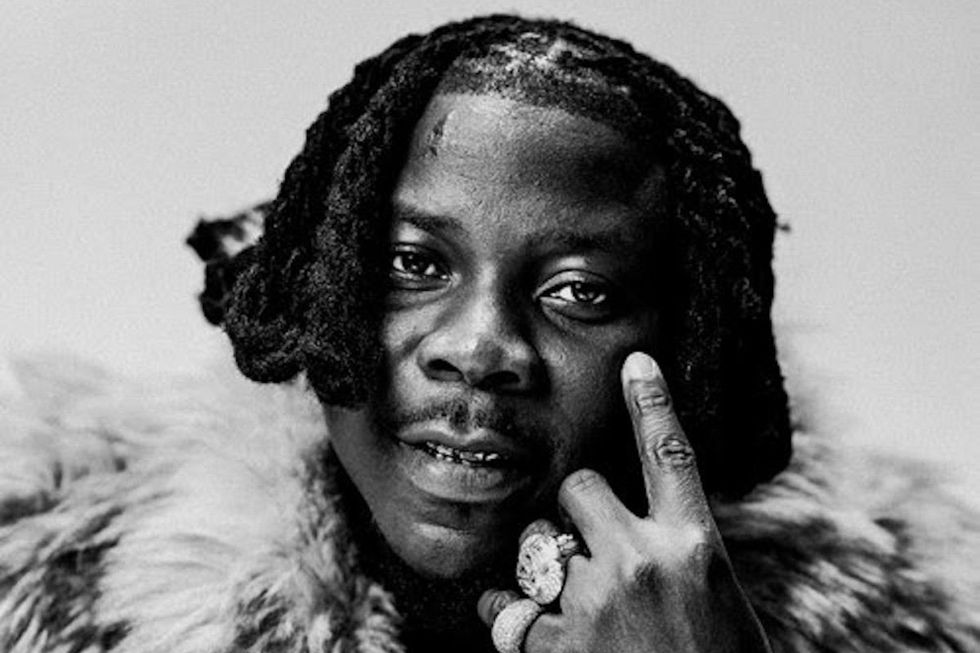 Photo courtesy of Stonebwoy.
"The music selected [for the album] is actually going to pave the way for what is to be expected from Stonebwoy from this dimension onwards," the singer explains to OkayAfrica. "Realizing what the scope of the global African sound is now, it just makes it very interesting for me to finally put together this body of work which is super relatable, current, and even futuristic, owing to the styles that I possess and I blended. When it was time for me to drop a new body of work, we knew exactly what sounds and what songs to select."
This ascension to a new Stonebwoy soundscape shouldn't be mistaken as a change in the singer's musical identity. There's a distinct perspective to his evolution. In his own words, he isn't changing, he's revealing. It's simply Stonebwoy showing a new side of himself, a new dimension to the same artist that we all know and love.
"This evolution doesn't mean I'm changing. I'm only showing the other sides of Stonebwoy from the pop/Afrobeats perspective more," he iterated. "From time till now I've only involved just a bit of that style or that side of Stonebwoy in the projects that I've been on. On 'Nominate' featuring Keri Hilson, for example, I came in with dancehall. The Stonebwoy factor is always there. But this time, we're unearthing more and more of my other side, which is even more musical and confident. I will still always be a representation of reggae and dancehall. I've held reggae and dancehall up so well to this point. Now, I can actually add on to it and prove my 'Afrobeatness,' if I can say it that way."
Stonebwoy dropped three singles leading up to the release of the album, all of them an apt presentation of his 5th Dimension. On "Therapy," Stonebwoy dishes out a wistful love ballad that is keenly reminiscent of white sand and clear water, the perfect summertime vibes. "Gidigba" is an inspirational anthem that sees Stonebwoy inspire resilient motivation over a smooth, mid-tempo Afro-fusion instrumental. "More of You" is a sultry, R&B-tinged Afrobeats cut that is perfect for that particular playlist, you know the one.
Stonebwoy - Therapy (Official Music Video)www.youtube.com
These singles were all test runs of various tenets of the new Stonebwoy sound, and according to Stonebwoy himself, the reception for this new sound has been amazing. "It's been a shock and it's also been well received. The core fans were like woosh, they've become even more proud. They're like 'What can you not do, bro?' That's how they feel. And to the rest of the world, it feels fresh. And when those who know Stonebwoy already realize that it's Stonebwoy, they're in shock. I still have a lot of expansion inside of me to give, which is what I've shown in 'Therapy,' 'Gidigba,' 'More of You,' and the entire album."
One standout track from 5th Dimension is "Manodzi" with Beninese legend Angelique Kidjo, which also happens to be one of Stonebwoy's favorite songs on the project. "It's just that sound that speaks Africa, you know. Angelique is an institution of African music, all the way through to the diaspora. So to have such an amazing institution on a song with me is just something I cannot fathom. It just shows that gradually a boy like me is growing in the realms of people who are institutions. It's one of my favorite songs from all aspects. Sound-wise, concept-wise, content-wise, even the visuals."
Stonebwoy and his team pulled no punches when it came to the album's producers. The production brains behind 5th Dimension were talents assembled from all across the globe, with the likes of Master Garzy, StreetBeatz, JAE5, Supa Dups, Nigerian singer Praiz, Fanatics, and more all making solid contributions to the album's diverse soundscape.
5th Dimension is a rich representation of the expansion of Stonebwoy's soundscape, the creative transition that has seen him go from a seasoned reggae and dancehall act to a mainstream act being prepped and primed for the global stage. Starting from this album onwards, Stonebwoy is set to be presented as Ghana's latest global export with the backing of the behemoth Universal Music Group, through Def Jam Africa.
Representing Ghana on the world stage, on a global level is a task that Livingstone Etse Satekla has taken upon himself, and 5th Dimension is the first step to achieving a task that may seem lofty. But if anyone can do it, it's Stonebwoy.
5th Dimension