Video
May. 21, 2015 05:33PM EST
Ghanaian-German songstress Y'akoto shares the hair salon video for "Tobo Darling," the third single off her 'Moody Blues' LP.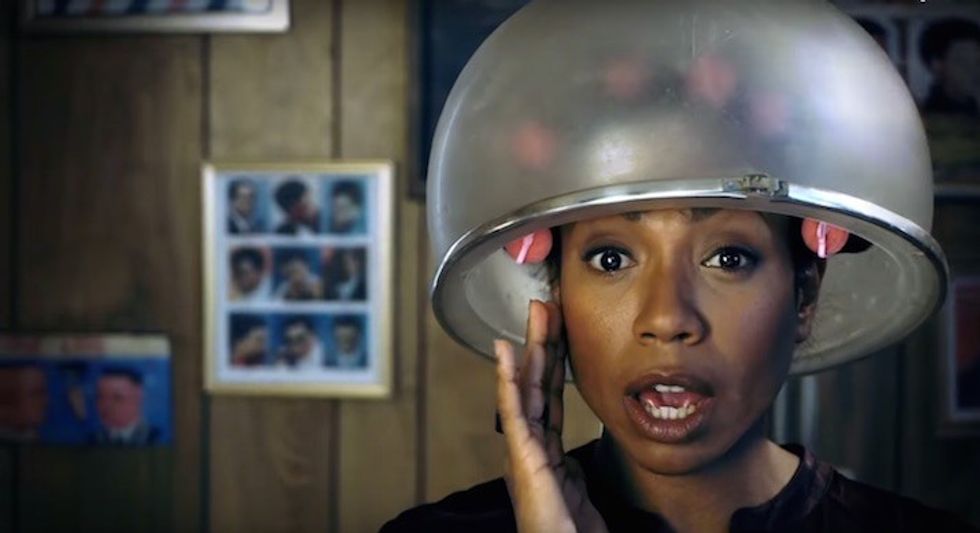 Ghanian-German songstress Y'akoto recently released the visuals for her infectious new single "Tobo Darling." 'Tobo' means to 'relax' or 'chill-out' in Ghanian Twi, and the video shows Y'akoto doing just that, as she's pampered in a hair salon while others congregate to chat, dance and have a good time.
Y'akoto explains the track as "a song about men that go missing, and me not actually caring whether my man is home or not. My grandma always used to say to me that it doesn't matter where the man you're with is, as long as he comes along once in a while. If you can relax about it, usually, everything will be good." The idea for the Patrick Reilly-directed video came from Y'akoto's childhood experiences at the hair salon where people would gather to gossip and "talk about men and talk about life, with all kinds of philosophies making the rounds."
"Tobo Darling" is the third single off Y'akoto's sophomore album Moody Blues, which dropped last August. Catch the singer on her upcoming European live dates, listed below. Watch Y'akoto's colorful and lively video for "Tobo Darling" below.
Y'akoto Live Dates
15.05. Herford – Forum Museum Marta Herford
16.05. Lennestadt-Grevenbrück – Folk in den Bergen
21.05. Cognac (F) – Les Quais
20.06. Worms – Jazz & Joy
03.07. Hamburg – Stadtpark
04.07. Karlsruhe – Zeltival
05.07. Köln – Summerjam
06.07. Wien (AT) – Rathaus Wien / Arkadenhof
10.07. Darmstadt – Merck Sommerperlen
11.07. St. Gallen (CH) – Kulturfestival
12.07. Nürnberg – St. Katharina Open Air
31.07. Innsbruck (AT) – Treibhaus
01.08. Friedrichshafen – Kulturufer
28.08. Sigmaringen (CH) – Summer Nights
29.08. Arbon (CH) – Summer Days
12.09. Braunschweig – Festival Kultur im Zelt
29.10. Bremen – Glocke Jazznights
31.10. Weissenhäuser Strand – Jazzville
Keep reading...
Show less