Sponsored content from Lagos Fashion Week.

Backstage at the Lagos Fashion Week tents is exactly the kind of chaos one would expect. Makeup artists working on the skin of models, runway directors making last-minute calls and decisions, multiple fashion emergencies, sizing issues, and designers walking the whole length of the room stressed are all you'll see when you take a peek into the behind-the-scenes magic that helps make the biggest fashion week in Africa possible. In the middle of all this is Tia Adeola, a New York-based Nigerian designer who is making her Lagos Fashion Week debut mere hours after OkayAfrica catches up with her. Tia comes up to me smiling, her headphones tucked in her ears with two phones in her hands simultaneously attempting—successfully might I add—to send text messages while giving instructions about her rehearsals to someone on the other end of the phone. Despite the obvious stress, Adeola is excited about making her debut here in Lagos.
Tia Adeola is no stranger to fashion weeks. In 2020, she made her solo New York Fashion Week debut and earlier this year opened up the New York Fashion Week shows. However, the designer tells OkayAfrica that her Lagos Fashion Week show holds a special place in her heart. ''I feel amazing. This is probably the most special show I've ever had," says Adeola. ''Because it is in my country. You know, it's the first time my whole family is present at a show. I've never had that before.''
For the collection to showcase in her home country, Adeola wanted something special that, while true to her brand, was also different and would mean something to her and her audience. ''I typically don't like the color green. You will never see green in any of my other collections. But my color palette for this collection was black, white and green. With the green, white, green being because of the Nigerian flag," says Adeola. ''I have been very vocal about police brutality at this point and reform in Lagos. I was very active during the SARS movement and to the point where people told me to chill out a bit because my posts on social media were going viral and international press were picking it up and they weren't happy about that yet. The Nigerian Police have harassed me, to put it in simple terms. I'm such a firm believer in the fact that this generation is going to make a difference and this collection is me playing my role in pushing the conversation and keeping it going.''

Not being a stranger to fashion weeks means that Adeola knows all about the stress—but also the misconception that people have about what goes on backstage at fashion week, noting that people often fail to realize the scale of work that goes into all of it. ''People often forget that we have a show to run. I have people texting random things like what should I wear? And it's like, I'm running a 200-person production right now," says Adeola. ''I don't think people realize the amount of work and the amount of energy it takes from the designer emotionally, mentally, or physically. The biggest misconception is that you know, the designer is just like, chilling and available on the day of the show.''

Despite this misconception, the actual work is extensive, Adeola explains to OkayAfrica. ''So my process typically is I start with the collection,'' Adeola starts. ''I sort of map out pretty much the entire collection, before I even like, think of casting, or anything like that. So I typically map out my collection. And then I choose my creative team. Obviously, in New York I have a really strong community of people who I have worked with over the years. In Lagos, I don't. I don't live here even though I'm from here. So I sort of had to build a community here: like friends from the past as well as social media. And then we put up flyers to help us ensure we get to connect with Lagos creative talent for this.''

Before we left Adeola, we asked her what the five essentials she couldn't live without were. Check it out below.
Laptop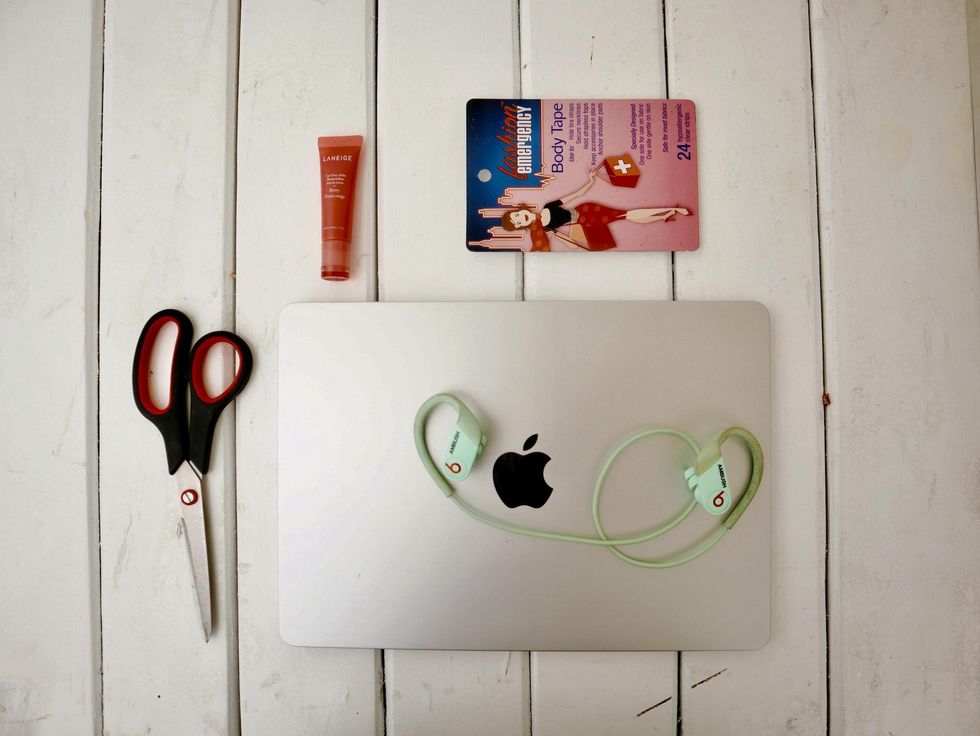 Photo by Adedamola Odetara for OkayAfrica
"I work throughout fashion week and there's always something and so much happening so my laptop is never far from me because there is always something to do."
Headphones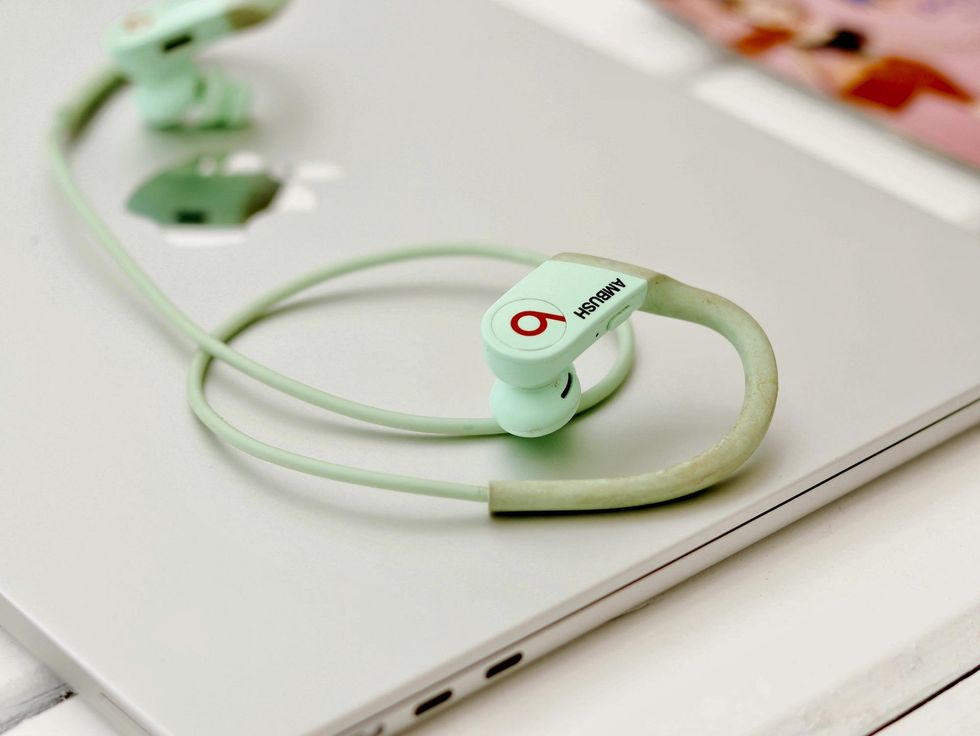 Photo by Adedamola Odetara for OkayAfrica
"Sometimes in the middle of all the craziness of fashion week, I need to just zone out and music helps with that. Music is such a big part of my life, I recently learned how to DJ, so my headphones are very essential to keeping me sane and active."
Lip Gloss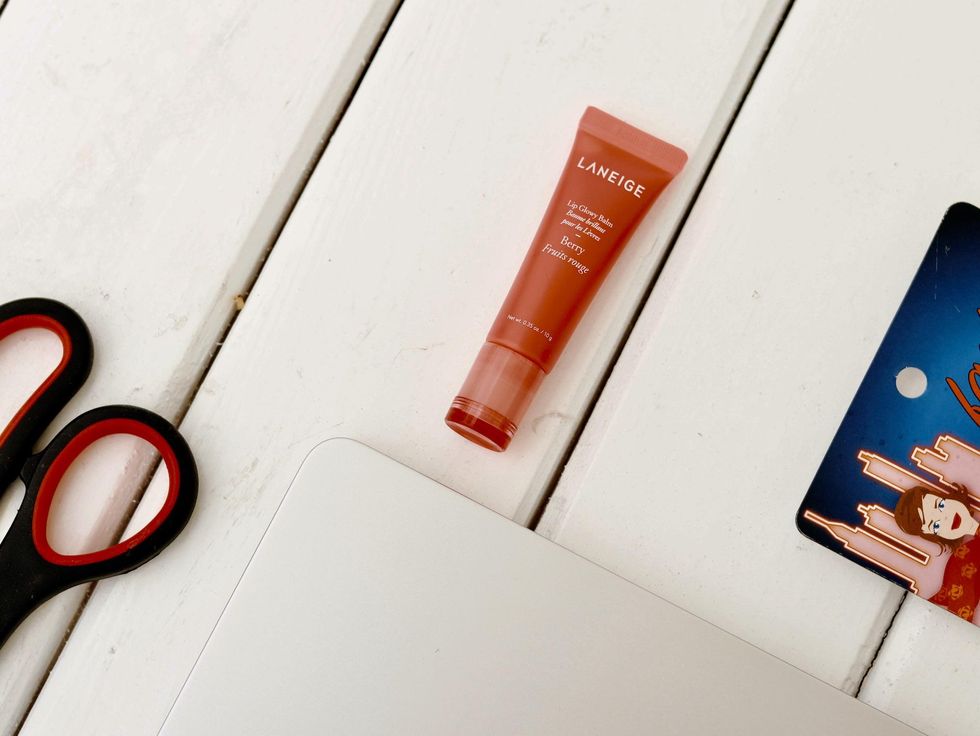 Photo by Adedamola Odetara for OkayAfrica
"Just because I'm such a girly girl, I need my lip gloss with me at all times."
Double Sided Tape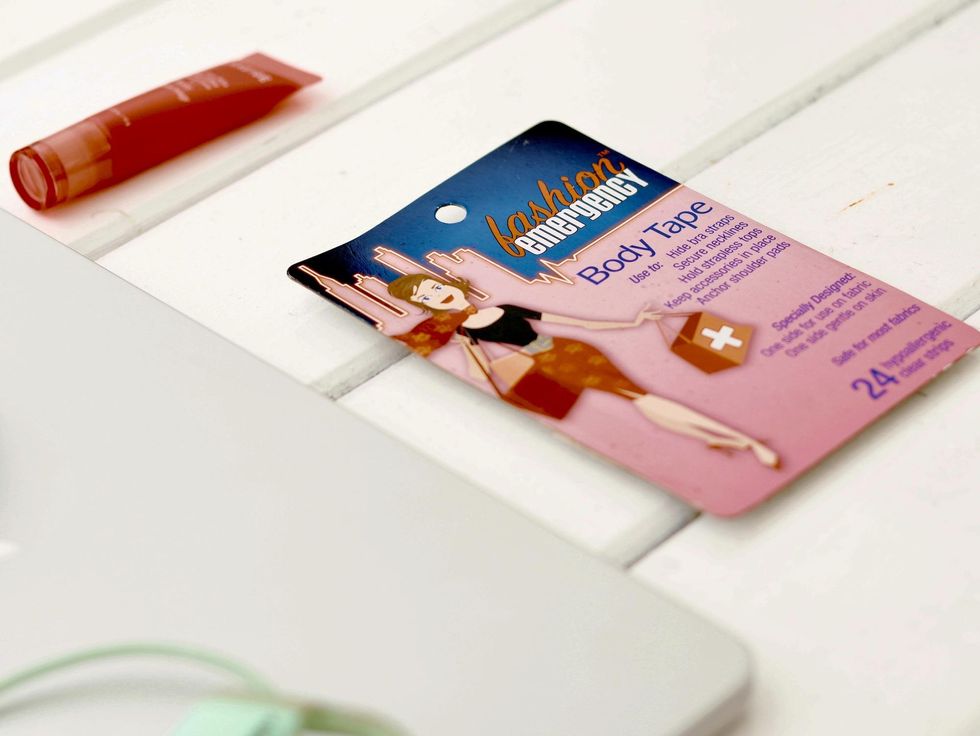 Photo by Adedamola Odetara for OkayAfrica
"There's always a fashion emergency, something that needs to be tucked away or something of the sort. And that's where the double-sided tape comes in to save the day."
Scissors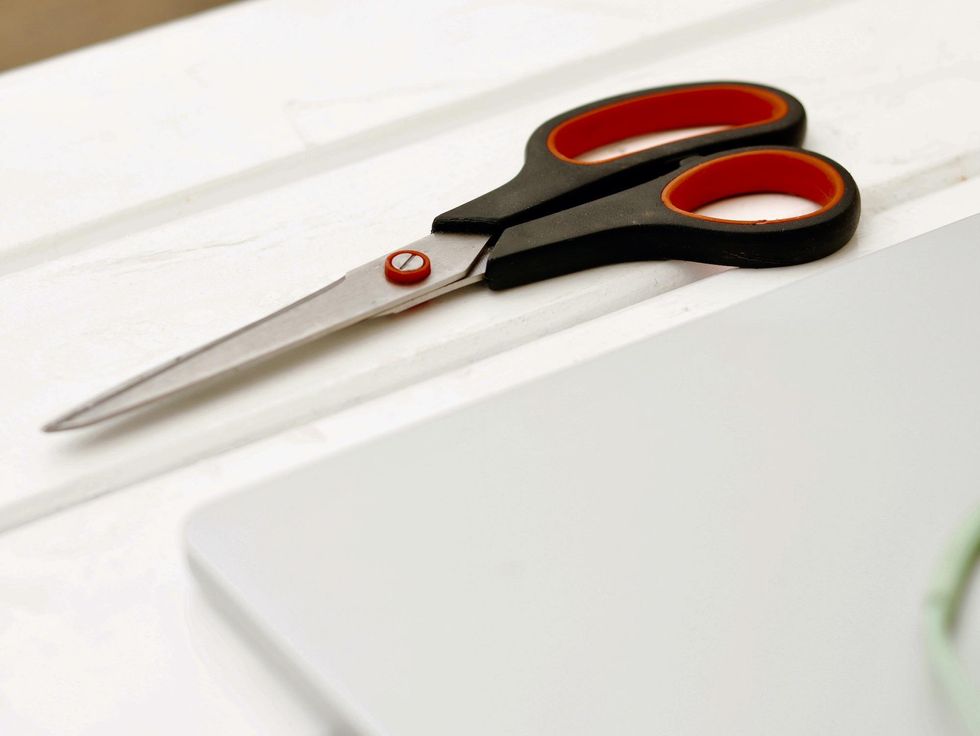 Photo by Adedamola Odetara for OkayAfrica
"A pair of scissors because one of my biggest nightmares and pet peeves is a piece of thread hanging from a piece of clothing that could have been cut off before the runway."