For a show that was meant to be experimental, according to its creators, the commercial and popular success Tjovitjo has had, has been surprising, but well-deserved. The show is now streaming on Netflix.
Co-creator and director of the drama series, Vincent Moloi says Netflix aids independent producers who are constantly looking for partnerships and platforms to showcase their work to wider audiences.
"As filmmakers, we create work to be seen, so distribution is key to your business. That's why I could sell a kidney to have a great distribution partner like Netflix," says Moloi in an interview with OkayAfrica, conducted over WhatsApp.
---
South Africa is in a 35-day-long national lockdown, due to the global COVID-19 pandemic. It is an uncertain time for creatives. All film productions have been postponed, which, for independent production companies like Puo Pha, carries a financial burden. "I'm not doing well. I have mixed emotions. But it has given me time to replenish, adjust and have a new plan," Moloi explains.
The first season of Tjovitjo premiered on Netflix mid-April and the second season will follow on April 29. The drama series first played on South Africa's biggest public channel, SABC 1 in 2017. For its pilot episode, the show recorded 5.7 million viewers while its second episode pulled a viewership of 4.3 million.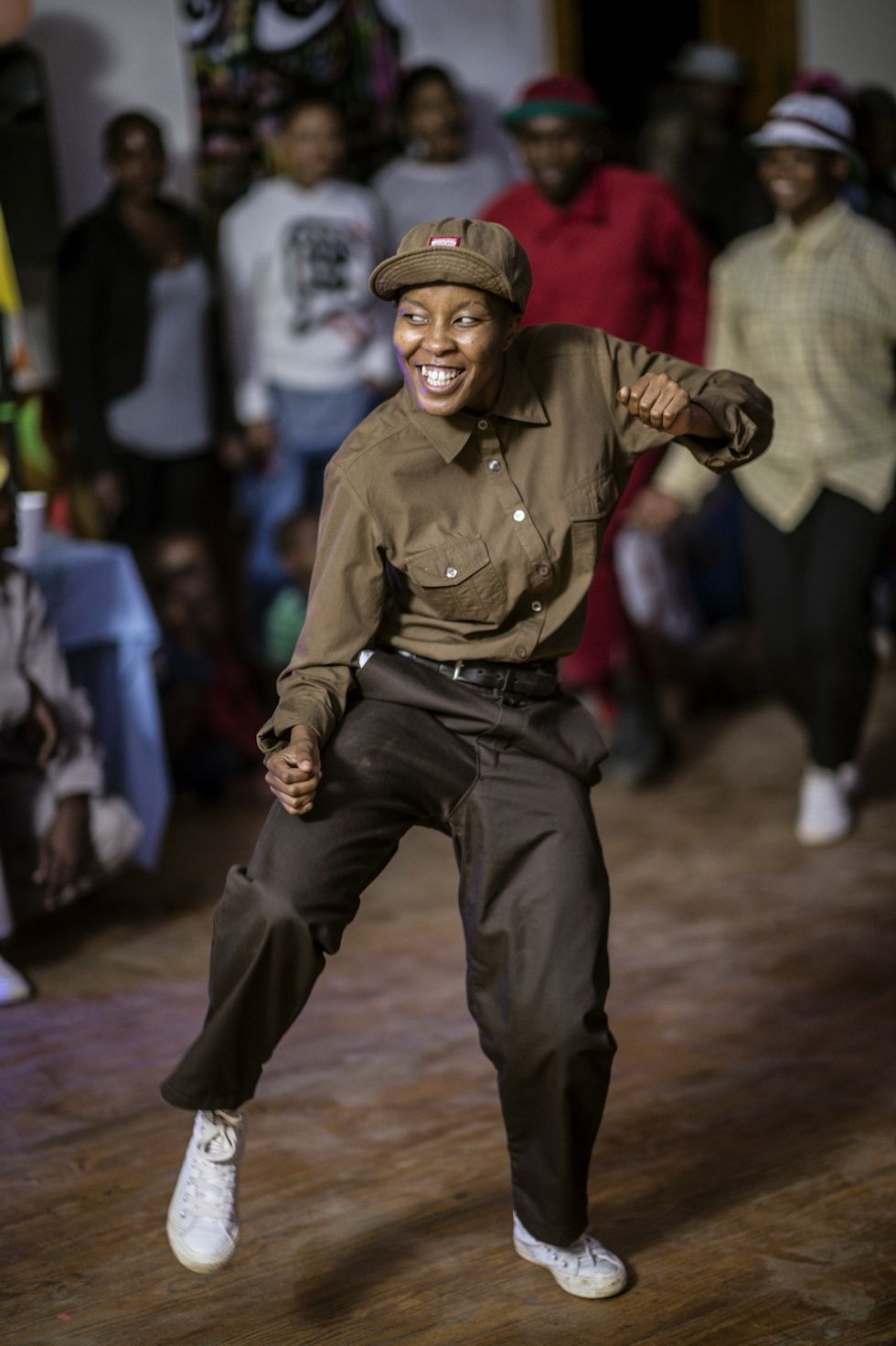 Apart from several well-known actors, the show made use of mainly first-time and non-actors. Common among all of them was that they were pantsula dancers. Photo by Siphiwe Mhlambi.
Tjovitjo went on to be the most popular drama series on TV, surpassing the popular 2000s drama series Yizo Yizo, which had held that record for a long time. The show won in several categories at the South African Television Awards (SAFTA).

Tjovitjo follows the lives of a dance group called amaTjovitjo, led by the commanding, charming and scary protagonist Mafred (played by versatile actor Warren Masemola).
Beyond the show being a portrayal of isipantsula—a dance style that became popular in South African townships in the 1950s, in the shadow of apartheid—it is too a portrayal of the township. It delves into poverty, dysfunctional black families, abuse, lynching, and other various issues that plague the township.
The township is the canvas, Vincent and director, writer and producer Lodi Matsetela are the quintessential painters, wielding the brush, the colors, the strokes, in new beauty and story.
"I think we can admit that, for a long time, the South African film industry has struggled to find its identity. We literally mimic American cinema in mannerisms, style and structure. Tjovitjo was a cry to break away from that pattern," says Moloi.
"My business partner, Lodi Matsetela, and I understood that we were going to get backlash for it. But we were willing to be sacrificial lambs. So we're desperate in separating ourselves from the rest of other filmmakers in style, tone, structure and in everything else you can think of. We were prepared to fail."
The show arrived on screen seemingly at the perfect time. Blackness, particularly questioning how the township was being presented on television, movies, art had reached the mainstream and was dominating social media conversations.
For Moloi, the idea felt late. He asserts it had preceded the videos of Beyoncé and Sons of Kemet, who used isipantsula in their music videos. Before hitting the screens, the show had been in development for five years.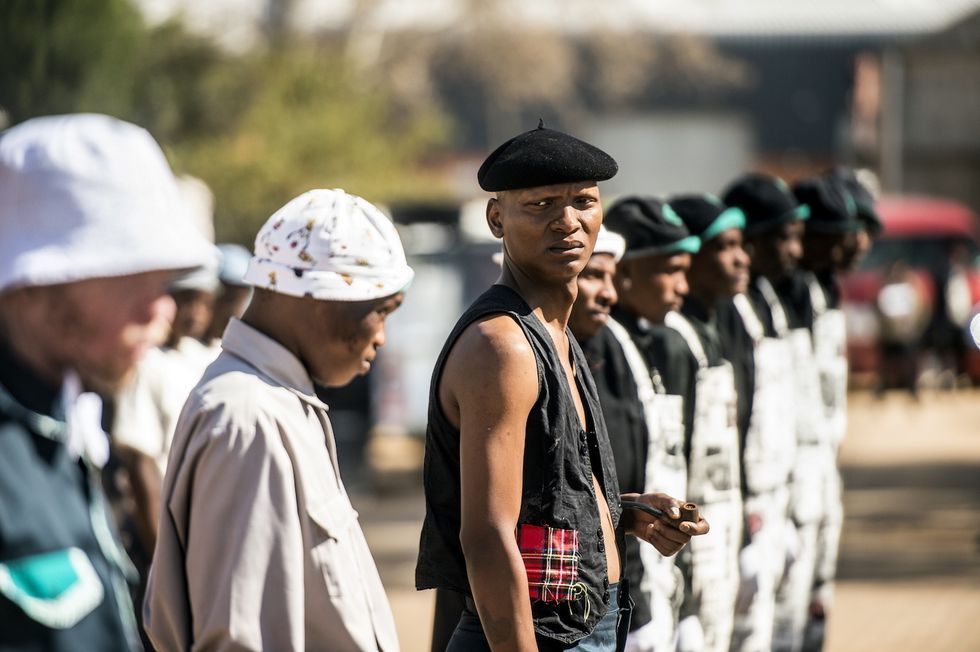 Beyond the show being a portrayal of isipantsula, it is too a portrayal of the township.
Photo by Siphiwe Mhlambi.
Those grueling years included trying to raise money or dismally failing to. That the show saw the screen was due to the sheer determination of the filmmakers, not some stroke of luck, or an opportunity that opened up. Vincent and Lodi had to open up that opportunity against many push-backs from funders and channels.

The idea came about when, one day, Moloi watched a man stop an entire school soccer game by dancing isipantsula. "Everyone abandoned the game, including the players, and stood and watched the dancing," says Moloi.
Tjovitjo was, as a television drama, unprecedented in many ways. When it debuted, South African TV and audiences had completely moved to telenovelas, consuming stories that tend to be far removed from their own lives as a form of escapism. This was and continues to be the staple evening consumption. Tjovitjo was not only different in genre, but in its visual grammar, therefore its success indicated a shift in channel decision making and audience consumption.
"Visually, I wanted to put the one man against the other. The camera had to rush and capture the eyes of the one man and his anger as it does in Kung Fu films," he says. "Dance in Tjovitjo is currency and it is a weapon to mark one's territory," Vincent told Africa Report in an interview in 2018.
To achieve this, Vincent, for his directorial thinking, leaned into the visual aesthetic of Asian auteurs like Akira Kurosawa, Kenji Mizoguchi, Ang Lee, Tsui Hark. This is visible in the visual language of the series, in the way the camera moves, cuts and transitions. Apart from the camera movement, the drama series weaves multiple narratives, dips in and out of its many characters' lives, in the way that one may experience the lives of others in the township.
The deal with Netflix, which is for two seasons, had been in the works for a long time. "There had been a lot of back and forth. But I would say it took about eight months to conclude all the details," says Moloi.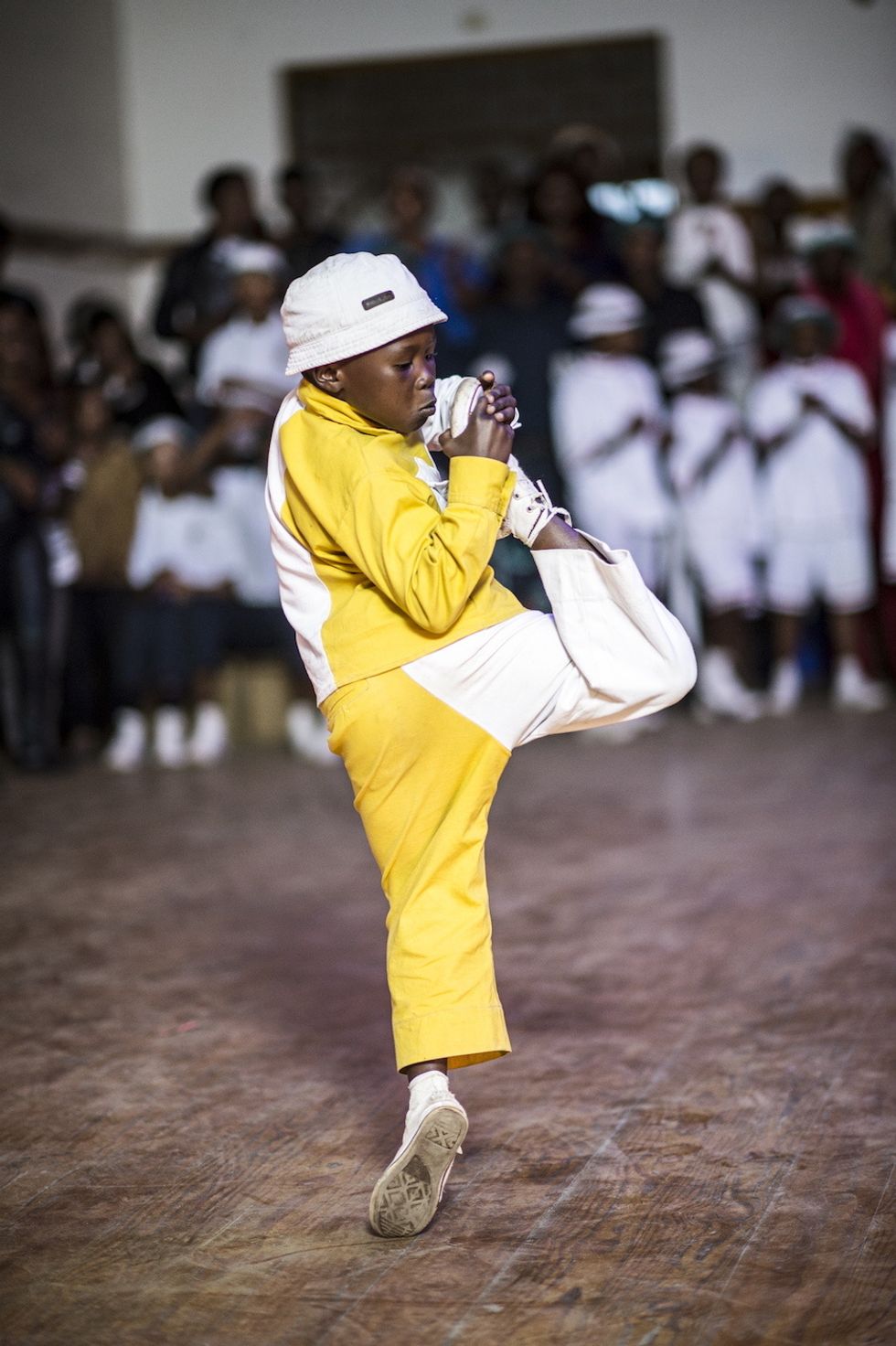 Above being a television show, Tjovitjo was a socio-economic uplifting project, and for an unequal country like South Africa, this is a role that cannot go unnoticed.
Photo by Siphiwe Mhlambi.
It has been quite a journey for Tjovitjo. From struggling to find any backers in the beginning, on the reason that no one wanted to risk it on a story about Pantsula culture, a story that had never been on television before.

Apart from well-known actors like Warren Masemola, Rapulana Seiphemo, Harriet Manamela and Soso Rungqu, the show made use of mainly first-time and non-actors. Common among all of them was that they were pantsula dancers. Because of the show, many of them have since gone on to launch their own careers as musicians, choreographers, actors, filmmakers, something that the creators of the show are very proud of.
In addition to the use of non-actors, community members were cast in small dancer roles and as extras, while others worked in catering or the art department. Above being a television show, Tjovitjo was a socio-economic uplifting project, and for an unequal country like South Africa, this is a role that cannot go unnoticed.
About the new (mostly non-South African) audience that Netflix has opened up for Tjovitjo, Moloi says, "At Puo Pha [Productions], we're always interested in a different perspective. Audience view is prismatic, so after serving your target audience, you must learn of other viewpoints. So I'm intrigued to learn of their feedback."
Tjovitjo is now streaming on Netflix.
Tjovitjo Trailerwww.youtube.com