Yanga Chief has been building his brand quietly in the last few years, which resulted in him becoming one of the country's hottest hip-hop artists. From working closely with AKA to his show-stealing guest appearances and his own singles and projects, Yanga Chief's consistency culminated in him winning the Best South African Hip Hop Album at the 2020 SAMAs (South African Music Awards) and occupying the third spot at the MTV Base Hottest MCs List in 2019. His hit single "Utatakho" also aw him walking away with the Song of the Year trophy at the South African Hip Hop Awards in 2019.
It's not a coincidence. It's the result of years of practice and learning from those that walked the path before him.
---
His contributions as a songwriter on AKA's albums and singles put him at a unique place. His pen has shaped hits such as AKA's "Baddest," "Sweet Fire," "Jika," Kwesta's "Ngiyazifela Ngawe," and JR's "Make the Circle Bigger," among other songs.
His last release, 2019's Becoming a Pop Star (the EP that won him the SAMA), was a showcase of Yanga Chief's diversity as it tapped into hip-hop, kwaito and Afro-pop among other influences, revealing a student of both the old and the new.
When we meet the artist for an interview a few weeks ago, he is done recording his debut album, Pop Star. It's at the final stages of the mixing process. During our chat, we quizzed him about award shows, the state of South African hip-hop, imposter syndrome, songwriting and his upcoming album Pop Star.
This interview has been edited for length and clarity.
What does the SAMA win mean to you?
That's a loaded question. I don't know. I had already gotten so used to not getting that type of recognition that even the nomination felt like a win. So the actual win itself, it's hard to compartmentalise it. It's easier when I reflect on just being a kid and seeing my idols win these awards. So if I look at it like that, it means everything. And also being from where I'm from, to walk away with it, it just means a lot to those kids and the future of Queenstown and music.
Yanga Chief - Utatakhoyoutu.be
Before the win, you shared this clip of King Dalindyebo acknowledging the shout on your song "Utatakho." How did you feel when you saw that?

The first time I really started following Dalindyebo's story was through the negative media he was getting. I was disheartened by how even my own people just rode that wave without actually trying to see what is actually going on here. But from what I've learned about him so far is that he's a very intelligent man. Super intelligent. And when I mentioned him, it was a simple fact that I felt media was trying to use the fact that he smokes weed against him. So, I found some common ground with him there because I also smoke weed and I'm a chief and he's a king. So I was just really keen on reading up on his story. And I found a super super intelligent dude. And his pride in being a black man in Africa is incredible. So I think maybe just reaching out to him, and the song getting that far, it also just shows that SA hip-hop is still breathing. It might not be what people are used to or what they were trying to make it, but SA hip-hop will always just be a reflection and the truth. So that speaks to that. And how alive and well SA hip-hop is doing.
I'm glad you touched on that because there's this talk of South African hip-hop being on a decline. What's your take?
Our industry has been revolving around three or four artists for a minute. There's a ceiling that comes after that. So if those guys, those top four, are not breaking through that ceiling and keep growing and developing, it makes it seem like hip-hop is not moving. But what I've found is that it's the different directions that we're going in. There's a lot more room and more movement and so many untouched things that hip-hop still needs to get to. But because of the top three or the top four or five artists, the focus is on that. And that's the reflection of the whole game, which is false in my opinion.
There's been so many artists that have done so much ground-breaking stuff within hip-hop. Especially internationally. Globally, we've never been louder. And it'll always be on us to make sure that we enjoy the moment and celebrate it. So, the challenge for hip-hop right now is to actually appreciate and acknowledge the grounds that they've made and where they are because it didn't happen overnight.
Did you ever think the hook you did for "Run Jozi" would open any doors for you? You weren't even credited.
When I was going to the studio that day, I had to walk quite a distance. I'd walk a lot, but I remember that day I was interviewing myself because I had already signed off the success of the song. After everything I had been through to get to that point, there was no other way. And, not being credited on it came with a lot of... I had to question why, etcetera. But I kind of understood where it was coming from. I didn't even have a single song out before that. And so I just looked at it as a challenge—one day people are going to know who did the hook. So the challenge is when people ask, "Who's the guy on the hook?" And if everybody can answer and say, "It's Yanga," then I would've done my job.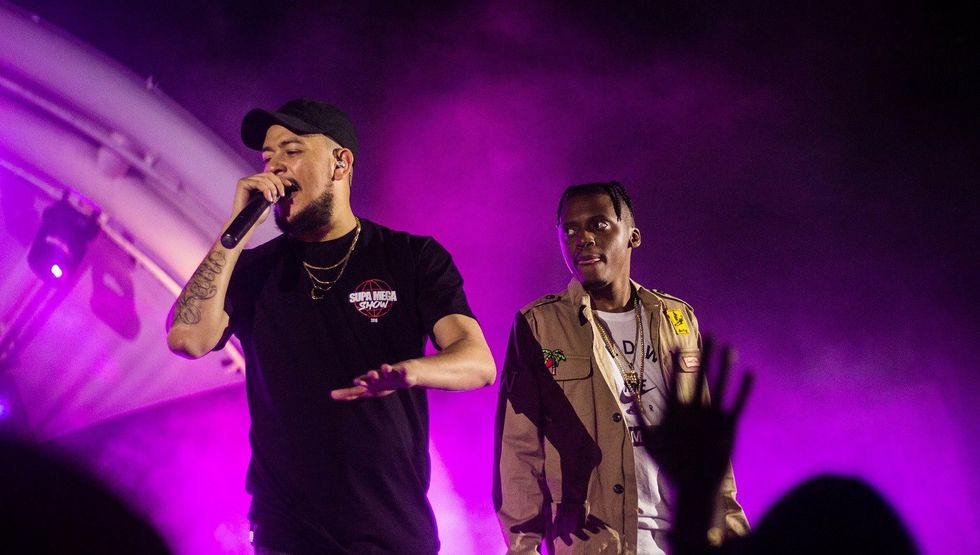 AKA and Yanga Chief perform in Cape Town in 2016. Photo by Sabelo Mkhabela.
You've written and co-written a lot of these hits—"Ngiyaz'fela Ngawe," "Jika," "Make The Circle Bigger," etc. How did you get into song writing?

My story with making music was nurtured, I think, by working with Slikour and Shugasmakx at Ventilation Productions where I was the videographer. But there were those countless nights in studio, the many times they'd leave the office and I would stay overnight just learning how to record myself. I always felt like I had a story that just needed to be told somehow. And I'm not great at speaking and talking, but the type of things that I had been writing, how they've come out, it's just a true reflection of what's going on in my head.
I also give credit to JR. We worked together in the beginning. And I kind of borrow a bit from his writing style in terms of how to communicate what I'm trying to say. And also a friend of mine called Rich Mahog. Because sometimes as a writer, you never really convinced about what you've written, and to have someone like Rich Mahog who, in his eyes, I can't put a foot wrong, helps with just being able to continue to grow in the songwriting side.
Your songwriting is layered as you draw from different sources. Can you describe your writing style?
I think there's a similarity between songwriting and being a traditional healer. In the sense that it's more of a calling. So when I do write these songs, I surprise myself. And I always just put it to abaphansi (the ancestors) because I feel like they're just trying to communicate a message through me. So it's not even something that I can pinpoint, but it's something that does naturally come to me from somewhere. And I like to think that it's them trying to communicate with me and the rest of the world. I look at music as medicine.
AKA - Jika ft. Yanga Chiefyoutu.be
You're reluctant to be a celebrity, which is ironic for somebody who put out a project called Becoming a Pop Star. What's the thought process?

Becoming a pop star is something I've struggled with in my career. But "becoming a pop star" actually means just becoming the best version of yourself.
You've mentioned before that you were almost about to quit music when you made "Utatakho?" What was going on at the time?

In South African hip-hop there's no room for being a songwriter. It's not like in the States where you can live comfortably from writing songs. For me, songwriting in South Africa is more of a sacrificial act where you're sacrificing yourself for the good of the music. So that's another relationship that I have with music, that if I take care of the music, it'll take care of me. And even when it comes to songs and people have always said, "You're giving away these songs, whatever, whatever." For me, it's like I've never given away any song. Any song that has come to me while I was in studio or whatever, and has ended up in someone else's hands, was always someone else's song.
So it's just when I decided that I'm not going to continue, it was more of the ego and self and physically throwing in the towel. But looking at it now, I needed to get to that point to make a song like "Utatakho." There are songs you make and they make the greatest mathematical sense, but they just won't resonate. But the songs that you make with your eyes closed, and just speak, won't be perfect on paper, but it will resonate to the listener in a way that you had not even intended. So everything just happened the way it did. Even me wanting to quit is just a lesson for other people to learn through my story, I think.
What can you tell us about the album you are working on?
It's called Pop Star. It is the greatest music I've made to this point. And on this album I finally feel free, in a sense that even the award just helped me close a chapter of recognition and stature. That door is now finally closed for me. And I can just continue making music freely. So the plan with this album is to take it globally and also just visually, as the director of the videos, the story will also be told there. So I'm very excited with the album.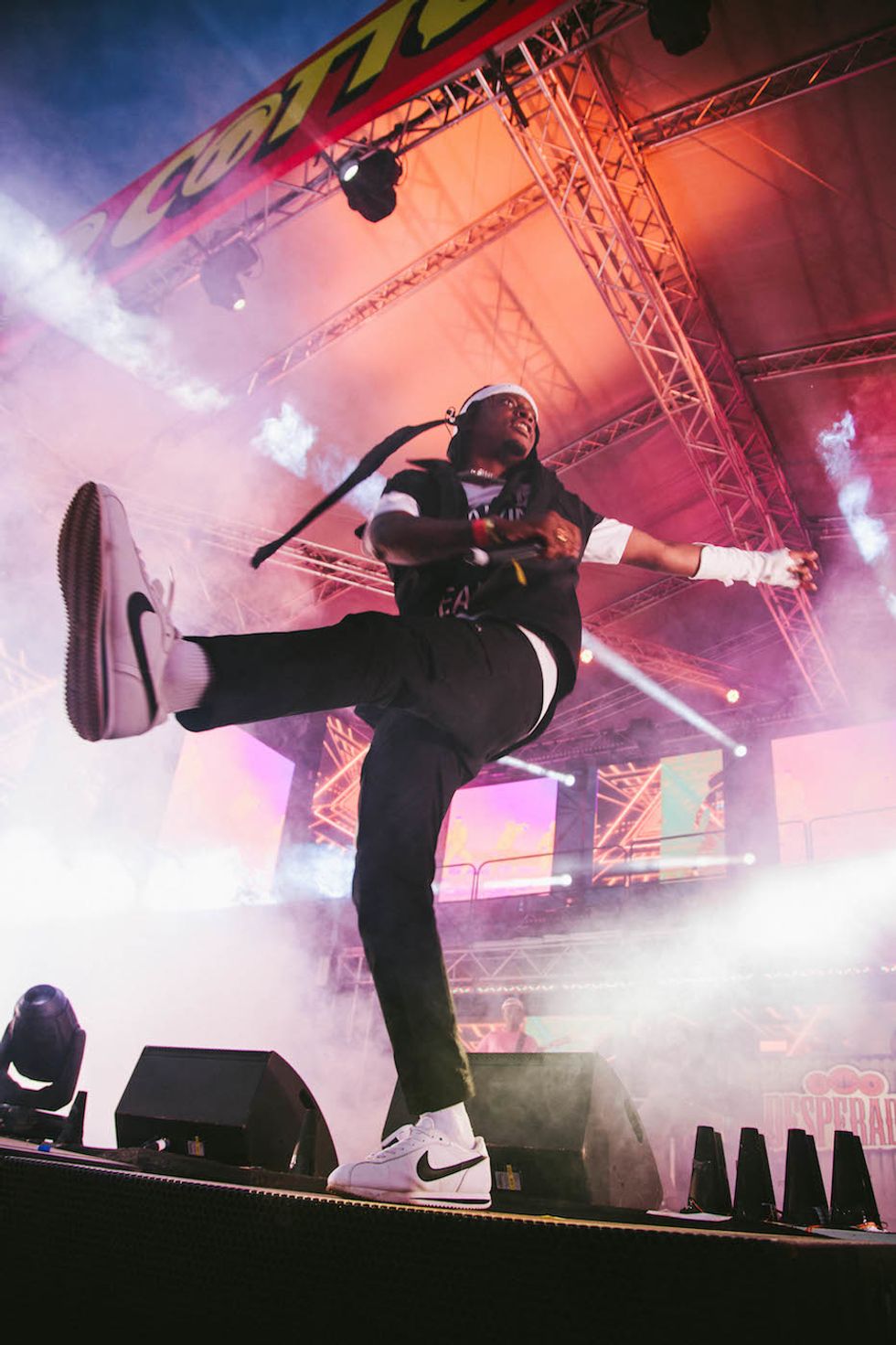 Yanga Chief on stage at Cotton Fest 2020.Photo by Sabelo Mkhabela.
How has the pandemic affected you?

That's such a beautiful part of the story for me because I struggle with big crowds, and I'm very anxious. Like you said, I don't want to be at the forefront. So this is perfect for me. It's like, if I was to win a SAMA and I didn't have to actually go on stage and accept it, I didn't have to do the whole 20 million interviews at the SAMAs. But I've had so much time just to myself to actually just take it in, and share it with the people that matter the most to me. The people that have actually sacrificed time and relationships with me, for me to get here. So it was actually dope. I actually enjoyed that part of it.
You do a lot of writing for AKA. Were you able to work on both his upcoming project and yours at the same time?
Recently, I've just been doing features. I'm just hopping on songs. On AKA's Album also, that was the case. But I think it's going to be a big challenge because of the music that's coming out. I think me and AKA might drop at the same time actually. And also AKA is more than capable of writing his own music and creating his own album. So yeah, I can't really work on different projects at the same time. But I don't work on projects, I work on songs. So that makes it easier
So how do you approach working on a project?
I go through so many phases. First, I start trying to find a club song. That's my biggest challenge. I struggle with traditional hip-hop, boom bap rap stuff. I don't really like it that much. I like more of the musical, melodic stuff. That speaks to me. I usually make one of those. And then by the time the project is over, I have three. And they usually all go on because the rest of the album just lacks rap. But other than that, I work on how I feel at the time. That's how I approach music. I try to just articulate what's going on inside of me. By the time I'm done, it's like a rock song, but it makes sense. And also I love to challenge music in itself, its format.
Like with "WYS," it's a one-minute, 30-second song. I feel like one minute, 30 seconds is more than enough for you to decide whether you like a song or not. So that was an experiment also, with no hook and just rap from start to finish. So I have songs like that on the album, but they all just come from letting everything go that I know, that I've learned and just trying to be free on the song. And funny enough, even though you try and let go of the things that you know are right to do on a song, and these are wrong or whatever, at the end of the day you still have an innate skill, so it can't be crap.
Stream Yanga Chief's 2019 EP Becoming a Pop Star on Apple Music and Spotify and stay tuned for his album Pop Star.