Despite skepticism on the fate of Africa's biggest football competition, the African Cup of Nations returned with great fanfare on Sunday, January 9. All eyes are on host country Cameroon, who started their campaign to win the tournament for the sixth time by beating Burkina Faso.
Elsewhere, Nigeria's Super Eagles triumphed over Egypt with a solitary goal from Kelechi Iheanacho. A total of 24 countries are competing in Cameroon, incentivized by a prize money that's been bumped up $500,000 since the last edition in 2019.
But AFCON isn't just about cash payouts, dribbles and goals. Once again, it's time to look at which African country is parading the best kits. Football and fashion are two worlds that have always collided. Over the years kits have been updated or revised to look modern. What makes a good kit? This is a complex question, and interwoven in the answer are simplicity, clever design, style, or just elements of nostalgia. As superficial as this exercise is, its implication is sweetly in the bragging rights.
---
24. Sudan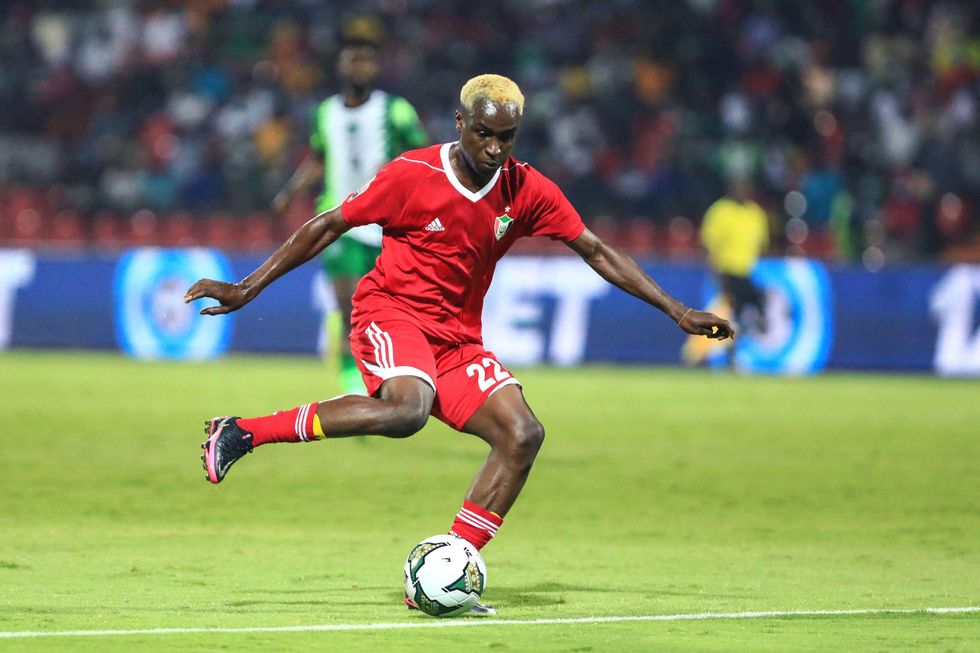 Photo by Daniel Beloumou Olomo / AFP
Monochrome kits have been around for much of football's history. And with current desires for retro elements in sportswear design, monochrome is serving both aesthetic and practical impulses. However, a look at Sudan's kits tells another story. Made by Solo Sport, the jersey is mostly unflattering, using a red base with a white collar and sleeve cuffs.
23. Malawi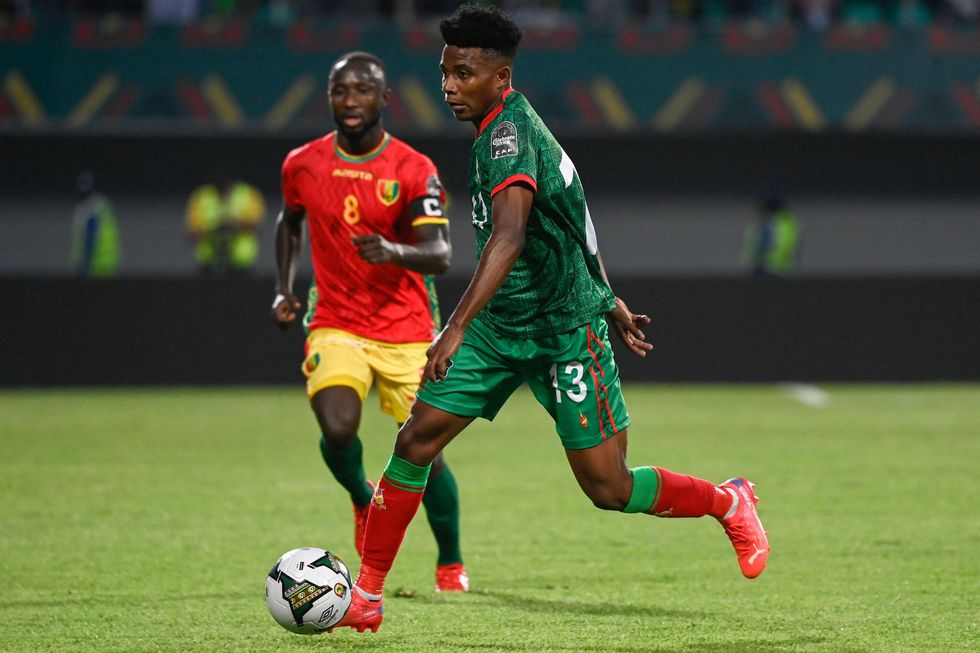 Photo by Pius Utomi Ekpei / AFP
The color base for Malawi's away kit is green, with red trimmed around the sleeves and v-neck. It's pretty basic and not memorable, reportedly made by a company called Moto in China.
22. Gambia
Photo by Issouf SANOGO / AFP
Gambia's home kit features a red base and white stripes flanking the shoulders and sleeves. When combined with blue shorts and green socks the look is interesting, but altogether the kit isn't going to be a strong contender.
21. Guinea
Photo by Kenzo Tribouillard / AFP
After a stint with Italian sports apparel brand Macron, Guinea's 2021 AFCON kits is from Irish brand Masita. The white third kit is the best offering: the tricolor crew neck doesn't speak innovation, but the translucent elephant motif on the main body makes it worthy of note.
20. Equatorial Guinea
Photo By Hasan Mrad / Eyepix Group/Barcroft Media via Getty Images
In their debut game, Equatorial Guinea lost to Ivory Coast wearing their red home kit made by Italian sportswear company Errea. Their blue away kit is better, slightly fancier, reminiscent of Italy's national team kit but combines green sleeve cuffs and a red collar.
19. Ethiopia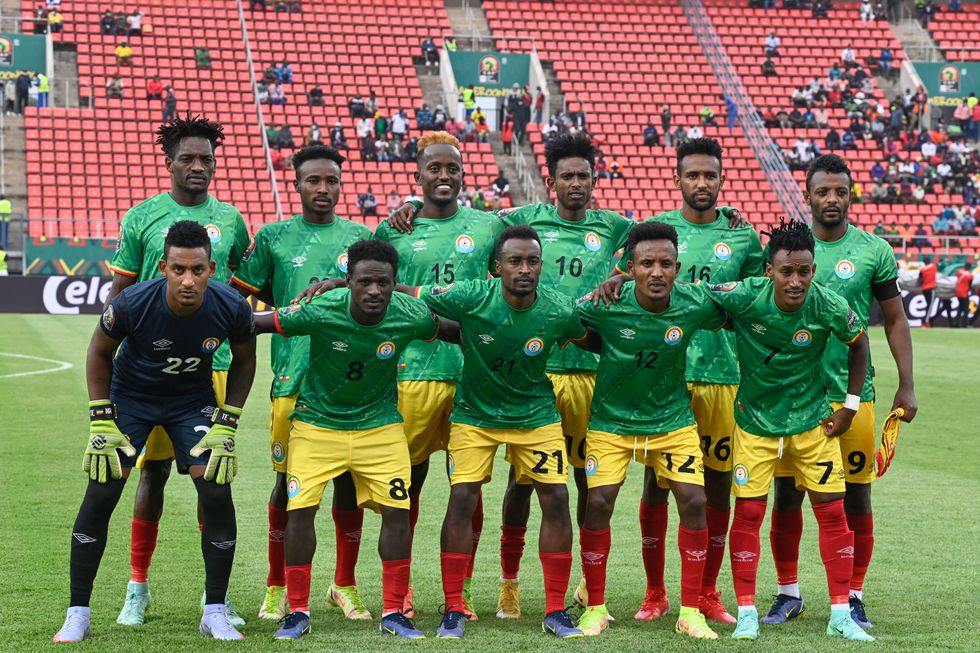 Photo by Pius Utomi EKPEI / AFP
Made by Umbro, Ethiopia's home, away and third kits play into the country's national flag. It looks neat, with a triangle mosaic pattern and reflective sheen. But in a field of other continental offerings, this doesn't stand out.
18. Senegal
Photo by Pius Utomi EKPEI / AFP
The Senegal team is still wearing the kits designed by Puma which was released in 2020. The white home jersey is underwhelming, but the away green kit is a little more sartorially appealing, featuring geometric shapes with a wide lemon trim paneling across the shoulders.
17. Tunisia
Photo by Haykel Hmima/Anadolu Agency via Getty Images
Tunisia's new home and away kits are made by Kappa, following their 2018 World Cup campaign kit designed by Uhlsport. Tunisia has always played around with two colors — red and white. And in the Kappa rendition for AFCON, the neckline interchanges red and white trimming. The Arabic calligraphy on the body is smooth, putting the kit in a noticeable park.
16. Guinea-Bissau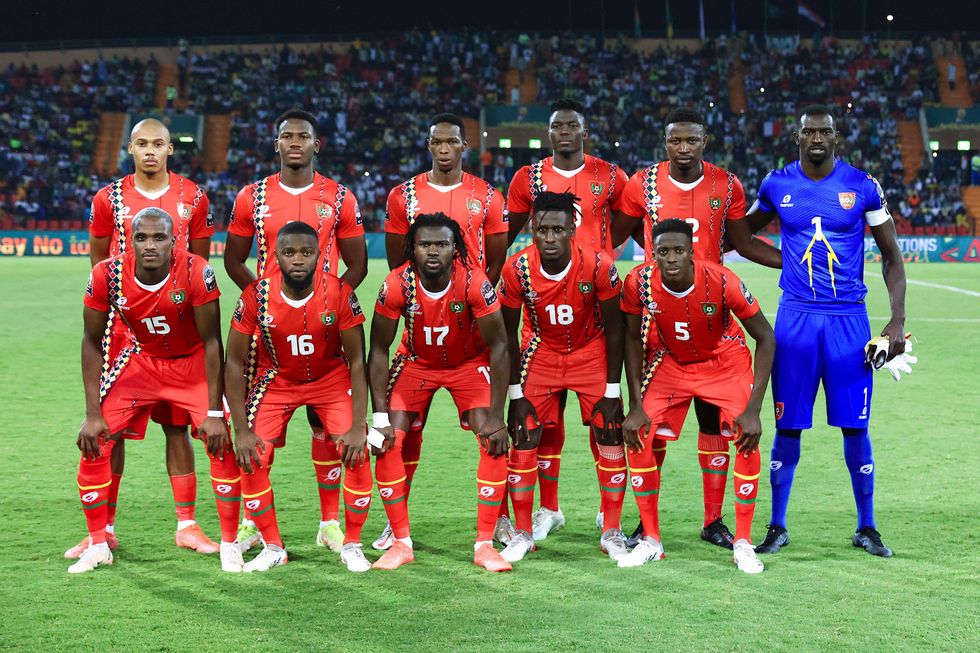 Photo by Daniel Beloumou OLOMO / AFP)
Guinea-Bissau joins the handful of teams borrowing references from traditional African fabrics in their kit designs. Partnering with local brand Guisport, their home, away, third and fourths features Panu du pinti, intricate diamond patterns popular in the country's textile weaving practices. They appear as vertical stripes on the home kit and checkered on the green away jersey.
15. Gabon
Photo by Kenzo Tribouillard / AFP
Gabon's Panthers strike out with a home kit of traditional yellow, which brings Brazil's national kit to mind. Made by Kappa, there's a roaring panther motif on the body that represents the county's pride and overalls makes it a good contribution at AFCON.
14. Zimbabwe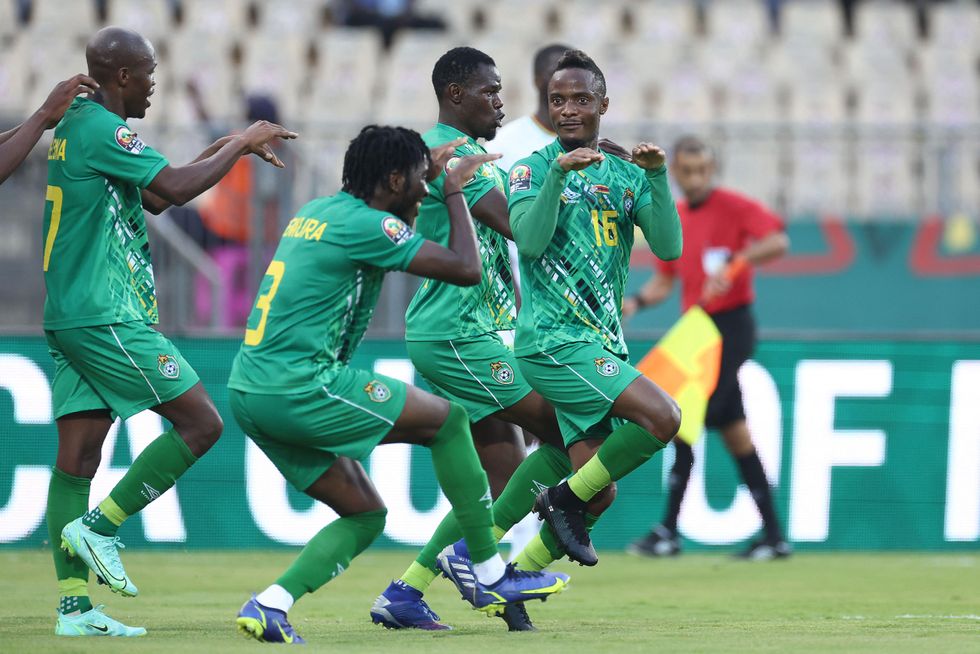 Photo by Kenzo Tribouillard / AFP
Zimbabwe joins the growing roster of African nations serviced kit-wise by Umbro. Inspired by the country's flag, the home shirt is a yellow base with paint-like stripes of red, black, red, mustard, green running diagonally. The green away kit keeps things busy with a grass-inspired graphic on the front.
13. Cameroon
Photo by Ulrik Pedersen/NurPhoto via Getty Images
The first thing you might notice on Cameroon's home and away kits by Le Coq Sportif is the logomania. This includes the manufacturer's logo, the FECAFOOT crest on the left and the Indomitable Lion's head on the right, which all rest on a neat sheen of green.
12. Algeria
Photo by Charly Triballeau / AFP
Compared to the special Adidas kit to honor the 1982 World Cup Algerian team, Algeria's green away kit at the current AFCON is a little of a let down. Sure, it has the three white stripes across the shoulders, the jacquard print and smart high collar, but it misses a mark in its overall composition.
11. Morocco
Photo by Ulrik Pedersen/NurPhoto via Getty Images
Puma's Morocco kits have an understated elegance. The red base of the home kit contrasts neatly with the green trim that makes the grandad collar, while the shoulder features a floral pattern graphic in deeper red.
10. Burkina Faso
Photo by Pius Utomi Ekpei
Burkina Faso first debuted their AFCON kit in the African Nations Championship against Mali in 2020. Made by local sportswear brand Tovio, the home jersey of green incorporates interesting elements as does this white away shirt, a red stripe blending with a yellow star at the neckline and the patterned stallion graphic.
9. Cape Verde
Photo by Kenzo Tribouillard / AFP
After previous deals with Adidas, Cape Verde's third appearance in the AFCON tournament finds them inking a four season deal with Austrian brand Tempo Sport. Out of all the offerings from Tempo, the home shirt is the winner. A navy blue base with vertical stripes, a shark graphic on the body harkening to the country's cluster of islands, and finished off with a bronze trim on collar and sleeves.
8. Mauritania
Photo by Issouf Sanogo / AFP
Mauritania's kits are made by AB Sport, a small sportswear brand based in Morocco. The home shirt features a green base, a splash of yellow running vertically down from the red-trimmed collar which keeps the look interesting. The white kit (away) plays it in reverse.
7. Sierra Leone
Here are the official Leone Stars AFCON 2021 jerseys. Grab your favorite color now and let\u2019s go for victorypic.twitter.com/7IY6j7OPXx

— Sierra Leone Football Association (@Sierra Leone Football Association) 1641420102
Sierra Leone make their return to AFCON after 25 years, promisingly holding defending champions Algeria to a stalemate in their first game. Signing a four-season deal with English sportswear brand Umbro, the home kit of blue captures is seemingly the crown jewel. Interlocking lines that make up graphic diamond patterns from the country's flag of white, blue and green.
6. Egypt
The Pharaohs will face Sudan tomorrow in their home red shirt, black shorts and black socks!\n\n#EGYSDN\n\n#ThePharaohs #Pharaohs #AFCON2021 #TeamEgyptpic.twitter.com/tpf1goT6cD

— Egypt National Football Team (@Egypt National Football Team) 1642516357
Before Egypt started their AFCON 2021 campaign, their flagship striker Mohamed Salah was the cover star on British GQ's recent issue. For a country that has the highest trophies so far, the Salah cover was a nice entrypoint into the competition. The red home shirt designed by Puma has a minimalist chicness to it, and we appreciate the hieroglyphics graphic.
5. Ivory Coast
Photo by Ulrik Pedersen/NurPhoto via Getty Images
Puma is in a multi-deal contract with Egypt, Ghana, Morocco, Senegal, and Ivory Coast. There's a tendency to see similar elements introduced across the team's kits, especially with how the Puma logo is discreetly placed to the left. With Ivory Coast, the Elephants' home shirt is orange, grandad collar done in teal green which encloses the shoulder too.
4. Mali
Photo by Issouf Sanogo / AFP
Mali's controversial victory over Tunisia in their first game also saw them debut their new home kit from French sportswear brand Airness. Featuring tricolor stripes of yellow, green, and red from Mali's national flag, cresting across the top rendered in green, the eagle silhouette at the center is hard to miss. And we love how it stands out. The eagle is a graphic holdover from the country's 2019 AFCON outing, and we hope to see more updates from Airness in the future.
3. Ghana
OFFICIAL: Black Stars new jerseys for 2020/21. \n\nPuma going for the easily identifiable kente pattern from Ghana.\n\nWonder what the reaction by fans will be. \n\n#JoySportspic.twitter.com/fskdfubPVD

— Gary Al-Smith (@Gary Al-Smith) 1601883994
The Black stars have a lot going with their kits, which is one of the best in the tournaments. Made by Puma who have been the country's official partners since 2005, Ghanaian sensibilities are alive in the design. The yellow away shirt interprets national pride with the traditional fabric of kente, appearing as yellow panels weaving into green and black lines.
2. Nigeria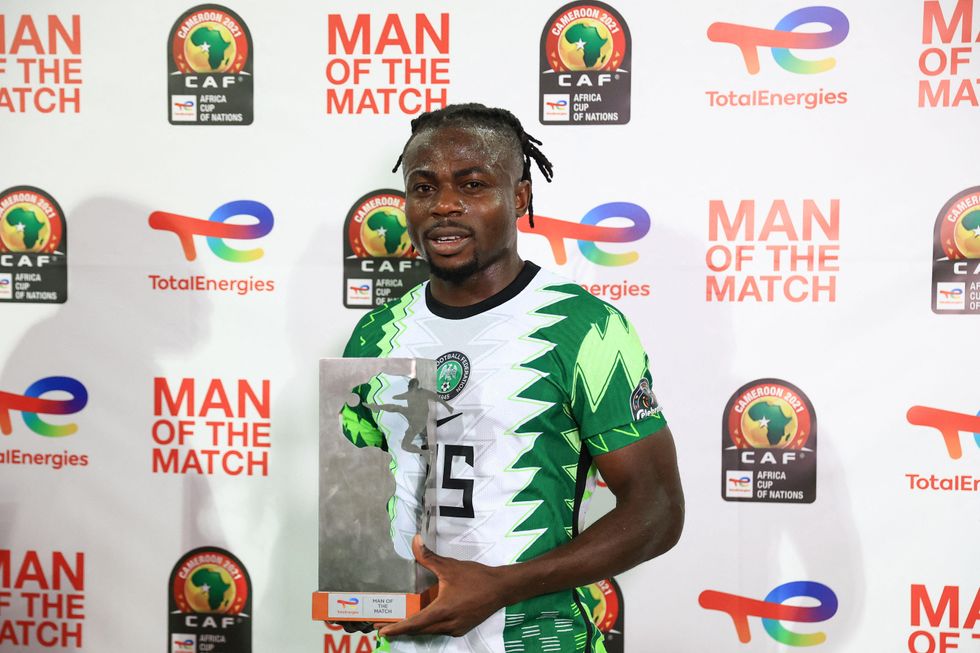 Photo by Daniel Beloumou Olomo / AFP
After stunning the world with the retro-inspired World Cup kit in 2018, made by American sportswear manufacturer Nike, more was expected for the next rendition. Introducing the Agbada-themed graphic as an innovative design, draping down on both sides of the shirt in cohesive colors of the Nigerian flag. It's as joyful and prideful as Nigerians.
Conversely, the away kit is muted and brooding, perhaps showing how the Super Eagles can be clinically devastating.
1. Comoros
Photo by Kepseu/Xinhua via Getty Images
Marking their debut in AFCON, Comoros kits were released by Macron in late December 2021. And while they may not be favorites to advance in the tournament, their kits have secured the top spot in this ranking for many reasons. First, the color palette. The home kit is a contrasting shade of green and piped around the collar with gold, the country's flag stripes cuffing off the sleeves.
The kit is also subtextual. The subtle 'Chiromani' pattern under the arm references the essential fabric worn by Comorian women. The message inscribed at the back of the collar reads ''wassi wa komori damu ndzima'' which means unity for the national team. Altogether, Macron manages to bring these design themes cohesively without compromising style.