International music and culture festival organizers AFROPUNK put on one hell of a production this year, mini-hurricane and all. Hosted at Commodore Barry Park in Brooklyn, New York, the two-day event was filled with beauty, great music, food, and melanin – the perfect recipe for success. Festival goers were treated to performances from the likes of Adekunle Gold, American artists Doechi, Mick Jenkins, an exhilarating show from The Roots, and of course, Africa's Giant, Burna Boy.
---
We had feet on the ground to deliver a colorful retelling of the festivities for you. Here's what went down over the weekend:
Photo Credit: Vickey Ford for Sneakshot/Okayplayer.
Saturday: 
Day one of the festival got off to a hot start, as we laid eyes on the transformed Brooklyn park, and clear skies and high sun helped the highly melanated attendees soak it all in. Upon entering the park all five senses were pushed into action and my hungry eyes already decided that Ghanaian Jollof rice, plantain, and chicken were #1 on my to-do list. The food on offer filled the air with a warm nostalgia for the African street food markets we grew up bobbing and weaving throughout – and the vegans were also accounted for in the mix of Caribbean and African cuisines. The festive atmosphere made it clear that people came to see and be seen.
Nigerian singer-songwriter and pop princess Kah-Lo's energy was infectious as she dominated her first go at the AFROPUNK stage. Lusty hits like "Fire" and "Lo Ginger" made the songstress the perfect fit to get the party started, as her afternoon set was the first taste of vivacity the weekend promised.
A host of DJs kept the tempo of the day moving and grooving with a mix of throwbacks and R&B hits. I thankfully got my Beyoncé fix in, as the DJs shared their remixes on hits from Renaissance. We're all destined to belt "Sweet Love" by Anita Baker to a field of strangers at some point in our lives, and this weekend gifted me my opportunity to. Merchant tents filled the center of the park and stayed packed with eager buyers. Braiding and makeup services were on offer to keep beauty at the forefront, and the rumors of 15-minute back massages in the designated Wellness area proved to be true. Maybe next time.
The American take on African parties was a huge success and offered New Yorkers an opportunity to engage with the garments and accessories of their ancestors. I mean it when I say that every face I looked at wore a smile, and it's not just because the fields reeked of marijuana. AFROPUNK did a great job of guiding us to forget that we were in the middle of bustling Brooklyn, I can only account for one occasion where an NYFD fire engine slapped me back into reality.
American rapper Isaiah Rashad gave a raspy, emotive performance as the crowd grew and the sun set, while NYC-based DJ MORESOUPPLEASE held down the festival's Red Stage and cradled the pink Brooklyn dusk sky with some stellar beats. The weekend's music was almost good enough to excuse the $5 water on sale, courtesy of Liquid Death, but not quite.
The gentlemen of The Roots took their position as headliners very seriously and delivered an incredible music experience for us all. Nothing like aging like fine wine and continuing to be better and bigger at your craft. The crowd ate the electrifying performance up and stayed on their feet throughout. One attendee got stuck standing in line for pizzas, and the blood-curdling scream that escaped his lips once the beginning riff of his favorite song started will haunt me forever. But, his feelings seemed to soften as I witnessed him busting it down a while later.
American rapper Freddie Gibbs wrapped it up with a classic rap performance filled with hits his fans screamed back to him during his set. And Master KG's 'Jerusalema' bid us all a keen farewell as concertgoers headed home to pad their swollen feet and get ready for the second day of festivities.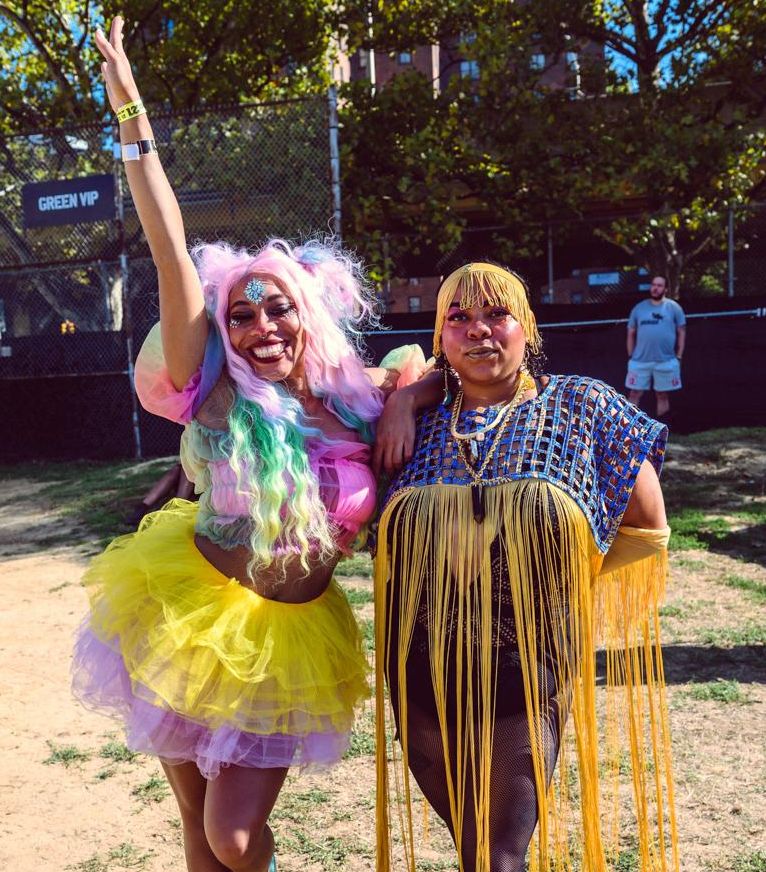 Photo Credit: Vickey Ford for Sneakshot/Okayplayer.
Sunday:
Day two had a gloomy start to it, but we did not let the unwelcome rain dampen our spirits! When has bad weather ever stopped an African from having a good time?
Legendary vocalist and guitarist Kaleta and his Super Yamba Band were the sound to break through the clouds, as their performance was the driest of the day and gave fans a chance to throw their hands in the air and dance along to their irresistible beats. The Beninese-Nigerian frontman mastered the stage the way an industry great can, and the love and admiration he and his Brooklyn-based band clearly have for each other translated well to the merry crowd.
The light sprinkles graduated to slow rain showers, but it really made no difference to the people on the ground. Gratitude for the development of weather tracking apps was felt as a relatively well-prepared crowd did what they needed to do to stay dry. Nigerian DJ Sydney Love reminded us that day two belonged to the Africans as her Afrobeats and amapiano setlist burned hot enough to help us forget about Sunday's unfortunate weather. The rain persisted, but so did the energy of the crowd.
Nigerian artist Adekunle Gold looked and sounded like an absolute rockstar – and his tardiness getting to the stage made the character that much more believable. The crowd was ready for AG Baby to serenade us with his dazzling body of work and he did just that. Nigerians showed up, flags and all, to see their high prize export dominate the infamous international stage.
The capitalist bug was more persistent on the second day, as it seemed like people wanted to shop away to their heart's content. South African-owned clothing labelUrban Zulu had their creations on display after a successful viewing at New York Fashion Week a few days earlier, and the flock of fashionistas waiting to support their brand proved why.
American R&B crooner Lucky Daye gathered a huge crowd and the boy wonder gave them exactly what they needed as he belted his hits to a ravenous audience. You have not lived until you've heard a group of men holler, "Let's Go!" to a male superstar as he shows off his impeccable vocal range. I truly loved that for them.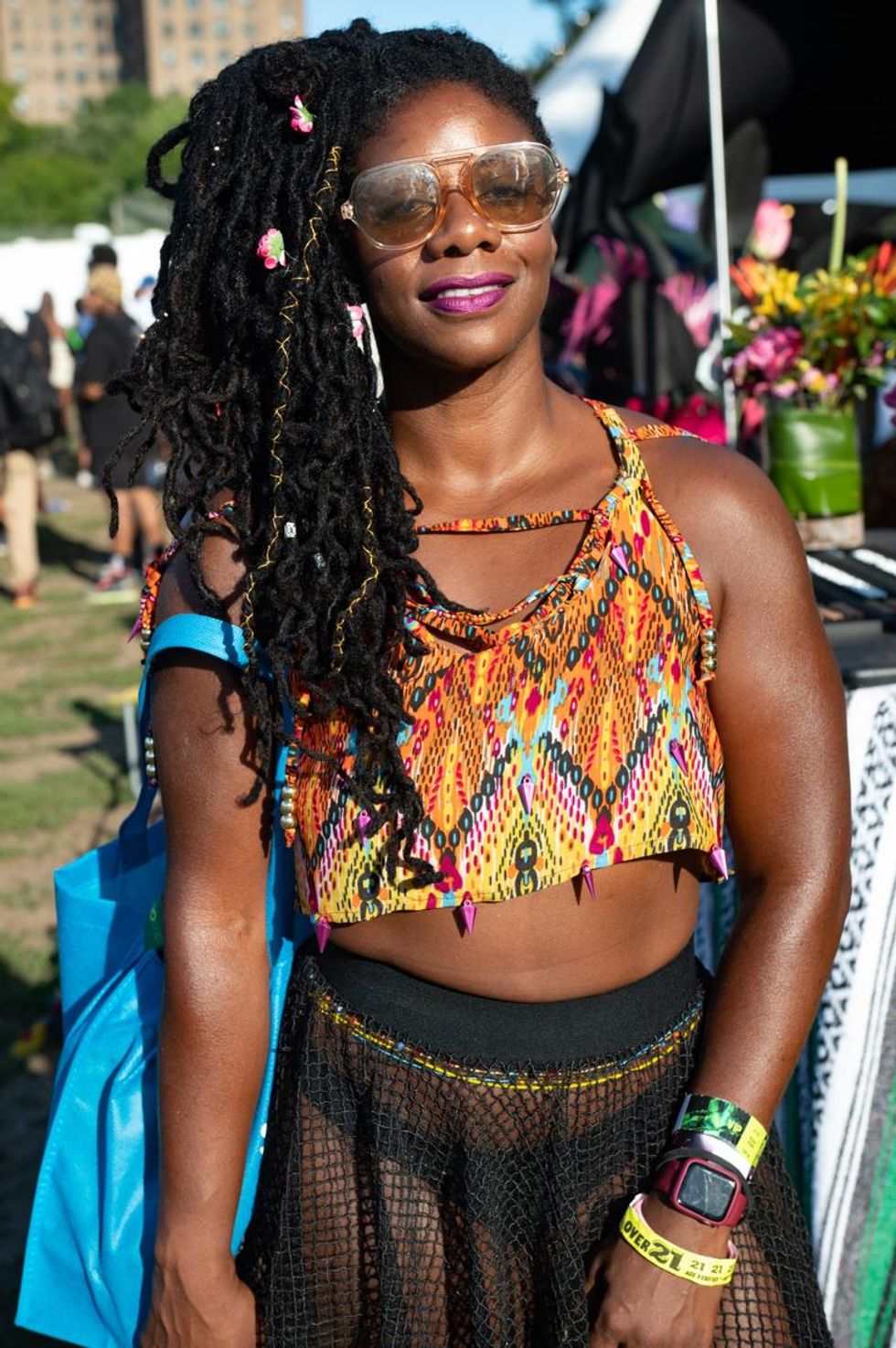 Photo Credit: Vickey Ford for Sneakshot/Okayplayer.
And then… Damini came out, and the planet let out a collective swoon. Burna Boy headlined day two and though he was the last to hit the weekend's stage, ecstatic whispers of his performance began from the get-go. Hit after hit, the crowd only needed the first few riffs to be able to determine what he was about to bestow on us, and even less time to know that they were about to sing their hearts out. I tried to stay professional and capture the performance with a sober mind, but "On The Low" is one of my favorite songs and I'm only human. I danced all night with strangers who came to do the exact same thing, and what a time it was. Burna is an immense talent, and to see how he captivates anyone in his vicinity is enough to make any African beam with pride. The festival organizers attempted to give Burna a 10-minute warning, but that smile and spirit let us all know that the show would end when he was done. Ending off with his global hit "Last Last" gave me chills as the densely packed park sang every word in unison, and the rain looked beautiful for the first time all day. The power that man wields, my goodness.
As the damp but cheery crowd shuffled through the park's gated exit you could tell that it was all worthwhile for us all. AFROPUNK's 2022 homecoming brought everything and everyone together and maintained a flawless standard throughout the weekend. The grounds stayed maintained, security was incredibly helpful when I lost my phone for 45-minutes, and medical staff was quick to attend to anyone who had partied a little too hard. What a way to return home and remind the people who you are.
See you next year, AFROPUNK!
Photo Credit: Vickey Ford for Sneakshot/Okayplayer.