'I have always known that I was going to tell this story someday," Nollywood filmmaker Ike Nnaebue tells OkayAfrica, via Zoom, about his debut documentary, No U-Turn, which scored its world premiere in the Panorama section of the Berlin Film Festival.
A hit at this year's Berlinale, which just wrapped, No U-Turn is part of the Generation Africa project initiated by South African non-profit STEPS, in partnership with Germany's international broadcaster, DW Akademie. The other Generation Africa film selected for the festival was No Simple Way Home by Akuol de Mabior, which also was the first South Sudanese film selected in the history of the Berlinale.
---
27 years ago, Nnaebue, seduced by the prospects of a better life outside the shores of Nigeria, ventured on a tedious journey from Lagos, hoping to arrive in Morocco by road. From there, he would attempt to reach Europe by crossing the Mediterranean Sea. Nnaebue got as far as The Gambia when he made a U-turn, armed with enough firsthand warnings about the perils -- kidnapping, human trafficking, death -- that lay ahead, should he continue the journey.
Years later and Nnaebue, now a successful filmmaker in his own right, attempts to make sense of that period of his life by revisiting that journey via road (and on film) to better understand why young people today choose to attempt such a dangerous undertaking, despite all of the information that is available to them.
He spoke to OkayAfrica about the lessons he learned in the field.
Interview has been edited for length and clarity.
With No U-Turn, listening seemed very present. What about being on the road elevates your ability to listen to people?
Listening is such a vital tool in a documentarian's arsenal. You go in with your questions, but you do not want your agenda to color or reshape the answers you are getting. The audience trusts you with everything and you cannot afford to betray that trust. Part of being honest is not trying to influence peoples' answers. Before filming I went on a research journey all the way to Burkina Faso with a camera man and sound guy. We did some interviews and made a reel, which we then used to solicit funding for No U-Turn. The feedback I got was that I was frequently interjecting in people's answers. I had to take a training on how to listen and ask follow-up questions. I learned that when you listen, you hear the characters, and the camera hears the characters. This means that the audience will hear them as well.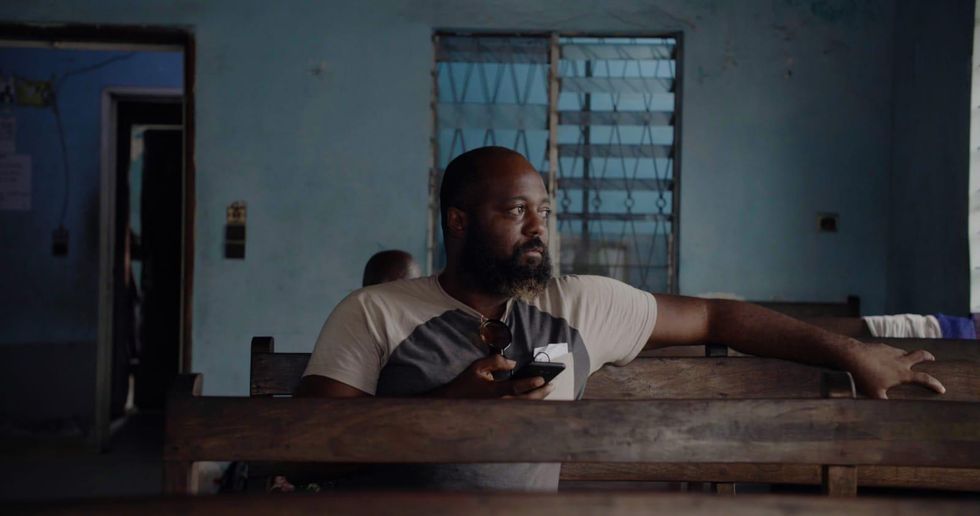 Filmmaker Ike Nnaebue revisits a trip he made 27 years ago in No U-Turn.
Photo: No U-Turn
What did you hear from the people you met on the road, and did it square up to your expectations going in?
I heard a lot of desperation, in a way that I did not really imagine was possible. I know things are bad especially in Nigeria, but the road uncovered another level I was not quite exposed to. Someone told me they would rather die in the desert than go back to Nigeria. There was nothing for him where he came from, and he was likely to die of hunger anyway so for him dying trying was more honorable. I met another migrant in Morocco whom all she did was beg for alms on the streets. Imagine what it must be like for a Black African woman in Morocco with no papers. When we talked about going back, she told me that you only go home when you have a home to go back to. It was chilling to me. And this particular character has a 10-year-old daughter whom she left about four years ago. She sends money monthly for her daughter's upkeep. I learnt -- and it took me 27 years to learn this -- that all of us making that trip, are all on a journey that is more mental than physical.
Years ago, The Gambia was a pivotal junction for you, where you made a U-turn and decided to head back home. What does the country represent to you then and now?
It was in Gambia that I became a man. I was a boy who left Nigeria, but I took this detour and was changed. It was in Gambia that I got my first paid job. It was in Gambia I knew what it means to be all by yourself and to survive in a country where you don't know anybody, In Gambia, I first had a taste of menial jobs. I grew from doing this to home schooling children. It was in Gambia I got my first acting role in a national TV series, which became a big thing. It was a lead role in a popular production, to the extent that people started to recognize me on the streets. Most importantly, it was in Gambia that I realized what I really wanted to do with my life, which is tell stories professionally. And that's what I have been doing till now.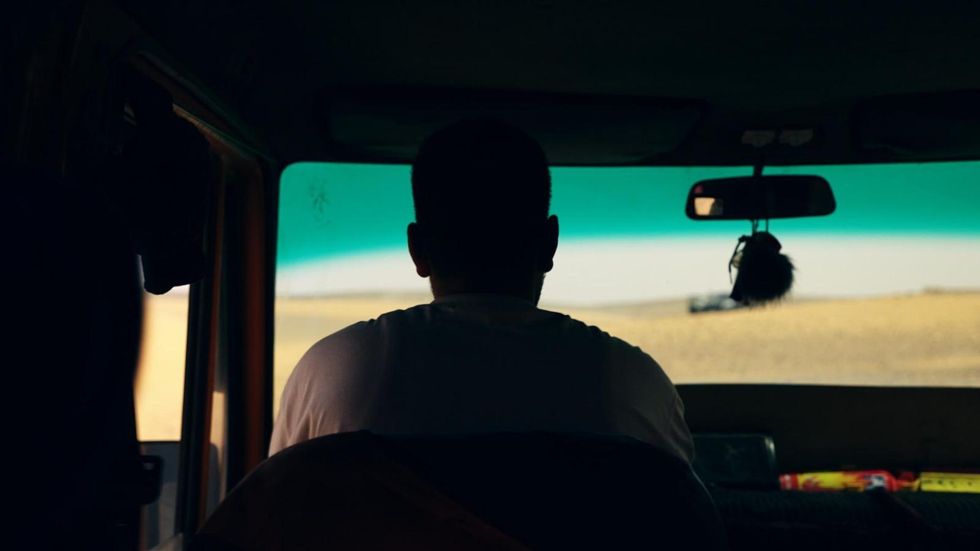 No U-Turn explores the reasons why people attempt to make often dangerous journeys to leave their home countries.
Photo: No U-Turn
I feel like making this film and coming back to this story was therapy for you. You did not have mental health support 27 years ago. Could it be that you carried this trauma with you till you were able to revisit it with this film?
In some way, yes but not in the way that you think. I get a lot of mental health support, if you will, from my work as a storyteller. When something bad happens to me, the way I process it is different from other people. I immediately see it as an idea for a story and I start looking for how best to present it in my work. So my brain moves from a negative place to a positive space of creativity. Most of my fiction films have been inspired by stories close to me. The moment I realized I could make this story of mine into a film it became not just a tragedy but a precious gift that I carried with me, just waiting for the right opportunity to tell it. This has helped me balance my mental health.
So you would agree that mental health support for migrants is crucial?
The people who need the most mental health support are those who are returning after making the attempt at crossing. They should ideally be taken to a facility where they can be cared for, at least for a few months, before integrating back into society. There was this guy we met in Bamako and we kept in touch. Two days later he was going to Morocco through Senegal, he was robbed and they took everything including his passport. A few weeks later he was back in Nigeria and was contemplating suicide. We had another guy, similar situation. They both did not know how to restart their lives. What I want to do with the film as way of intervention is to start a migration film festival to raise more awareness, and raise funds to be able to settle returnees or people who are stranded but would like to come back. We are hoping to resettle five people this year. Mental health support is important but beyond that they need housing support, skills development, and work opportunities.