I first came across Drizilk in 2019 when he released his "This is Sierra Leone" music video on YouTube—a cover of Donald Glover's "This is America," which was also included on his debut album, Shukubly.

Since then, he's emerged as one of the country's most exciting new musical talents, earning the moniker of Sierra Leone's 'king of new school music.' The 2021 MTV Africa Music Award 'Listener's Choice' nominee has rocked stages from Freetown to Lagos to London in hopes of capturing the changing narratives around Africa's music industry, with a Sierra Leonean twist.
Benjamin Menelik George was born in 1994 to a Krio family in the capital, Freetown. For the first ten years of his life, the city experienced many upheavals from the influx of internally displaced people escaping Sierra Leone's devastating rebel violence in the country's rural areas. Against all this, Drizilik tells me that music was always in his blood, and that he was inspired to start writing raps following the release of Drake's 2010 album, Thank Me Later, but the thought of taking music professionally had never come to mind.
"I used my holiday money to buy cassettes just to know what was going on in the music scene outside. Back then I didn't know I wanted to become a musician, I just enjoyed the music. But one holiday in 2011, my friend won a computer from a lottery and he downloaded the version of a DJ program. Normally we would just play football but that year, I made my first freestyle recording on an instrumental by Fat Joe and J. Holiday. We would record the audio on Windows sound recorder and sync it with the beat to get the record. It felt like something I could perfect."
---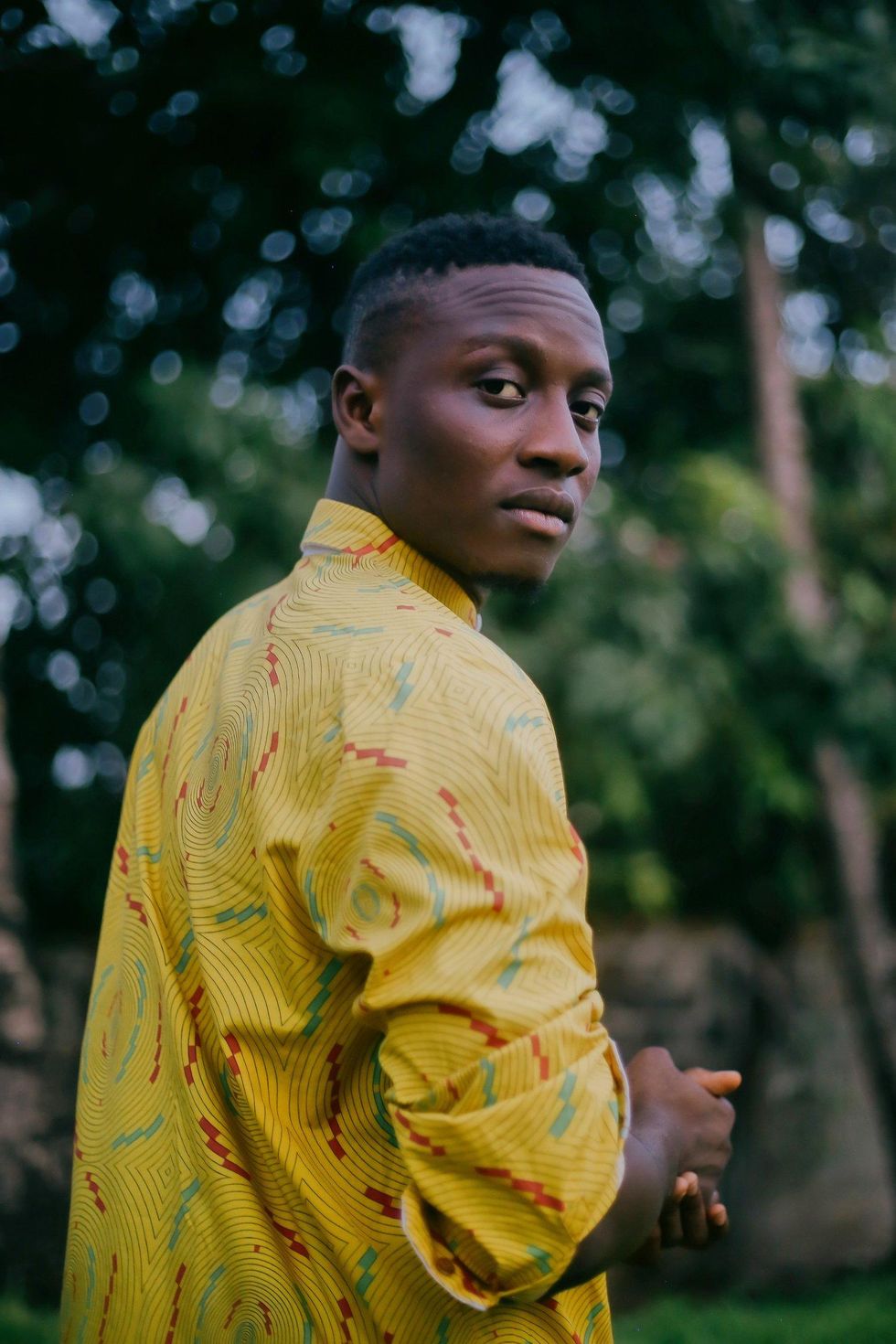 Drizilik in Ashobi.
Photo courtesy of Drizilik.
His friends started to call him "Driz," a play on the nickname for Drake. He combined Driz and his middle name Menelik, and that's how Drizilik was born. "I've never left the studio until now. I realized it was something I was good at. I did not have a career path I was pursuing passionately. My parents wanted me to become an accountant. So when I discovered music, I realized this was my passion."
Drizilik filled his notebooks with verses about the highs and lows of growing up that made it to his debut album, Shukubly—a centuries-old Krio basket —and his nickname for Freetown. It features hits such as the titular single "Shukubly," "Yu Fil Se Na Fulish" ("You Think It's Nonsense") and "Aw Fo Dou" ("What Can You Do?"), all of which are rapped in the Krio language.
"One thing that I want people to understand is that my lyrics are not me talking, it is the people talking. It is what the youth are saying at a particular time. How they feel about the nation, in regard to development, social life, religion and politics. I cannot tell what the situation will be tomorrow, because we live in an unpredictable and unstable time," Drizilik explains. But he has his eyes set on attracting a wider audience, and he's doing just that with his sophomore album, Ashobi.
"When I started it was for fun, but I realized that there was so much change I could bring to our industry in Sierra Leone. My motive for making music has changed over time. At this moment, I want to make music to tell the story of Sierra Leone and Sierra Leonean people. We are a small nation, it's easy for us to get lost in everything that's going on. Afrobeats is big right now in the world, we need to make a conscious effort as a nation to stand out."
Arguably, part of what makes Sierra Leone's Freetonian culture stand out is the osmosis of cultural influences that predates decades. From Ebenezer Calendar's palm-wine music influenced by Trinidadian calypso rhythms to Afronational, Sabanoh 75 and Freddie Shabaka Cole whose sounds capture funk, afrobeat, and reggae alongside other Sierra Leone languages such as Mende (a group related to the Mandinka ethnic group).
And that's what we get with Ashobi. The 14-track album, released last month, is a concoction of sounds that speak of the 'diaspora in miniature.' The record includes dancehall in "Fana Makit" and UK drill-influences in "Decide," while Brazilian baile funk can be heard in "Lion."
Ashobi (aso-ebi) is a Krio word with Yoruba roots that means to wear the same clothes in unity. It's apparel made from lace or ankara fabric and is worn during Sierra Leonean weddings to distinguish the close friends and families of the bride and bridegroom. It is also worn on other occasions such as baby-naming ceremonies known as 'pull-na-door,' as well as during funerals.
"I wanted to make a sequel of my first album, Shukubly which describes the (Freetonian) community and its sound. I realized that so much of what goes on in Sierra Leone is influenced by what's happening in Nigeria and Ghana, the United States and the United Kingdom. While making the album with (Sierra Leonean) executive producer DJ Rampage, I went to the Gambia and the UK. Yes, I am a Sierra Leonean, but I am also an African, and there are so many similarities between our cultures."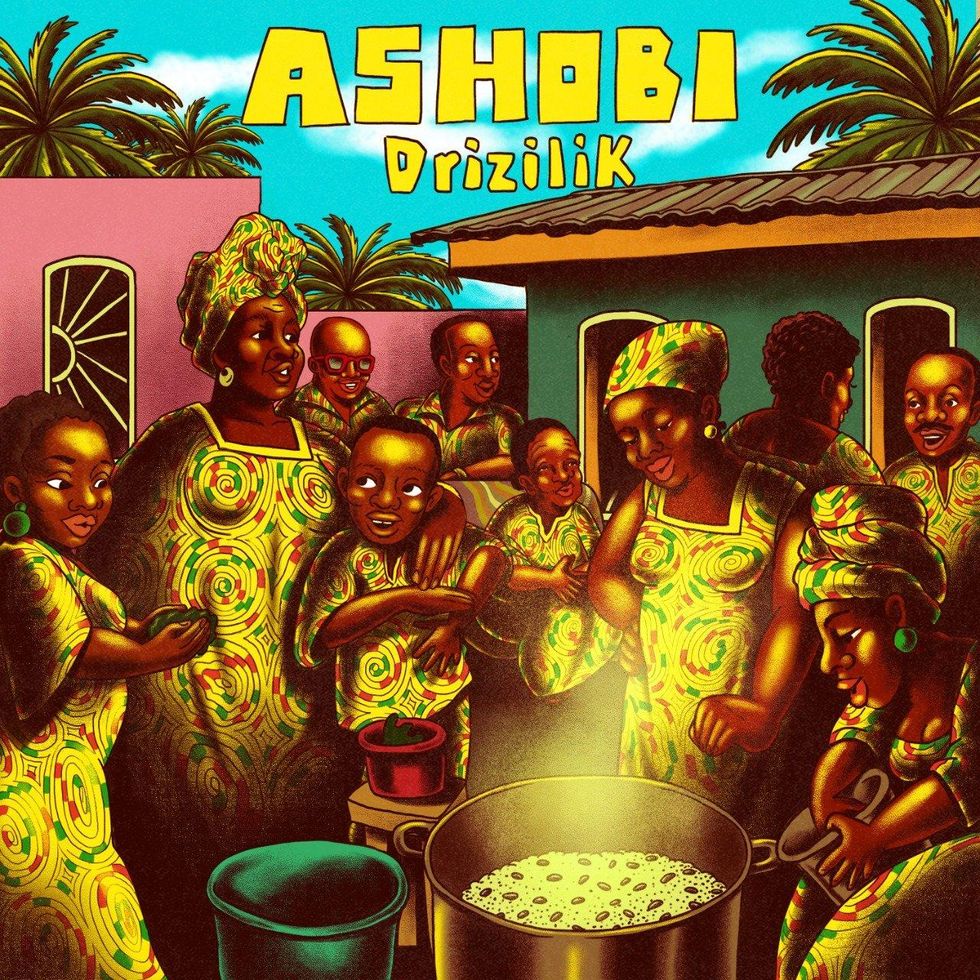 Ashobi album cover.
It's not just the sound that has a pan-African feel. The album contains an all-star cast of producers and collaborators including Altra Nova in Accra, Nigerian hitmaker Masterkraft in Lagos, and Cameroon's Master MIC. The title track "Ashobi" has one stand-out collaborator: Hollywood actor (and DJ) Idris Elba. The single samples the catchy signature accordion tune of the legendary Salia Koroma and Milo Jazz musician, Dr Oloh, whose vibrant wedding goombay drum songs "Ajuba" and "Kokoro" encapsulate Yoruba heritage.

"He's (Elba) really passionate about Sierra Leone and pushing the entertainment. Having someone with that much experience as part of your creative process was a blessing. He is very open to listening to what I was trying to achieve. I am getting more than I thought I would get, and his team have also been so helpful. He goes in, and he's very talented," Drizilik tells me.
To date, the hit single has hit over one million plays on Audiomack, the first Sierra Leonean artist to do so on the streaming platform.
For Drizilik, Sierra Leone's entertainment industry is fast becoming equipped with the right tools to evolve at the same pace as other countries, amid the economic turbulence that came with the country's decade-long civil war in the 1990s. He is hopeful that the current brand of artists from the country will set the tone for a bright future.
"At least now, we have realized our position and how far we can take it as a nation. It's something we have to fight for now, it's something we can achieve."
Listen to 'Ashobi' below