Widespread protests against Nigeria's notorious Special Anti-Robbery Squad (SARS) are becoming more of a revolution. The movement is an outcry from youths demanding a general reform of the country, majorly characterized by poor governance, with a focus on the harassment and assaults committed by SARS. The movement has been raging through the city of Lagos for the past three weeks, as protesters home and abroad have taken to the streets in masses to express their keen dissatisfaction.
Hashtags like #EndSARS, #EndPoliceBrutality, and #EndBadGovernanceInNigeria have brandished across all social media platforms to amplify the voices of the youth people fighting back. These hashtags have, in turn, gained traction with the help of celebrities like singers Rihanna, Demi Lovato, and Beyoncé, Twitter CEO Jack Dorsey, and many others. Nigerian stars, Falz, Runtown, Tiwa Savage, Davido, Wizkid, Burna Boy, and many more also joined in the movement, as many of them took to the streets with placards.
To date, the peacefully protesting Nigerians' needs have not been met. With said needs not being satisfied as they demand justice for lives lost due to the brutal and corrupt practices of police officers.
We have rounded up some ways you can support this movement and its cause, no matter where you are in the world.
---
Donate
Protests Against Police Killings In Nigeria
Photo: Leon Neal/Getty Images
Go Fund Me. Go fund me accounts have also been set-up for victims of the brutal acts of the SARS unit. Find It Here.
Nigerian Diasporans Against SARS (NDAS). An organisation birthed through the ongoing crisis, NDAS took their pain, suffering and frustration and put it into helping their fellow Nigerians. Their fundraising campaign aims to assist in paying for medial bills, continued support for legal aid, relief for victims and their families, as well as assisting in laying victims to rest. With assistance from various verified and reputable organisations, NDAS' strategy evolves, but their mission remains. Find their fundraiser here.

Use Hashtags to Amplify
Protests Against Police Killings In Nigeria
Photo: Dan Kitwood/Getty Images
Spreading awareness with the use of hashtags like #EndSARS, #EndPoliceBrutality, and #EndbadGovernanceInNigeria across social media platforms like Twitter and Instagram is one of the quickest and easiest ways to identify with the revolution in Nigeria.
Share Verifiable Information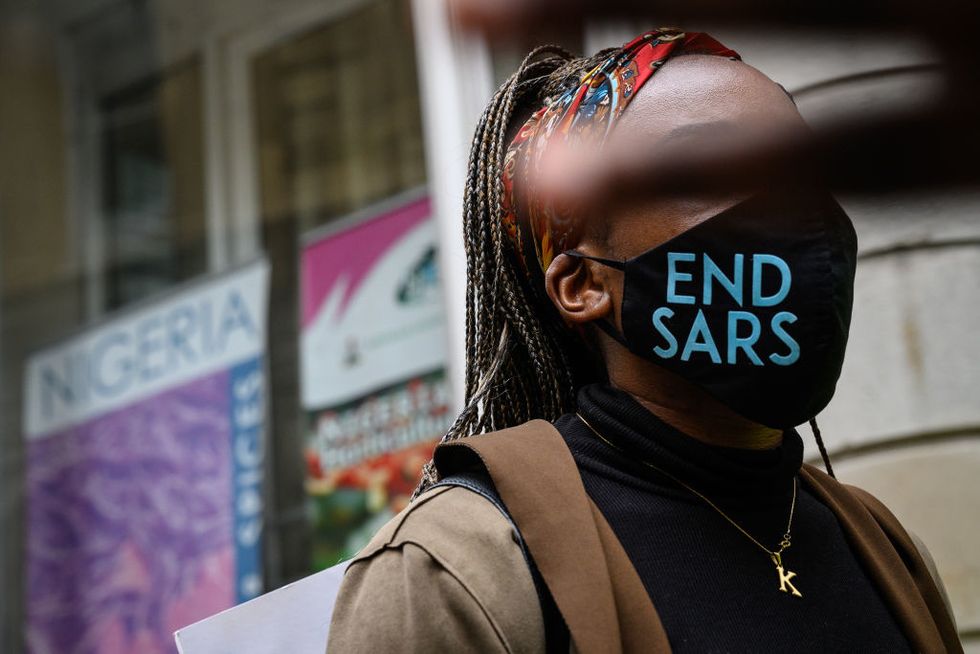 Protests Against Police Killings In Nigeria
Photo: Leon Neal/Getty Images
Sharing verifiable pieces of information on your social media will help educate others about the current situation of things in Nigeria, and it can also be helpful for protesters. Staying up to date on recent happenings and ways to help are very much of great importance in times like this. Tangible resources about the #EndSARS movement can be collected and verified via Carrd.co and other Local and International News outlets like CNN Africa, AriseTV, Daily Post NG and BBC. Reliable human rights organizations like Amnesty International also helped educate the public with an in-depth profile about the SARS unit and its history. Find it here.
The Feminist Coalition.During the protest, The Feminist Coalition, a self-sustained community, spread trustworthy information, as well as accepted donations and contributions. Its website contains all the various ways on how donations can be made and have been very transparent via their Twitter handle about the funds and how they are disbursed. So far, funds generated by Feminist Coalition have been used for medical emergencies, legal aid of wrongfully detained citizens, and to relief victims of police brutality and families of the deceased. Find It Here.
Please note that The Feminist Coalition is no longer accepting donations and contributions for the #EndSARS movement.
Expertise
Protests Against Police Killings In Nigeria
Photo: Dan Kitwood/Getty Images
If you're on the ground, Stay connected with your local organizers to lend your expert skills and knowledge to help protesters. The introduction of expertise into the #EndSARS movement is an open call to Medical Practitioners, Writers, Lawyers, Journalists, and more.
Press
Protests Against Police Killings In Nigeria
Photo: Dan Kitwood/Getty Images
Reach out to blogs, news and media outlets, and people with a more large reach that need to be talking about it. Send e-mails to local and international media companies as they can also help propagate this movement to their audience.