Fans and supporters of Fela Kutihave truly been showing out, as the Nigerian musician stays with the most fan votes towards his potential induction into the Rock & Roll Hall of Fame.
News of his nomination dropped two days ago, and the late legend has already amassed over 80,000 votes! With American singer and icon Tina Turner following closely behind with 59,000+ votes of her own. The five artists with the most votes between now and May 2021 will then be inducted into the Hall of Fame towards the end of the year.
While the final five artists are ultimately chosen by Rock & Roll Hall of Fame members, fan votes play a super important and valid role in the process. Fans are able to vote once a day, for as long as they please.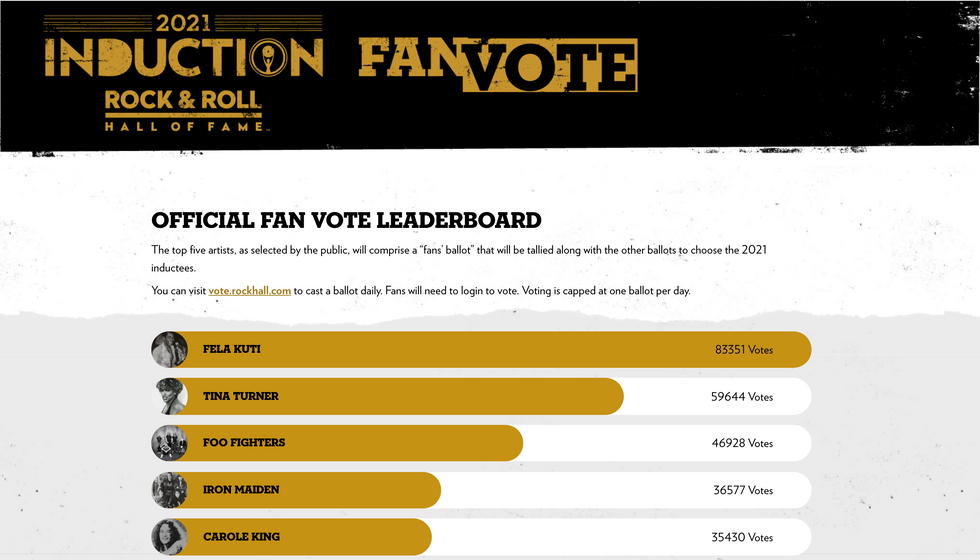 Rock & Roll Hall of Fame results board as of Feb 12, 2021
Fela's daughter and Felabration creator, Yeni Kuti encouraged fans of her father and family to go out and vote. In conversation with Eyes of a Lagos Boy, Yeni said, "Naija no dey carry last! Please vote let us see Fela at no. 1. The accolade he did not receive in life, would be great if he could receive in death."
To cast your vote, head to the official website and be sure to tell your fellow music loving friends to do the same.